We are writing our Varmilo Minilo Eucalyptus Keyboard Review to share the necessary information about the keyboard. The company gives us a new compact, eye-catching 65% keyboard designed with an attractive mellow and subtle shade.
The theme takes inspiration from the works of Italian painter Giorgio Morandi.
The keyboard comes in three variants and plenty of switch options. But what we have for the review are Sakura switches. 
It has other superb features, but do these make the keyboard worth purchasing? Does it perform as well as its looks? 
Continue reading our Varmilo Minilo Eucalyptus Keyboard Review to acquire more information about the product. These will help you determine if the keyboard is adequate for your needs. 
But first, let us check its packaging and inclusions. 
Varmilo Minilo Eucalyptus Keyboard Packaging
Our Minilo keyboard arrived in a very premium-looking box, which sports a minimalist theme. It is a fresh take on keyboard package designs, and we love how classy it looks.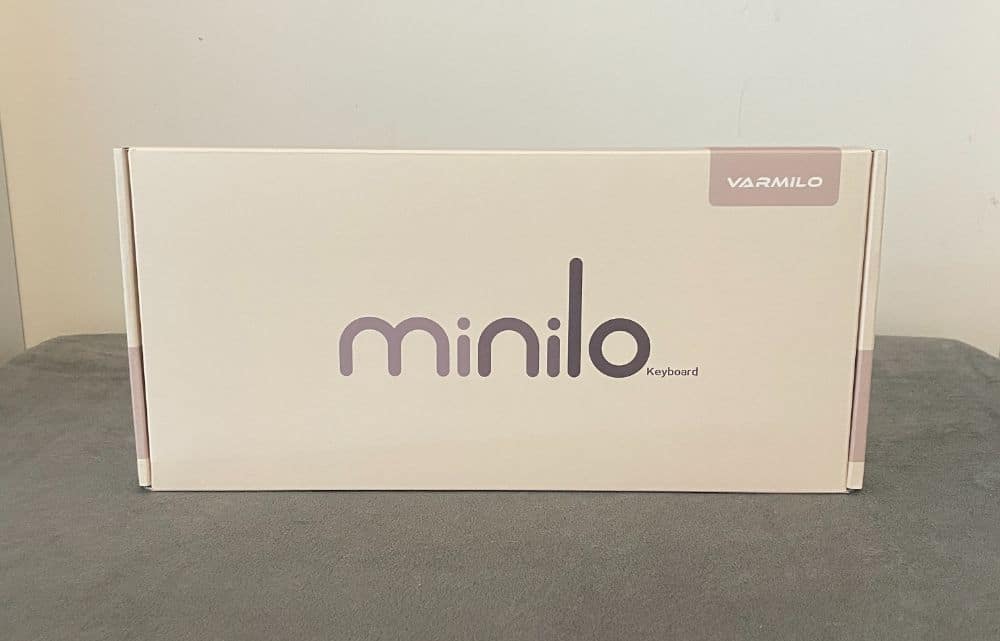 The top of the box displays Minilo at the centre, with Varmilo written in the upper-right corner.  
Inside, the Minilo keyboard ships with a few other items. These include a USB cable and a keycap puller. You will also find a warranty card and a dust cover inside. 
Varmilo Minilo Eucalyptus Keyboard Review – Design and Functionality
Starting our Varmilo Minilo Eucalyptus Keyboard Review, we will discuss its design and functions. Earlier, we mentioned that the keyboard took inspiration from the art of Giorgio Morandi. He uses mellow and subtle colours expressed in the Eucalyptus theme of the product. 
The keyboard utilises consistent high-grade trey tone colours. Specifically, these are grey-green, cream, and grey-purple to match the Eucalyptus plant. 
Although used in different ways through the years, we think the Minilo series has the best take on the design. 

The keyboard is a typical 65% keyboard but features 67 keys on its US ANSI layout instead of the usual 68. The company went with 1.25u keys to the right of the space bar instead of 1u. This layout cannot accommodate three keys, but they used the space to the left to house LED indicators. 
You will not find a Ctrl or Menu key on the product, but this is not a deal breaker when choosing a keyboard. However, we would prefer to see dedicated Home or End keys instead of Insert. 
Looking at the side, you will find an integrated element to elevate the keyboard. Because of this feature, we can classify the board as a high/medium profile product. However, you can benefit from using a wrist rest if you are uncomfortable with touch-typing. 
You will find a Type-C port on the side facing away from you. This area also carries the three-tone case featuring two shades of green plus cream. 
Its cutout is large enough to house most wires out on the market. It is essential when pairing the keyboard with a coiled/split cable with matching colours. 
We also looked at the keycaps for this Varmilo Minilo Eucalyptus Keyboard Review. Here, we noticed they feature standard legends on top. The secondary ones are above the main ones, and all these are biassed to the left side of the keyboard. 
You will also find some front-facing legends on specific keycaps to indicate what layered functions link to the Fn key. 
Its bezels are slightly larger than usual, but you will not notice them because of the colours of the product. In the bottom-right corner, you will also see the company branding on the side that faces you. 
Looking at the sides of the keyboard, you will see the company utilised a Cherry keycap profile. It features five sculpted rows contoured to make the keyboard appear shorter than those using the OEM profile. 
We removed a few keycaps and saw that the company integrated thick ABS plastic featuring Doubleshot-injected legends. It is a notable inclusion since the thickness is excellent for longevity. Also, it is glossier than the equivalent PBT keycaps, so expect more shine from sweaty fingers. 
If you want backlights, you will not get any from this keyboard. It has no backlight support, so the LEDs are likely for accent lighting only. 
When looking at the larger keycaps, these use plate-mounted stabilisers, while their bars are pre-lubed out-of-the-box. We appreciate Varmilo for pre-lubing these since it will dampen the mushy feedback when you type on the larger keys. 
Key Features of the Varmilo Minilo Eucalyptus Keyboard 
What makes this mechanical keyboard impressive? We will find out as we discuss its features in our Varmilo Minilo Eucalyptus Keyboard Review.
65% Layout for More Desk Space
The Minilo has a compact form factor with a 65% layout with 67 keys. Aside from alphanumeric keys, it also has arrow keys, making it popular and convenient among gamers.
Morandi-themed Colours that Offer a Mellow and Sweet Design 
Giorgio Morandi, a famous Italian painter, included grey-inspired colours to achieve a sweet, mellow theme for the Minilo. It also has a light blue and green with grey tones inspired by the eucalyptus plant.
Available In Different Variants
Varmilo offers the Minilo keyboard in three variants that differ by connectivity options and other features. One type has Bluetooth + Wired USB-C dual connectivity modes. Another variant only uses a wired USB-C connection but has a hot-swappable design.
The third and last variant has triple connectivity modes, which include Bluetooth, 2.4GHz Wireless, and Wired USB-C. It also has a hot-swappable design and RGB features.
Silicone Padded for Soft Acoustics
The Minilo features a silicone cotton pad between the keyboard plate and PCB. Each keypress forms pressure, so the silicone layer absorbs this to reduce the resonance. As a result, you will have a smoother typing experience with soft acoustics.
The Minilo produces a soft sound without harshness or sharpness, making it ideal for quiet environments like offices.
Superb Dual-toned ABS Keycaps
Varmilo used high-quality injection-moulded ABS keycaps featuring a two-toned and Doubleshot design. These are 1.5mm thick with the Cherry MX profile. Plus, the keycaps have crisp legends printed for ease of use.
Hot-Swappable Design
The hot-swappable variants of the Minilo have a hot-swappable PCB design, which allows full customisation. It is compatible with multiple switch options, and you can choose from a linear or tactile feel.
Specifications
Before we discuss our hands-on experience with the keyboard, our Varmilo Minilo Eucalyptus Keyboard Review will share its specifications. 
The product sports a 67-key, 65% form factor in this modified US ANSI layout. Its keycaps and case use ABS plastic, and it also has a steel plate, plus a silicone and foam sheet. 
It supports anti-ghosting with a full N-Key rollover, 6KRO + Bluetooth, and has media keys as a layered function. Additionally, you have various choices from different Varmillo EC V2 switches, plus it also has white backlights. 
The keyboard measures 110 x 315 x 40mm (LxWxH), weighs 1.47kg and uses a USB/Bluetooth 5.0 interface. 
Lastly, the board comes with a 1.5m cable and a one-year warranty from the company. 
Hands-on with the Varmilo Minilo Eucalyptus Keyboard
We used the keyboard for over a week to share our experience in this Varmilo Minilo Eucalyptus Keyboard Review. 
Before anything else, we paired the product with our computer. Doing so for the first time required us to enter a key combination/password. It will make toggling between devices easy. 
We tested how fast it was to shift from one device to another, and it was successful. 
When we plugged/removed the cable, it automatically switched the Bluetooth mode off/on. Then its LEDs automatically switch off after a few seconds of inactivity. You can even program the keyboard to enter battery-saving mode or let it sleep after five or 30 minutes of inactivity.
We enjoyed using the Minilo for typing and gaming. The Sakura switches had an excellent linear feel, which offered smooth keypresses that improved our typing experience. The keys were also easy to press when gaming, so we performed better in executing commands.
The Minilo had no distracting sounds like reverberation and pinging, thanks to the silicone padding. Its smooth and soft sound was satisfying too. Although PBT keycaps are often better, the ABS ones on this keyboard felt nice.
Our overall user experience with the Minilo was excellent. This product is ideal for users who want a keyboard that performs well for typing and gaming.
The battery life of the Minilo was exceptional. As mentioned, we used it for over a week and did not need to charge it after our tests. To note, we used the keyboard for typing tasks and gaming.
Charging the keyboard took some time before its battery became full. Despite that, we have no complaints since it lasted for long periods. 
Varmilo Minilo Eucalyptus Keyboard Review Summary
The Minilo is a well-built keyboard with superb features and a visually appealing design. It delivered an excellent sound and typing feel when we used it for our Varmilo Minilo Eucalyptus Keyboard Review. Plus, you can choose from three variants and replace the switches and keycaps if you buy the hot-swappable one.
Aside from the impressive design, construction, features, and user experience, it offers excellent value. We expected this to be expensive, but surprisingly, it is one of the lowest-priced keyboards from Varmilo. With all of its positive features, we highly recommend this product.
Learn more about the Minilo Eucalyptus Keyboard by visiting the official product page of Varmilo for more information.