In our WD Black SN850 Gen 4 SSD review, we'll look into Western Digital's latest SSD under their Black line. The Black SN850 Gen 4 SSD is the successor to the company's Black SN750.
This new SSD from Western Digital aims to provide a better experience for its users. So, the company focused more on enhancing the Black SN850 Gen 4 SSD's read and write speed.
Get to learn more about the SSD as you continue reading our WD Black SN850 Gen 4 SSD review. But before that, let's take a look at its packaging and what Western Digital included inside the box. 
WD Black SN850 Gen 4 SSD Packaging
Some consider the packaging and its contents a vital detail, so we're including it here in our review. 
The Black SN850 Gen 4 SSD came in a sturdy, durable cardboard box that adequately protected the product inside. 
There are three different capacities available for the Black SN850 Gen 4 SSD. We chose the 1TB variant with the heatsink. It came in a black-themed package where you'll see an image of the SSD in front. 
WD_Black is written on the top-left corner of the box, as well as other essentials about the SSD. These include its speed advantage, sequential read speed, and more. The variant you picked is written on the lower-right corner of the box, so we have 1TB written for ours. 
Flipping the box, you'll find the sealed stickers. There, more specifications and details about the SSD are provided for your reference. You will also see the IOPS or Input/Output Operations per Second here.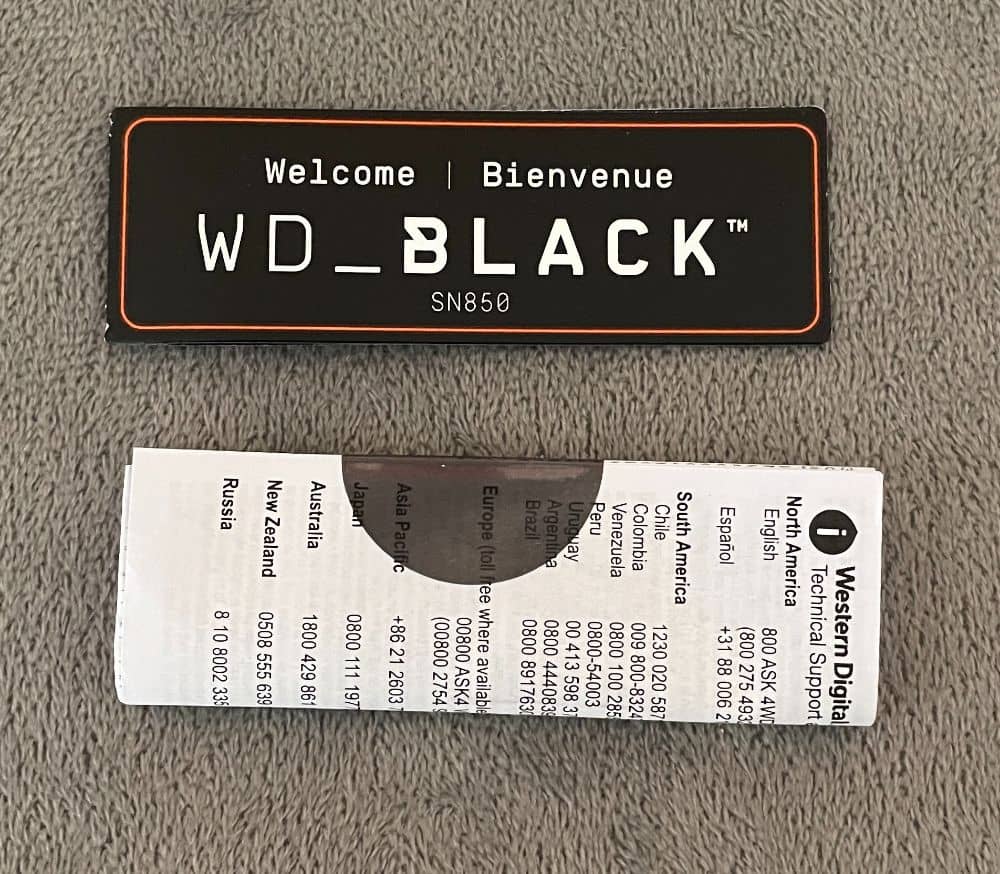 Not only that, but this area has a little rectangular hole to make the Black SN850 Gen 4 SSD visible. Do note that the product isn't intended to be used with a NAS or a server. You can find this information on this area of the box. 
When we opened the box, we saw that Western Digital kept the SSD in a clear plastic case. We assume that it's a shockproof container which is great in case you accidentally drop the unopened package. Other than the Black SN850 Gen 4 SSD, you'll find a user manual inside. 
WD Black SN850 Gen 4 SSD Review – Design and Functionality
Another important element of the SSD is its design and functions. So, we're looking into those now in our WD Black SN850 Gen 4 SSD review. 
When Western Digital created this SSD, it was designed to be a game drive due to being performance-focused. There are two versions of the Black SN850 Gen 4 SSD: one has a heatsink while the other doesn't. 
As we mentioned earlier, the SSD that we're featuring here is the 1TB version. However, you can also go for one with the 500GB or 2TB capacity. 
But no matter what version you choose, the SSD ensures that your drive can reach its peak performance. And this is without any thermal throttling. 
Even if the heatsink is detachable, Western Digital recommends that it shouldn't be removed. That's because it could damage the different components on the PCB. 
We wanted to look beneath the hoods for additional reference. However, removing the heatsink wasn't so straightforward. So, we decided to simply focus on other aspects of the WD Black SN850 Gen 4 SSD. 
It's also good to note that this SSD with the heatsink is over the regular M.2 size specifications. So basically, the drive with a heatsink won't fit in a laptop since it's created primarily for your desktop computer.
With that, it's best to do some proper planning, as well as make some considerations before buying this SSD. Make sure that it will fit and is compatible with the system you're currently utilising. 
Key Features of the WD Black SN850 Gen 4 SSD 
Now, our WD Black SN850 Gen 4 SSD review will discuss everything about the SSD's key features. 
Extremely Fast Performance and Large Storage
The WD Black SN850 Gen 4 SSD eliminates long load times with its next-generation PCIe Gen 4 technology. 
Superior Performance with the WD Black SN850 Gen 4 SSD 
The WD Black SN850 Gen 4 SSD comes with the PCIe Gen 4 technology. With that, you'll experience high-speed performance with no lags, especially when playing next-generation games.
Extremely High Speed for Powerful Gaming
This solid-state drive's read speed reaches up to 7000MB/s while its write speed can go up to 5300MB/s. Plus, it has up to 1,000,000 IOPS, offering high responsiveness and seamless operation. As a result, you can enjoy a more powerful gaming experience.
Store More and Play More
Our WD Black SN850 Gen 4 SSD is the 1TB variant, but you can also choose between 500GB and 2GB. With this storage capacity, you can store your favourite games and have room for the upcoming big titles.
Throttle-free (with Optional Heatsink)
When you purchase the WD Black SN850 Gen 4 SSD with its optional heatsink, you can ensure throttle-free performance. Your PC will continuously deliver excellent performance while you're gaming.
Take note that the WD Black SN850 Gen 4 SSD with heatsink is designed for desktop computers and Playstation 5.
Optimised with the WD Black Dashboard
Have full control of your SSD using the downloadable WD Black Dashboard. This software lets you monitor your drive's health and optimise its performance using gaming mode.
Performance in a Compact Drive
The WD Black SN850 Gen 4 SSD is a compact solid-state drive with an M.2 2280 form factor. It's slim, light, and easy to slide into your PC build.
Made for Gaming
This SSD is equipped with the Western Digital 3D NAND to ensure endurance and reliability. Simply, it's designed for pro-level performance gaming.
PS5 Memory Expansion
As mentioned earlier, the WD Black SN850 Gen 4 SSD now works with PlayStation 5. Adding this SSD to your compatible PS5's M.2 slot expands its storage while increasing its speed. With this compact, high-performance drive, you can have an extremely enjoyable gaming experience.
Specifications
The SSDs specifications are just as important as its key features. Now, we'll look into those in our WD Black SN850 Gen 4 SSD review. 
What we have with us is the 1TB variant. However, you can opt for the Black SN850 Gen 4 SSD with 500GB or 2TB capacities as well. 
It sports an M.2 2280 form factor and measures 3.15 x 0.92 x 0.35". For its weight, it's at 7.5g TBD.
For its operating and non-operating temperatures, it ranges from 0 to 70-degrees and -55 to 85-degrees Celsius, respectively. As for the SSD's interface, it utilises the PCIe Gen 4 8GB/s up to 4 lanes in total.
The SSD's sequential read performance, it's tagged at 7000MB/s while the write performance is 5300MB/s. Its MTTF is 1.75M hours while the SSD's supply voltage is 3.3V ± 5%. PS3 and PS4 (mW) at low power are 250 and 5, respectively, while peak power (10 us) is 2.9. 
Lastly, the SSD's operating vibration is measured at 5.0 gRMS, 10 – 2000Hz 3 axes. Then, its non-operating vibration is 4.9 gRMS, 7 – 800HZ, 3 axes. 
Now that we're done with the specifications, let's move on with our WD Black SN850 Gen 4 SSD review. Let's talk about how the Black SN850 Gen 4 SSD performed and if it's something worth investing in.
Hands-on with the WD Black SN850 Gen 4 SSD
Before we talk about the product's performance, let's talk about its utility suite and how it works.
Software – WD Black Dashboard
Western Digital supports the Black SN850 with their free SSD toolbox software, the WD Black Dashboard. It's a Microsoft Windows application that is downloadable for free via the company's official website.
Before downloading the software, take note that it's only compatible with Windows 7, 8, and 10. It works with both 32 and 64-bit versions of each operating system.
WD Black Dashboard is used to make the most out of the WD Black SN850 Gen 4 SSD. It's where you keep the firmware updated and enable Game Mode, where it overrides the SSD's default power-saving mode.
Analysis Tools and Game Mode
Aside from having a firmware updater, the software also has analysis tools. It allows monitoring the SSD's capacity, remaining life span, temperature, volumes, and interface speed.
You can also enable Gaming Mode, a feature exclusive to the WD Black SN750 and later SSD models. With this mode switched on, low power mode will be disabled to keep the SSD running at peak levels. This feature sustains execution to deliver non-stop and consistent high performance.
Although Game Mode enhances the SSD's performance, it can already achieve peak speed even when it's not enabled.
Compared to other SSD management software apps, the WD Black Dashboard is more comprehensive. All the necessary management tools are already in a single utility suite, making it more convenient. Plus, the SSD's status is displayed in a straightforward view, allowing anyone to easily understand every single information.
What's interesting about the WD Black Dashboard is you can also manage SSDs from other brands. However, certain features that are exclusive to WD's solid-state drives cannot be accessed.
Performance of the WD Black SN850 Gen 4 SSD
When we tested the Black SN850 Gen 4 SSD, we were amazed at how fast it was. We transferred some of our old game files to the drive, and it was extremely speedy. There, we could feel the difference in performance while playing and loading games. 
While it runs extremely fast, we had to ensure that the Black SN850 Gen 4 SSD was properly cooled. This was necessary to keep it in its best form since the SSD gets a bit warm but nothing alarming.
Under standard or even heavy usage, we didn't notice any instances when the SSD throttled in its performance. However, it did slightly thermal throttle only during our torture test. 
With that, we can say that the Black SN850 Gen 4 SSD's heatsink is adequate to keep the drive cool. The thing is, it'd be better if there was more optimal airflow in the system to cool the drive better. 
Overall, the Black SN850 Gen 4 SSD exceeded our expectations since it performed excellently during our tests. It was able to meet all our requirements and needs, and it stayed cool even under heavy loads. For its software, it was easy to use, plus the interface's layout was neat and organised. 
WD Black SN850 Gen 4 SSD Review Summary
With its extremely high read and write speeds, you'll definitely be happy with this drive. And that's especially if you're upgrading from a SATA SSD that usually has a read speed of 550MB/s.
The WD Black SN850 Gen 4 SSD was extremely fast during our performance tests. In fact, it was one of the fastest and most responsive solid-state drives we've tried using.
If you're looking for the best PCIe Gen 4 SSD, the WD Black SN850 is one of the best today. It has a compact yet robust design, and it delivers superior performance.
To conclude our review, we were satisfied with this product's features, design, and performance. If you want to get your hands on this drive, you can purchase it from the company's official website.