This WD Blue SN550 NVMe SSD review provides a lot of insights about the best SSD today. You'll acquire all the vital information to gain more knowledge about the Blue SN550 NVMe SSD from Western Digital. With that, it'll help you decide if it's something worth purchasing.
If you need snappy, lightning-fast performance for your PC, then the WD Blue SN550 NVMe SSD is perfect for you. The Blue SN550 offers over four times the speed of some of the best SATA SSDs around. Whether you need speed for creating, casual gaming, work, or processing large data, the Blue SN550 is an excellent option.
The Blue SN550 NVMe SSD is Western Digital's latest NVMe SSD. Plus, it's also a successor to their SN500. This drive is an entry-level consumer SSD that's packed in a little M.2 form factor. It comes with a firmware, an in-house controller, and the company's 3D NAND. WD Blue SN550 NVMe SSD is also perfect for people who are shifting to NVMe-based SSDs at an affordable cost.
Before getting more into the drive, let's look at its packaging here in our WD Blue SN550 NVMe SSD review.
WD Blue SN550 NVMe SSD Packaging
We received our 1TB WD Blue SN550 NVMe SSD in a simple-looking cardboard package with a blue and white theme. The front of the box displays an image of the drive. On the top-left corner, you'll find the product and the brand's name written. Below the image, you will find the drive's key specifications displayed.
Inside the box, the Blue SN550 NVMe SSD is the only item present. There aren't any additional accessories or literature included given that it's a fairly thin container.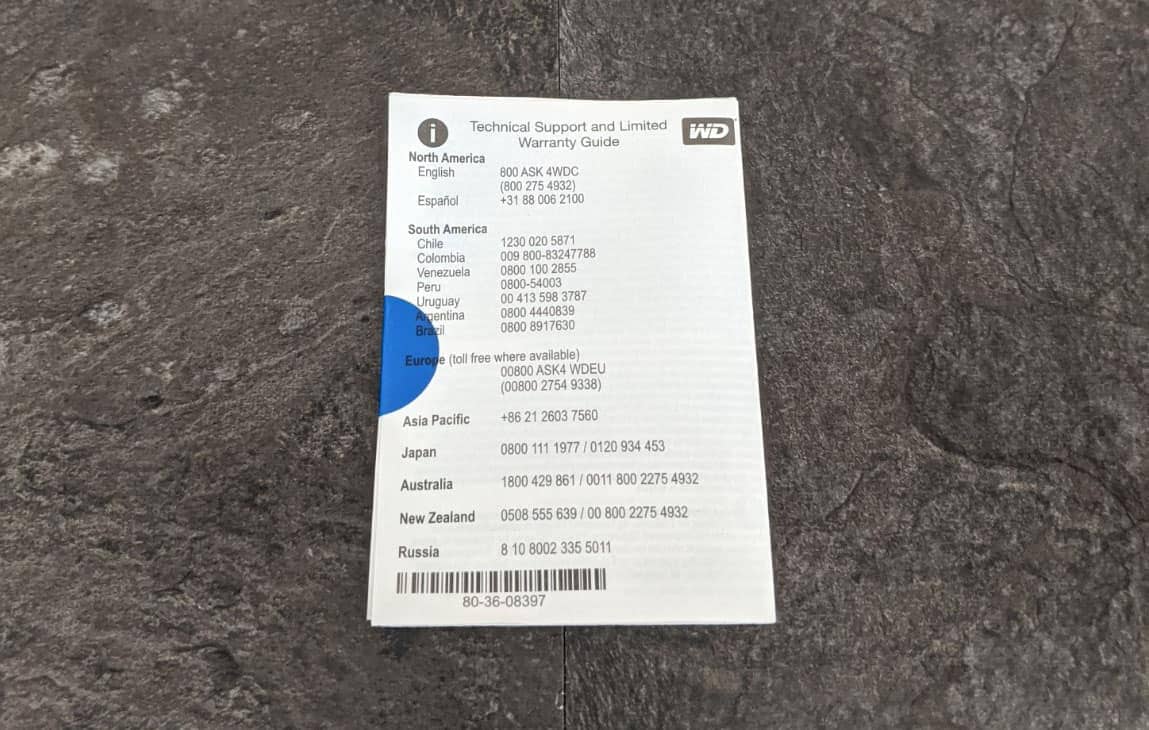 WD Blue SN550 NVMe SSD Review – Design and Functionality
Now in our WD Blue SN550 NVMe SSD review, we'll be focusing on the functionality and design of the drive.
It utilizes the M.2 2280 Gum Stick form factor. As for the NAND flash package, it was at the far end of the drive. WD opted for this layout instead of positioning it next to the controller. They likely did this to enhance thermals since the TLC NAND flash and controller are separated for better heat dispersion.
The Blue SN550 is the very first SSD that utilizes the latest NVMe 1.4 protocol. This latest NVMe may be the reason why this DRAMless SSD functions adequately for transfers and the like. Drives like these cost less to produce and mainly rely on HMBs or Host Memory Buffers.
The WD Blue SN550 NVMe SSD features a 600 TBW endurance-rate, as well as a 5-year warranty. It only means that you can write around 330GB of data daily throughout the warranty's period. You won't have to worry about utilizing the WD Blue SN550 NVMe SSD since you'll still be covered.
Note that this isn't the highest endurance rate acquired on an entry-level SSD. However, it's still highly competitive, especially for the consumers WD is aiming at.
Next in our WD Blue SN550 NVMe SSD review are the key features of the Blue SN550.
Key Features of the WD Blue SN550 NVMe SSD Review
The Perfect Storage for Your Next Computer
The NVMe goes to the mainstream sector as a powerful, efficient, and cost-efficient solution. It's something that boosts the reliability and quality of an SSD.
Boosted Performance
Get high sequential reads that reach up to 2,400MB/s for better productivity.
Small yet Powerful
Build small PCs with this powerful one-sided M.2 2280 PCIe Gen3 x4 NVMe SSD.
Faster and Higher Performance with Reduced Power Draw
Scalable NVMe hardware with higher accelerated architecture allows for high and fast performance with less power draw. The WD-designed firmware and controller paired with the newest 3D NAND provide optimised, stable performance.
Continuing Western Digital's Legacy
Western Digital combined hours of hardware, firmware, and validation tests to enhance WD Blue's heritage of quality and reliability.
The next part of WD Blue SN550 NVMe SSD review is all about the product's specifications.
Specifications
The WD Blue SN550 NVMe is a 1TB SSD with a PCIe 3rd-gen interface. It makes use of an M.2 connector and comes with an MTTF of 1M.
Its sequential read and write performance is 2,400MB/s and 1,950MB/s respectively, plus it operates at 0 to 70-degrees Celsius. For the measurements, the Blue SN550 is 3.15 x 0.87 x 0.99in (L x W x H)
Also, the NVMe SSD has a limited 5-year warranty provided by Western Digital.
This next section in our WD Blue SN550 NVMe SSD review will focus on the performance of the drive.
Hands-On with the WD Blue SN550 NVMe
The Dashboard of Western Digital is effective for keeping the SSD's peak performance in operating systems like Windows. It has a useful graphical interface that users can take advantage of as well.
The Dashboard application offers functions for generating system information reports to diagnose issues. It utilizes hard-coded passwords to archive all the available report files.
When it comes to compatibility, the WD Blue SN550 NVMe SSD can work with the company's SSD Dashboard. The toolbox is downloadable for free, and it can be utilized to monitor the drive's health, update firmware, secure erase, etc. Cloning software is also available, though when users purchase SSDs from Western Digital, they will receive a complete package.
The SSD Dashboard is compatible with Windows 10 (32/64-bit version), and Windows 8.1 (32/64-bit version). It works for Windows 7 (32/64-bit version) as well.
The WD Blue SN550 NVMe SSD is the company's latest entry-level SSD with outstanding features and is an excellent performer that doesn't disappoint.
The Blue SN550 NVMe SSD provides a huge leap when it's compared to the performance of the earlier SN500. When comparing it to similar products in the market segment, the SN550 didn't display any lags, which is good.
For its read and writes, the WD Blue SN550 NVMe SSD displayed impressive results with around 1,943 MB/s Write and 2,289 MB/s Read.
WD Blue SN550 NVMe SSD Review Summary
The Blue SN550 NVMe SSD proved that Western Digital was ready to compete against other entry-level SSDs on the market and we do believe that the WD Blue SN550 NVMe SSD is the best value drive.
In terms of price, you can't get anything better than the Blue SN550 NVMe SSD for the same price range and it offers a range of capacities available.
The price and performance of the WD Blue SN550 NVMe SSD are perfect for the average user. Because of this, it's one of the top choices in the bargain NVMe SSD market. It also comes from a trusted brand name, making it worth the purchase.
To conclude our WD Blue SN550 NVMe SSD review, we highly recommend this product. If you want to get your hands on this SSD, it's available for online purchase from the company's official website.