Today we have our WD Red SN700 NVMe SSD Review, which is all about the SSD from WD. It is the successor to the Red SA500, and it offers better performance thanks to the use of NVMe. 
You can choose between five capacities for the SSD. But for our WD Red SN700 NVMe SSD Review, we have the 1TB version. 
We used the SSD and tested it to see if the product was better than the original. It took us a week to complete the tests to deliver details about our hands-on experience with the product. Other than its performance, we will also discuss its features, functions, specifications, etc. 
WD Red SN700 NVMe SSD Packaging
The Red SN700 NVMe shipped in a little box with an image of the SSD in front. Beneath it is a list highlighting details stating the product is for NAS storage and caching tasks. You can find the 3400MB/s sequential read beneath these details with a 5-year warranty symbol. 
The back of the package has a small transparent panel to let you see part of the SSD. Inside the container, you will only find the product in its protective case and a tech support & warranty guide. 
WD Red SN700 NVMe SSD Review – Design and Functionality
After unboxing, we inspected the product for our WD Red SN700 NVMe SSD Review. We all know that WD is the leading manufacturer of computer memories, memory cards, and storage drives. And its Red product line is specifically designed for NAS systems. 
These products, like the Red SN700, are ideal for high usage file sharing functions. 
The SSD comes with a one-sided M.2 2280 form factor, with a top featuring a lengthier label with details. These include the date of manufacture and serial number.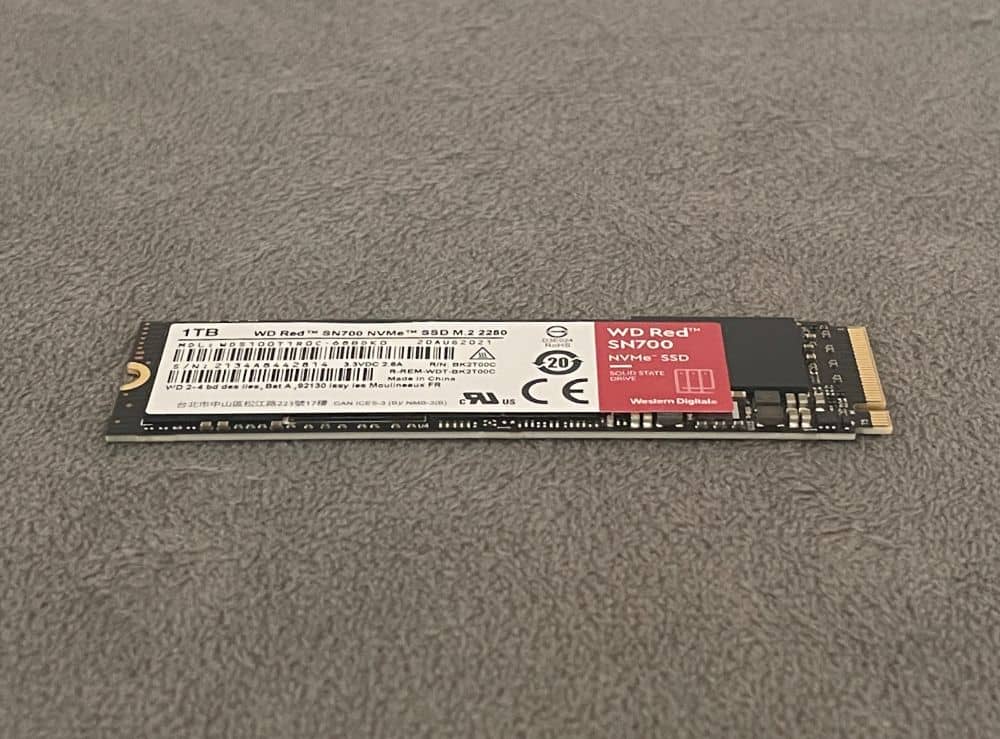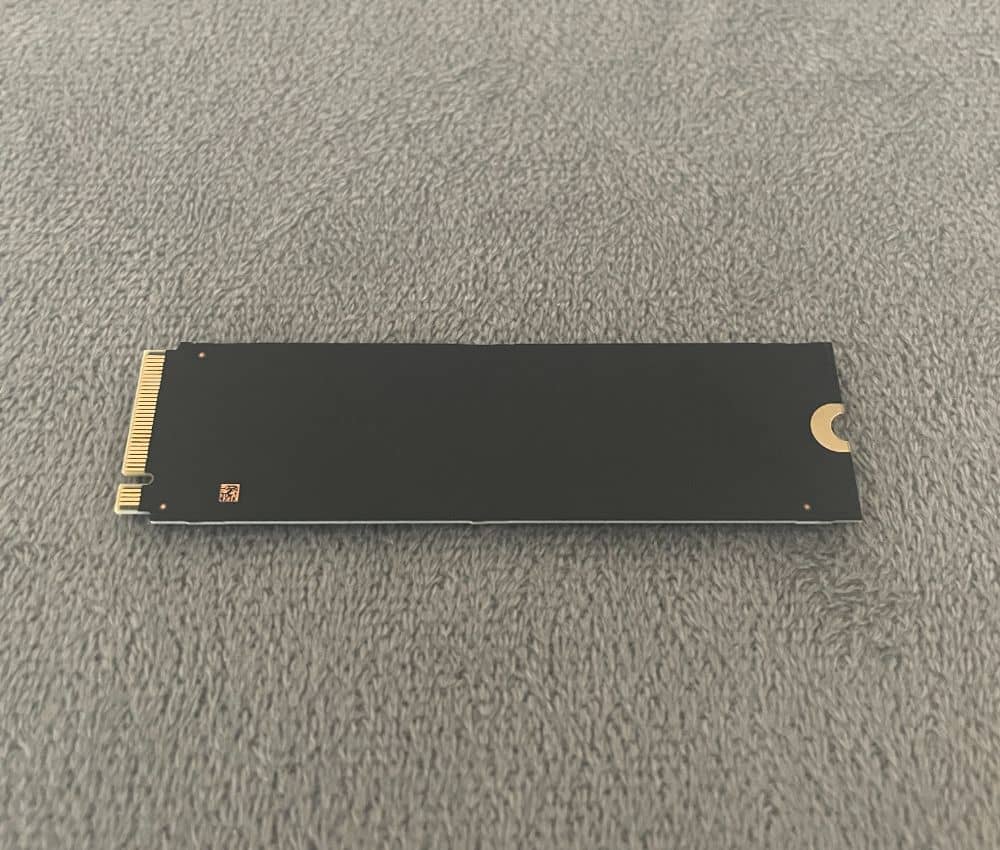 Its labelled section has two of four flash packages but not a second DRAM module. You will also see a PMIC (power management integrated circuit) in the area.
The top portion of the SSD houses all its components, including a controller chip and NAND manufactured by SanDisk/WD. Aside from these, a DRAM cache is also present. 
The type of NAND is unspecified by WD but is presumed to be from TLC.
Since the product is one-sided, you will not find anything at the bottom. And despite being an SSD for NAS systems, the Red SN700 has no PLP (physical power loss protection) circuitry. 
Key Features of the WD Red SN700 NVMe SSD 
The SSD has many notable features, which we will share in our WD Red SN700 NVMe SSD Review. These elements help make it an outstanding product and will let you determine if it is worth purchasing. 
To Accelerate Your NAS
With the fast-caching Red SN700, you can handle extensive workloads in high-intensity NAS environments. Its robust system responsiveness and exceptional I/O performance are perfect for multi-users. These elements are also ideal for multitasking apps and excellent for various tasks. 
These include virtualisation to collaborative-editing, to intensive database storage with efficient caching. All of these are possible while lowering your TCO.
Its fast-caching power also delivers excellent system responsiveness and I/O performance, unlike other SATA SSDs. 
Built to Last
Handle 24/7 NAS workload environments with up to 2000TBW supported by a 5-year warranty from the company. The SN700 has the highest endurance rating among NVMe SSDs on the market.
Step Up Your Game to NVMe
Be in control of the challenging projects in your SMB, including virtualisation and collaborative editing, plus intensive database storage/effective caching. All these are possible while decreasing TCO. 
As a PCIe 3.0 NVMe drive, the SN700 can significantly improve I/O performance. Nowadays, NAS manufacturers are releasing more units with NVMe M.2 slots for cache drives. As a result, having SSDs that can meet the demands of a 24/7 workload environment becomes more vital.
The WD Red SN700 NVMe SSD – Ideal for SMBs
Even during smaller operations, people working together will tax NAS systems. But with NVMe caching, it can easily handle random workloads in multitasking/multi-user applications.
Simply put, it will allow SMBs to do more.
Scale Up to Keep Up
Be ready for any data explosion with the Red SN700. The SSD in our review is the 1TB variant, but WD offers higher capacities if you need additional storage.
Optimise Your Workflow with the WD Red SN700 NVMe SSD
The SSD is built and tested for compatibility with current NAS systems. It offers maximum flexibility to enhance your workflow. 
Specifications
Before discussing the performance and our hands-on experience, our WD Red SN700 NVMe SSD Review will share its product specifications. The SSD has a 1TB capacity and an M.2 2280 S3-M form factor. 
Its sequential read/write performance is 3430MB/s and 3000MB/s, respectively, plus it has a 2000 TBW endurance. 
Lastly, the SSD measures 80 x 22 x 2.38mm. 
Hands-on with the WD Red SN700 NVMe SSD 
We finally reached the hands-on section of our WD Red SN700 NVMe SSD Review. It is where we will share our experience with the SSD, which we tested for a week. We will discuss how it performed and if the SSD is worth considering.
But before getting into detail, we will share some details about the WD software. 
Western Digital Dashboard
The Western Digital Dashboard utility allows analysis and updates via a user-friendly GUI. And the software supports the Red SN700.
 It provides a comprehensive overview of the drive status for testing performance. Digital Dashboard also includes additional tools and settings. 
You can perform firmware updates, SMART tests, TRIM optimisations, and secure-erase the drive. These may be standard features, but many 3rd-party drive manufacturers do not provide such assistance. That gives Digital Dashboard the upper hand. 
However, it does not have a cloning tool, but you can download the Acronis True Image WD Edition instead. It is downloadable via the WD website. 
We had a good experience using the Western Digital Dashboard. Its clean and uncomplicated interface laid out all the settings, making it user-friendly.
This software is compatible with Windows 10 and 11, 32-bit and 64-bit versions.
WD Red SN700 NVMe SSD Performance 
During our tests for this WD Red SN700 NVMe SSD Review, it almost nailed its advertised read/write performance numbers. This drive also delivered scores close to the highest-performing PCIe 3.0 SSDs when using different benchmarks.
The SN700 delivered a solid performance in our read/write tests. With a high-performing system, this SSD can exceed our test figures. The IOPS was slightly lower, but that is because we tested the product with massive files. 
Aside from impressive scores, the SSD delivered consistent performance. When we did heavier tests, the performance of the SN700 did not drop. We were impressed with this performance pattern since this product is for NAS cache uses.
Overall, the performance of the SN700 was outstanding. Based on our test results, this SSD is highly reliable for backing up or storing your data. It can handle demanding workloads, making it perfect for read/write uses for a NAS system.
WD Red SN700 NVMe SSD Review Summary
The Red SN700 from WD is an impressive NVMe SSD with many things to like. It is one of the SSDs for home and SMBs with the highest endurance. The product will be ideal when you use NAS systems like QNAP or Synology. 
WD boosts its Red series of NAS SSDs with the SN700 by switching to the NVMe protocol. As a result, this SSD can deliver good performance, especially for NAS systems.
When we tested the product for our WD Red SN700 NVMe SSD Review, it did not deliver high-speed performance. We already anticipated this PCIe 3.0 SSD would not be as fast and modern as PCIe 4.0 SSDs. However, it offered positive results in our read/write tests and maintained acceptable temperatures during operation.
Speed is not the primary selling point of a NAS SSD like the SN700. Instead, it is an endurance rating of 2000 TBW, which is significantly higher than the competition. Although other SSDs with similar speeds have lower prices, they do not have the same endurance rating as the SN700.
Despite not delivering the highest numbers in our performance tests, it offered an excellent user experience. As we mentioned, it was not the fastest SSD, but it felt fast when we used it with our NAS. However, it will not be ideal for extreme enthusiasts who want the highest speeds in test results.
We highly recommend the SN700 for its NAS-optimised features, capacity, and endurance. It is a solid SSD for virtualisation, collaborative editing, database storage, and concurrent access.
Learn more about the Red SN700 NVMe SSD by visiting the official product page of WD.