Action cameras serve the only purpose – to capture extreme sports moments. Usually, they are attached to the chest or helmets of athletes to capture all the moments from the first person. Consequently, they have a lot of requirements that should be met. So, if you're an extreme sports lover who is searching for a great action camera that will help you capture all the moments of your adventures, you're at the right place. Scroll down below and discover what to pay attention to when choosing an action camera. 
Durability
Indeed, durability is one of the main qualities that need to be considered when opting for an action camera. Unfortunately, extreme sports are dangerous and are always related to falls. Therefore, an ideal camera should be able to withstand many falls on rocky ground, ice, and water to keep your footage safe. First of all, it should have a durable case made of soft plastic. Also, it has to be water- and dust-proof. Action cameras are usually utilized in extreme conditions, so you have to look for durable models that won't stop working if they fall from the 30-feet height or get sunk in salted water.
Also, it's vital to pay close attention to the temperatures that an action camera can withstand. Even if you're not going to explore the North Pole or the middle of the Sahara desert, a camera will likely experience extreme temperatures anyway. For instance, being attached to the helmet of a rider, direct sun rays may hit a device for an extended period. Also, it may heat by itself when capturing a video of high quality. When skiing with a camera from high and steep slopes, the combination of cold and winds may force a lot of devices like smartphones to power down. However, a good action camera should keep working even in terrible weather conditions and extreme temperatures.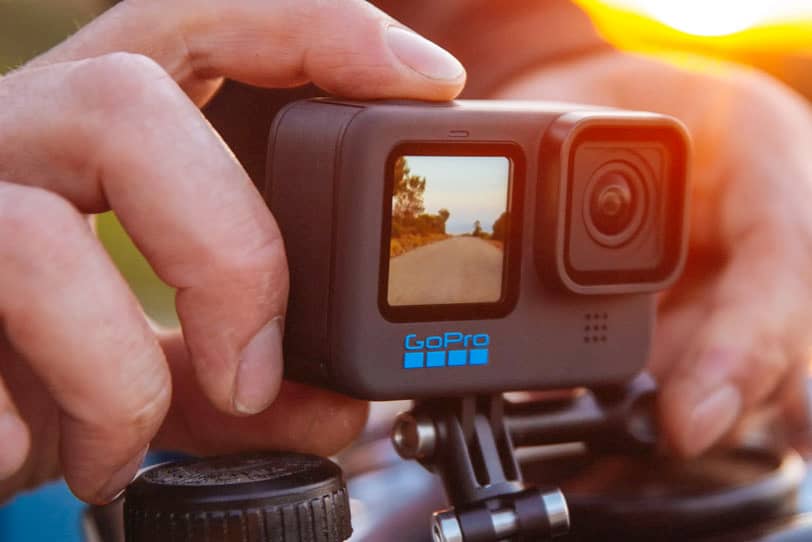 Video Quality
Indeed, an action camera that shoots low-quality video is useless in the 21st century. If you want to enjoy the filmed scenes, you have to opt for a device that can capture 4K videos. Also, a camera has to shoot wide-angle pictures to capture the beauty of nature if you like reaching places that are not popular among tourists. To get smooth videos that others will enjoy watching, it's also vital to consider a stabilization device. In case you like moving fast, it's required to mind the frame rate when opting for a new camera to shoot your adventures. For example, if you want to ride from steep slopes as fast as possible, the minimum number of frames that a camera should shoot per second is 60. Otherwise, there is a risk of some parts of videos getting blurry. 
Specs, Extra Features, and Accessories
If you don't want to carry a power bank or a stack of batteries to replace, you have to purchase an item that can live long from one battery charge. It's vital to pay attention to the memory to not limit yourself with shooting time. Most cameras record videos on external sd-cards. However, videos of high quality take a lot of space. Therefore, don't hesitate about exploring the maximum capacity of sd-cards that a camera can use. 
Connectivity is another factor to consider when looking for a good action camera. To get a feature-rich device that will be convenient to use, opt for a camera that can be easily connected to a smartphone. A mobile phone may help chat with friends, play games, and even get essays help online if you're a student. Also, it can be used to stream a video in live time from a camera with the help of a Bluetooth connection. In case you lose your shooting device, a wireless connection may help you determine its location. Once you get approximately 30 feet close to your device, a connection will get established automatically, so you will be able to find your camera, even if it is buried in the sand.
To not struggle with attaching our camera or applying an extra protection case, check out what accessories are available for your device. Besides, pay close attention to their prices. Unfortunately, some manufacturers charge a lot for simple accessories because there are no cheaper analogs of the same shape. 
Controls and Screens
Controls and screens are vital for an action camera because they simplify the use. In most cases, protective gloves are required when doing extreme sports. Therefore, the buttons should be big. If so, you won't be required to put off gloves to stop shooting or delete some files. Ideally, it should have a separate button for making snaps and voice control. It will help you start, pause, and end shooting by saying particular commands. Consequently, you won't be required to put off your helmet, for example. Also, a good camera should be equipped with a large screen to watch all the shot scenes without using additional equipment. However, avoid action cameras with touch screens if you're a fan of extreme sports. It's inconvenient to utilize them in challenging conditions.