Gaming is a booming industry, and it will continue to soar higher in the future. Are you willing to take the next step in the future of gaming? In our AORUS 15G XC Gaming Laptop review, we'll discuss what makes this laptop the frontrunner for gaming laptops everywhere. 
Gaming laptops are a common trend in today's generation. This is true because they are portable, compact and durable. They are inherently more versatile than most desktop computers in terms of variety. 
With that said, let's head right into our AORUS 15G XC Gaming Laptop review. 
AORUS 15G XC Gaming Laptop – Packaging
Before we can head directly into our AORUS 15G XC Gaming Laptop review, we have to check all the items that come with the product. 

Our AORUS 15G XC Gaming Laptop comes in a medium-sized black cardboard box with orange highlights. There, the brand name is seen on the front, back and sides of the box. 
AORUS doesn't want to display the features of the product on its packaging. This is because it is expected that the customer is well aware of the features this product has. 
With that, let's jump right in. 
To open, you have to remove the tape that covers the latch. With that out of the way, you lay the package on its back and gently lift the cover. 
There you will see the product covered in a black cloth held by black styrofoam. The black styrofoam is necessary for preventing the laptop from moving around during shipment. 
The black cloth keeps the exterior surface of the laptop smooth. It also protects it from scratches.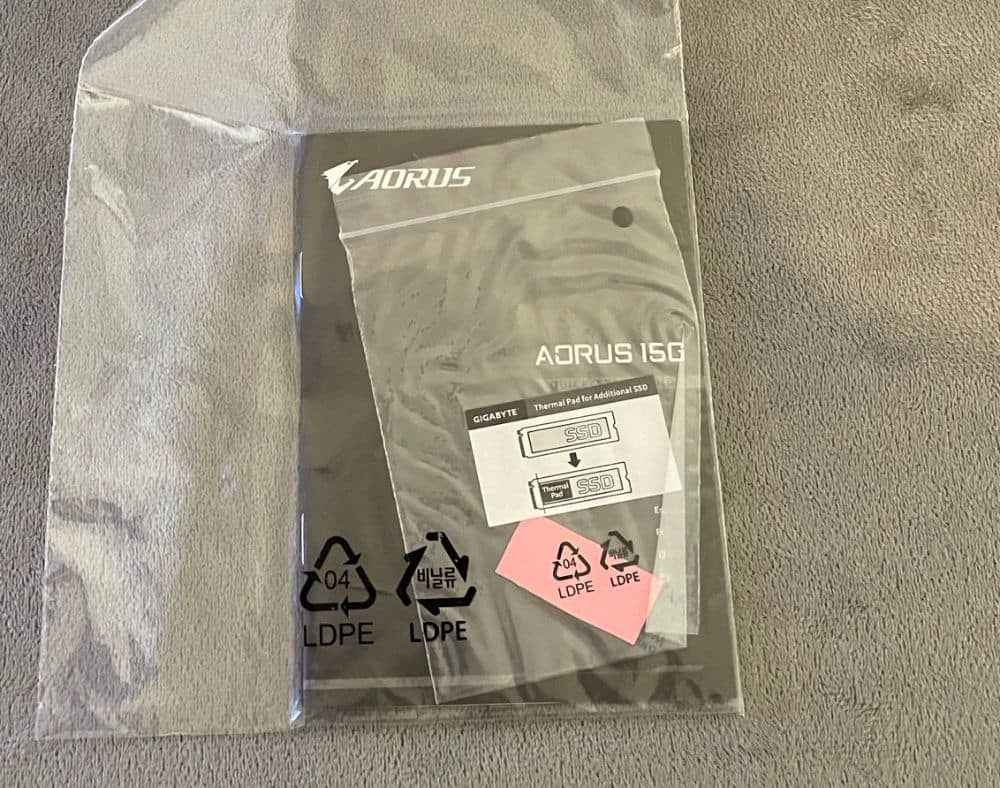 With the styrofoam in place, you may find it hard to remove. Carefully slide each part out to remove the styrofoam. 
Other than the main product, you will find a small long cardboard box. Inside, you will find the charger for the laptop, adaptor and instruction manual. 
They are all wrapped in plastic, which is to prevent any damages to these parts. 
Setting up this laptop should be relatively easy with the instruction manual provided. If there are some details you may not understand, you can always check the official website for more inquiries. 
AORUS 15G XC Gaming Laptop Review – Design and Functionality
Let's now direct our attention to the design and functions in our AORUS 15G XC Gaming Laptop review.
The AORUS 15G XC Gaming Laptop is coated in a black finish. It has a smooth exterior and a soft keyboard press. 
This laptop is designed especially for top tier gamers who want a more in-depth experience. It is the pro-gaming laptop built to meet the standards of performance and efficiency during intense gameplay. 
AORUS's target is to allow gamers to play at the highest level. Paired with NVIDIA GeForce RTX GPUs, you are sure to fully experience high performing games at full blast. 
Together with its backlit keyboard and Anti-glare Display LCD, you are sure to be lost in its immersion. This takes gaming standards to the next level. 
You won't even need to worry about lag disturbances, runtime delays or latency issues. The AORUS 15G XC Gaming Laptop covers all aspects of what a gamer needs when playing. 
All in all, the AORUS 15G XC Gaming Laptop is built for performance and full enthrallment. It helps you keep the focus on the targets at hand and alleviates common PC issues. 
Key Features of the AORUS 15G XC Gaming Laptop 
Going away now from its design, we take a look at the features this product has in our AORUS 15G XC Gaming Laptop review. 
The Ultimate Play
Since paired with NVIDIA GeForce RTX Laptop GPUs, AORUS has been a front runner for gaming laptops in the market. It makes other gaming laptops seem like desk computers. 
With its RT cores, streaming multiprocessors and Tensor cores,  it provides the most efficient ray-traced graphics combined with its intelligent AI features.
Ray Tracing
When people discuss the best gaming graphics out in the market, ray tracing is the ultimate feature today. It is even considered the "Holy Grail" when simulating the physical behaviour of light. 
This brings a real-time cinematic quality to gaming, even under the most visually draining games. It provides realistic video rendering and smooth gameplay, which only further enhances the experience. 
DLSS AI Acceleration
With the NVIDIA DLSS feature in the GPU, it is sure to never lose its composure. Due to its AI rendering, it increases frame rates without altering the image quality.
This is done with the dedicated AI processing within the Tensor Cores on the GeForce RTX. Thanks to that, you can rely on the AI features of this product to provide you with a better performance. 
MAX-Q
A smaller laptop would mean a smaller hardware system. This means that smaller laptops aren't fit to run games that demand higher specifications. With the Max-Q system, this is not the case.  
Max-Q grants a different approach to deliver high performances on small gaming laptops. In this system, every small detail and part of the laptop are optimised for power and performance. 
This technology uses AI and system optimizations to allow gaming laptops to run faster and better than before. 
It contains a dynamic boost that supports the GPU, GPU memory and CPU to handle larger tasks. A resizable bar that enables the processor to access the whole GPU frame buffer. 
Multitasking
It is important for a computer to be able to handle various difficult tasks running at the same time. This can be very demanding for a laptop. 
Our AORUS 15G XC Gaming Laptop has an Intel Core i7 10th Gen1 series processor. This processor is equipped with 8 cores and 16 threads and can go to a maximum 5.0GHz. 
With that, you can stream, record gameplay and run multiple applications at the same time without compromising any of them. Thanks to that, you can simultaneously multitask several applications.
AORUS offers only the best multimedia processing and high performing gaming experience paired with its processors. 
Cooling
High performing laptops usually require high performing cooling systems. It is important to consider the maintenance of the laptop as well. 
The AORUS 15G XC Gaming Laptop has an unmatched cooling system that relieves the stress that the laptop will go through. This is thanks to the WINDFORCE Infinity Full-Copper Cooling Technology. 
Due to the cooling efficiency at hand, your gaming laptop will be safe from overheating during play. 
Game Optimiser
Our AORUS 15G XC Gaming Laptop has an amazing AI feature that focuses on setting the best CPU and GPU wattage settings for gaming performance. This is the Microsoft Azure AI Auto Optimise. 
AORUS, paired with the Microsoft Azure AI Auto Optimise, allows groundbreaking optimisations for your laptop. This artificial intelligence will track the current game running and will automatically reconfigure your CPU and GPU. 
With everything done by AI, gamers such as ourselves won't need to tweak anything. Just let the AI do its job, and you will see the results in your gaming experience.
No More Long Load Times
Load times in games take up too much time. This reduces a gamers experience and enjoyment. This is now changed with the ultra-fast SSD inside the AORUS 15G XC Gaming Laptop. 
AORUS comes with 2 fully equipped high-speed PCIe 3.0 x4 SSD slots. This allows your laptop to read larger filers faster and boots up the game much quicker. 
The PCIe Gen 3 SSD can read and write up to 3000mb/s. This overall boosts the efficiency rate of the laptop and reduces the runtime in-game. 
Faster Refresh Rates
Thanks to the 240Hz gaming display with a 72% NTSC colour gamut, you can now truly enjoy the visual aspects of your game. The 240Hz brings in a high refresh rate that eliminates motion blur.
This leaves a perfect and easy image and video experience with a clear sight of victory. 
With all the things said, AORUS has taken the next step when it comes to enhancing a gamer's overall experience. Other than performance and smooth gameplay, you got stunning visual rendering and proper gaming optimisations that best fit your gaming needs. 
Specifications
Our AORUS 15G XC Gaming Laptop review can't be finished without understanding the inner works of the product. 
Central Processing Unit
For the processor, you are given a 10th generation Intel Core i7-10870H. This processor is one of the latest processors in the market today. 
You won't have trouble with the processing speeds, lag disturbances or performance drops. The CPU is built well to prevent these kinds of issues during use. 
Display Monitor
Looking at its monitor, it is a 15.6" Thin Bezel FHD and its resolution size of about 1920 by 1080. It also has an IPS-level Anti-glare Display LCD, which contains 240Hz and 72% NTSC. 
System Memory
Regarding the memory slots, which would hold your RAM sticks, you are given two DDR4 slots with a maximum of 64GB capacity. The 10th Gen Intel processor supports DDR4-3200 memory.
Video Graphics
Checking the graphics card, the laptop supports NVIDIA GeForce RTX 3070 Laptop GPU 8GB GDDR6. RTX stands for Ray Tracing Texel eXtreme.
These RTX cards are designed to increase the real-time ray tracing involved, which makes the video rendering and processing look amazing. This improves the overall game immersion experience. 
Storage
The AORUS 15G XC Gaming Laptop houses two M.2 SSD slots. Computers these days are slowly transitioning to solid-state drivers because of the read and writing speed.
SSDs are more efficient and reliable than hard disk drives as well as smaller and more compact. 
Keyboard
Our AORUS 15G XC Gaming Laptop features an AORUS Fusion Keyboard in island style. Each key has a full backlit control. 
Outside Parts
Moving now to the exterior regions, the AORUS 15G XC Gaming Laptop has three USB 3.2 Gen1 Type-A and one USB 3.2 Gen1 Type-C.
It also has one HDMI 2.1, one mini DP 1.4, one 3.5 millimetre Audio Combo Jack, one UHS-II SD Card Reader, one DC-in Jack and one RJ-45. 
Checking the audio, it has two 2 Watt Speakers, a built-in microphone, and for the webcam, an HD Camera.
Battery
The Battery is a Li Polymer 99Wh. It also has an adapter that can handle up to 230W. A common technique in using laptops is that most people remove their batteries when charging. 
With the Li Polymer on the AORUS 15G XC Gaming Laptop, you won't need to do this anymore as it safeguards your internal parts. 
Dimensions
Our AORUS 15G XC Gaming Laptop is 357 mm in width, 244 mm in depth and 23 mm by height. It also weighs 2kg which is very light. 
Hands-on with the AORUS 15G XC Gaming Laptop 
Alright, moving forward from the techy stuff, we now journey on to see if the product is worth your money in our AORUS 15G XC Gaming Laptop review. 
A major factor in determining a good laptop is being reliable to the user. This means maintaining quality and consistently high performance during its usage. 
When we were testing, we were worried that the laptop would be endangered by overheating. Overheating is the most common problem with computers everywhere. 
With the WINDFORCE Infinity Full-Copper Cooling Technology, it provided a sustainable temperature for the laptop that won't hurt the internal components. 
Thanks to this, it was able to continue running these high-taxing games at high speeds. With Max-Q technology and Microsoft Azure AI Auto Optimise supporting the laptop, it makes all the difference. 
Overall, AORUS has created an intelligent beast in the market. The AORUS 15G XC Gaming Laptop, with all its features, can run games at maximum performance, together with stunning visual rendering and smooth gameplay with little to no runtime delays. 
With that said, AORUS is a champion in design and innovation when it comes to creating the next generation of laptops. 
AORUS 15G XC Gaming Laptop Review Summary
Before ending our AORUS 15G XC Gaming Laptop review, we will now tell you our thoughts on this product. 
The AORUS 15G XC Gaming Laptop is made with the purpose of fully immersing the gamer into the game. This allows the gamer to enjoy the fulfilment of playing without disturbances of any kind. 
Its amazing AI features, such as the Max-Q Technology and Microsoft Azure AI Auto Optimise, that help run your laptop efficiently boost the overall experience. Combined with the Intel i7 10th Gen and NVIDIA GeForce RTX 3070, you are sure to never lose in terms of power. 
With its Ray Tracing, 240Hz gaming display and backlit keyboard features, it brings aesthetic style and fashion into your preferences and game. Not only style but performance, efficiency and reliability are just some of the major factors this laptop has. 
This laptop takes the next step in bringing us closer to a higher gaming experience than ever before. With that said, we are happy to tell you that we approve of this product.
All in all, we happily recommend the AORUS 15G XC Gaming Laptop to anyone looking for an upgrade to their gaming experience. If you are looking to buy or view this product in more detail, then click here.