ASRock is known for releasing a wide array of boards that are based on the AMD B550 chipset. And today, we're looking into one of their products here in our ASRock B550 Extreme4 Motherboard review. 
This is the B550 Extreme4 motherboard – a product known for its excellent value and enhanced performance. With this, the board has become a favourite option among gamers around. This motherboard is one of the company's mid-tier B550 boards and is packed with everything that enthusiast gamers would need. 
So to learn more about this motherboard, continue reading our ASRock B550 Extreme4 Motherboard review to learn more.
Here, we'll provide information on its design, functions, features, specifications, and performance. These will help you decide whether this board is something worthy for your build. 
ASRock B550 Extreme4 Motherboard Packaging
When we received our B550 Extreme4 motherboard, it came in the usual attractive and artistic ASRock packaging. It's not only nice, but it also helps make the product stand out from the crowd.
The front of the package displays a diagonal neon blue and pink-coloured strip that's positioned at the centre. On the upper-right corner, ASRock is written, while below it is the unit's name. 
Flipping the box, the rear displays more of the product's specifications and features. There are also multiple images of the different parts of the board with descriptions for each too. In addition, you'll find details on the included connection type on the product's I/O panel.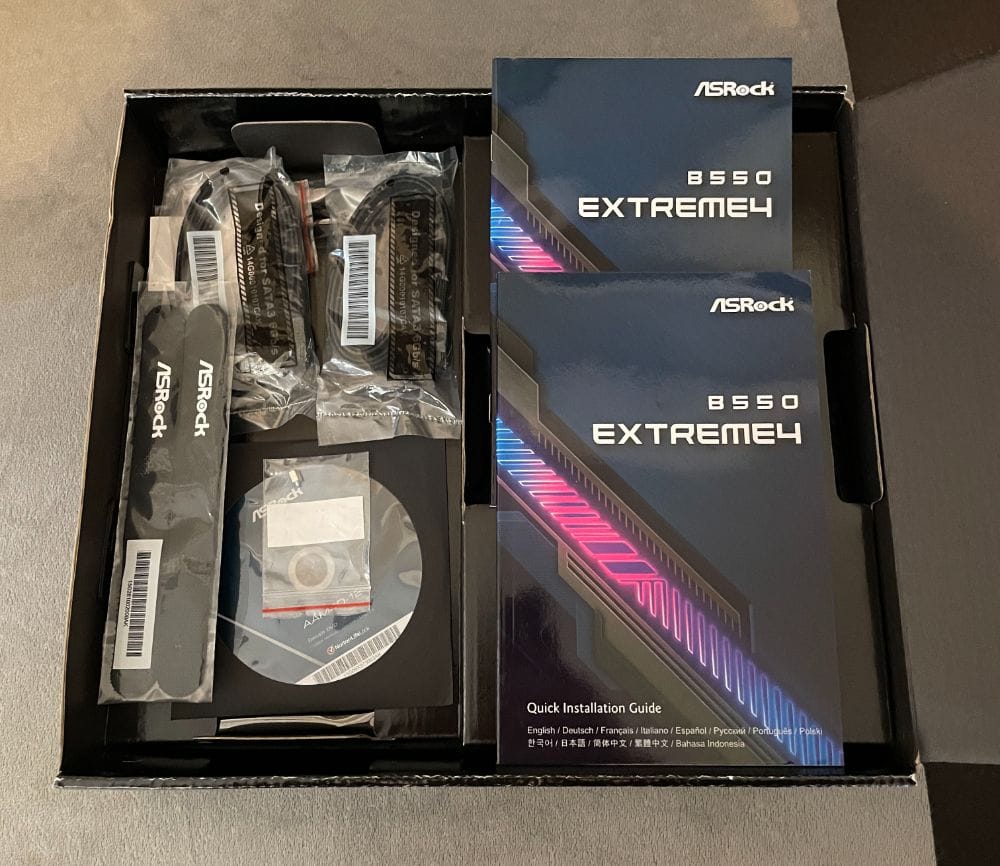 Inside the package, you'll find that ASRock gave it a dual-chamber interior. The upper portion holds the board's documentation which includes the software setup manual and installation guide. 
Now for the lower portion, it holds the B550 Extreme4 motherboard itself. It's wrapped in an antistatic bag with the other accessories kept underneath it. 
To complete this section of our ASRock B550 Extreme4 Motherboard review, here's a list of all items inside the package. Other than the motherboard, you'll find the quick installation guide, support CD, and four SATA data cables inside. There are even three M.2 socket screws and two M.2 socket standoffs. 
ASRock B550 Extreme4 Motherboard Review – Design and Functionality
This section of our ASRock B550 Extreme4 Motherboard review is where the build and functions of the product are discussed. 
The B550 Extreme4 motherboard comes with a set of balanced features in terms of durability, price, and aesthetics. But make no mistake since this board offers a rock-solid platform for gaming. And if you don't need WiFi out of the box, this product will cover you in every other way. 
The B550 Extreme4 motherboard has a lot of similarities to other ASRock boards. However, each of these have their own unique differences. 
If you aren't sure of the differences between the B550 and X-570 chipsets, the latter offers full PCIe Gen4 support. It's for general purpose lanes and CPU chipset uplinks, allowing for quicker performance. When it comes to B550, it provides PCIe Gen3 support for those lanes. 
Although the B550 Extreme4 motherboard is dark-themed with tons of blue, black, and matte features, it comes with adequate contrast. Specifically, these are the plastic and silver-metal highlights with RGB branding which provides efficient contrast. 
Details on the heatsink, M.2 heat shield, rear I/O shroud, and chipset have uniform 45° angles. These all work simultaneously with the PCB's print for a more effective aesthetic. The matte black finish can be seen on the heatsinks, and these come with polished accents and etching. 
Overall, these appear good with various textures and backlit branding. 
RGB LED lights are present on the B550 Extreme4 motherboard. They can be found in two specific areas and aren't obstructed directly by two-slot graphics cards. For added bling, consider an RGB RAM or utilise the RGB headers on the board for RGB/ARGB strips. 
We think that it's generally well-balanced and subtle for most users. But if it isn't your thing, you can easily switch it off or choose to add more if you want.
When it comes to the layout, it's consistent and practical with the other current boards from ASRock. The SSDs were positioned adequately from the CPU and GPU hot spots. 
The I/O shield was already pre-installed, and it technically became a regular aspect in gaming motherboards. It's because this makes installation easier, and these have no disadvantages in the process. 
Beginning at the top-left of the board, when you look at the CPU socket, you'll see the CPU power connector. Here, the company arranged an 8+4 connector to provide more power to the CPU. This is for times of high-frequency overclocking.
Then looking at the board edge along the right, you'll see the smaller CPU VRM heatsink present. There are two of these, and they're made of aluminium and bolted onto the board. There's a thermal pad being used to guarantee full contact with the MOSFETs that are below. 
At the top of the memory slots of this board, there are two fan headers labelled CPU_FAN1 and CPU_FAN2/WP. Both of these are PWMs that support various PWM pumps and fans today. 
In addition, there are even two RGB headers to the right of the fan headers. One is for a regular 12v 4-pin RGB connector, while the other header is for a 5v 3-pin ARGB connector. These are linked to ASRock's lighting system, Polychrome Sync RGB. 
An extra PWM fan header sits above the 24-pin board connector and is named the FAN5. 
On the bottom-right section of the board, there are six SATA 3.0 ports present. Just below these is a diagnostic LED panel. The panel offers a code that you can use as a reference manual if you're having trouble with the board.
Along the bottom edge from right to left, you'll see the reset, front panel power, and LED connector there.
Next, there's an onboard reset and power button available. It's a useful feature to have when trying out a motherboard, and we actually wished all others had these.
There are front panel USB 2.0 headers that support each of the two USB 2.0 ports. You'll even come across Fans 2 and 3, plus the next 4-pin fan headers. 
Two more RGB headers are present. One is for the 12v 4-pin RGB, while the other is for the 5v 3-pin ARGB.
Rounding out the bottom corner of the B550 Extreme4 motherboard is its front panel HD audio connector. Its audio circuitry is set on the lower-left portion of the board and is concealed by the left heatsink. The only parts exposed on the board are the audio capacitors.
The B550 Extreme4 motherboard can support up to 128GB of RAM in x4 32GB memory modules. You won't need this for a gaming PC, but it's more for those into content creation, graphics, or video editing. It's because these require high-density memory modules that are widely available today.
Overall, its layout is easy to work with since it doesn't have any user issues. As for building, it's straightforward and suitable for acquiring a clean cable job, and it's all thanks to its header placements. 
This time, let's look at the motherboard's key features here in our ASRock B550 Extreme4 Motherboard review.
Key Features of the ASRock B550 Extreme4 Motherboard
The ASRock B550 Extreme4 motherboard comes packed with a ton of features. So, let's see what this product has in store for us. 
Aluminium Alloy Heatsink Armour and Dual M.2 Sockets
The ASRock B550 Extreme4 Motherboard comes with an aluminium alloy heatsink top cover that efficiently dissipates heat. Underneath the strong cover are two M.2 Key M sockets required for gaming and high-speed SSDs.
The M.2 socket can run PCIe Gen3 x2 and SATA3 mode. For the Hyper M.2 socket, it supports PCIe Gen4 x 4.
Dr. MOS
Dr.MOS is the integrated power stage solution in the B550 Extreme4 Motherboard. It's optimised for synchronised buck-set down voltage apps.
Unlike traditional MOSFETs, it smartly delivers higher current for each phase for enhanced thermal results and superior performance.
Premium Power Chokes
ASRock's 60A power chokes are of premium quality. These enhance the saturation current by three times which results in better Vcore voltage to the board.
High-quality Memory Alloy Choke
The memory alloy chokes feature a highly magnetic and heat resistant design. These are specifically made for delivering more reliable and stable power to the board and memory modules.
Nahimic Audio
Nahimic Audio allows for a more engaging audio experience by providing rich and vibrant detail.
Matte Black Copper PCB
The 2oz copper inner layers provide stable power shapes and signal traces. By offering higher energy efficiency and lower temperature for overclocking, it can support the newest DDR4 memory modules.
The new matte black and copper colour scheme match the high-end components of ASRock's motherboards.
Nichicon 12K Black Caps
The Nichicon 12K black capacitors come with lifespans of 12,000 hours. This is 20% longer than the lifespans of capacitors on high-end motherboards. With that, you can ensure that this board's Nichicon 12K black caps are more reliable and stable.
I/O Armor
The B550 Extreme4 Motherboard features a newly designed protective cover for all crucial components near the board. It's to protect these parts from damage by static electricity.
Polychrome RGB for Personalised Aesthetics
ASRock boards are compatible with Polychrome RGB, an interface where you can customise RGB lighting. This software provides comprehensive control on RGB LEDs and LED strips of motherboards, CPU fans, chassis, and other RGB products.
Dragon 2.5 Gb/s LAN
The smart 2.5Gb/s LAN platform is designed for high networking performance. It's the solution for the demanding requirements of online gaming, content creation, home networking, and high-quality media streaming.
This technology boosts networking performance by 2.5 times the bandwidth of the standard GbE. With that, you can enjoy faster and uncompromised connectivity for gaming, backup, and file transfers.
AMD Smart Access Memory
AMD Smart Access Memory works by expanding the data channel to unleash your GPU memory's highest potential. It eliminates the bottleneck and enhances performance, unlike conventional processors that can only access a part of the GPU.
StoreMI Technology
AMD's StoreMI Technology combines your SSD's speed with your hard disk's capacity into a single drive. It automatically transfers your most accessed data to the SSD, allowing you to enjoy the best of both worlds.
Continue with our ASRock B550 Extreme4 Motherboard review to get all the details about its specifications. 
Specifications
The B550 Extreme4 motherboard makes use of the AMD B550 chipset. It has a built-in AMD Radeon Vega Series for its graphics. When it comes to its CPU, it has the AMD AM4 socket Ryzen 3000, 5000 Series and 4000 G-Series processors. 
Speaking of its VRMs, the B550 Extreme4 motherboard makes use of a 14-power phase design 50A Dr. MOS. 
The motherboard has a dual-channel memory with 4x DDR-4 DIMM slots. It has a maximum of 128GB, up to DDR-4 -4 733+ (OC) expansion slots. 
Storage Specifications
For its storage, the motherboard has x6 SATA3 6.0 Gb/s connectors that support RAID 0, 1, and 10. There's one M.2 22110, one M.2 2280, and an M.2 supporting the type 2230 WiFi/BT module. 
The board has 2.5 Gigabit LAN 10/100/1000/2500 Mb/s and Dragon RTL-8125-BG. It also supports the Dragon 2.5G LAN software. 
Hands-on with the ASRock B550 Extreme4 Motherboard 
Want to know how the motherboard fared during our tests? If so, continue reading our ASRock B550 Extreme4 Motherboard review to know more about its performance. 
When it comes to online gaming while downloading, this software was able to adequately prioritise traffic. The process wasn't too scientific so we didn't have to keep watch on the in-game latency. 
We didn't experience any issues while streaming content or during online gaming with competing traffic during tests. So with that, we suggest decreasing simultaneous network activities if you're competitively gaming online.
This is an intuitive system so we didn't have any problems using it. Everything on it was easy to find, and all elements were labelled clearly which was great. 
We were able to overclock through the BIOS like we've been utilising it for years. For updating the BIOS on this motherboard through USB, it was easy and quick, just like how it should be.
Basically, it's a stable and functional BIOS with a couple of useful utilities for loading storage devices.
This is an easy spot to download different utilities and for keeping these up-to-date. Its "Restart to UEFI" program saves you from hitting the DEL button to access BIOS. 
Both applications from ASRock have been present for quite some time. And, these help make life a bit more convenient without affecting the system's performance. 
Despite the lack of a heatpipe between the B550 Extreme4's VRM heatsinks, we didn't experience any thermal issues. Even when overclocking, the processor never reached high temperatures.
On our open-air test without active airflow, the VRM heatsinks became warm but never became hot. With light active airflow, the air passing over the VRM heatsinks effectively maintained low temperatures.
The A-Tuning app allowed for fan control profiles via Windows. Although basic, the app was intuitive. It has all the important settings and a few presets.
Tests were completed with a Ryzen 3900X.
ASRock B550 Extreme4 Motherboard Review Summary
The ASRock B550 Extreme4 Motherboard is an excellent base for a high-end but lower-cost gaming PC. Although the board uses the lower-end B550 chipset, it won't make any difference. That's because its features are the same as those of X-570 motherboards.
The B550 Extreme4 performed excellently during our tests, and we didn't experience any issues with it. The board was flawless and its support for 16-core processors made it perfect for strong power designs. Plus, its integrated technologies allowed it to provide stable performance throughout our tests.
Aside from the impressive performance, it offered stunning RGB lighting. This enhanced the overall aesthetic and performance of our rig which we think is really great.
The B550 Extreme4 is a more affordable alternative for demanding users who want to utilise the latest Ryzen processors. It comes with all the important features and eliminates the non-essential technologies that may raise its price. Overall, it's a high-performance motherboard that we highly recommend.
Check out the store locator on the company's official website to find authorised sellers of this motherboard.