The Radeon 5600 XT Phantom Gaming from ASRock is one of the most efficient graphics cards to date. Today, we're focusing on this product here in our ASRock Radeon RX 5600 XT Phantom Gaming review.
ASRock is a relatively new brand in the GPU market. The RX 5600 XT Phantom Gaming is only the company's third Navi-based GPU. Like most 5600 XT GPUs on the market, this product from ASRock also comes with an upgraded BIOS.
Initially, the ASRock Radeon RX 5600 XT Phantom Gaming didn't have updates on its memory speed. Recently, a new public BIOS was released and boosted the memory speeds to 14Gbps.
Although efficient, does the graphics card have what it takes to be the best? We're going to find that out in our ASRock Radeon 5600 XT Phantom Gaming review. But first, let's check out its packaging and what's inside the box.

ASRock Radeon RX 5600 XT Phantom Gaming Packaging
This part of our ASRock Radeon 5600 XT Phantom Gaming review talks about the packaging and accessories included in it.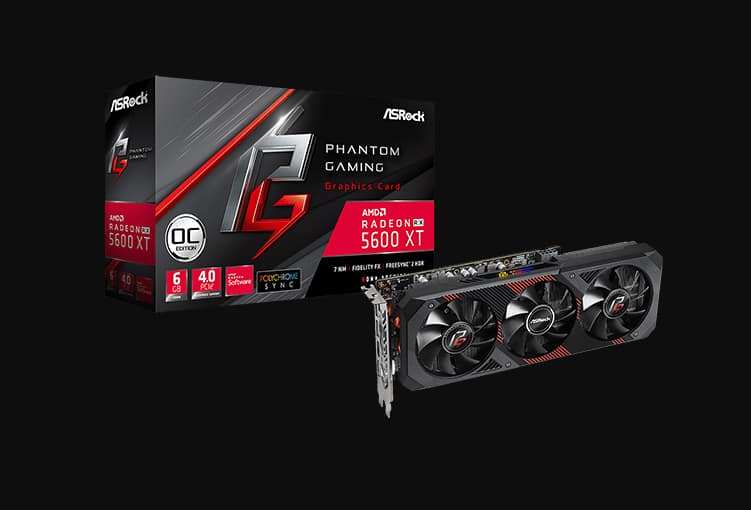 The ASRock Radeon RX 5600 XT Phantom Gaming comes in a black package. At the centre, you will find a huge PG logo, while Phantom Gaming is on its right.
There are lots of details such as features on the package, yet there is no image of the card itself. Inside, there aren't a ton of inclusions, and you'll only find the accessory bundle and the quick start guide.
ASRock Radeon RX 5600 XT Phantom Gaming Review – Design and Functionality
This time, our ASRock Radeon 5600 XT Phantom Gaming review talks about the functions and design of the graphics card.
The Radeon RX 5600 XT Phantom Gaming is a well-built graphics card that boasts a finely-built heatsink.
It comes with a strikingly stylish black design combined with red stripes and a black metallic backplate. The card also displays a subtle aesthetic look that blends nicely with a lot of systems without clashing. Despite its simplicity, it's still bold and attractive enough to catch your attention.
For the GPU, it's longer when compared to the SAPPHIRE version, but it's not as wide, which is good.
The ASRock Radeon RX 5600 XT Phantom Gaming has a different approach to its design and build. Cost is highly vital in this market segment. So, the company opted for a custom PCB design optimised for the RX 5600 XT.
One of the noticeable differences is the six memory pads. It's perfect for the card's 6GB VRAM setup since other cards only have two empty slots for the memory. These two slots only boost the PCB complexity, size, and cost.
Next, the company switched from the pricey IR-35217/NCP-81022 Voltage controller mix. They opted for a cheaper dual uP-9505P design, which is something common with a lot of cost-effective NVIDIA boards.
ASRock also adjusted the cooler then reduced the PCB size for the changes they made. The improvements were highly necessary to reduce the cost further.
The ASRock Radeon 5600 XT Phantom Gaming is factory-tweaked and measures 290.6 x 126.5 x 53.1mm.
Though the PCB may be small, its Heatsink protrudes about 3 inches past it. So basically, it's a relatively long card.
Its height shouldn't be a problem since it's fixed with the I/O plate. Yet with its length, the card might not fit SFF systems. So before purchasing, we suggest that you check the space in your chassis.
Triple-Fan Cooling Solution
The triple-fan cooling solution utilises 75mm fans to bring air through the huge Heatsink. It functions by cooling all vital sections like the memory, core, and VRMs via nickel-plated metal plates.
Its core reaches through thermal paste while the VRMs and memory via thick thermal pads. The protective backplate also doubles as a passive heatsink for the core.
Heat pipes, Back Plate, and Heatsink
Numerous heat pipes slither through the huge fin array that silently cools better than other cooling solutions. It's also more quiet, which makes it highly notable in our opinion.
Other than the red and black PG theme on the backplate and shroud, it features RGB lights at the top of the card.
Instead of strips, ASRock lights up the Phantom Gaming name, as well as the PG symbol. Colours you'll see are saturated, vibrant, and generally a tasteful implementation.
From the card's back, you'll find a small backplate, a huge heatsink, and the third fan as well. You'll get one 8-pin PCIe power connector to have the Radeon RX 5600 XT Phantom Gaming up and running.
Key Features of the ASRock Radeon RX 5600 XT Phantom Gaming
This time on our ASRock Radeon 5600 XT Phantom Gaming review, we'll focus more on the graphic card's key features.
Polychrome SYNC
With integrated ARGB LEDs, you can set up unique light effects. You can sync this with your Polychrome SYNC-supported ASRock motherboards to match your build.
Unparalleled Memory Speed
ASRock Radeon RX 5600 XT Phantom Gaming comes with higher memory clock settings compared to the reference default value. As a result, the graphics card delivers better performance.
Triple Fan Design
The triple-fan design aids in optimising system cooling to lower the operating temperature. It features 0dB silent cooling where the fans stop when the temperature is low for total quiet performance.
AMD Eyefinity Technology
AMD Eyefinity technology multiplies your screen area to expand your desktop computing's traditional limits. With that, games become more immersive, and workstations become more useful for productivity when you use multiple monitors.
8K Resolution Support
The ASRock Radeon RX 5600 XT Phantom Gaming can handle 4K graphics and the next-gen 8K video output. This graphics card will provide you with the ultimate visual experience.
Enhanced Game Fidelity
The Radeon RX500 line of graphics card powers your gaming experience for immersive, realistic lighting effects and explosions. The RDNA architecture significantly enhances features like Image Sharpening, Integer Display Scaling, and Fidelity FX Radeon for optimised performance.
Radeon Image Sharpening
Radeon's Image Sharpening integrates contrast-adaptive sharpening with GPU upscaling for crisp and detailed visuals. Now, it supports DirectX 9, 11, and 12.
Radeon Anti-Lag
The Anti-Lag feature from Radeon reduces the amount of time between pressing keys or moving a mouse. It's an excellent feature for all gamers and esports competitors.
2.7-slot Design
The 2.7-slot design gives more room for larger heatsinks for better thermal capability. As a result, the graphic cards perform quietly while keeping temperatures low.
Stylish Metal Backplate
As a graphics card under the Phantom Gaming series, the ASRock Radeon RX 5600 XT features a stylish metal backplate. This gives it a more fancy appearance and solid construction.
At the back, a thermal pad is present to enhance its cooling efficiency.
AMD Radeon FreeSync Technology
AMD Radeon's FreeSync technology is one of the features that allow for higher response times. As a result, your gaming experience is free of tears and stutters.
Specifications
This is the part of our ASRock Radeon 5600 XT Phantom Gaming review that deals with the product's specifications.
The card makes use of the PCIe X16 Gen-4 for its bus standard, as well as the DirectX 12 and OpenGL 4.6. It comes with a GDDR-6 6GB memory and 2304 stream processors.
For the engine clock, the Radeon RX 5600 XT Phantom Gaming has up to 1,750MHz for its boost clock. For its game clock, it reaches 1,670MHz, while the base clock is at 1,530MHz. Additionally, its a memory clock is 14Gbps.
The graphics card has a 192-bit memory bus, and it comes with an 8K HDR 60Hz digital max resolution.
For the interface, it has an HDMI 2.0b, three Display Port 1.4 with DSC 1.2a, and an available HDCP. Also, its recommended PSU for the graphics card is 650W.
For its size, the Radeon RX 5600 XT Phantom Gaming measures 290.6 x 126.5 x 51.1mm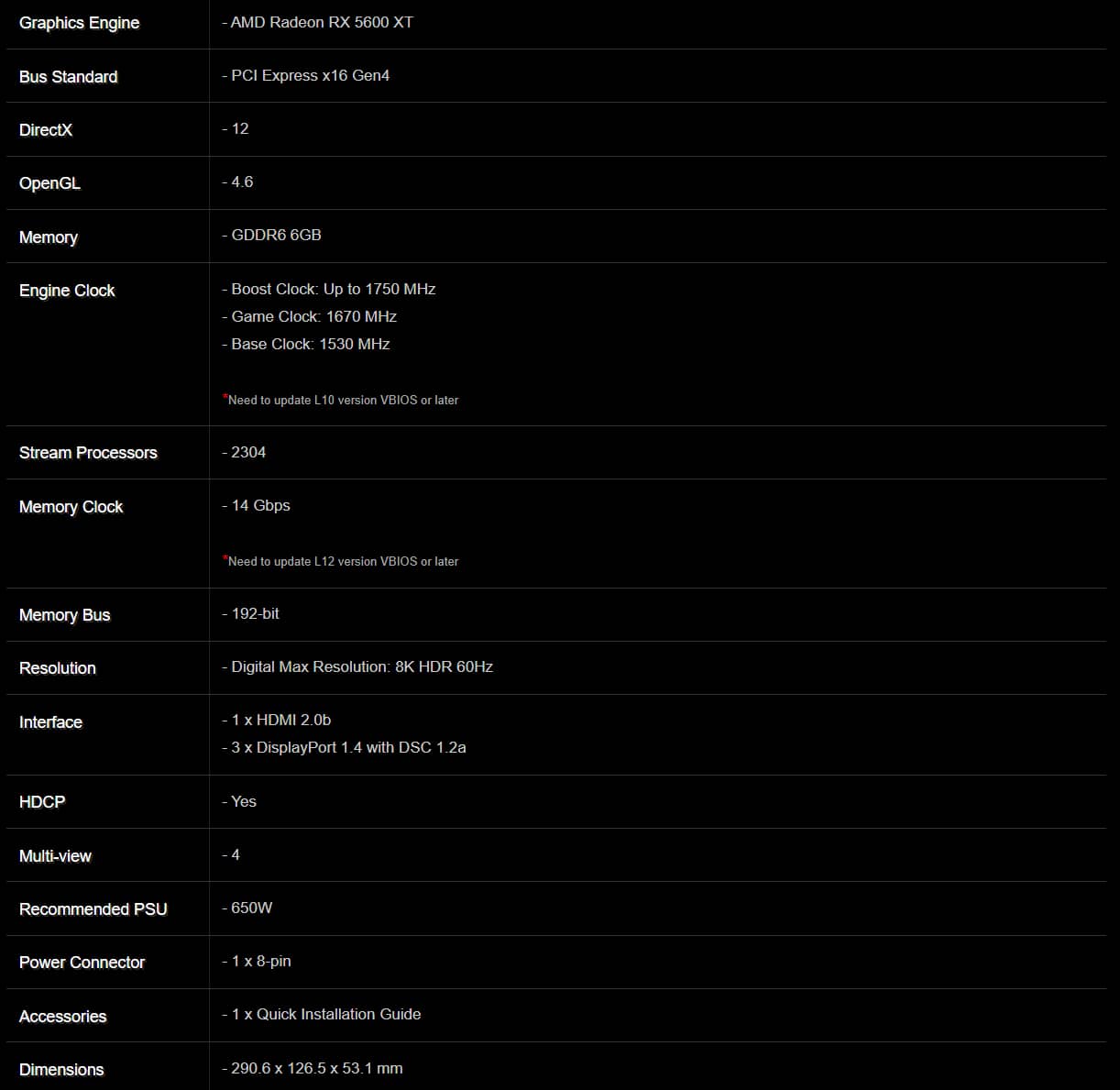 Hands on with the ASRock Radeon RX 5600 XT Phantom Gaming
This portion of our ASRock Radeon 5600 XT Phantom Gaming review will focus on the graphics card's software and performance.
The newest version of the Radeon Software Adrenalin 2020 Edition offers a redesigned user experience.
Once it was up and running, we saw three profile options available – Standard, Gaming, and Esports.
The home screen is where we found stats such as the number of hours we've put on a game. Also, we saw the average frame rates we got in our most recent session.
There is a new dynamic resolution feature called Radeon Boost which provides performance boosts when playing fast-motion games.
We also saw the Performance tab, which we think power users and enthusiasts will spend their time on. It's where we found the Tuning section where we did some tweaking for overclocks.
This new version of the software has an automatic option, so we didn't have to deal with manual configuration. There were specific dials and knobs for configuring the GPU for overclocking.
The manual view is also available for experienced overclockers who want to customise the configurations further.
When it comes to performance, the Radeon RX 5600 XT Phantom Gaming consistently performed well. This is due to the fast clock speeds that can be enabled via the vBIOS flash on the graphics card.
This GPU makes it an excellent choice for those gamers that play at 1440p and 1080p.
The triple-fan, triple-slot cooler effectively keeps the card cool and we like how it isn't taller compared to the regular slot height, which is ideal for smaller cases.
For the noise levels the card is very quiet, even when under load.
The Radeon RX 5600 XT Phantom Gaming offers factory overclocks with a total of 14Gbps BIOS. It gives us three fans, excellent cooling design, a great cooler shroud, and it even comes with a backplate.
Aside from the excellent features and design, the graphics card performed excellently and we didn't encounter any issues or problems during our tests.
Overall, it's an excellent graphics card with a lot of headroom for future titles. It may not have extreme details in every single game, but it gives you a great experience overall.
ASRock Radeon RX 5600 XT Phantom Gaming Review Summary
The ASRock Radeon RX 5600 XT Phantom Gaming is a reliable graphics card that offers solid construction and excellent performance. Aside from fast speed, it performs quietly while staying cool, thanks to its triple-fan design. Also, it delivers a smooth and enjoyable gaming experience in high resolutions.
Although it doesn't have high-end features like ray tracing, we have no complaints since it's not a must-have. If you're looking for a hardware upgrade, the ASRock Radeon RX 5600 XT Phantom Gaming is an excellent choice.
In conclusion to our ASRock Radeon 5600 XT Phantom Gaming review, we highly recommend this graphics card. If you want to have this product, check out the store locator for authorised dealers and resellers.