If you want a motherboard that's ideal for extreme overclocking and has intense speed, you've come to the right spot. Today, we'll talk about this motherboard here in our ASRock Z590 OC Formula Motherboard review.
We'll be sharing everything you need to know about the board, such as its features, design, performance, and more. 
But before we look into those, let's first check out how ASRock presented their Z590 OC Formula motherboard.
Plus, we're looking at what other items or accessories they've included inside the package to get you started. 
ASRock Z590 OC Formula Motherboard Packaging
The packaging of a product is vital to some users. This is why we're including it in our ASRock Z590 OC Formula Motherboard review. 
To start off, our motherboard arrived in a typical-looking ASRock product package. It sports an all-black theme with hints of yellow-green on its body. There's no image of the product, but you'll find the board's name written at the centre. 
Next to its name, you'll see the OC Formula branding which tells us that ASRock is obviously highlighting it. On the upper-left corner of the package, you'll see ASRock written in that area. 
Within its front flap, you can see the Z590 OC Formula motherboard directly together with the panels. The latter outlines the key features of the product. 
Flipping the box, you'll find more highlights and details about the motherboard. It also gives you a top-down image of it. In addition, you can find some panels detailing its prominent features, a rear I/O shot, plus a specifications list. 
We can say that its accessories are above standard, and these include additional items like Velcro cable ties. Other than the motherboard and cable ties, you can also find four SATA data cables and two ASRock WiFi 2.4/5/6GHz antennas. 
There's also an ASRock screwdriver, three M.2 socket screws, three M.2 socket standoffs, and a quick installation guide. ASRock even included a support CD for your convenience.
Now, let's discuss the functions and design of the board here in our ASRock Z590 OC Formula Motherboard review.
ASRock Z590 OC Formula Motherboard Review – Design and Functionality
The Z590 OC Formula motherboard dropped its recognisable yellow colour scheme and opted for a yellow-green neon-like shade. This is combined with its black design which gives off a unique appeal. 
Along the centre of the board is a fresh OLED display that can exhibit a number of operating specifications. These include frequencies and voltages which will be ideally useful for overclockers searching for real-time monitoring. 
When it comes to its CPU socket, it's open and spacious enough for most air coolers that are available. 

The top-right corner of the Z590 OC Formula motherboard is a hardware-based toolkit for overclockers. It's known as the OC Formula. 
You'll find three M.2 slots on the motherboard, and all these have full-coverage heatsinks. Its top socket is set to the right of two DIMM slots, which we think is quite unique. 
The board comes with DIP switches ideal for enthusiasts who want to enable or disable the board's full-length PCIe slots. It also features a slow mode switch, LN2 mode switch, OC retry button, reset switch, and frequency adjustment buttons.  
Plus, there are three numbered buttons that lets you directly access three personal overclocking profiles of Nick Shih. If you aren't familiar with him, he's more known as "The OverClocker".
If you're an extreme tweaker, you'll find five V-probe voltage monitoring points on the board. Do note that the top M.2 slot is PCIe 4.0-compliant. So, it'll only work when you install an 11th Gen CPU. 
This motherboard from ASRock provides you with three PCI Express x16 slots. What's nice about them is that they're all metal reinforced. 
For the top slots, these are both PCIe 4.0-compliant while the bottom slot is PCIe 3.0-compliant only. And overall, the motherboard comes with a total of eight SATA 6GB/s ports that are angled specifically at 90-degrees.
Storage
Let's discuss the Z590 OC Formula motherboard's storage. Earlier, we mentioned that it has a total of eight SATA ports. Six of these are from the chipset with RAID 0, 1, 5, and 10 array support. The other two ports are from the ASMedia SATA controller. 
There are three M.2 slots set along the PCIe slot section. These form an L-shape around the chipset's heatsink. One slot is a PCI3 4.0 x4, while the others are PCIe 3.0 x4/SATA M.2 slots. 
Other important aspects include a 5-pin Thunderbolt AIC connector and a front-panel USB 2.3 G2x2 Type-C header. There are also two USB 3.2 G1 Type-A, two USB 2.0 headers, plus eight 4-pin cooling connectors. 
Rear Panel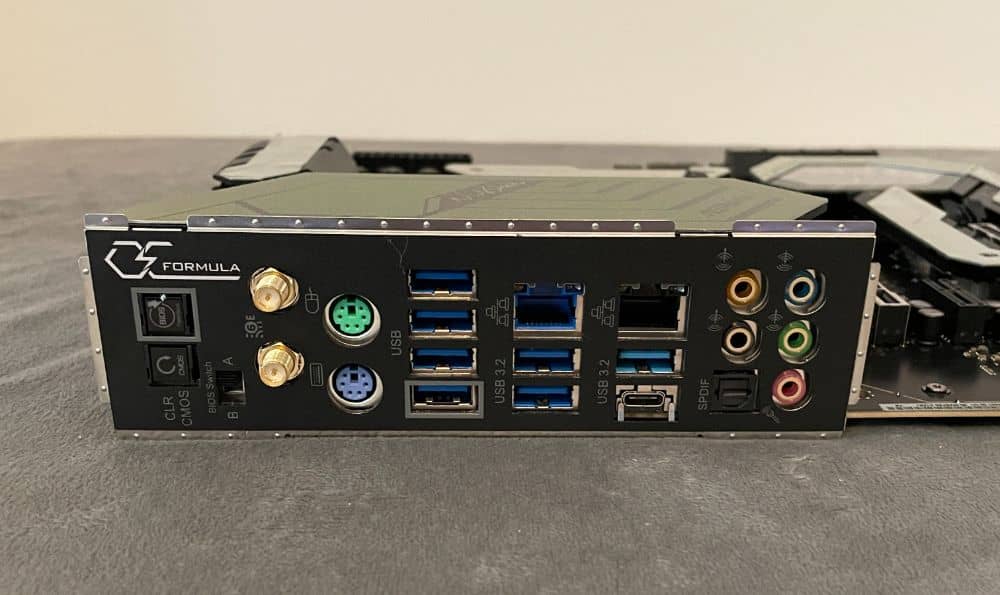 Along its rear panel, you'll find a USB 3.2 G2 Type-C and three USB 3.2 G2 Type-A ports. There are even four USB 3.2 G1 Type-A ports present. These come with two PS/2 ports for the legacy mice and keyboard. 
These are staple elements for extreme overclocking since USB ports can usually stop responding during sessions of extreme cooling. There are also five 3.5mm LED colour-coded audio jacks, plus clear BIOS and CMOS Flashback switches. 
Despite being categorised as an extreme overclocking board, the company still integrated an Intel I-225V 2.5 GbE. They also included an Intel I-219V Gigabit controller pairing with Intel's AX-210 WiFi 6E CNVi. 
Networking
Networking with the Z590 OC Formula motherboard is done with the help of Intel's I-219V and their I-225V 2.5 Gb/s controller. The board utilises the Intel WiFi 6E module for its wireless connectivity. 
VRM of the Z590 OC Formula Motherboard
It has a double 8-phase V-Core VRM setup though take note that it doesn't have any iGPU support. 
The company utilises the Intersil ISL-69269 PWM controller to drive this ASRock motherboard. The controller allows up to twelve phases in total. 
In addition, ASRock utilises the Intersil ISL-6617A doublers as well. These can be found at the back of the motherboard to acquire the 16 V-Core phases. The motherboard also utilises the Intersil ISL-99390 power stage for all of its phases. 
Each of these top-of-the-line stages provides up to a total of 90A of seamless current. And to note, the Z590 OC Formula motherboard has a max output of 800A. 
Fan Headers
There are a total of eight fan headers on the Z590 OC Formula motherboard. Two can be found on the top-right section, while one is down the bottom-left area of the CPU socket. Additionally, you can find the other two along the bottom right-edge area, while the last three are at the centre-right. 
Let's continue discussing the board here in our ASRock Z590 OC Formula Motherboard review and focus on its different features. 
Key Features of the ASRock Z590 OC Formula Motherboard
16 Power Phase Design and 90A SPS
Smart Power Stage or SPS is a new power solution that comes with integrated and fully optimised MOSFETs. It also has advanced driver IC, current sensors, temperature sensors, and 16 power phases. 
With the power phases, you can do extreme overclocking since these allow current monitoring while providing stable current.
SMD Type DIMM
Unlike the usual DIP style DIMM slot, the SMD type used for the motherboard can reduce signal loss. It increases stability under high frequency while maximising your system's overclocking potential.
12-Layers Server-grade Low-loss PCB
The 12-layer PCB improves signal integrity and prevents PCB bending. Since it's server-grade, it delivers higher performance and system stability to provide a reliable, long-lasting system with no compromise.
OC Buttons for Overclocking with Ease
The ASRock Z590 OC Formula motherboard comes with overclocking-friendly buttons. These have various functions that help overclockers achieve the highest possible performance.
OLED Display
ASRock included an OLED display on the Z590 OC Formula to give clean, informative information on the motherboard's status. You can also configure this content using the BIOS.
With this OLED display, you can keep track of your motherboard's status even without a second monitor.
PCB Backdrill Craftsmanship
The Z590 OC Formula motherboard has a PCB backdrill. This unique craftsmanship is done by removing the excess stub in multiple-layer printed wiring boards. 
It's beneficial for extreme memory overclocking since it allows flowing signal from one layer to another while reducing signal attenuation. Plus, it enhances impedance matching.
WIMA Audio Caps and ESS 9218 DAC
The ESS 9218 Sabre DAC and WIMA audio caps offer impressive audio performance. The True Hi-Fi audio eliminates distorted digital signals and supports higher impedance headphones.
Nahimic Audio
Nahimic Audio provides rich and vibrant audio with detail to deliver the most engaging listening experience. You'll enjoy all of these whether you use a headset, headphones, and even external or internal speakers.
Fast Data Transfer with USB 3.2 Gen2X2 and Dual USB 3.2 Gen2 
The Z590 OC Formula's USB 3.2 Gen2x2 ports offer up to 20 Gbps data transfer rate with USB Type-C. That's two times faster than the previous generation.
On the rear I/O, this motherboard has two onboard Type-A and Type-C USB 3.2 Gen2 ports. It supports the next-generation USB 3.2 Gen2 devices, offering up to 10 Gbps data transfer rates.
WiFi 6E (802.11AX)
WiFi 6E technology has extended to the 6GHz spectrum band to offer more WiFi capability. With that, it delivers better, faster internet traffic with low latency. Plus, it supports service levels equivalent to 5G networks.
XXL Aluminum Alloy Heatsink and Active FAN 
The XXL Aluminum Alloy Heatsink that comes with Active FAN effectively improves heat dissipation. As a result, your system can deliver better overall performance. This feature is targeted to hardcore gamers and enthusiasts, offering a new computing experience with Intel's 11th Gen processors.
Aside from better heat dissipation, the motherboard also has the next generation PCIe 4.0 Hyper M.2 socket. This provides two times faster transfer speed than the previous generation.
Reinforced Steel Slot 
The reinforced steel slot comes with additional anchor points and a stronger latch to ensure signal stability. With that, you can ensure that heavy graphics cards will be securely installed.
Metal Backplate
The metal backplate of the Z590 OC Formula enhances the motherboard's stability and prevents bending caused by heavy components.
Let's continue our ASRock Z590 OC Formula Motherboard review and discuss its specifications. 
Specifications
The board utilises the Intel Z590 chipset and comes with FCC and CE certifications. Not only that, but it's also ErP/EuP-ready, and it works efficiently with Microsoft Windows 10 64-bit. 
OC Formula and Connector Kit
This has a 16-phase CPU power design and a 2-phase memory power design too. For its CPU and memory, these are Digi powered. 
Its connector kit utilises a hi-density power connector and 15μ gold contact memory sockets. That also goes for the PCIe x16 slot (PCIe 1). Then, the cooling kit has a 12 layer PCB made of 2oz of copper and sports a heat pipe design. 
When we speak of its audio, the motherboard makes use of the Realtek ALC-1220 Codec. For its fan headers, it uses the 8x 4-pin type. 
Then, the Z590 OC Formula motherboard sports the EATX form factor that's 12 x 10.5″. 
Various Specifications of the Z590 OC Formula Motherboard 
The motherboard supports 10th and 11th Gen Intel Core processors, and its built-in graphics depend on your installed CPU. 
It has a 2x DIMM memory that supports dual-channel DDR4 6000+ OC MHz. And, it works with the dual AMI UEFI BIOS as well. 
Expansion slots include three PCIe x16 slots (x16|x0|x4 or x8|x8|x4, and 2x PCIe 2.0 x. As for its storage, there are eight SATA 6 Gb/s ports and three M.2 ports too. 
For its networking specifications, the Z590 OC Formula has one Intel I-225V 2.5GB/s LAN port. It also comes with an Intel I-219V Gigabit LAN, and Intel 802.11ax WiFi 6E. 
Rear Ports
This motherboard's rear panel has two antennas, a PS/2 keyboard, an optical SPDIF out port, and two RJ-45 LAN ports. You'll also find three USB 3.2 Gen2 Type-A and a USB 3.2 Gen2 Type-C port. Of course, ASRock included four USB 3.2 Gen1 Type-A ports as well. 
You'll also find one BIOS flashback button, a BIOS selection switch, one clear CMOS button, and five HD audio jacks. 
Exclusive Features of the ASRock Z590 OC Formula Motherboard 
The board comes with a number of exclusive features like the 16-phase CPU power design and 2-phase memory power design. It has the digi power (CPU & memory), hi-density power connector, and the 15μ Gold Contact. 
It features an XXL aluminium alloy heatsink and premium 90A power choke. There's even a 90A SPS or Smart Power Stage and a 50A Dr.MOS too. Also, the company included a premium memory alloy choke, Nichicon 12k blackcaps, and a high-density glass material PCB. 
Now that we're done with the different specifications, we can move on with our ASRock Z590 OC Formula Motherboard review. This time, let's take a look at how the motherboard fared during our tests. 
Test System Specifications
For our review we are using the following test system setup:
Corsair Dominator 32GB DDR4 3200MHz RAM
Gigabyte RTX 3080 Vision GPU
Gigabyte 2TB NVMe Gen 4 PCIe SSD
Intel 11900K CPU
Hands-on with the ASRock Z590 OC Formula Motherboard 
Before we proceed and talk about the motherboard's performance, let's check out the BIOS' interface and the software.
The ASRock Z590 OC Formula Motherboard's BIOS
The Z590 OC Formula motherboard's BIOS features the same design and interface as the other recent releases from ASRock. It has an easy to navigate layout which is user-friendly for everyone.  
The BIOS for this motherboard provides you with the EZ Mode which is generally for changing the basic settings. For the advanced mode, this BIOS is similar to the earlier ASRock platforms. It comes with a number of tabs that categorises the OC Tweaker from the Tool and Advanced menus. 
This area provides you with details about the system, such as memory and CPU configuration. Moving to the OC Tweaker, you'll find a number of profiles set by Nick Shish. These are for 11900K. 
Here, you'll have access to the Intel CAM and ABT as well. The OC Tweaker will provide basic overclocking tools in Windows, together with the function to save profiles. In the OC Tweaker, there are three extra menus that let you configure the Memory, CPU, and board voltages.
The advanced tab offers the standard controls for managing onboard devices like USB NVMe, SATA, and Thunderbolt gadgets. 
For the tool menu, it offers controls for the present OLED panel located at the centre of the motherboard. Other than these controls, it comes with onboard buttons as well. 
Further, you can secure-erase your drives in this section or update the motherboards MEI and EFI firmware. 
Software Applications
The software used for the Z590 OC Formula motherboard now includes the LIve Update and App Shop. It serves as a form of hub for other software, together with the Polychrome RGB. The latter is specifically for lighting controls.
The first software is the ASRock Timing Configurator. It lets you easily tune your memory in real-time.  
The software comes with three modes of operations. These are the Performance Mode, Power Saving Mode, and Standard Mode. Plus, it also functions as a utility suite for overclocking and fan controls. 
This area is where you can find the OC Tweaker for standard overclocking tools in Windows. Here, you'll even see the FAN-Tastic Tuning made for fan controls. With it, you're allowed to set the curve to the left or utilise the fan test with the board handle. 
Do note that it can be done manually. 
Continue reading our ASRock Z590 OC Formula Motherboard review to get more details about its performance during our tests. 
Performance of the ASRock Z590 OC Formula Motherboard
Right out of the box, we can safely say that the Z590 OC Formula motherboard's performance was excellent. Its memory clocking was slightly above average and was stable too. 
When it came to CPU overclocking, we were able to achieve a solid overclock on all cores with no stability issues. 
Since the Z590 OC Formula motherboard was designed for overclocking, it did offer us great cooling. Its VRM thermals were outstanding and peaked at just around 45-degrees with the VRM fan enabled. When it was disabled, the temperature was only 59-degrees. 
While doing our tests for our ASRock Z590 OC Formula Motherboard review, we noticed that the fan was extremely quiet. With that, we highly recommend leaving it on when using the board. 
To put it simply, it did well during our VRM torture test. Plus, we were satisfied with how it stayed cooler compared to other boards we've tried. And with its silent performance, we have no doubt that this motherboard can truly handle extreme overclocks.
To see its networking performance, we tested its 2.5Gbe and WiFi 6E connections. Wired LAN gave us speeds of up to 2400Mbps while WiFi 6E delivered 1315Mbps. With that, we were able to enjoy fast network connection with low latency during our tests.
For the RGB LEDs, these were bright and had good diffusion, continuing the company's trend of implementing great RGB lighting. 
ASRock Z590 OC Formula Motherboard Review Summary
The ASRock Z590 Oc Formula is a great motherboard designed for extreme overclocking. We liked the black and yellow-green aesthetic that gives the motherboard a fresh look. Aside from that, it's rich in impressive features, and it delivers exceptional performance.
During our tests, the Z590 OC Formula performed like most Z590 motherboards would, but with better overclocking performance. Additionally, this board has a user-friendly BIOS that's complemented with top-notch software.
Another thing we liked about this motherboard is the OLED that allows easy monitoring of the system's stats.
ASRock's Z590 OC Formula is designed for extreme overclockers. If you're looking for the best motherboard to overclock your Intel processor, this is the ideal option.
Overall, we were satisfied with the ASRock Z590 OC Formula motherboard. It has great features, an excellent layout, as well as a user-friendly BIOS and software. Most importantly, it offers awesome performance and is an efficient motherboard for overclocking.
If you want this motherboard, check out the ASRock's store locator to find shops and retailers near you.