In our ASUS ROG STRIX Scope TKL Deluxe review, we will be focusing on this gaming keyboard from ASUS ROG.
About a year ago, ROG launched their ROG Strix Scope. It's a keyboard that was positively received but compared to its competition, it was quite basic. Today, we're taking a look at the Strix Scope TKL Deluxe with a ten-keyless design.
We're sure that it'll prove to be popular among FPS gamers, as well as the professional gamers and enthusiasts around.
Before anything else, our ASUS ROG STRIX Scope TKL Deluxe review will focus on its packaging and contents.
ASUS ROG STRIX Scope TKL Deluxe Packaging
This section of our ASUS ROG STRIX Scope TKL Deluxe review talks about the keyboard's packaging and contents.
Generally, ASUS ROG is known for creating eye-catching packaging. They include bright colours to their boxes, as well as laid out details on the front. Of course, they showcase an image of the product itself to give everyone an idea of how it looks.
These include the name of the keyboard, its key features, and other highlights about it.
When it comes to the box's rear, it offers an excellent breakdown of the gaming keyboard's specifications and features. There's another image of the product included, yet it displays each part's functions and uses.
When we opened the box, the keyboard was kept securely in place. It was packed well so you won't have to worry about it acquiring damages during transit.
Other than the keyboard, you will find other items inside the package. These include a thick fabric pouch for the keyboard, a warranty card, and USB Type-A to Type-C braided cable. You'll also find a leatherette plushy wrist-rest inside.
ASUS ROG STRIX Scope TKL Deluxe Review – Design and Functionality
This time in our ASUS ROG STRIX Scope TKL Deluxe review, we'll check out this gaming keyboard's design and functions.
Starting with its design, the STRIX Scope TKL Deluxe is essentially a toned-down version of the previous ROG Strix Scope. The only significant difference between the two keyboards is that the numpad/ten-key.
Otherwise, both products are identical, featuring a streamlined style with brushed metallic effects on the chassis. It gives a downplayed yet classy look while simultaneously being durable and efficient.
It's almost a military-grade gaming keyboard because of its construction, which helps in justifying its price.
The STRIX Scope TKL Deluxe sports a two-toned grey and black shade, making it look aggressive and tough. It's ideal for the setup of avid gamers and enthusiasts, offering a clean finish. There's also a finely-positioned ASUS ROG logo on the keyboard's top-right corner.
Its lock-lights are in a similar spot to where you'd see them on RAZER keyboards. These are often on the Navigation area at the top of the arrow keys.
For the keycaps, they're double-shot moulded with two fragments of plastic, making these hard-wearing. Additionally, ASUS makes use of the standard ROG typeface. This setup further reinforces the aggressive yet sleek element of the keyboard.
The STRIX Scope TKL Deluxe has some multimedia keys for use with the FN when activated. We consider this a nice touch to the keyboard, and we highly appreciate what ASUS did here.
With the exclusion of the numpad, this TKL version is instantly more portable. This setup makes it excellent for professional gamers who are always on the go. Additionally, it's great for people who want to have more desktop space.
Looking at the bottom of the STRIX Scope TKL Deluxe, ASUS set a couple of rubber pads to it. It helps ensure that the keyboard won't move around while you tap. We appreciate that they even strategically placed them at the top corner of the keyboard. It provides you with rubber whether it's flat on the desk or its feet.
The STRIX Scope TKL Deluxe even has a magnetic wrist-rest. It may not provide the most secure attachment technology, but it optimises ergonomics and comfort efficiently.
RGB and Functionality
At the top-right section of the keyboard, you'll find a huge ASUS ROG logo that's fully RGB-lit. A couple of LEDs light it up, giving it a bright and smooth effect. It has fully-addressable RGB LED indicators for a couple of keys right above the arrow keys. These include the Caps Lock, Function Lock, Scroll Lock, and Windows Key Lock.
Because of its smaller size, the keyboard features a set of multi-function keys. These are activated by utilising the Fn key at the bottom row. The primary row of keys is between F5 & F12.
Key Functions
Pressing F12 enables Stealth Mode, so one press of it instantly mutes every audio while minimising everything on the desktop. These include full-screen games and apps.
Press the key another time, and all the changes revert to normal.
Its direction keys, together with the bottom three in the area above, all feature a secondary function. Mode right and left changes its RGB lighting effects, while Light + and – adjusts its brightness.
To complete the multi-function keys are the Alt and Win keys. It also includes the numerical rows for switching between saved memory profiles. Additionally, these keys reset to default in case you make a mistake while tweaking the macros or settings.
ASUS bundles the STRIX Scope TKL Deluxe with a 1.8m braided cable. But since it's a detachable piece, you can replace it with any design or length you prefer.
Key Features of the ASUS ROG STRIX Scope TKL Deluxe
This time on our ASUS ROG STRIX Scope TKL Deluxe review, we'll check the key features of this ROG keyboard.
Designed for FPS Gaming
The tenkeyless design of the ROG STRIX Scope TKL Deluxe allows for more room to move your mouse. It has an enlarged left Ctrl key to minimise unintended pressing of other keys.
Portability
Wits its compact body, you can easily fit the keyboard in backpacks. Its cable is detachable to prevent scratches and scuff marks.
Quick-Toggle Switch
With the quick-toggle switch, you can immediately switch from one function to another, as well as media key inputs.
Stealth key
The stealth key lets you hide all applications and mute audio for privacy. To continue using the apps, simply tap on this again.
Cherry MX switches
The ROG STRIX Scope TKL Deluxe utilises the German-made Cherry MX switches. These provide precise input with tactile feedback. Also, the switches require the least actuation force, so these provide the fastest response time. These switches makes the mouse ideal for competitive gaming.
Specifications
Now in our ASUS ROG STRIX Scope TKL Deluxe review, we'll deal with the specifications of this keyboard.
The STRIX Scope TKL Deluxe uses a wired USB 2.0 connectivity technology supported by Windows 10 and Windows 10, 64-bit. The available interface for this keyboard is a USB interface.
This keyboard measures 356 x 136 x 40mm and weighs 860g with the cable. When measuring it only, it's slightly lighter at 811g.
When it comes to its wrist rest, it is 356 x 75 x 21mm and weighs 170g.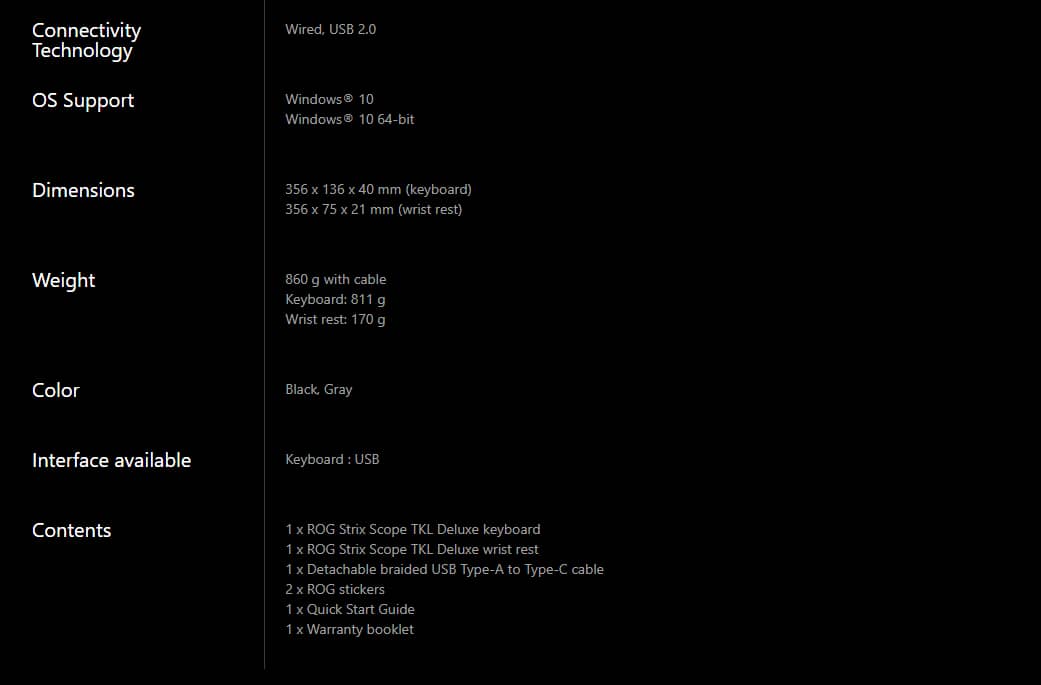 Hands on with the ASUS ROG STRIX Scope TKL Deluxe
This is the part of our ASUS ROG STRIX Scope TKL Deluxe review that shows how well the keyboard performed. But before checking that out, let's take a look at the ROG Armoury II software.
Software: ROG Armoury II
Out of the box, this gaming keyboard features a total of 5 lighting presets. These include the regular Colour Wave, plus the Raindrop, Starry Night, Current, and Reactive.
Single key presses trigger the lighting. Technically, it comes with a decent number of presets; plus, they look crisp with the MX RGB's clear housing. What makes it more impressive and attractive is the help of the ROG Armoury II.
Although it's quite a hefty install, the software allows for an abundant amount of programming for backlighting. It provides ten different lighting presets, as well as the chance to make customised effects.
You can select from different modes on individual presets, including single and double-coloured choices. Also, it's possible to choose from random ones.
Build Quality, Comfort, and Performance
Utilising the STRIX Scope TKL Deluxe for gaming is truly enjoyable. Its size and comfy wrist-rest allow you to relax, although it does more for the mouse than anything else.
The extra space gives you enough room to move your mouse on low sensitivity. ASUS ROG also gives you a bigger than standard LEFT-CTRL keys to prevent you from accidentally pressing on other keys.
When it comes to comfort, it significantly improved because of the leatherette wrist-rest. You can spend hours gaming without feeling any discomfort because of it.
Overall, the design, efficiency, comfort, and performance of the STRIX Scope TKL Deluxe are excellent. We didn't have issues while using it, and despite prolonged hours of gaming, we felt no discomfort on our hands.
The keys were great, and despite rough and continuous tapping, they remained sturdy and durable. It does have a straightforward design, but its finish is excellent and classy.
ASUS ROG STRIX Scope TKL Deluxe Review Summary
Tenkeyless keyboards are becoming more popular among gamers who need more desk space. Of course, anyone wouldn't want something that compromises on performance. With that, ASUS solves the issue with the ROG STRIX Scope TKL Deluxe.
This keyboard is an excellent choice for those who need a sleek yet durable model that delivers flawless performance. With the Cherry MX switches, you can ensure that this keyboard will be highly responsive and will last long. Also, it's a high-quality keyboard that provides added comfort with its included wrist rest.
With its build quality, features, and impressive performance, this keyboard is a great product.
In conclusion to our ASUS ROG STRIX Scope TKL Deluxe review, we highly recommend this mechanical gaming keyboard.