Today, we'll talk about a seamless mesh Wi-Fi system in our D-Link COVR-1102 Mesh Wi-Fi review. The COVR-1102 Mesh Wi-Fi is among the numerous mesh Wi-Fi systems today that's growing popular among households.
There's an excellent reason for its increasing popularity. It's because mesh systems aim to provide fast internet connection in your home/office. Plus, they are adaptable and expandable to meet the requirements of any space.
The first section of our D-Link COVR-1102 Mesh Wi-Fi review will focus on its packaging and contents.
D-Link COVR-1102 Mesh Wi-Fi Packaging
This part of our D-Link COVR-1102 Mesh Wi-Fi review is all about the product's packaging and its included accessories.
The Wi-Fi mesh comes in a tough-looking cardboard box that displays an image of the product in front. The unit's name is written on the left side of the picture, while D-Link is on the upper left corner.
At the bottom, you will find a list of all the essential features present on this mesh Wi-Fi.
Inside the box, you will find two COVR-1102 – COVR Point Routers and two power adapters. There's also a quick installation card, quick installation guide, and an ethernet cable.
Everything you'll need to set up the COVT-1102 Mesh Wi-Fi is present in the package. So, you won't have to bother searching for additional items to configure it.
D-Link COVR-1102 Mesh Wi-Fi Review – Design and Functionality
This time on our D-Link COVR-1102 Mesh Wi-Fi review, we'll talk more about the COVR-1102's design and functions.
Generally, the COVR-1102 Mesh Wi-Fi is a bundle of two access points. The coverage of these two points goes up to 325sqm. However, there are a lot of elements that can affect this in the real world.
What makes this system great is that it's easily expandable. It's especially when these two points in the package aren't quite enough.
For the COVR access points, they're discreet little units. All of them are small white cubes that blend subtly yet perfectly with the surroundings. Surprisingly, they're also lightweight, which makes it even better for use.
Overall, this system is an excellent example of simplicity, beauty, and efficiency. Its single little LED light at the top of the COVR-1102 is non-obtrusive, yet it notifies us adequately whenever necessary.
Even at the rear, you'll find a minimalist design for the product. You'll find two ports that are labelled Ethernet and Internet. There's also a power inlet, plus an on/button.
At the bottom, you'll find the pinhole reset button. There's also a handy QR code for instant setup, and a default password and SSID.
Key Features of the D-Link COVR-1102 Mesh Wi-Fi
This time on our D-Link COVR-1102 Mesh Wi-Fi review, we will focus on the key features of the COVR-1102.
The Mesh Solution for All
The D-Link COVR-1102 Mesh Wi-Fi is a network solution that consists of two units for your entire space. With this router, you can enjoy consistent, stable, and seamless Wi-Fi. Also, it delivers excellent connection without signal drops, even in your office/home's dead zones.
This router doesn't only let you enjoy mesh standard technology in all corners of your area. If you need to enhance your network connection further, you can easily extend the COVR-1102 with accessory modules.
MU-MIMO Efficiency
The D-Link COVR-1102 Mesh Wi-Fi features MU-MIMO Wi-Fi. This technology delivers multiple separate data streams to each wireless device at the same time. With that, the router increases your network's speed and efficiency.
With this technology integrated, the COVR-1102 Mesh Wi-Fi System lets you enjoy enhanced throughput.
As a result, it allows for high-definition streaming media, fast online gaming, uninterrupted internet phone calls, and content-rich web surfing. All of these are possible in your entire home or office.
Smart Steering for High Performance
The COVR-1102 is also equipped with Smart Steering and dual-band radios. These features automatically set your device on the maximum wireless band based on network traffic conditions. With that, you don't have to worry if you don't know your 2.4GHz from 5GHz.
Seamless Connection for Full Enjoyment
The D-Link COVR-1102 Mesh Wi-Fi makes these things happen without lags, interruptions and dropouts.
You can enjoy your wireless connection without having to do a lot of things. The units are pre-paired out of the box, so all you have to do is install and set it up.
More Coverage
The two discrete units of the D-Link COVR-1102 Mesh Wi-Fi can cover up to 325 square metres. It's more than enough to provide a connection in your home's dead zones.
Whether your house is small or large, and no matter what design it has, you can enjoy excellent Wi-Fi network.
Meets Industry-Certified Mesh Standards
The COVR-1102 is one of the first EasyMesh systems in the world. It boasts the industry-certified Mesh Networking technology which allows you to enjoy complete flexibility and reliability.
With EasyMesh technology, your COVR-1102 Mesh Wi-Fi points work together to deliver maximum performance. It forms a self-organising and self-optimising network that gathers data and respond to network conditions. The COVR-1102 will cover your entire home, from the basement to the attic, whether it's a 1-storey or 4-storey house.
Less Lag and Buffering
Smart Steering prevents lag and buffering by directing your router to the best wireless band according to your current network traffic. You won't have to deal with frustrating dropouts and interruptions when you're gaming, browsing, chatting and streaming.
One Seamless Wireless Network
The D-Link COVR-1102 Mesh Wi-Fi lets you use a single wireless network name for your entire home. You won't have to remember usernames and passwords for networks in each area of your house again.
Easy Setup and Configuration
The D-Link COVR-1102 Mesh Wi-Fi System is a home network solution that offers a hassle-free setup. It works out of the box, and all you have to do is plug it in to start using this.
With the D-Link Wi-Fi application, you can easily configure your network. It's free to download and is compatible with iOS and Android. If you want, you can also access it via an intuitive web-based interface.
Reliable Connectivity
You won't have to worry if your house is large, if the walls are thick, or if you transfer a lot of data. The D-Link COVR-1102 Mesh Wi-Fi offers optional Ethernet backhaul connectivity to optimise the connection between your routers. You can ensure fast, smooth, and stable connectivity.
Smart Roaming
Smart roaming lets you stay connected to the strongest network even when you move from one room to another. With that, you won't have to disconnect and reconnect to different networks.
The COVR-1102 Mesh Wi-Fi lets you experience and enjoy uninterrupted connection at all times.
Next on our D-Link COVR-1102 Mesh Wi-Fi review are the specifications of this mesh Wi-Fi.
Specifications
Now, we will focus on the specifications of the COVR-1102 in our D-Link COVR-1102 Mesh Wi-Fi review.
The D-Link COVR-1102 uses a mesh system that uses a Gigabit Ethernet speed. It has NBN/UFB for FTTC, FTTP, HFC, Fixed Wireless, and satellite support.
This mesh Wi-Fi comes with an AC-1200 (300 + 867Mbps) wireless technology, dual wireless bands, and a Gigabit Ethernet WAN interface.
For its measurements, it is 92 x 92 x 92mm and weighs 197g per unit. Plus, it comes with a 3-year limited warranty for convenience.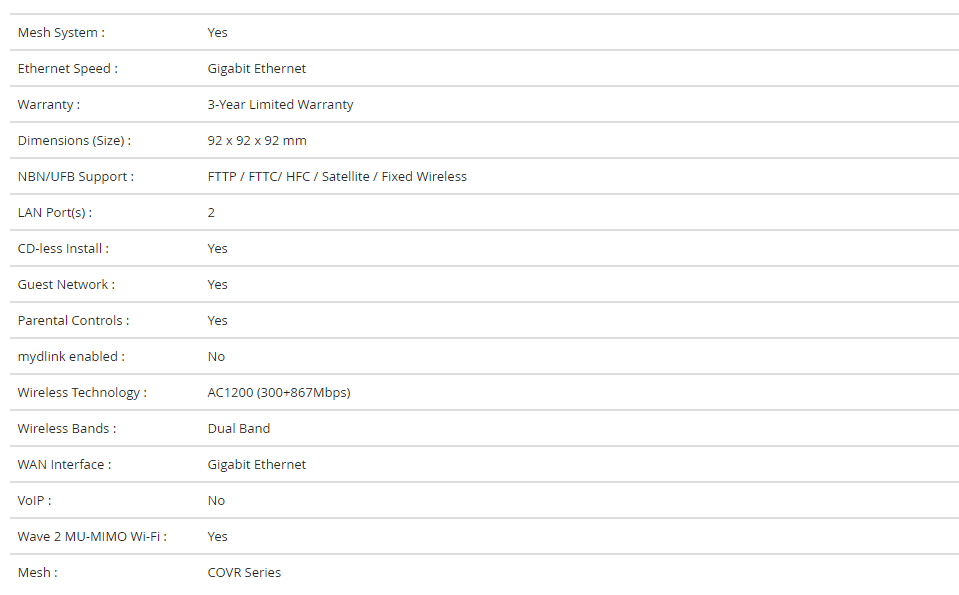 Hands on with the D-Link COVR-1102 Mesh Wi-Fi
This section of our D-Link COVR-1102 Mesh Wi-Fi review is where we get hands on with the mesh Wi-Fi. First up, let's see how its installation process goes.
The cubes that make up the COVR-1102's network is extremely light and convenient to set anywhere you like. Once you start setting it up, it's pretty easy since there's no difference between either point. It means you can't configure the wrong one as the main point.
While it's possible to configure the D-Link COVR-1102 manually, a lot of people will likely choose D-Link's Wi-Fi setup application. It simplifies the entire process and offers a simple setup card that has a QR code on it.
The application will scan the QR code before guiding you through the entire process of linking your first node. Then, it will provide you with a network name, a password, then setting an admin password.
You can always choose D-Link's defaults since the password and SSID appear distinct to each mesh pair. However, it's still better to create them yourself.
On each of the mesh points on the COVR-1102, do note that there's only one indicator light available. It glows orange when you haven't set it up, or when it's out of Wi-Fi coverage. The indicator turns solid white when it's properly linked and set.
While it's generally painless for the process, you will have to set aside a good amount of time to complete. With that, you're required to have a bit of patience for the very first network configuration.
With an update for each mesh point, the whole process of setting it up took about 30 minutes to complete. This entire time of getting our network running, we didn't experience any issues or problems with the process.
Connecting and linking devices is one thing. Maintaining the connection continuously and offering bandwidth wherever necessary is another.
When it comes to the practical benefits of the COVR-1102's wireless network, it shone excellently with mobile devices.
When we moved from one room to the other, our devices remained connected, which was excellent.
Throughout our tests, we didn't notice any time when our devices dropped the signal, especially when moving around the place. The positioning of each COVR access point can help ensure optimal network performance.
Overall, the D-Link COVR-1102 Mesh Wi-Fi system delivered precisely what the company promised. It worked seamlessly, the connection was great, and setting it up was easy.
With that, we can easily recommend the COVR-1102 Mesh Wi-Fi since D-Link always gives us the best.
D-Link COVR-1102 Mesh Wi-Fi Review Summary
The D-Link COVR-1102 offers excellent value for money. This two-point mesh system is priced competitively, and its quality is one of the best we've used. It's not a model with fancy features and flashy designs, but its simplicity allows it to blend in anyone's home/office.
For us, what matters most when using a router is that it should provide consistent, stable, and reliable network connection. Fortunately, the COVR-1102 Mesh Wi-Fi was able to deliver all these during our tests.
Overall, we were pleased with the D-Link COVR-1102 Mesh Wi-Fi, and this will remain in our office Wi-Fi system.
With its minimalist design, we didn't have to keep the units since it blended well with our office's theme. Also, we were able to install and set up the router with ease.
If your Wi-Fi connection is limiting you from accessing fast internet connection, you should check out this router. It provides the performance you need, whether you need to meet work requirements or if you simply want a faster connection.
In conclusion to our D-Link COVR-1102 Mesh Wi-Fi review, we highly recommend this router. If you want to purchase this product, check out the company's store locator for authorised retailers, online shops, and partners.