The COVR-2202 is a tri-band AC-2200 mesh Wi-Fi that we'll cover in our D-Link COVR-2202 review. It takes the classic COVR-1203 dual-band style, increasing power to support more devices, covering a much larger area.
When it comes to home Wi-Fi, mesh is the year's flavour and the COVER-2202 sports just that. It provides a solution for Wi-Fi black spots unlike single routers, but how efficient does it work?
If you're curious about the D-Link COVR-2202, then we've got you covered. In today's D-Link COVR-2202 review, we're giving you important details about the COVR-2202 like its specs, features, and more. But before that, let's check out its packaging and what other items are in the box.
D-Link COVR-2202 Packaging
When we finally received our D-Link COVR-2202, we appreciated how the company presented the mesh Wi-Fi's box. They included all the vital details about the COVR-2202, as well as what it's capable of. Its box sports a white theme partnered with a simple yet pleasing design.
The front of the package displays the brand and the unit's name on its left portion. To the right, you will find an image of the COVR-2202 itself.
When you flip the box, the rear portion displays the mesh Wi-Fi's main features. This is a vital aspect if you're out scouting for similar products in a physical shop.
The right and left sides of the package displays more features and details about the COVR-2202. At the bottom, you'll find serial numbers, barcodes, and some information about the limited warranty. Plus, you'll also find a list of the package's system requirements and contents.
Inside the box, you will find the D-Link COVR-2202 together with a few other items. These include a quick installation card, warranty information, the D-Link GPL Code Statement, and RJ45 Ethernet cable.
Next on our D-Link COVR-2202 review is its functions and design.
D-Link COVR-2202 Review – Design and Functionality
This section of our D-Link COVR-2202 review focuses on the style and build of the mesh Wi-Fi.
The COVR-2202 is a tri-band mesh two-pack that sports the original COVR-1202's style and design. It adds more power for supporting additional devices while also covering more areas. This router can support up to a total of four units with one SSID. Both of the units are pre-paired right out of the box, making them easier to install.
COVR-2202 comes in a two-pack unit, and if you want more, you can add units based on your preference. Just remember that the system utilises a master-slave arrangement where COVR Point-A needs to be directly linked to your modem or router.
For a third unit, it will require installation via connection to its "A" unit using the provided Ethernet cable. Since connection will be via cable, the units need to be within proximity. Plus, you'll need two electrical outlets close by.
In most cases, you won't necessarily need a third unit. This is because D-Link claims that two COVR-2202's offer up to 6,000sq.ft of wireless coverage.
The D-Link COVR-2202 sports two simple yet sleek and attractive tower pieces. One is the A node that requires the installation and should be close to your current router or modem. You can place the other tower piece in any spot that requires extra wireless performance.
The make and design of the mesh Wi-Fi's nodes feature a notable form with bright logo lights on the front. Its COVR logo has a backlight and serves as your status indicator. We appreciate that it's adequately bright, so you can opt to disable the LED in the settings. It's highly suggested that you do so, especially when the router' is in your bedroom.
While these aren't readily obvious, each node displays two gigabit Ethernet ports for cabled connections. One is located on the "A" node which is needed for internet connectivity. The other is available for linking older equipment, or anything else that lags and requires minimising.
Aside from the gigabit Ethernet ports, there are also six internal antennas available. Plus, it comes with two LAN Ports and is WPS-available.
Next on our D-Link COVR-2202 review are the key features present on this mesh Wi-Fi.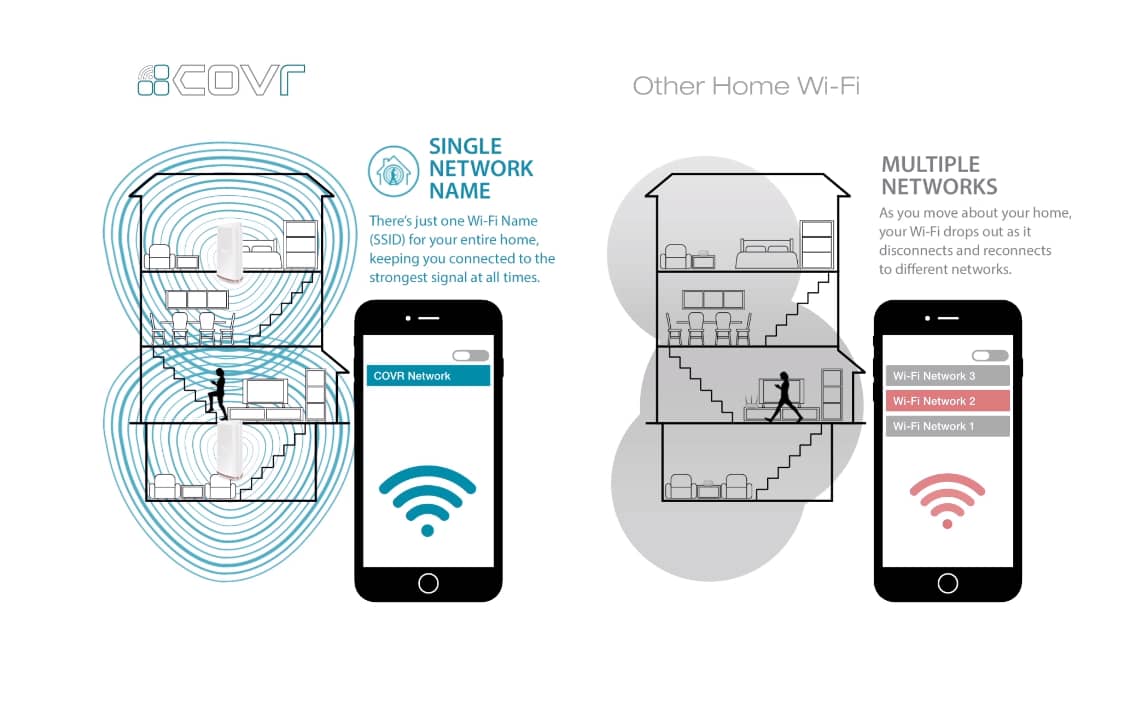 Key Features of the D-Link COVR-2202
In this section of our D-Link COVR-2202 review, we'll be sharing more details about this mesh Wi-Fi system's features. Let's see what makes the COVR-2202 unique compared to other products of its kind in the market.
Powerful and Flexible Tri-Band Mesh Solution
The D-Link COVR-2202 is a mesh Wi-Fi system that solves your network issues. It provides Wi-Fi coverage in your entire home. Out of the box, it's pre-paired, making the mesh Wi-Fi a convenient plug-and-play system. The system's flexibility allows for the coverage of an entire house, no matter what the type or its layout. Additionally, you can add more COVR points where it's necessary to provide signal at a dead spot.
Simple, Step-by-Step Installation Setup
Setting up the D-Link COVR-2202 is a simple task. The D-Link Wi-Fi app gives you step-by-step instructions on the process so you won't experience any issues.
Wider Coverage
The D-Link COVR-2202 comes with high-powered amplifiers that cover up to 560sqm with ultra-fast Wi-Fi. Its six powerful antennas and MU-MIMO technology permanently eliminate dead zones.
Seamless SSID Network
COVR-2202 lets you use a single SSID network for your entire home. With that, you won't have to remember different usernames and passwords for numerous networks.
High-Performance Wi-Fi
Aside from the top specifications like the Qualcomm chipset, the COVR-2202 has 11ac Wave 2 MU-MIMO. It offers more power to support multiple connected devices, especially when doing data-intensive tasks like VR gaming and 4K streaming. It optimises traffic flow to prevent network congestion, resulting in a faster and more stable speed at all times.
Smart Backhaul
The COVR-2022 has a 5GHz Smart Backhaul that automatically optimises signal between COVR points. So no matter where you place these, you'll experience excellent connection in your entire home. It also frees up Wi-Fi capacity, allowing you to enjoy reliable connection even if multiple devices are connected.
No More Lag and Disruption with Smart Steering
Smart Steering gives you the strongest signal with a single network, even if you move from one room to another. With that, you'll only experience excellent Wi-Fi signal; there will be no disconnections and reconnections. Also, this feature directs connected devices to the optimal wireless band to prevent congestion.
Powered by McAfee
The D-Link COVR-2202 comes with the free Secure Home platform powered by McAfee. It detects network anomalies and blocks malicious websites to protect client devices connected to the router. The platform also offers parental controls.
Specifications
This part of our D-Link COVR-2202 review focuses on its different specifications. The Wi-Fi mesh uses Gigabit Ethernet and comes with two LAN ports. It sports the AC-2200 for wireless technology, with FTTP | HFC | FTTC | fixed wireless | satellite NBN/UFB support.
The D-Link COVR-2202 uses Gigabit Ethernet for three WAN interfaces, as well as a wireless tri-band element. For convenience, D-link included a 3-year limited warranty to the COVR-2202.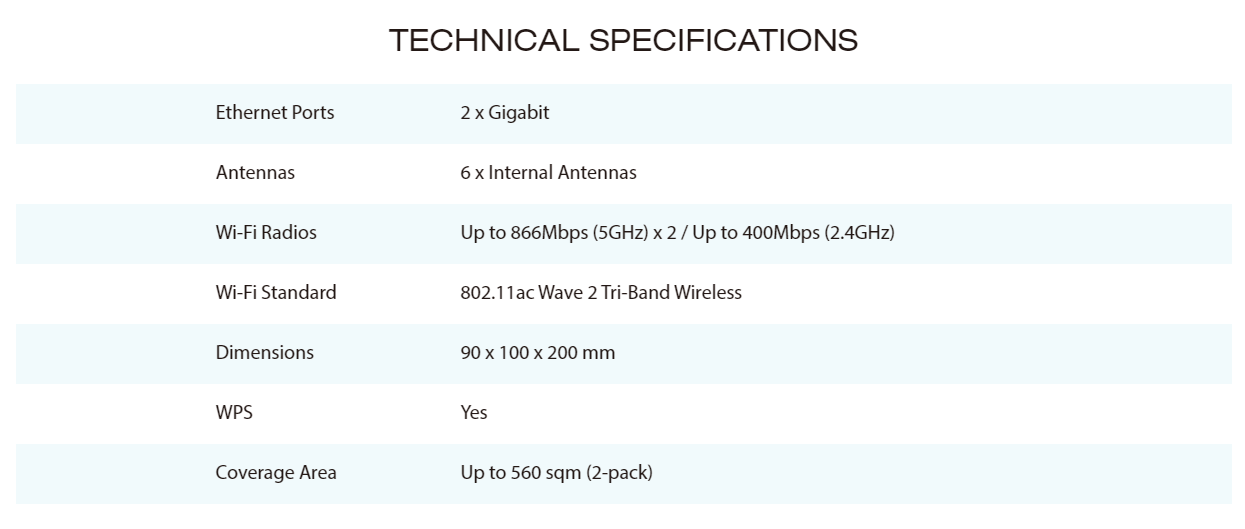 Hands-on with the D-Link COVR-2202
Now on our D-Link COVR-2202 review, we'll get hands-on with the router, and see how efficient it is. First up, let's check out the application that allows you to control and manage the COVR-2202.
D-Link Wi-Fi App
The COVR-2202 utilises the same mobile application as the COVR C-1203. However, you'll have to make use of the web console to set up the Quality of Service settings plus advanced options. These advanced options include Website Filtering, Port Forwarding, as well as Dynamic DNS settings.
The mobile application opens to a screen displaying your internet connection status, plus several clients and nodes. There's also a button to test the internet's upload & download speed via Ookla Speed Test utility.
Tap the gear icon on the top-right corner of the screen to open the Dashboard with buttons. These are buttons for Wi-Fi, Wizard, Internet, Management, Guest Wi-Fi, Schedule, Clients, and Cloud Service.
Utilise the Wi-Fi button to change the password and Wi-Fi. The Internet button lets you change your internet connection type. These can include static, PPoE, DHCP, L2TP, and PPTP.
The Guest Wi-Fi button is for disabling/enabling guest networking while Clients button lets you view details. This viewable information about each client like MAC & IP address lets you see if each client's on a schedule.
Plus, you can block a client's network access. Here, the Schedule button brings you to a screen to create access schedules. The Management button allows you to change the system device name and password. Aside from that, you can also check hardware, select timezones, and reboot the router.
Installation
Like with every Wi-Fi system we've tried, the COVR-2202 is user-friendly and easy to install. We began by downloading the mobile application before choosing Install New Device on the startup screen.
We scanned the QR code at the router node's base, then powered down our modem before linking the COVR-2202. We waited for about 90 seconds for the first boot, and for the LED to blink orange.
We pressed Next, then entered the device's password (located on the base), then created a network name and administrator password. After 45 seconds, the LED shifted white, and then we were prompted to add the second node.
We set the COVR-2202 in the office's reception area, plugged it, then waited for the LED to blink orange. Once it did, we tapped Next, and within a few seconds, the LED turned white. It means that the node synced successfully to the router, and it was good to go.
Pretty easy, quick, and that's what we like.
Speed and Performance of the D-Link COVR-2202
This mesh Wi-Fi acquired respectable and notable scores during our throughput performance tests, which were done via auto band steering.
Within our close-proximity test, the score we acquired was much faster than the results of other routers we tried. After testing the D-Link COVR-2202, we learned that it offers outstandingly fast Wi-Fi connection.
We loved that despite the thick office walls, we didn't expect the usual blocked signals and connectivity issues. When we tried gaming, everything went smoothly the entire time. It also worked efficiently when extending signals even in dead spots in the office.
Overall, the COVR-2202 worked excellently and successfully optimised our Wi-Fi signal better than expected. It provided excellent coverage, and we didn't experience any problems with the connection. Basically, it's awesome, so we're giving the D-Link COVR-2202 five stars for its performance.
D-Link COVR-2202 Review Summary
The D-Link COVR-2202 is one of the best mesh Wi-Fi systems that we've tested. It's easy to install, supports voice assistants like Alexa and Google Assistant, and most importantly, it performs excellently. Also, it comes with the D-Link Wi-Fi mobile app, which is a user-friendly interface for managing your system.
Aside from its excellent features and superior performance, it has a stylish design that can match any home. Its sleek design makes it easier to install, making it an ideal choice for boosting your home network's speed.
Although setting up the D-Link COVR-2202 is easy, it can take some time. However, the mesh Wi-Fi system becomes straightforward and easier to use. It allows you to create a separate network for your guests. Furthermore, the router has other features that aren't only for increasing your Wi-Fi's speed, but also makes network management easier.
Overall, the D-Link COVR-2202 is one of the best mesh Wi-Fi systems on the market today. With this, you can enjoy fast internet and easily manage traffic and users.
To conclude our D-Link COVR-2202 review, we were satisfied with this mesh system, and we highly recommend it. If you want to get your hands on this mesh router, it's available for online purchase from D-Link's official website. You can also check their store locator if you wish to buy this from another shop.