Looking to keep your home safe and secure? Or you have a security camera, but it isn't as reliable as you thought it would be? In our D-Link DCS-8300LHV2 Full HD Camera review, we'll learn more about a camera that features quality and safety for you and your home. 
The D-Link DCS-8300LHV2 Full HD Camera is an innovative design made to keep track of the entities inside your home. It contains smart detection programs that notify you with the touch of your phone. Other than that, it works as a two-way audio system that can keep you in touch.
I don't want to spoil you any further, so with that, let's get right into the D-Link DCS-8300LHV2 Full HD Camera review. 
D-Link DCS-8300LHV2 Full HD Camera Packaging
Before we get into our D-Link DCS-8300LHV2 Full HD Camera review, we should look at the items that go with it. 

The D-Link DCS-8300LHV2 Full HD Camera comes in a small light sky blue package. On the front, you will see the image of the product as well as the logo and some features.
The sides show you a list of the technical specifications and a small diagram of the product's interior parts. This helps in figuring out the outputs and inputs required for the product to function optimally. 
When flipping the package to its back, there are several diagrams and images that show the features and function of the product. It gives you an idea of how the device will look like inside your home. With that, let's check inside. 

Once the package is open, you will find the product held in a cardboard mould. This mould helps prevent the product from moving inside, which could cause damage. Other than that, the product is also wrapped in plastic which protects it from unwanted substances. 
Apart from the product, you will find the instruction manual, cables, adaptor and insulating hardware. The instruction manual is there to guide on its installation by using the insulating hardware. 
With that, D-Link has shown promise with its care for its products and their safety. 
D-Link DCS-8300LHV2 Full HD Camera Review – Design and Functionality
Now let's take our time to check out its design in our D-Link DCS-8300LHV2 Full HD Camera review. 
The D-Link DCS-8300LHV2 Full HD Camera is D-Link's latest indoor camera. It is a small white camera that is slender and sleek, which is similar to a webcam model. Although it may look like a webcam, that isn't its purpose. The DCS-8300LHV2 was made to be an indoor security camera.
By that, D-Link wanted to come up with a small and light camera that functions similar to a webcam but better than most security cameras out there. This results from their creative vision and innovation, which is a camera able to do both. 
D-Link has designed its camera in such a way that it can capture a wider field of view. This makes the angle much more reliable when it comes to vision. Thanks to its modernistic design, it can easily go a whole 360-degree turn and a 65-degree upward tilt. 
The DCS-8300LHV2 even contains a full HD 1080 resolution at 30 frames per second. This makes video quality much more reliable as the information on the video is clearer and more distinct. 
Besides that, the DCS-8300LHV2 also has a Night Vision program that lets you see up to 5 meters in the dark. It even has Sound and Motion detection, which can be triggered and provides notifications. 
It also features Person Detection, which is an edge-based program that intelligently identifies the human motion. Thanks to these sensors and programs, you can rely on the device in its capabilities. 
With these functions alone, you can only feel safer with this product at your home. D-Link is sure to ensure security and safety for you and your loved ones wherever you are at home.  
Key Features of the D-Link DCS-8300LHV2 Full HD Camera
Going away now from its physical properties, the product holds several key features that separate it from other devices. In our D-Link DCS-8300LHV2 Full HD Camera review, we'll discuss this thoroughly. 
Smarter Surveillance
The DCS-8300LHV2 provides several surveillance programs that make it easier for you and your loved ones to feel safe. It has Person Detection, Sound and Motion Detection and Night Vision. 
With its brilliant Person Detection, it is smart enough to verify whether the object in motion is human or not. This makes it easier for the user to know whether there is danger or not. 
Sound and Motion sensors will trigger a notification to your phone indicating that there may be something or someone within the vicinity of the camera. Remember, you can always monitor what the camera sees. 
The Night Vision helps you see what happens during the night. When you are resting in your sleeping quarters, the camera will record what goes on overnight. This makes it easier to determine if there is anything suspicious. 
More is Better
The DCS-8300LHV2 runs up to 30 frames per second with 1920 by 1080 resolution. This gives you smoother videos and lower compressions. Thanks to that, you can also see clearly the entities on your video.
ONVIF Technology
ONVIF or Open Network Video Interface Forum is a corporate forum that helps provide quality IP-based surveillance cameras. This software allows you to continuously record with the DCS-8300LHV2. 
Smart Home
The DCS-8300LHV2 is also wi-fi compatible. It works well with Amazon Alexa, Google Assistant and MyDLink. So if your home contains any of these programs, the DCS-8300LHV2 takes no effort in working with these programs.  
You can also simply access the camera with these software, which ultimately frees you from any issues. You can reconfigure settings, and it helps manage the camera optimally. 
Two-Way Audio
Our DCS-8300LHV2 also has a built-in microphone and speaker which can be used to communicate between the camera and the computer. 
Wireless Encryption
A big issue with products that use the internet are privacy and security. With the DCS-8300LHV2, it features the latest WPA3 encryption. This is one of the most advanced security standards available. 
This program contains a stronger encryption algorithm, protection from brute-force attacks, individualised data encryption, forward secrecy and is future-proof and compatible. With these function in play, you can bet your money's worth on this product. 
Specifications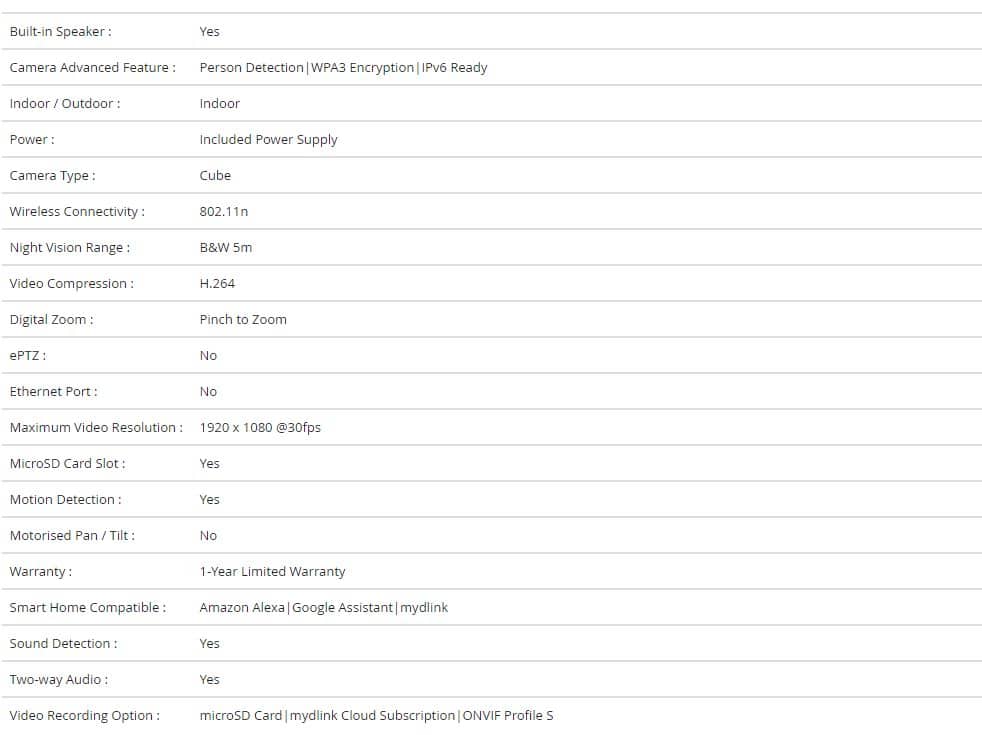 Our D-Link DCS-8300LHV2 Full HD Camera review discusses all the necessary information that makes this product work. As a result, we should go over the technical details of the product. 
The DCS-8300LHV2 camera is built indoors and comes with its own power supply. It contains Person Detection, WPA3 Encryption and IPv6 ready, advanced camera features. These are within the system already. 
It features cube type of camera and has a wireless connectivity of 802.11n. For its night vision range, it goes up to 5 meters and a video compression of H.264. Additionally, it also includes a built-in speaker. 
Regarding the digital zoom function, you could easily pinch to zoom. This makes it much more simple to control the device. It even has a maximum video resolution of 1920 by 1080 at 30 frames per second. 
Although the device does not have an ePTZ nor Ethernet port, it still contains a MicroSD Card Slot that stores the data. 
Other than that, the camera has motion detection. It may not have a motorised pan or tilt, but it is compatible with smart home programs like Amazone Alexa, Google Assistant and MyDLink. 
For audio aspects, it has sound detection and two-way audio. It also offers an alternate option for video recording where you can store it at the MyDlink Cloud Subscription or ONVIF Profile S.
Hands-on with the D-Link DCS-8300LHV2 Full HD Camera
It is always essential to verify the quality of a product. This means that we need to test and observe the product more to further deepen our understanding. 
In our D-Link DCS-8300LHV2 Full HD Camera review, we address this by exploring the product's features. We will hold tests that will determine where the product fails and succeeds. 
For the tests, we want to determine the authenticity of the Person Detection, Sound and Motion Detection and Night Vision as these are key features of the DCS-8300LHV2. Other than that, we want to check the two-way audio and its video resolution. 
When installing the DCS-8300LHV2, we had no problems with mounting or its system configuration. It was easy enough to install and run. In total it took around 10 minutes for us to full setup. 
Regarding its detection, we placed the camera in an isolated office. There, we had people walk in and out of the room. During this time, we noticed that the camera can easily pick up the people coming in and out with its AI programming. 
Next, we tried using objects to pass by the camera. Although it didn't pick up any human-oriented motion, it still picked up on the object with its motion sensor. Regarding sound detection, we tried speaking to it. Despite the little delay, we were able to communicate with our officemates. 
As for the Night Vision, we turned off the lights and walked in and out of the room. Even with the lights off, we were still able to see who was in the room. So far, none of the detection programs proved false. 
Concerning the video resolution, the quality was better than expected. Usually, video files that hold large amounts of recording aren't clear and remain distorted. This is because security cameras tend to focus on storing data. 
For the DCS-8300LHV2, this wasn't the case. With 1920 by 1080 resolution and 30 frames per second, we could better see the video's details. This also removed some of the motion blurs that goes on when recording moving objects.
By that, we could clearly see the objects, people, items or anything in particular in the video. When paired with the MyDLink app on the phone, we could get notifications from the camera. You may even use your phone to speak to whoever is nearest to the camera. 
Overall, the DCS-8300LHV2 camera is an excellent product. It relies heavily on intelligent and specific programming to improve the safety and security of the lives inside your home. 
D-Link DCS-8300LHV2 Full HD Camera Review Summary
Before we finish our D-Link DCS-8300LHV2 Full HD Camera review, we will give you a summary of our observations. 
The D-Link DCS-8300LHV2 Full HD Camera is a security camera that is amazing in its built-in features. They provide for all the necessary functions needed to ensure the safety of your home. 
Thanks to its detection programs and smart home features, the DCS-8300LHV2 is efficient and reliable in keeping you safe. Due to its progressive features, you can look forward without having to worry about your home. 
With that, we had a blast learning and discovering this product with you. By this, we truly recommend this reliable product and all its capabilities. This product is for those seeking to protect their home. If you want to learn more about this product, you can click here for more information.