Surviving COVID-19 has been a huge challenge for all manner of festivals worldwide but Art Month Sydney proved to be a bright spot amongst the gloom. In 2021, the festival staged some 157 events, welcoming 15,000-plus visitors. Many of these events were created by Be Productions using Epson projectors.
Art Month Sydney creates a platform for a new generation of contemporary artists to be noticed and to create connections with established artists. Of course, the public is the winner, with an abundance of opportunities to be exposed to great art across multiple venues around Sydney.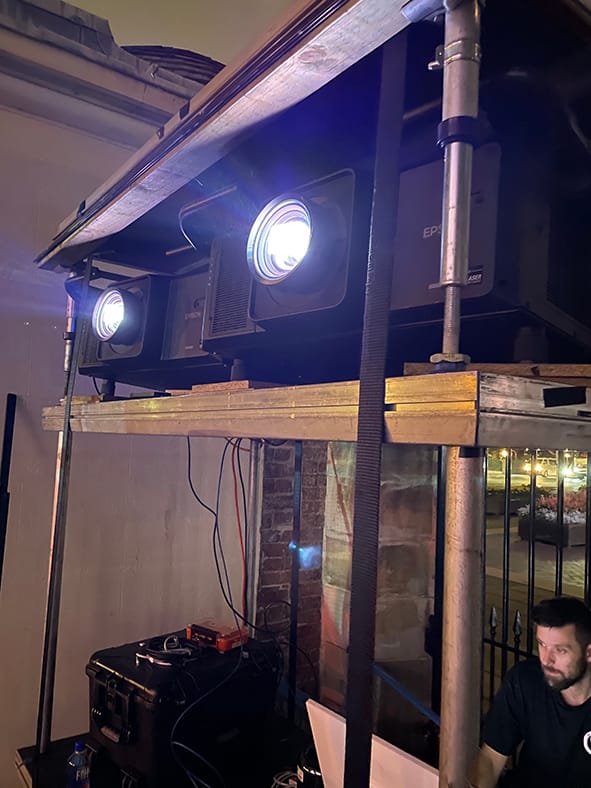 This year, Epson joined as a major sponsor of Art Month Sydney. Epson, partnering with Be Productions, used the festival to show its wares at numerous outdoor sites where highly engaging, immersive and interactive projections of digital artwork attracted audiences after dark.
Marc McAvoy, Director of Be Productions, inspected various possible projection sites with the festival director before determining the best locations in the art-world hotspots of East Sydney, Paddington and Chippendale.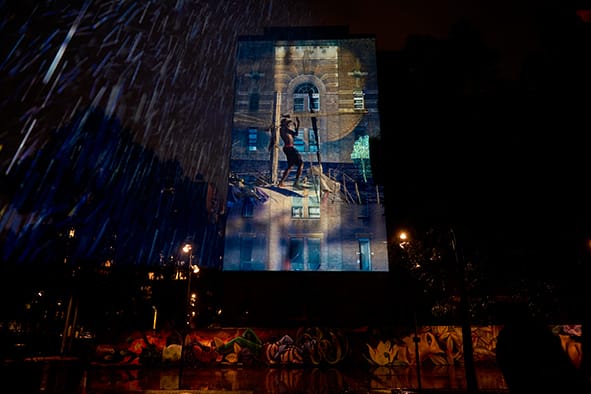 Be Productions specialises in outdoor projection. It's well known for providing systems for outdoor cinema during the warmer months; large-scale pop-up outdoor advertising; and being in demand during the long nights of winter for alfresco projection.
Principally, its inventory is based on Epson stock, including the EB-L25000UNL 25,000-lumen units, along with 15,000-lumen EB-L1755U, 12,000-lumen EB-L1505UH and 7,000-lumen EB-L1075U laser 3LCD projectors.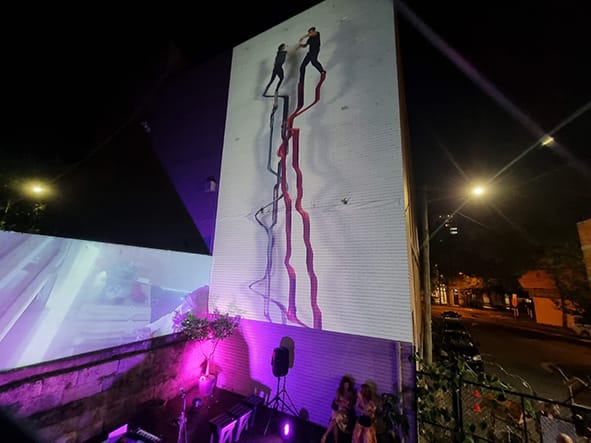 McAvoy said, "Our workhorse is Epson's 15,000-lumen EB-L1505UH. It's out on hire much of winter, especially. It's bright enough for most of what we do, but it's also compact, versatile and priced well."
Be Productions has built a reputation for painting an outdoor space with amazing high-brightness projected images in no time flat. It's what Marc McAvoy and his crew pride themselves in: arriving at a site to pixel map, double-stack and/or edge blend massive images onto walls, the sides of skyscrapers, or landmark buildings in the shortest time possible.
Be Productions' outdoor pop-up projection demands regularly require portrait-oriented projection. Often the Epson laser projectors are tilted upwards, above the horizontal to fulfil the brief.
McAvoy added, "Tilting the projectors upwards isn't something most lamp-based high-brightness projectors can do. That's been a huge selling point for us. Epson's understanding of laser technology and the 3LCD prism is just incredible. They've really nailed it when it comes to that laser technology."
Marc McAvoy has noticed the demand for large-scale outdoor projection grow from the novelty of outdoor cinema to 'sky's the limit' pixel mapping and Vivid festival-style avant-garde media. Epson has made a serious move into high-brightness projection and pushed the price of 10,000 to 30,000-lumen projection down to affordable levels — effectively helping to create a new market for 'why not?' environmental projection.
Certainly Art Month Sydney demonstrated something about artists that we've known for centuries, namely that when they engage with new technologies they create stunning new art in the process.
For more on Epson's EB-L25000UNL projectors go to:
https://www.epson.com.au/products/projector/EB-L25000UNL.asp
For more on Epson's EB-L1755U projectors go to:
https://www.epson.com.au/products/projector/EB-L1755UNL.asp
For more on Epson's EB-L1505UH projectors go to:
https://www.epson.com.au/products/projector/EB-L1505UHNL.asp
For more on Epson's EB-L1075U projectors go to:
https://www.epson.com.au/products/projector/EB-L1505UHNL.asp