SYDNEY, 26 November 2019 – To coincide with the incredible milestone of selling over 40,000,000 EcoTank printers globally, Epson Australia has expanded this amazingly popular range with six new EcoTank models consisting of five new mono models and one single function colour model – all of which are cheaper to run and are better for the environment than equivalent laser printers.
Epson are also doing some amazing EcoTank Black Friday Cyber Monday deals that include getting a second EcoTank printer for just $1 when you buy a full price EcoTank model online at https://www.epson.com.au/cybermonday/
All current and new EcoTank printers have:
Very low cost per page – from less than half a cent per printed page
Very low total cost of ownership
Replacement ink bottles that start at just $14.99 for 1,000s of additional pages
Up to 2 years of ink included – based upon printing 200 pages per month
Less down time due to less moving parts with no drum to replace
Fast first page – from as low as six seconds, ideal for one page documents
Low energy consumption as it's inkjet not laser technology
No throwaway ink or laser toner cartridges
The first new EcoTank model is the ET-1110 single function colour printer, ideal for busy homes looking to cut their printing costs. As with all EcoTank printers, thanks to the integrated high-capacity ink tanks, ink is supplied continuously to the printer, so there are no cartridges to replace; you simply top up the tanks with Epson ink bottles and keep on printing.
The ET-1110 includes enough ink to print up to 3,600 pages in black and white and 6,500 in colour, the equivalent to about 139 individual cartridges. It also features Epson's exclusive auto-stop ink bottles which are uniquely keyed for the easy filling of each colour, Epson's famously comprehensive warranty and a 100-sheet paper capacity all in a very compact form factor.
Then come five new mono (or black and white-only) EcoTank models – the ET-M1170 single function, ET-M1180 single function, ET-M2170 multi-function, ET-M3170 multi-function and ET-M3180 multi-function.
All of the new mono models include the following key features:
Integrated high capacity ink tank system
2 years of ink so you can print up to 5,000 pages in black and white included
Extremely low cost per page of less than a half a cent per page
Low-cost replacement ink bottle from $24.99
Easily refillable ink tank
Fast first page out time of only 6 seconds
Fast print speeds of 20 ISO ppm
Auto 2-sided printing
250 sheet paper tray
Compact size
Easy wireless printing from iPad®, iPhone®, Android™ tablets and smartphones® including Wi-Fi Direct®
The ET-M3170 multi-function and ET-M3180 multi-function models take things up a notch and offer auto 2-sided print, copy, scan and fax functions, Wi-Fi Direct®, Ethernet and Fax (ET-M3170) and Wi-Fi Direct® , Ethernet, Fax and PCL (ET-M3180). Both the ET-M3170 and ET-M3180 have a 35 sheet automatic document feeder included.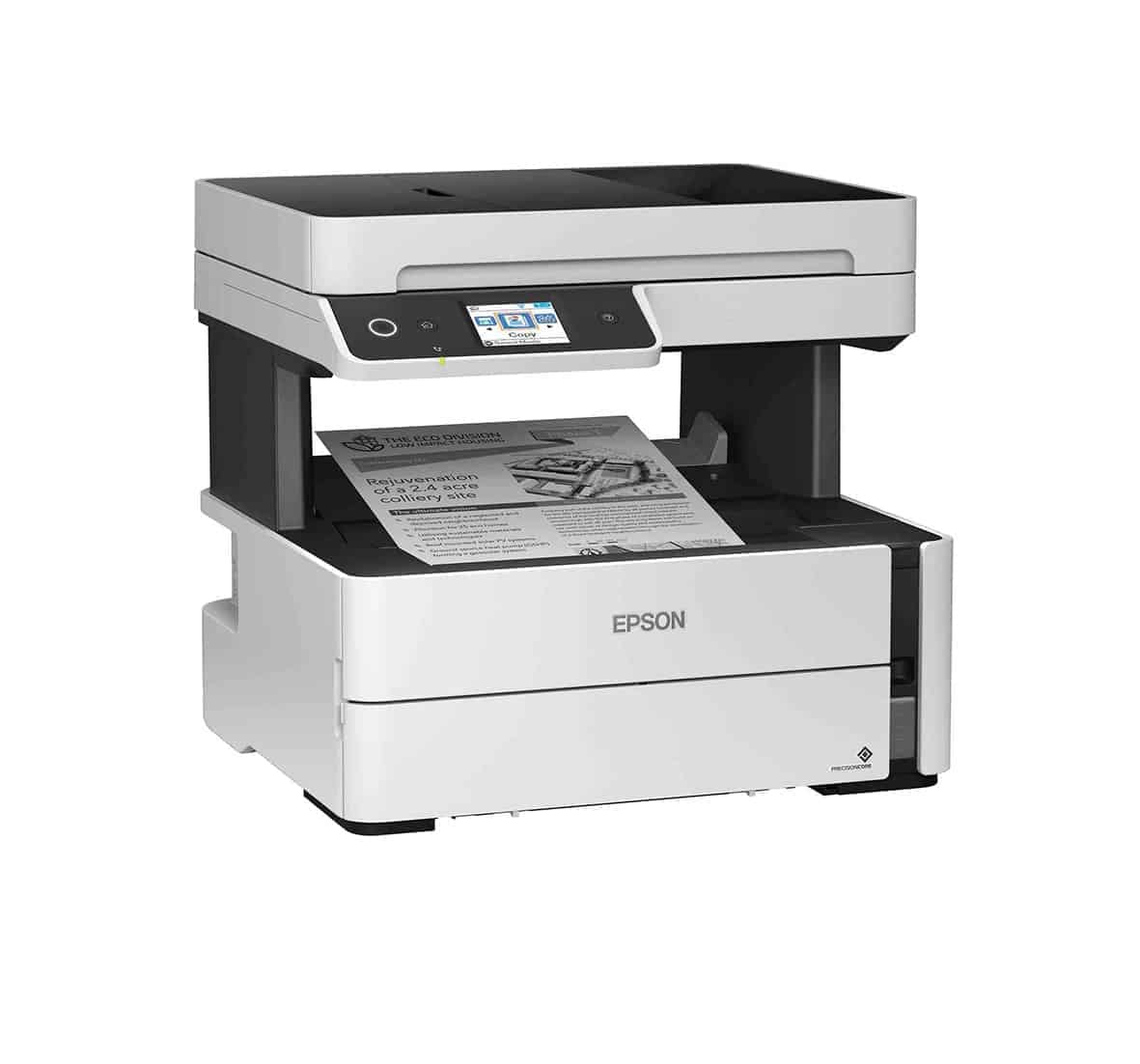 The new EcoTank printers can be purchased at www.epson.com.au and at Bing Lee, Harvey Norman, Officeworks, The Good Guys and at all authorised Epson resellers and retailers across Australia for the following RRP:
ET-1110 – $299
ET-M1170 – $299
ET-M1180 – $359
ET-M2170 – $399
ET-M3170 – $482
ET-M3180 – $519
For more details on all EcoTank printers go to: https://www.epson.com.au/v2/ecotank/