The X570 chipset may have been around for a couple of years, but it's still as good as ever. And today in our Gigabyte X570S AORUS MASTER motherboard review, we'll discuss a board sporting an upgraded version of it. 
The X570S AORUS MASTER motherboard is packed with an enhanced power solution and silent & passive thermal design. Plus, it comes with PCIe 4.0 slots for keeping your system powerful and fast despite the heavy loads. 
Sounds like something you need for your rig? If that's the case, continue reading our Gigabyte X570S AORUS MASTER motherboard review to get more details about it. 
Gigabyte X570S AORUS MASTER Motherboard Packaging
When our motherboard arrived, it came packed in a sturdy-looking black cardboard box. The front sports a huge logo of AORUS, while its name and a smaller logo are on the upper-left corner. 
Below the huge logo is the name of the product and what it is. Then to its right, you'll find what chipset they used, as well as the company's name. 
Looking at the box's base, you'll find another logo of AORUS, the board's name, and various information about it. Specifically, you'll find the primary software features of the board, and these are written in 18 different languages.
Flipping the box, you'll find a number of product images on its rear to showcase its specifications and features. 
Inside, the X570S AORUS MASTER motherboard is wrapped in a static-free bag. It's kept in a formed piece of adequately thick black foam while the rest of the items are underneath it.
Like all other boards, this comes with a set of accessories that are made to get you started immediately. For our Gigabyte X570S AORUS MASTER motherboard review, we will share what inclusions were in the package. 
With the board, you'll find four SATA cables, an RGB extension cable, two Thermistors, a Wi-Fi antenna, microphone, and Q-Connector. There are also four M.2 screws, a user manual/installation guide, and a couple of AORUS stickers. 
Gigabyte X570S AORUS MASTER Motherboard Review – Design and Functionality
After unboxing and checking the board for our Gigabyte X570S AORUS MASTER motherboard review, we noticed a couple of things. The board sports a six-layer, matte black PCB with a few grey stencils. You can find the latter to the right of the socket which identifies the board's model that you have. 
This motherboard features an upgraded power solution, silent & passive thermal design, plus PCIe 4.0 components. These keep your entire gaming system powerful and fast even under full loads. 
The bottom of the X570S AORUS MASTER motherboard is concealed mainly with heatsinks and shrouds for the M.2 sockets. There are even cut-in grooves for styling to boost the surface area for cooling. 
Focusing on its socket area, we'll begin with the VRMs direct touch heat pipes. Its finned style is distinct these days, but it works for keeping both the VRM banks within its operating parameters. Above these, you'll find two eight-pin ESP connectors for the CPU. 
To the socket's right are four reinforced DRAM slots that can run up to 128GB of DDR4 RAM. The product's specification notes memory speeds of up to DDR4 5100 for the current generation's 5000 series of CPUs. 
When it comes to the memory speed, do note that your mileage may vary from others. To achieve high speeds, you'll need an adequate processor with a great built-in memory controller or IMC. You'll also need the proper memory sticks to get you there.
AMD is good and is still around the DDR4 3600 to 3733. This is while keeping the FCLK @ 1:1.
At the top of the DRAM slots are the first four 4-pin fan headers. All of these support both the DC and PWM control, each offering up to 2A / 24W of power.
The configuration is likely enough for directly powering your water-cooling loop from the board. You can manage these devices via BIOS or Smart Fan 6 application. To the right of the fan headers, you'll see the first of two RGB and ARGB headers. 
Between the DRAM slots and fan headers is a set of voltage read points. Here, you utilise a multimetre to directly measure voltage readings. Its eight read points cover Vcore_SOC, VCORE, VDIMM (RAM), VPP_25, DDR VTT, PCH-CLDO, VDDP, and PCH IO. 
If you're planning to overclock and need more accurate readings, this will give you a good value-add to the board. This is compared to other similar products at this price point which don't feature user-accessible voltage read points. 
Continuing our Gigabyte X570S AORUS MASTER motherboard review, the board's right edge showcases a large power and small reset button. You'll also find the noise sensor header, as well as two-character debug ports.
Below is a 24-pin ATX connector to power the board, a 2-pin temperature header, plus three extra fan headers. 
Lastly, there's a front panel USB 3.2 Gen-2 Type-C header.
Rear I/O Ports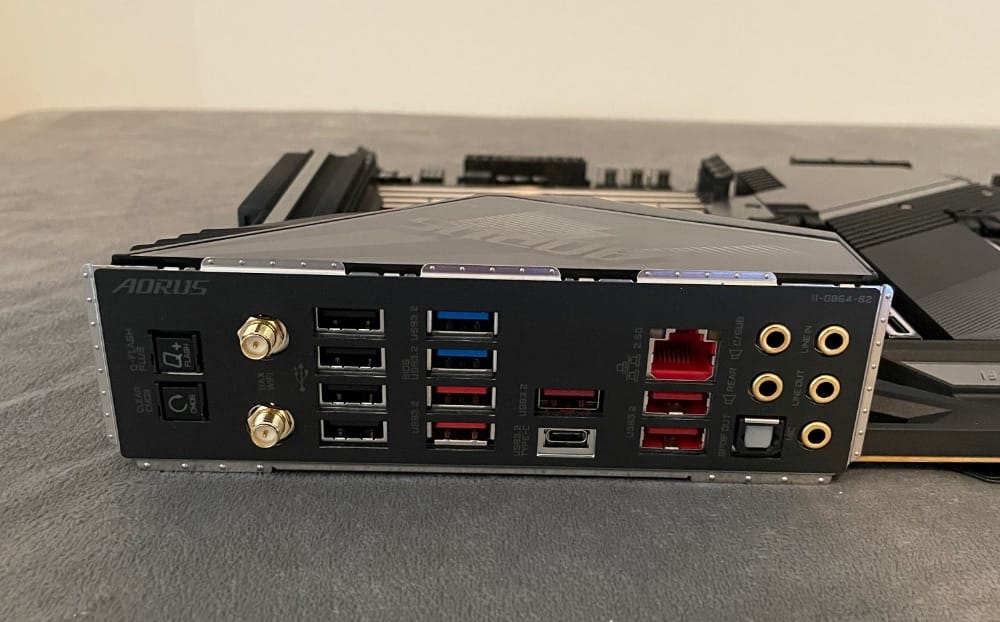 Its rear I/O is fully featured, specifically its USB connectivity. There are a total of 12 ports that have four USB 2.0 and five USB 3.2 Gen-2 ports. You'll also see two USB 3.1 Gen-1, and one Type-C USB 3.2 Gen 2×2 port.
You also have clear BIOS Flashback and CMOS buttons, antenna connectors, and the usual audio ports with S/PDIF. Of course, there's even a single Intel 1225V 2.5G LAN port present. 
Key Features of the Gigabyte X570S AORUS MASTER Motherboard
What does the motherboard have in store for us that makes it better among the rest? Let's find out as we continue our Gigabyte X570S AORUS MASTER motherboard review.
Exceptional Performance of the Gigabyte X570S AORUS MASTER Motherboard
The X570S AORUS Master motherboard has the best memory, IO design, and CPU power. With these high-quality components, it can unleash the newest AMD Ryzen 5000 series processors' full potential.
Daisy Chain Memory Layout
The optimised daisy chain routing allows Gigabyte's X570S motherboards to deliver a proven speed of DDR4-5400+ MHz. This memory layout provides denser & faster system memory performance and high frequencies which is essential for professional gaming.
Intel WIFI 6E (802.11ax)
The X570S AORUS MASTER motherboard features WiFi 6E (802.11ax), Intel's latest wireless technology. It comes with a new dedicated 6GHz band for decreased interference and enables gigabit wireless performance. With that, you can enjoy better gaming experience, smooth video streaming, and reduced dropped connections and speeds.
WiFi 6E also comes with Bluetooth 5. This provides range that's four times better than Bluetooth 4.2 and offers faster transmission.
USB 3.2 Gen 2×2 for Doubled Performance
The USB 3.2 Gen2x2 offers doubled performance than the previous USB 3.2 Gen 2. While connected to USB 3.2 compliant peripherals, it delivers up to 20 Gbps data transfer speeds. Plus, it has a USB Type-C connector that allows for reversible connection and rapid data transfer.
Innovative Thermal Solution
This motherboard uses an advanced thermal design that ensures low temperatures and stability of your system's components under full load. So even when you're gaming or using demanding programs, you can enjoy unparalleled performance.
2X Copper PCBs
The 2X Copper PCBs have high thermal conductivity and low impedance. With that, the PCBs effectively keep the components' temperatures low.
M.2 Thermal Guard III
The M.2 Thermal Guard III is made with double-sided M.2 heatsinks and 2.6X optimised head dissipation surface. These prevent bottlenecks and throttling that may occur on large capacity or high-speed PCIe 4.0 M.2 solid-state drives. It works effectively even under heavy loads.
9 W/mK Thermal Conductivity Pads
The X570S AORUS MASTER motherboard uses 9 W/mK thermal conductivity pads that are 1.5mm thicker. These can transfer and dissipate heat four times more than conventional thermal pads within the same amount of time.
Smart Fan 6
Smart Fan 6 contains numerous cooling features for gaming PC's to maintain its performance while staying cool and quiet. Its multiple fan headers support PWM/DC fan & pump. Plus, users can define the fan curves based on temperature sensors across the board through an intuitive interface.
The cooling features of the Smart Fan 6 include high current support, Precision Control, Fan Stop, and Dual Curve Mode. With High Current Support, each fan headsets support DC and PWM fans, water cooling pump, and over-current protection.
Precision Control offers seven temperature or fan speed control points to achieve precise fan curves. Fan Stop pauses fan rotation completely once the temperature is below the point you've specified. For Dual Curve Mode, it provides slope and stair modes for different user scenarios.
Fins-Array II
Fins-Array II utilises a louvred stacked-fins design which increases surface area by 300%. It also enhances thermal efficiency with better heat dissipation and airflow.
Direct Touch Heatpipe II
The X570S AORUS MASTER motherboard has an extra-large 88mm heat pipe that was made using a new manufacturing process. This narrows down the gap between the heatsink and heat pipe.
Direct Touch Heatpipe II aids in dissipating the heat on the MOSFETs.
Multi-zone Lighting and Outstanding Aesthetics with RGB FUSION 2.0
The X570S AORUS MASTER has full RGB support and offers more LED customisations so you can fully personalise your PC.
All of these lights are customisable via the RGB FUSION 2.0. This software offers customisable lighting effects, enabling enthusiasts to build a unique and stylish gaming PC.
Solid Pin Power Connectors of the Gigabyte X570S AORUS MASTER Motherboard
Like the X570S AORUS MASTER, all AORUS motherboards have solid-plated ATX 12V 8+4-pin and ATX 24-pin power connectors. These offer stable power supply when overloading the CPU while providing a large contact area for electricity.
More metal quantity makes the power connectors more durable. Plus, these can sustain higher power.
EasyTune
EasyTune is Gigabyte's user-friendly interface for tweaking your system settings or adjusting system & memory clocks and voltages. It features Smart Quick Boost that allows you to automatically overclock your system in one click.
Highly Durable
While creating this Gigabyte X570S AORUS MASTER motherboard review, we've seen that its products go through a high-quality manufacturing process. This can be seen in their product's durability and efficiency just like the X570S AORUS MASTER motherboard. 
They utilised the best components available and reinforced these into every slot, making these solid and durable. 
Specifications
The X570S AORUS MASTER motherboard sports an ATX form factor with an AMD AM4 socket. It supports AMD Ryzen's 2nd, 3rd, 4th, and 5th generation processors.
When it comes to its operating system, it supports Windows 10 (64-bit). 
SATA Ports and PCIe Slots
The X570S AORUS MASTER motherboard has three PCIe 4.0 x16 slots. So if you're thinking of installing a graphics card, make sure to install it in the PCIe x16 slot. 
Not only that, but it even has six SATA ports that deliver a maximum speed of 6 Gbps. 
Audio Codec
The X570S AORUS MASTER motherboard is equipped with the Realtek ALC-1220 VB 7.1 Channel HD Audio CODEC. Its presence offers a warm, crystal clear, and immersive sound quality during your gaming sessions. 
RAM Specifications of the Gigabyte X570S AORUS MASTER Motherboard
The board has a total of four RAM slots and its maximum supported RAM is 128GB. In addition, RAM support for this board is DDR4. 
Networking and LAN Specifications
For its networking specifications, it makes use of the Intel AX210 WiFi 6E and Intel I225-V 2.5G LAN. It utilises the Intel 2.5GbE LAN chipset while its LAN maximum speed is 10|100|1,000|2,500Mbps.
VRM
Checking its VRM, the X570S AORUS MASTER motherboard has a 14-phase 12+1 setup for the SOC and VCore. It makes use of the Infineon XDPE-132 G5C PWM controller that can run up to 16 channels. 
From the 8-pin EPS, power passes from the Infineon controller through 70A international rectifier TDA-1472 MOSFETs. This setup allows around 840A to the CPU which is a lot for overclocking and stock operations.  
This time in our Gigabyte X570S AORUS MASTER motherboard review, we'll get more hands on with the motherboard. It's the part where we see how well it performed, and if it's something worth adding to your system.
Hands-on with the Gigabyte X570S AORUS MASTER Motherboard
Like other models, the BIOS comes with two modes: Advanced and Easy. 
Easy is the most basic of the two, so you only get details on the board and its installed RAM and CPU. It's also where you can adjust the fan speed. For the Advanced Mode, it's where you can do complex and more serious tweaking. 
The first tab in this mode is the Tweaker Tab. And as its name suggests, Gigabyte placed everything related to overclocking here. It's all based on overclocking your CPU and RAM such as ratios, clocks, offsets, CPU features, XMP profiles, and voltages.
In the Settings Tab, this is where you'll find everything on its system health, peripherals, RAM, overdrive and security options. For the System Info Tab, this has the standard details about the CPU, mainboard, and RAM. From here, you can also access the Q-Flash feature. 
Next is the Boot Tab where you can disable/enable the full-screen boot logo. It's also where you can change the boot priorities, enable CSM support, and set the mouse speed. 
Obviously for the Save & Exit Tab, this is where you can save/load profiles. It's also the tab where you can select other media to boot from. And lastly, the Favourites Tab, where you can immediately access the most vital settings in BIOS. 
Performance of the Gigabyte X570S AORUS MASTER Motherboard
The X570S AORUS MASTER motherboard proved to be a strong and efficient board even under multi-threaded loads. When it comes to its single-threaded performance, we can say it's above average. 
Gaming performance for this board is great and it performed excellently too. In fact, we even saw that it has a strong and quite notable M.2 SSD performance to boot. 
As for its VRM cooling, we were highly impressed with it since it displayed excellent results throughout our test.
Overall, the X570S AORUS MASTER motherboard performed excellently and we didn't have any problems with it. It was efficient even with heavy loads and it stayed relatively cool throughout the test. 
Gigabyte X570S AORUS MASTER Motherboard Review Summary
The X570S AORUS MASTER from Gigabyte is packed with a lot of great features. With WiFi 6E, better VRMs, four M.2 sockets, and better aesthetics, this motherboard is among the best today. Although expensive, its impressive set of features make it worth the purchase.
When we tested the product, we enjoyed its excellent performance. Tweaking it via the BIOS was also a great experience since it had a user-friendly interface. 
Overall, the X570S AORUS MASTER from Gigabyte impressed us and we highly recommend this product. It's an excellent choice if you're looking for an upgrade to enhance your system's performance.
To purchase this product, check out Gigabyte's store locator for authorised dealers.