Meta-description: Learn the step-by-step process of using iTop Screen Recorder for flawless video conference recording. Capture and preserve your meetings effortlessly. Boost your video conferencing experience!
Welcome to our comprehensive guide on using iTop Screen Recorder for seamless video conference recording. Whether you're attending important meetings, hosting webinars, or collaborating with colleagues remotely, capturing those valuable meetings is crucial. That's where iTop Screen Recorder comes in.
In this guide, we'll walk you through the step-by-step process of using iTop Screen Recorder for flawless video conference recording. From setting up your preferences to saving and editing your recordings, we've got you covered.
So, let's dive in and enhance your video conferencing experience with iTop Screen Recorder!
What is iTop Screen Recorder?
iTop Screen Recorder is a powerful and user-friendly screen recording software that allows you to capture and record any part of your screen effortlessly. Whether you need to record video conferences, create video tutorials, or capture gameplay, iTop Screen Recorder has you covered.
With iTop Screen Recorder, you can record high-quality videos in 4K or 1080p resolution without any lagging or time limits. The intuitive interface makes it easy to select the desired screen area, and you can even record audio and webcam footage simultaneously.
Additionally, the software offers a range of advanced features such as the built-in editor, which allows you to enhance and customize your recordings with ease.
Let's explore how to use iTop Screen Recorder for seamless video conference recording!
Section 1: Getting Started with iTop Screen Recorder
To begin using iTop Screen Recorder for your video conference recordings, follow these simple steps:
Download and Install iTop Screen Recorder:
Visit the official iTop Screen Recorder website. There you will see the "Download" button. You can download the file by clicking the button.
Once the file is downloaded, run the installer and follow the on-screen instructions to complete the installation process.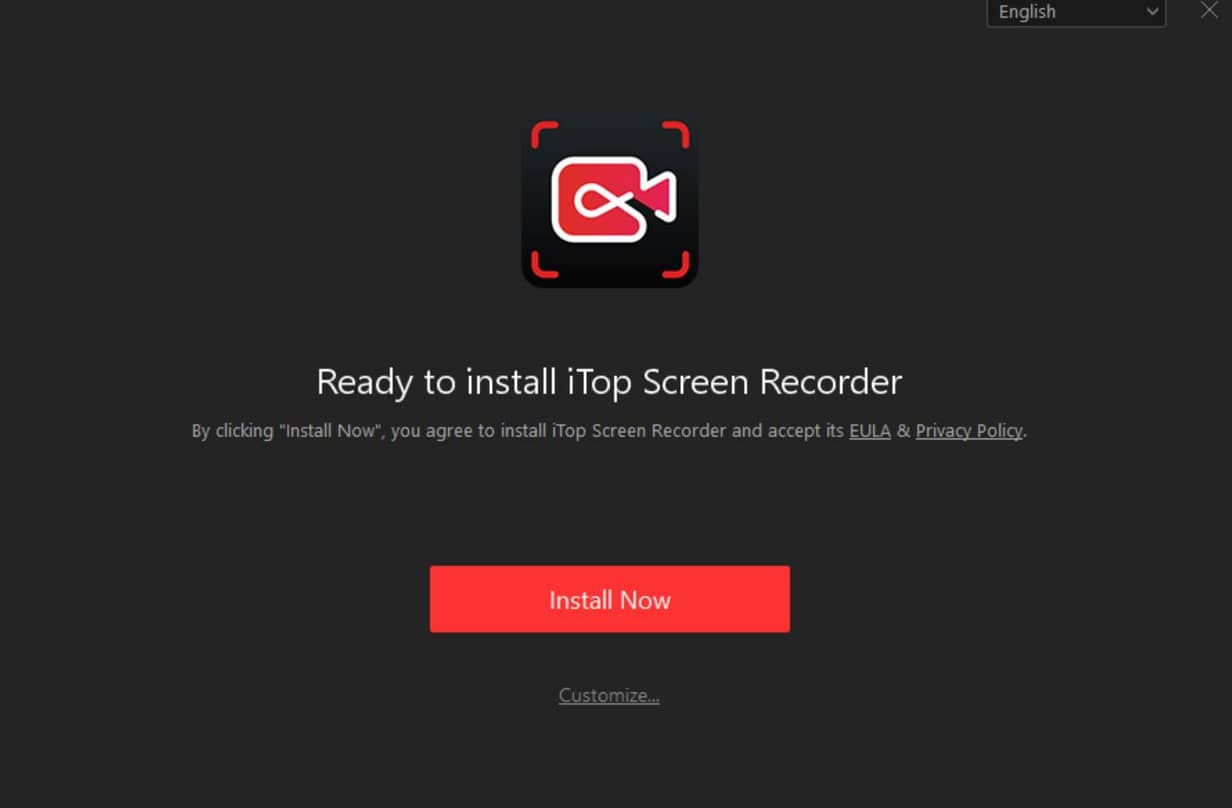 After completing the installation wizard, go to your desktop and launch the software.
Access the Main Interface:
After launching iTop Screen Recorder, you will see the main interface with various options and settings. The software has an easy-to-use and intuitive interface.
Familiarize yourself with the different features, such as recording modes, preferences, and editing tools, available in the interface.
Congratulations! You have successfully downloaded, installed, and launched iTop Screen Recorder. Now, let's move on to recording your first video conference using this powerful tool.
Section 2: Recording a Video Conference Step-by-Step
Now that you have successfully set up the software, let me walk you through the steps of recording your important online conference.
Step 1: Set up Preferences
Before you start recording your video conference using iTop Screen Recorder, it's essential to configure your preferences. Follow these steps to customize your recording settings:
Select the Desired Screen Area:
Choose whether you want to record the full screen, a specific window, or a custom area. You can set the recording area by adjusting the frame or entering specific dimensions, as shown in the picture below.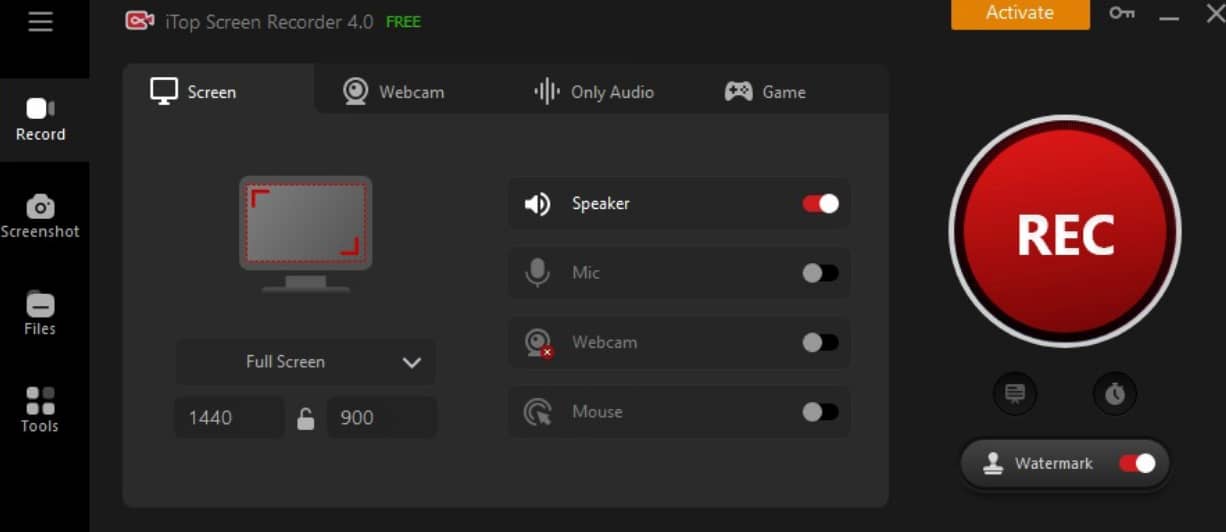 Configure Other Options:
Explore additional settings, such as audio input sources and quality settings, to ensure the desired recording output.
New Feature: Teleprompter: In their latest update, they have added the teleprompter feature, using which you can import your script or type it directly into the teleprompter window. As you record, the script will scroll by, allowing you to deliver accurate and consistent explanations without the need for memorization.
Step 2: Start the Recording
Once you've configured your preferences, it's time to start recording your video conference. Follow these steps:
Initiate the Recording:
After you are ready to record your meeting. Click the "Rec" button in the iTop Screen Recorder interface.
Then position the recording frame over the video conference window or the desired screen area to start the recording.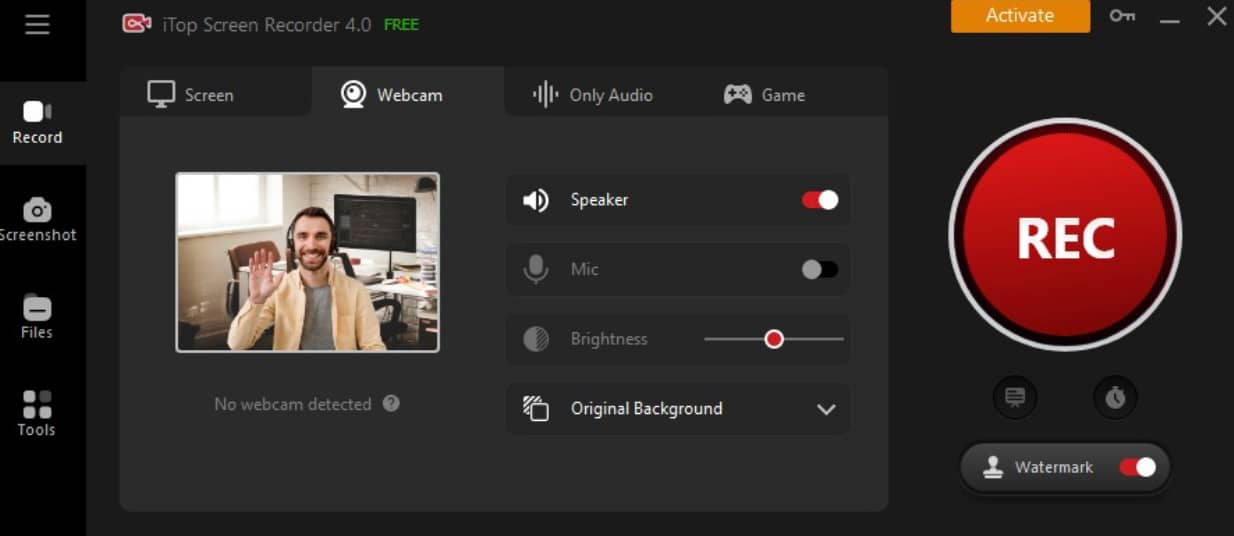 Utilize the Cursor Magnifier:
iTop Screen Recorder offers a cursor magnifier that allows its users to zoom in on specific visual content such as buttons or images. This feature can come in handy in different options. So, make sure you take advantage of this feature to ease your recording experience.
Step 3: Save and Edit the Recording
After successfully capturing your video conference, it's time to save and refine your recording. Here's what to do:
Save the Recorded Video:
Click the "Stop" button to end the recording. Then the software will ask you to choose the desired output format, such as MP4 or AVI, and save the recording to your preferred location.
Refine with the Built-in Advanced Editor:
The best thing about iTop Screen Recorder is the ability to professionally edit your recordings. The built-in advanced editor is designed to help users edit their recordings and make necessary adjustments.
You can take advantage of advanced features and refine your video, such as trimming unwanted segments, adding annotations, or applying visual effects.
There you go you have done it. It is as simple as 1-2-3, isn't it?
Pro Tip: Advanced Webcam Recorder
Another amazing update, iTop Screen Recorder offers is the Advanced Webcam Recorder. Make the most of the improved Advanced Webcam Recorder in iTop Screen Recorder. Easily change the positions and shapes of the webcam display, ensuring your video conference recording captures you from the most flattering angle.
Section 3: Overall Advantages of iTop Screen Recorder 4.0
iTop Screen Recorder 4.0 introduces powerful new features to enhance your video recording experience. Some of its features include:
Teleprompter
Cursor Magnifier
Advanced Webcam Recorder
Quick and Versatile Screen Movement Recording
Webcam Background Blur/Change
Powerful and Versatile Video Recording
Feel free to play around with updated features and share your feedback on those features.
Conclusion
In conclusion, iTop Screen Recorder is a powerful and user-friendly tool that empowers you to capture and create impressive videos.
Additionally, the new features make it the most desirable screen recording app for every need. With features such as Teleprompter, Cursor Magnifier, and Advanced Webcam Recorder, you can effortlessly record video conferences, tutorials, and presentations with accuracy and clarity.
So, take your video recording experience to the next level with iTop Screen Recorder.