The G Pro Wireless Mouse is Logitech's latest flagship gaming mouse. Instead of having fancy features like its previous peripherals, they focused on top-quality wireless gaming efficiency without any extras. So, if you're interested in this mouse, we've got you covered in our Logitech G Pro Wireless Mouse Review.
The G Pro Wireless Mouse is a unique peripheral compared to flashy mice we're used to. This gaming mouse from Logitech doesn't have a ton of buttons, nor does it have weight adjustments to it. Plus, it sports a simple design that just features a single RGB zone.
However, the company included its latest wireless technology and sensor to the mouse. The "HERO" or High-Efficiency Rated Optical sensor is another feature that the company highlights. For the Lightspeed wireless tech, it's the first technology to provide the same responsiveness and standards as a wired mouse.
To add to this, the G Pro Wireless incorporates an ambidextrous design, allowing the swap of side buttons for blanks.
The highlight of this mouse is that all quality technology is packed in a lightweight product that only weighs 80g. If you think about it, the G Pro is remarkably light for a wireless mouse.
All these claims are pretty impressive, but is it as good as what they claim? We'll find out in our Logitech G Pro Wireless Mouse Review.
Logitech G Pro Wireless Mouse Packaging
This section of our Logitech G Pro Wireless Mouse Review is all about its packaging and contents. When we received our mouse, it came in a thick, sturdy, and sleek-looking cardboard box. We loved how it looks since it gives off a premium feel to it.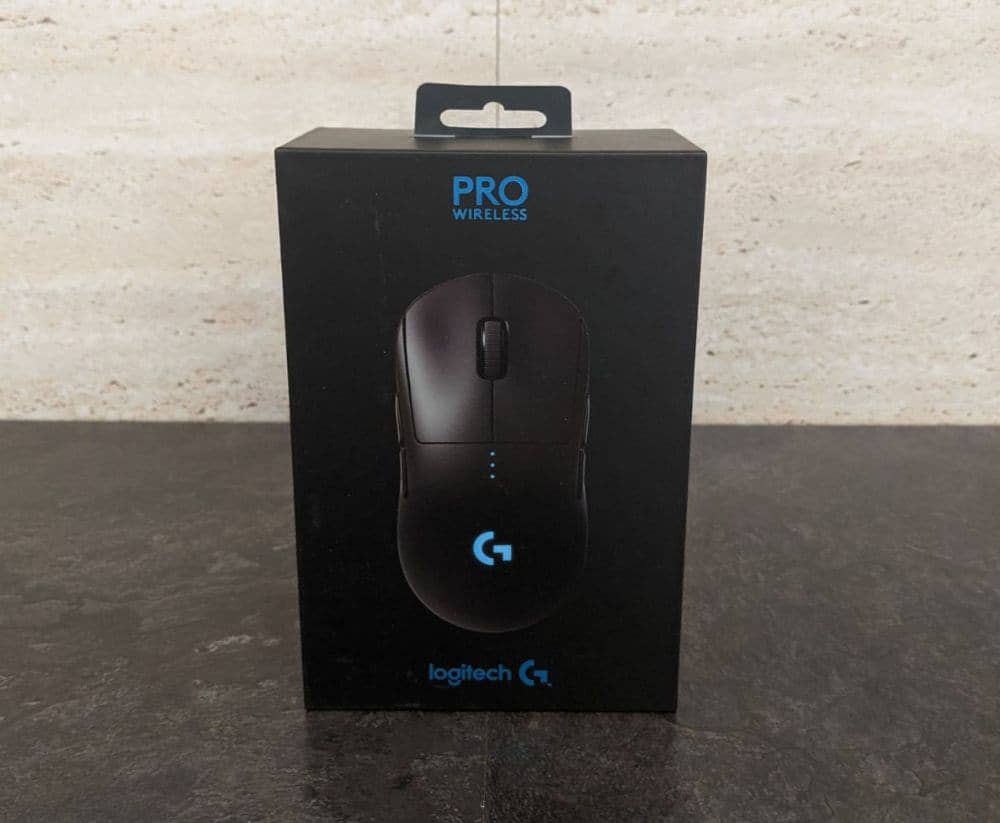 The front shows an image of the mouse itself, while Logitech and its logo are below it. Above the image, you'll find "Pro Wireless" to note that this product is a wireless mouse.
When opening the package, you'll need to pull out the thick external cardboard. You will have to slide it out to reveal the mouse inside. Once that's out, you'll find the G Pro Wireless Mouse kept securely in place via moulded plastic.
Removing that reveal two boxes: one containing documentations and cable, while the other holds the replacement buttons and wireless adaptor.
Aside from the mouse, there are other items and accessories in the box. These include the LIGHTSPEED USB receiver, and USB data/charging cable. You'll also get an optional receiver extension adaptor, optional side buttons, optional button covers, and the user documentation.
For convenience and piece of mind, Logitech made sure to include a 2-year limited hardware warranty for the wireless mouse.
This time on our Logitech G Pro Wireless Mouse Review, we'll focus on the design and functions of the mouse.
Logitech G Pro Wireless Mouse Review – Design and Functionality
The G Pro Wireless Mouse sports a new design which isn't comparable to other similar Logitech products. It is relatively small at just 4.92 x 2.50 x 1.57″. However, it's still big enough to allow comfortable claw or palm gripping.
It sports an ambidextrous design with a right and left button plus two thumb buttons on each side. Of course, it also comes with a clickable scroll wheel.
Also, the G Pro Wireless Mouse incorporates a button to adjust DPI sensitivity. The thing is, it isn't placed in an expected spot below the scroll wheel or above the right button. Instead, Logitech opted to move the controls at the base of the mouse.
The entire build of the mouse is smooth and doesn't have any unwanted protrusions. It means, there aren't any textured grips or finger rests; plus, it's suitable for both left and right-handed players.
Next on this Logitech G Pro Wireless Mouse Review, we'll take a look at the mouse's key features.
Key Features of the Logitech G Pro Wireless Mouse
Designed with Professionals
Logitech created the G Pro Wireless Mouse for professional eSports gamers. The company worked together with more than 50 players to achieve the perfect shape, weight, and feel for the mouse.
With that, Logitech used HERO 16K sensor and LIGHTSPEED wireless technologies. As a result, they were able to create a precise gaming mouse with unrivalled performance.
HERO 16K – Most Accurate Gaming Sensor
Like eSports professionals, Logitech aims for improved speed and accuracy for their mice. With the HERO 16K next-generation gaming sensor, the Pro Wireless can track flicks at over 400 IPS. It delivers high levels of performance at any sensitivity without acceleration, smoothing, and filtering.
Also, it consumes power by less than ten times compared to its predecessors. With that, the G Pro Wireless Mouse allows for the use of a lighter battery that stays for long hours.
Extreme Endurance
Logitech has been an expert in building, engineering, and testing mice for more than 35 years. The company used its expertise in creating the G Pro Wireless Mouse. It can withstand the intensity of eSports players during training and tournaments since it's coated for grip and durability.
Logitech tested the mouse's feet to perform over 250km of use. For the left and right buttons, these can go over 50 million clicks, which is equivalent to daily 10-hour training for five years.
Ultra Lightweight
The Logitech G Pro Wireless Mouse has a total weight of 80g, and its outer shell is only 1mm thin. It features a ladder-chassis design for extreme strength and structural support for tournaments.
The advanced LiPo battery lasts long and is lightweight for no hassle and worries when gaming. Once you charge the mouse, you'll be ready for the tournament, and you can forget about the battery.
LIGHTSPEED Wireless
Cord dragging produces friction and distraction, which is unacceptable for professional eSports gamers. With that, Logitech designed a wireless mouse for this task, The mouse's fully wireless technology overcomes latency, power, and connectivity issues for consistent, lag-free 1ms report rate connection.
4to 8 Programmable Buttons
The G Pro Wireless Mouse has a truly ambidextrous design. You can remove the left and right side buttons and choose to have zero to four side buttons. Use this mouse with its default button settings, or configure this based on your preferences via Logitech G HUB software.
LIGHTSYNC RGB
The Pro Wireless allows you to customise its RGB with around 16.8 million colours. For advanced features, these are configurable via the Logitech G HUB software. It's a perfect feature to use if you want to represent your team's colours or personalise your rig. With LIGHTSYNC RGB technology, you can set your mouse's RGB lights to synchronise with other compatible peripherals.
Onboard Memory
Save your mouse's settings on its built-in onboard memory so you can easily use your preferred settings on tournament systems. With that, you can take your mouse settings from your home to the stage. Installation of new software or reconfiguration of settings will no longer be necessary.
Mechanical Button Tensioning System
This mouse comes with the newest primary button engineering. It uses a metal spring to tension the separate right and left button keyplates. As a result, there is less actuation force and travel distance, making it more accurate and consistent.
Next on our Logitech G Pro Wireless Mouse Review is the product's specifications.
Specifications
The G Pro's sensors have a polling rate of 1,000Hz and a maximum speed of 10m/s (400 IPS). It has a total of five controls, a scroll, and a DPI button on its lower side. Plus, it also features an Optical HERO sensor.
This wireless mouse uses a detachable USB 2.0, as well as a wireless Logitech LIGHTSPEED technology. Additionally, this mouse's DPI ranges from 100 to 16,000.
For the design specifications, the mouse's left and right switches are the Omron D2FC-F-K(50M) with 50M clicks each. It measures 125 x 63.5 x 40mm and weighs 80g without the cable. Speaking of the wire, it's one detachable and rubberised piece at 1.8m.
For product safety, the Logitech G Pro Wireless Mouse also comes with a limited 2-year warranty.
Hands-On with the Logitech G Pro Wireless Mouse
On this section of our Logitech G Pro Wireless Mouse review, we will focus on the product's software and performance.
The Logitech's G HUB is the company's new software suite. It's organised and straightforward, making it easy to use for everyone. The interface allows you to do the basics, like adjusting the mouse's DPI, recording and assigning macros, and more. This program is also where you customise the RGB settings of your peripherals.
Since the Pro Wireless is for eSports gaming, we tested this by playing a couple of PC games. Its tracking performance and accuracy were excellent, thanks to the HERO 16K sensor. It had flawless performance, especially in FPS games, since it's lightweight and easy to control. Its build was another factor that contributed to its ease of use.
Aside from its accuracy, the mouse was also highly responsive, and it rivals the responsiveness of a wired gaming mouse. It's is another reason why the Pro Wireless is the ideal eSports gaming mouse. Furthermore, we didn't encounter any issues, and we enjoyed using the mouse for the entire time.
Overall, we were satisfied with the Logitech G Pro Wireless Mouse, and we're giving five stars for its excellent performance.
Logitech G Pro Wireless Mouse Review Summary
The Logitech G Pro Wireless is one of the best gaming mice we've tried. It delivered excellent performance throughout our tests, and we can say that it's a perfect addition to your rig.
Its ambidextrous design feels like a universal mouse, lightweight body, and excellent battery life make it the ideal gaming mouse. Most importantly, it provides superior precision and accuracy for you to execute your moves flawlessly and win any tournament.
To conclude our Logitech G Pro Wireless Mouse review, we highly recommend this eSports gaming mouse. Visit the company's official website to purchase it online.