Starting off 2022, we're looking at this splendid and ingenious product in our Artillery Genius Pro 3D Printer review. 
The Genius Pro 3D is the newest version of their popular and successful product. It's packed with all the elements you love, as well as enhancements that make it even better.
In our Artillery Genius Pro 3D Printer review, we're focusing on the printer's specifications, features, performance, design, and more. But before getting into those, let's check out its packaging and what contents the company included.
Artillery Genius Pro 3D Printer Packaging
The Genius Pro 3D arrived in a package that's thick and secure enough to protect the items inside. This box features the model's name, an illustration of the printer, plus Artillery's packaging tape.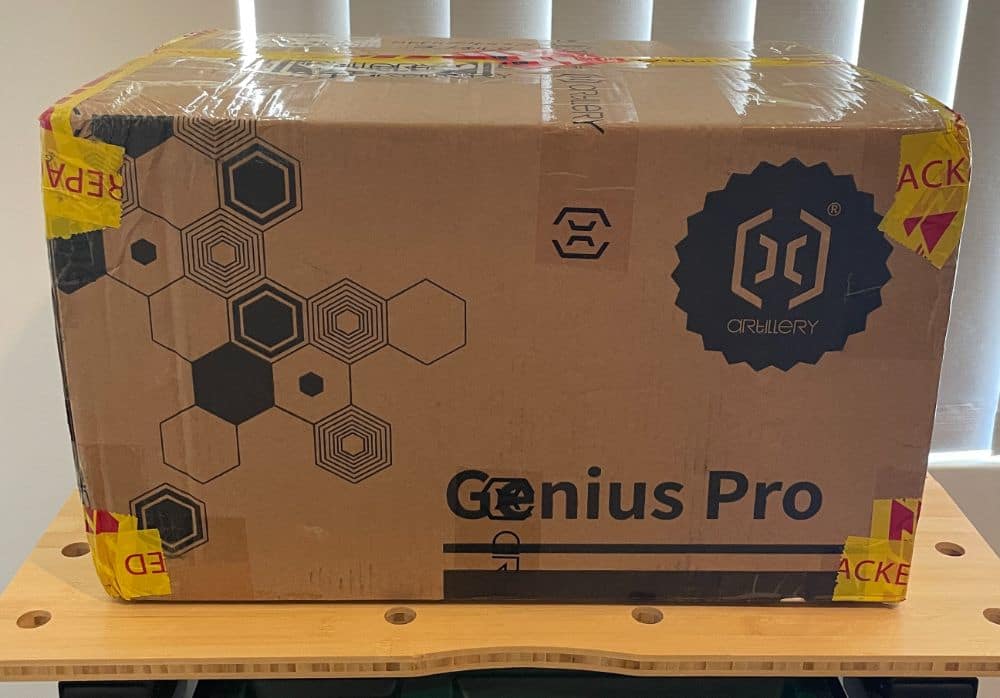 Of course, we also checked inside the box for our Artillery Genius Pro 3D Printer review. There, we saw that everything was packed properly and was organised to our liking. 
The company also secured the printer with a number of dense foam plus zip ties. This is to prevent any shipping damages and unwanted movements.  
Inside, you'll find the Genius Pro (top gantry and mount base) and a spare 0.4mm nozzle. There's a set of basic assembly tools, a collection of screws, nuts, bolts, and washers, plus a spool holder assembly. 
Then, you'll find a power cable, USB cable, USB stick, and an Artillery Genius Pro installation manual. 
Artillery Genius Pro 3D Printer Review – Design and Functionality
The 3D printer sports the classic style of its predecessor but this design was improved to offer new and smart features. It integrates both technology and design aesthetics while simultaneously focusing on both performance and beauty. 
We further inspected this 3D printer for our Artillery Genius Pro 3D Printer review. This is where we learned that its installation space measures 220 x 220 x 250mm. Not only that, but it also meets most of today's printing requirements which is great. 
The Genius Pro 3D printer has a built-in cable design that perfectly matches its refined visual look. For maintenance, don't worry much since Artillery made sure to simplify things when it comes to the process.
Another thing to note about its design is that it's equipped with a volcano nozzle. This quickly & evenly extrudes, as well as guarantees high-precision printing for better performance. 
The Genius Pro's volcano nozzle has a maximum temperature of 240-degrees Celsius. Then, it has a tempered glass printing platform that ensures outstanding adhesion and smooth printing. 
The hardness, as well as the even heat absorption of its print bed, stops any instances of warping. Thus, making it easier to extract the finished print. Thanks to the perfect thermal conductivity, its AC heating bed can reach 120-degrees Celsius in a quick three minutes.
And with protection against overvoltage, overcurrent, short circuits, excess temperature, and other safety risks, this 3D printer is extremely trustworthy. 
Key Features of the Artillery Genius Pro 3D Printer 
For most people, knowing the product's key features are essential before purchasing a product. So, our Artillery Genius Pro 3D Printer review will focus on these.
High-tech and Distinctive Design
The Genius Pro inherits the original model's original design but is also elaborately refined. It features its gorgeous appearance and has new & improved features, combining aesthetics and technology in this 3D
Filament Sensor and Print Recovery
The Genius Pro features a filament sensor and print recovery that works after a power interruption. When running a lot of prints, you won't have the time to check your remaining filaments or repeat interrupted prints. But with these reliable features, working with the Genius Pro makes 3D printing better than ever.
In-house 32-bit Mainboard
To change their old 8-bit boards, Artillery developed their proprietary 32-bit mainboard. This Ruby mainboard has become a staple of the company's newer products.
Dual Z-axis and Rigid Aluminium Casing
The dual Z-axis design with double screw drive and closed-looped belt offer more stability, precision, and speed when printing. The exclusive Z-axis coupler eliminates the layer pattern problem, offering smoother and better quality printing models.
The original Genius and the Sidewinder X1 featured a weak Z-axis. Artillery tackled this issue by introducing Z-couplers on the original Genius model, but it didn't completely solve the problem.
With the Genius Pro, Artillery added an injection-moulded aluminium casing surrounding the same coupler. By doing this, the system's rigidity is enhanced. The aluminium casing also extends the brackets to solve the issues regarding the height.
Fast-heating Print Bed and Tempered Glass Printing Platform
The Genius Pro comes with its predecessor's fast-heating AC print bed. It heats to 80-degrees Celsius in less than two minutes and reaches 120-degrees Celsius after another 60 seconds. With fast-heating technology, you can print faster and cut your waiting time before starting the first layer.
For the tempered glass printing platform, it has high hardness to prevent your printing model from warping.
Clean Cabling 
The integrated cable design gives the Genius Pro a clean and simple appearance while offering convenient maintenance. Artillery sets the standard for the industry with the Genius Pro's excellent quality. With the well-managed ribbon cabling and integrated cable design, the cable issues of the previous products are solved.
Titan Direct Drive Extruder 
We continued looking deeper into the product for our Artillery Genius Pro 3D Printer review. There, we learned that it sports an Artillery Titan direct drive extruder. This is extremely vital especially when you're printing interesting materials. 
The new Titan extruder is equipped with a volcano nozzle for smooth filament extrusion and fast melting. Plus, it's an efficient and convenient feature that allows precise printing.
Touchscreen UI 
Genius Pro 3D continues using the colourful touchscreen UI from the previous iteration. And until now, it's still suitably intuitive and responsive. 
It may be a little feature, but it's definitely nice to have. The feature is also without risk to manufacturers since it can make or break one's user experience in some systems. 
Quiet Operation 
Artillery's ultra-quiet stepper drivers and low-decibel working mode keep the Genius Pro quiet. These stepper drivers are also replaceable.
Voltage Switch 
The Genius Pro comes with a new power supply that features a switch that lets you change the voltage. This switch allows you to work with 100V or 240V. No matter what you choose, it won't affect the print performance.
Specifications
Continuing our Artillery Genius Pro 3D Printer review, we'll look into the different specifications of the 3D printer. This is to give you an idea if the product will work for your needs and the activities you do. 
The Genius Pro's build volume is 220 x 220 x 250mm while layer resolution is 0.1 to 0.35mm. It has a build speed of 60mm/s – 150mm/s and 250mm/s for its travel speed. Artillery made use of a glass ceramic for its print surface which complements the presence of an AC heat bed. 
The product has one extruder with a filament diameter of 1.75mm. And, it supports PLA, ABS, wood, flexible PLA, PVA, & HIPS. Then for its XYZ resolution, it is 0.05mm, 0.05mm, and 0.01mm. 
We appreciate that Artillery integrated auto-calibration for its bed levelling as well as FFF for their print technology. Then, the feeder type they used was the Titan Direct Drive which is great. Aside from these, it comes with a volcano nozzle type as well. 
It has a 0.4mm diameter, 180 to 240-degrees Celsius for its temperature, and less than 3 minutes heat-up time. The build plate, on the other hand, has a heat-up time of 80-degrees Celsius in less than two minutes. 
The Genius Pro 3D operates at <70 dBA and consumes a total of 100 – 240V, 500W max of power. Then, Artillery utilises their Ruby 32-bit mainboard for the printer's control board. 
This 3D printer measures 430 x 390 x 590mm and its shipping weight is 11.7kg. Just to note, the size of its shipping box is 528 x 428 x 310mm. 
Hands-on with the Artillery Genius Pro 3D Printer 
For this Artillery Genius Pro 3D Printer review, we thoroughly checked how this product performed. We wanted to see how good it was compared to its predecessor so we used it for over a week.
Setting up the Artillery Genius Pro 3D Printer
Let's start off with setting it up. It was a pretty easy, quick, and simple process. We appreciate Artillery for designing it this way to make it more convenient for every user around. 
We didn't have to bother with its upper X-Z gantry since they were pre-assembled and attached with screws. Then, its hot-end wires now instantly line up and slip into their plug while setting the gantry. 
After a couple more wire connections, we simply had to assemble its filament holder with a few more screws. Then, we placed it at the top of the X-Z gantry. After doing this, we started cutting a couple of zip ties on the X-Axis then plugged the 3D printer. 
Assembly done. However, make sure to check and adjust every eccentric nut that is present. This is necessary so axes can freely move without wobbling. We adjusted the Z-Axis' nuts using two little grub/set screws, but the adjustment idea is still the same. 
After our quick assembly and nut adjustments, we powered up the printer and started testing. 
Then, we checked and adjusted the tramming/level of the bed then fixed its Z offset. Also, this version of the 3D printer features a pre-installed mechanical bed sensor (BLT style). 
We have to take note of the clearly-written owner's manual and on-screen menus. These are very detailed and easy to understand which will allow anyone to easily adjust their bed and Z-offsets. 
On-screen Menu
When we used the on-screen menu, we were able to move the nozzle to the four corners. We were also able to move it in any order we wished, no matter how many times as well. 
When it comes to setting the printer's bed levelling, it all depends on the person using it. Our preferences may vary from yours. Nevertheless, the Genius Pro's manual suggests a nozzle and hotbed with a piece of paper for adjusting corners. 
Once we were satisfied with our bed levelling, we were able to utilise another on-screen for tweaking its Z-offset. Doing so will shift the nozzle to the bed's centre. 
From there, we were able to adjust the nozzle up and down in little increments (0.025). This was vital since it allowed us to achieve a better gap in the centre. This was so we could accommodate the sensor's Z-location on our machine. 
And again, just follow the manual for this process since it's easy to follow and quick too. 
At some point, we also wanted to see the actual Z-offset value. So, we needed a USB connection and a host interface for 3D printing to do this.
Performance
Now on to its performance. Out of the box, the slicer and factory defaults were quite sub-par. But after we did some PID tuning, flow percentage adjustments, and e-step calibrations, its print quality started meeting our expectations. 
Extra tweaking of material temperatures, retraction settings, and extruder arm tension further enhanced its outer surface's quality. 
We tried tuning our Genius Pro 3D printer to print scale figures. It was easy and quick, and the results of our 3D prints were great. They were perfectly shaped, well-made, and were very smooth. 
Overall, it's an excellent 3D printer that we'd recommend. Also, its bed cable, BLT, and excellent features make it an excellent reason to upgrade. 
Artillery Genius Pro 3D Printer Review Summary
The Genius Pro is an impressive product that offers the same quality as the original Genius. But what makes it better is its new and improved features. 
With its 32-bit mainboard, silent motor drivers, glass bed, touch screen, and filament sensor, it's definitely a great product. And while it inherits most of its predecessor's features, it also comes with a lot of improvements. All of these make the Genius Pro worth the price compared to other 3D printers on the market.
Overall, we were extremely satisfied with Artillery's Genius Pro and we highly recommend it. This 3D printer is best if you want an FDM printer that's easy to use. To get your hands on this product, you can purchase it from Artillery's official website or from the official AliExpress store here.