Today, we are writing our ASRock B650E PG-ITX WiFi Motherboard Review to share information about this product from ASRock. 
The B650E PG-ITX WiFi is a mid-range motherboard with small form-factor offerings. Its chipset is a downgraded version of the X670, but its E gives it a slight PCIe upgrade. If you have or are planning to get the Ryzen 7800X3D, you can pair it with this board. Or, you can opt for the 7900 to keep its wattage down. 
This ASRock B650E PG-ITX WiFi Motherboard Review will discuss its performance, specs, design, functions, and features. We will provide details that will help determine if the product is adequate for your needs. 
First, let us look into the packaging and what ASRock included here.
ASRock B650E PG-ITX WiFi Motherboard Packaging
Like other ASRock motherboards, the B650E PG-ITX WiFi ships in a cardboard box with lots of information.
The front of the box displays a massive PG at the centre, while ASRock, the board name, and B650E surround it. 
At the back of the package, you will find more details about the motherboard, plus images of its different parts. There are indications of what these are, which is helpful for newbies setting up their build.
The B650E PG-ITX WiFi ships with the following: 
Two SATA Data Cables

An ASRock WiFi 2.4/5/6GHz Antenna

One M.2 Socket Screw

A User Manual
ASRock B650E PG-ITX WiFi Motherboard Review – Design and Functionality
Unlike massive form factors, ITX-sized boards do not have enough space to show your creativity. Fortunately, when we unboxed the motherboard for this ASRock B650E PG-ITX WiFi Motherboard Review, we saw how good-looking it is. 
The B650E PG-ITX WiFi has an all-black, 10-layer PC and a VRM heatsink. The latter sports a brushed aluminium finish plus cutout grooves to increase its surface area. The top of the heatsink has the Phantom Gaming branding and red accent lines. 
The Blazing M.2 heatsink from ASRock is tall with a small fan to optimise cooling. It has reinforced DDR5 and PCIe slots to prevent shearing with heavy graphics cards, providing some EMI mitigation. 
Overall, the B650E PG-ITX WiFi is an attractive-looking motherboard with RGB headers. You can use these to add more bling if you want.
The B650E PG-ITX WiFi has a highly-proficient 10+2+1 power phase setup, delivering 105 amps. It might not seem as imposing on specification sheets, unlike its larger ATX counterparts. However, it proves more than sufficient.
Furthermore, it incorporates a 10-layer PCB design, surpassing the standards set by many other offerings. It strengthens connections and provides top-tier components, ensuring superior quality. Your CPU cooler poses more limitations on compact form-factor builds than concerns about VRM temperatures.
Its level of performance closely rivals that of premium motherboards. The motherboard gives you access to the same high-speed CPUs and DDR5 RAM.
It is worth noting that AM5 requires DDR5. For mini-ITX motherboards, you will usually find only two DIMM slots available. 
This configuration confines your RAM capacity to 64GB, which remains ample for any gaming setup or moderately demanding workstation tasks.
As expected, the Mini-ITX form factor provides only two onboard NVMe slots. While this configuration is suitable for gaming setups of this calibre, having a third slot would be a welcomed enhancement. 
Furthermore, the availability of SATA ports is limited to two. However, this should suffice for the majority of gamers utilising compact enclosures.
The networking features on this motherboard are standard fare. It features the Killer 2.5GbE LAN complemented by the Killer WiFi 6E. 
This combination represents the typical networking suite found on contemporary motherboards. It is nice to see that even compact form-factor designs incorporate these features without compromise.
Rear I/O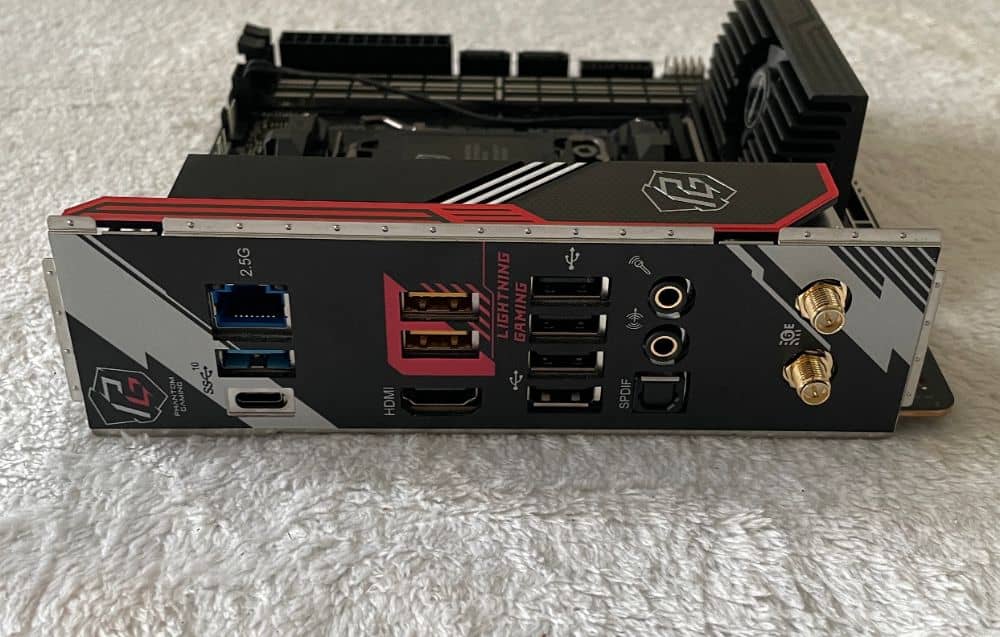 Its rear I/O section has a pre-installed backplate, sporting the black and white Phantom Gaming design accented with red highlights. Among these connectivity options are eight USB ports, including a  USB-C 3.2 Gen2 (10Gbps) port. Three USB-A 3.2 Gen2 (10Gbps) ports are also available.
Those in yellow are enhanced for gaming to decrease jitter and latency. Lastly, you will find four traditional USB 2.0 ports as well. 
If you want to harness the built-in RDNA2 graphics in AMD chips, the motherboard offers a remote HDMI 2.1 port. On audio connectivity, there is an optical SPDIF port with two 3.5mm analogue jacks. These include the Killer 2.5Gbps Ethernet port and two WiFi antenna connections for networking. 
Although organised, it would be better if a 20Gbps USB-C 3.2 Gen 2×2 port was on its rear. We only saw one on the front panel while writing our ASRock B650E PG-ITX WiFi Motherboard Review.
Key Features of the ASRock B650E PG-ITX WiFi Motherboard
We always discuss the features of the product we are reviewing. For this reason, we will describe each unique element in detail in our ASRock B650E PG-ITX WiFi Motherboard Review. 
What makes it an option to consider? Is it better than its competition? Learn the answer to these questions as we elaborate on each feature.
SPS (Smart Power Stage)
The latest Smart Power Stage technology is present in the Dr.MOS design. It has enhancements for monitoring the temperature and current for each phase. Thus, it delivers neater and seamless power to the CPU with better performance and OC capabilities.
10+2+1 Power Phase Design
This feature offers solid components and smooth CPU power delivery, offering optimised performance for gamers.
Server-grade Low-loss PCB
It optimises signal integrity for the motherboard to support PCIe 5.0 for M.2 SSD and graphics cards. Moreover, it improves memory OC potential to give you the best memory performance. 
10-layer PCB of the ASRock B650E PG-ITX WiFi Motherboard 
It provides solid power shapes and signal traces, delivering decreased temperatures and increased energy efficiency. The feature also guarantees a reliable and long-lasting system while giving you ultimate performance without compromise. 
DDR5 EXPO + XMP Support
Following the built-for-stability and reliability concept, the company does not compromise on product details. The motherboard integrates a 10-layer PCB design that lets you enjoy the DDR5 memory boost. 
You can enjoy overclocking performance up to 6800MHz by enabling the pre-tested profiles. For affordable, satisfying, and seamless overclocking, ensure to have AMD EXPO/Intel XMP-capable memory modules. 
Blazing OC Tuner
Blazing OC Tuner lets AM5 CPUs switch between PBO and OC mode once CPU currents hit the threshold. Results higher than the current threshold engage in manual OC mode, and those below it will engage in PBO mode.
The goal is to associate overclocking on every core and auto boost on one. Doing so will bring out the best performance from your CPU. Entering BIOS is unnecessary for setting up, and you can adjust all settings easily. 
AMD Precision Boost Overdrive Technology
PBO is an automated technology that raises clock speeds to improve and maximise PC performance. It boosts your system depending on the conditions of your PC, which intelligent thermal sensors of AMD processors analyse.
PBO uses the data gathered by the thermal sensors and decides when to increase the performance speed of your PC. When using this feature, ensure your build has adequate cooling to prevent component damage or system failure.
Protection Circuit of the DDR5 Memory 
The DDR5 memory has a unique electrical architecture. It has a high risk of damage when failing to disconnect AC power safely during installation or removal. ASRock implements a solution for this problem by adding a trouble-free protection circuit on its DDR5 motherboards.
SMT PCIe 5.0 Slot for Unparalleled Stability and Speed
The PCIe 5.0 slot features surface-mount technology or SMT, unlike DIP, which many manufacturers use. It improves signal flow while maximising stability under fast performance speeds. As a result, it can support the lightning speed of PCIe 5.0.
PCIe 5.0 can perform with up to 128 GBs to unleash the maximum potential of high-end graphics cards.
ASRock B650E PG-ITX WiFi Motherboard  – A Future-proof System with the Latest PCIe Gen5 Blazing M.2
Blazing M.2 accommodates the newest PCIe 5.0 standard, allowing it to perform twice the bandwidth of previous generations. It offers up to 128GB/s transfer speed and can unleash the maximum potential of ultra-fast SSDs of the future.
M.2 Fan-Heatsink
ASRock added an M.2 Fan-Heatsink exclusively for the company motherboards. It delivers unparalleled cooling performance to maximise the potential of PCIe Gen5 x4 M.2 SSD. When it maintains a low temperature, it helps the system remain stable for optimal performance.
Killer Networking – Enjoy Excellent Speeds with the ASRock B650E PG-ITX WiFi Motherboard 
The Killer Ethernet controller is ideal for performance-conscious users and competitive gamers. For this reason, the B650E PG-ITX WiFi has become an excellent motherboard to meet modern-day demands.
This motherboard features WiFi 6E and Killer E3100 2.5G Ethernet. Its optimised detection and prioritisation engine ensures ultimate networking for multimedia and gaming. 
The Killer DoubleShot Pro lets you use the Killer Wireless and Killer Ethernet simultaneously. It gives you maximum throughput as high as 4.9Gbps for high-priority traffic by automatically using the fastest network connection. 
Highly Engaging and Immersive Sound
Nahimic Audio makes your listening experiences more immersive and engaging with rich, vibrant details.  
Polychrome RGB
While writing our ASRock B650E PG-ITX WiFi Motherboard Review, we noticed the motherboard has an onboard and addressable RGB header. These let the motherboard connect to compatible LED devices like CPU fans, strips, chassis, coolers, etc.
With the Polychrome RGB Sync-certified tools, you can synchronise these devices to create distinct lighting effects.
Integrated EDP Signal Connector – Supports ASRock Side Panel Kit
Selected ASRock motherboards integrate eDP signal connectors and simultaneously support two functions. These are the transmission and power of digital display signals. 
The connector provides room for enhancements via the 13.3-inch side panel kit. It perfectly matches cases with standard form factors, allowing users to integrate an LCD in the PC build conveniently. You can add a sub-screen for watching videos, displaying animations for aesthetics, or monitoring your PC status.
This brand-new customisation concept brings new possibilities for personalising your PC.
Specifications
Form Factor:

Mini ITX

Socket Type:

  AM5

Supported CPU:

AMD Ryzen 7000 Series 

Chipset:

AMD B650E

Memory Slots:

2x DDR5 Slots, up to 6400+(OC), Dual Channel

Maximum Memory Supported:

64GB

Audio Chipset and Channels:

Realtek ALC1220, 7.1 Channels

LAN Chipset:

Killer E3100G

Wireless LAN Module:

802.11ax WiFi 6E 

Maximum LAN Speed:

2.5Gbps

Compatible OS:

Windows 11
Hands-on with the ASRock B650E PG-ITX WiFi Motherboard 
The BIOS of the B650E PG-ITX WiFi follows the design of previous interfaces from ASRock. The PG-ITX theme is unique but does not compromise user-friendliness. It has a black and grey background with red highlights that match the PG (Phantom Gaming) brand theme.
When launched, it starts in EZ mode and shows data about the installed components. You can enable PBO, adjust thermal throttling limits, enable memory profiles, and tweak other settings.
The OC Tweaker section is where you can boost your system speed. Here, you can tweak the settings of your CPU, RAM, and voltages. Plus, you can save custom profiles and reuse them later.
The Advanced menu lets you access the CPU, storage, chipset, NVMe, USB, and ACPI configurations. You will also find other options like Trusted Computing and UEFI appearance customisation.
The Tools tab provides access to Polychrome RGB to control lighting. You can also find NVMe SSD secure-erase or sanitation and Instant Flash Utility for BIOS flashing. 
H/W Monitor displays relevant system information like fan speeds, voltages, CPU temperature, etc. You can also adjust the speed of all the fans connected to the 4-pin fan headers.
The BIOS of the B650E PG-ITX WiFi has many features, but the interface is still easy to navigate. Its latest version has more comprehensive settings, and it remained stable when we tweaked our system settings before our tests.
Regarding system performance, it was fast and showed no lags or delays. We had smooth gaming experiences thanks to its high-quality features. This motherboard makes an excellent option for a capable SFF gaming rig.
ASRock B650E PG-ITX WiFi Motherboard Review Summary
The B650E PG-ITX WiFi is an excellently equipped mini-ITX motherboard. It is less expensive than X670E ITX motherboards with a PCIe 5.0 M.2 socket. Also, it is the only B650E ITX motherboard with an actively cooled heatsink to keep the SSD temperature low.
It delivered excellent results when we tested it for this ASRock B650E PG-ITX WiFi Motherboard Review. Although it operated fast and smoothly, it consumed minimal power, and temperatures were low.
Learn more about the B650E PG-ITX WiFi Motherboard when visiting the official ASRock product page.