ASRock and Razer have collaborated to bring together their best products for everyone to enjoy. Today in our ASRock X570 Taichi Razer Edition review, we're discussing the X570 Razer Edition motherboard under ASRock's Taichi series.
ASRock Inc. is known as a Taiwanese manufacturer of motherboards. They provide home theatre PCs and industrial PCs as well.
The company has been continuously growing at an extremely fast pace. Thus, it has become the world's 3rd biggest brand that offers excellent motherboards.
ASRock is a young yet vibrant company that's aiming for the mainstream to the enthusiast MB divisions. Specifically, they're targeting and creating products that cater to a variety of users.
This has led them to build a reputation across the global market with their proficiency and reliability.
As for Razer, it is a multinational technology Singaporean-American company that's known all over the world. It's a popular brand that develops, designs, and sells a variety of consumer electronics, gaming hardware, and financial services.
The ASRock's X570 Taichi Razer Edition is one of the premium AM4 motherboards from ASRock and Razer's product collaboration. It's updated with the Razer styling and Razer Chroma connection, making it a motherboard to look forward to.
When it comes to the actual specifications, these brand new models correspond nearly identically. That's because of their non-Chroma counterparts.
It offers you tons of features from its initial design. Plus, it has a ton of updated features that we'll focus on in our ASRock X570 Taichi Razer Edition review.
But before we look deeper into this motherboard from ASRock, let's take a look at its packaging and contents.
ASRock X570 Taichi Razer Edition Packaging
This is where we discuss the packaging and contents of the product in our ASRock X570 Taichi Razer Edition review.
As expected from this collaboration, Razer integrated their design into the motherboard's packaging too. So with the typical aesthetics of ASRock's packaging, you'll see hints of green thanks to Razer.
Here, you'll see the front of the box that displays an image of the motherboard. On the upper-left corner, you'll find ASRock written while the lower-left section features the unit's name.
Next to it is a note that informs you that the board is a Razer edition. On the lower-right portion, it informs that the product is equipped with Razer Chroma RGB. The top-right section displays some of its key selling features.
The rear of the package displays an image of the motherboard. This time, it indicates what parts are present and their functions.
Inside the box, you will find the X570 Taichi Razer Edition itself. It comes along with a quick installation guide written in several languages to cater to all customers around the world. Plus, there's also a software setup guide that's present.
Do keep the software CD with you since you'll need it for LAN support.
Other accessories present include the Wi-Fi antenna, SATA cables, and a screwdriver to remove the M.2 heatsinks.
ASRock X570 Taichi Razer Edition Review – Design & Functionality
To start getting in-depth with the motherboard, our ASRock X570 Taichi Razer Edition review will discuss its design and functions.
When looking at the ASRock X570 Taichi Razer Edition, its front and back portion features the Razer aesthetics. It includes a customised backplate that sports Razer's tagline, "For Gamers, By Gamers". There's also a heatsink covering that has the lighting from Razer Chroma.
Looking closer, the X570 Taichi Razer Edition has its PCIe 4.0 slots where three of these are x16 physically full. However, x16, x8, and x4 are electrically set in order.
A lot of things are going on along the board's base, yet a couple of elements stand out. These include the Thunderbolt 3 header at the centre and the WIMA film capacitors on its left portion. You'll find the debug LED/power here as well.
When looking at the corner of the board, you'll find eight SATA ports present. Plus, there's a Gen 2 header above a USB 3.2 Gen 1 header as well.
Further up along the area, there's another front panel header. It's specific for the 24-pin power and USB 3.2 Gen 1 connector.
When you check along the next edge, there are RGB and ARGB headers, as well as a CPU fan. This area is also where both the 8-pin CPU power connections can be seen.
For the rear I/O, it sports the clear CMOS and BIOS Flashback at the top. It's followed by the PS2 and antenna connections.
In this area, we also noticed the USB 3.2 arrangements. These include six Gen 1 ports, plus two Gen 2 ports.
Now, let's get into the power design of the X570 Taichi Razer Edition motherboard. We'll start with a total of x16 Vishay SIC-654 Power Stages that offers 50A current output.
Generally, these are quite similar to the SIC-634 that was utilised in the original X570 Taichi. However, it comes with additional technologies like OTP and OCP. In addition to that, a Nuvoton NCT 6796 was added to the handle Super I/O.
When it comes to the AMD X570 chipset, it takes up a huge portion of the X570 Taichi's space. It's specifically set below the memory slots.
For the motherboard's audio CODEC, it uses the ALC-1229 from Realtek. It comes with an additional ESS Sabre DAC just below.
The X570 Taichi Razer Edition's heat sink platform has a heat pipe design. It's specifically for a single-piece setup and the VRM area for the middle M.2 slot and chipset.
The board's huge backplate provides heat dissipation to the rear-mounted stage doublers that are utilised on its rear.
Now, let's look at the key features of the motherboard here in our ASRock X570 Taichi Razer Edition review.
Key Features of the ASRock X570 Taichi Razer Edition
Nahimic Audio
No matter what audio peripheral you use, Nahimic Audio will give you an excellent listening experience. This technology delivers vibrant and rich details like you've never heard before.
It comes with a variety of features like surround sound, so you can enjoy immersive audio. With Sound Tracker, you can determine the directions of predominant sounds.
Additionally, Nahimic Audio is compatible with all audio devices, which makes it even better. It also has a volume stabiliser feature that maintains a specific volume, providing proper care for your eardrums.
With its voice stabiliser, Nahimic Audio clears the sound and eliminates interference noise.
Killer Networking
With Killer Networking, this motherboard offers the best performance you could ever experience. It comes with Wi-Fi 6 technology, advanced features, and superior performance that all gamers need. Killer's technologies allow for fast and smooth gaming, downloading, and streaming experiences.
Killer Networking also has a prioritisation engine that reduces lag and buffering while lowering latencies. This feature gives you full control on your network's traffic as well. As a result, you can enjoy your system performing faster than ever.
AMD Smart Access Memory
AMD StoreMI technology combines two types of storage in a single drive. It automatically transfers the most accessed data to SSD, so you can enjoy the benefits of both.
As a result, the expanded data channel can take advantage of the GPU memory's full potential. Also, it removes the bottleneck and improves performance.
PCIe 4.0 for Everyone
The AMD X570 chipset makes the PCIe possible for you or anyone who prefers having increased performance, speed, and bandwidth.
With the reinforced Steel Slot, you can have the next generation of PCI Express 4.0 work efficiently. In addition to that, it will even make it function twice the speed compared to the earlier 3rd Gen model.
The company's exclusive Steel Slot with additional anchor points are added to the mix to guarantee signal stability. Not only that, but it will help ensure that heavy graphics cards can be installed properly in the PCIe slot.
Unsurpassed Heat Sink Armour with Hyper M.2 (Gen 4 X4)
The X570 Taichi Razer Edition is forged with an aluminium alloy heat sink top cover. It's necessary to properly enhance the process of heat dissipation.
Beneath this is the next generation PCIe 4.0 Hyper M.2 Socket. It has twice the transfer speed, unlike the earlier 3rd Generation type.
Ultimate Power for Ultimate Performance
2oz Copper PCB
The company only utilises the most carefully hand-picked copper materials for the X570 Taichi Razer Edition's PCB layers. This is the 2oz Copper PCB that provides decreased temperatures but with increased energy efficiency that's perfect for overclocking.
Nichicon 12K Black Caps
It comes with the notable 12K black capacitors that have a lifespan of at least 12,000 hours. This feature offers 20% increased life spans to give more reliability and stability.
16 Power Phase Design
This specific design features an entirely smooth power delivery and sturdy components to the CPU. It gives unsurpassed overclocking capacities, as well as optimised performance which is ideal for advanced gamers.
Premium 60A Power Choke
The premium 60A power chokes from ASRock establish the saturation current, making it up to three times more efficient. It will then offer improved and optimised Vcore voltage to the X570 Taichi Razer Edition.
High-Density Power Connector
With the high-density power connector, it helps decrease around 23% of power loss. Simultaneously, it helps in decreasing the temperature of the connector by 22-degrees Celsius.
Specifications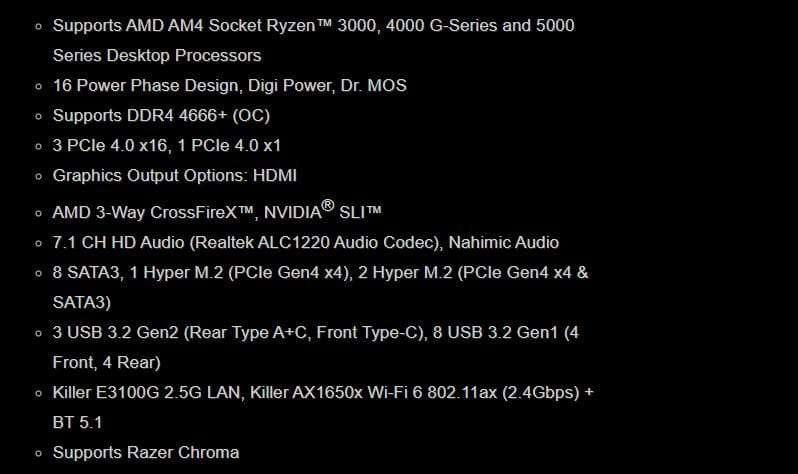 Our ASRock X570 Taichi Razer Edition review won't be complete without us discussing the specifications of the motherboard.
The X570 Taichi Razer Edition uses an AM4 socket and an X570 chipset. It sports an ATX form factor, plus a 16-phase (14+2 50-A MOSFETs) voltage regulator.
When it comes to the ports, the motherboard comes with the following. These are the HDMI v2.1, the DisplayPort v1.4, and x8 SATA-3 6 Gbps (RAID 0, 1, 10).
As for the USB ports, there are x2 USB 3.2 Gen 2, Type-A and C ports (10 Gbps). You will find four USB 3.2 Gen 1, Type-A (5 Gbps) ports as well.
The motherboard comes with a 2.5 GbE network jack, plus x5 analogue + SPDIF for the audio jacks. There's also an AMD Quad Crossfire-X and Crossfire-X 2/3 way present on the board.
DIMM slots include x4 DDR-4 4773 + OC with 128GB capacity. The M.2 slots are the PCIe 4.0 x4/PCIe (up to 80mm). That includes the PCIe 3.0 x4/SATA + PCIe (up to 110mm) too.
USB headers available include a USB v3.2 Gen 2 Type-C, x2 USB v3.2 Gen 1, and x2 USB v2.0. There are seven 4-pin fan/pump headers, plus two aRGB 3-pin and two RGB 4-pin RGB headers.
Other interfaces include FP-audio TPM, x2 character LED diagnostic panels, an internal power button for power/reset and CMOS reset.
The SATA controller the motherboard has is the ASMedia ASM-1061, with the Killer E-3100X (2.5 GbE) Ethernet controller. Wi-Fi/Bluetooth for it is the Killer AX-1650 (802.11 ax, 2×2, MU-MIMO BT 5.1). In addition to that, its HD audio codec is the Realtek ALC-1220.
For each customer's convenience, the company included a 3-year warranty for the X570 Taichi Razer Edition.
Hands on with the ASRock X570 Taichi Razer Edition
This time, our ASRock X570 Taichi Razer Edition review will focus on the hands-on performance of this motherboard from ASRock.
Test System
Motherboard: ASRock X570 Taichi Razer Edition
GPU: Gigabyte AORUS RTX 3080
CPU: Ryzen 5800X
Cooler: Fractal Design Celsius+ S36 Prisma
Memory: Corsair Dominator 32GB DDR RAM
UEFI and Software Apps
Multiple elements of software support the X570 Taichi Razer Edition. With that, let's first take a look at the UEFI.
UEFI
The setup provides an excellent and colourful EFI that brings the Razer Edition to life. Its main menu gives you a quick overview of the CPU and memory that's installed. As for the OC Tweaker, it brings the overclocking alternatives for memory, CPU, PCIe, and Infinity Fabric.
Its advanced menu is where most of your basic menu options are found. These include the onboard device setup and more.
There's a tools menu present, and it provides support for the Razer Chroma setup. With this, you won't have to bother with any software for configuration.
Additionally, you can readily see Easy RAID, NVMe Sanitise, and SSD Secure Erase. These are present to help you manage and control your storage. Not only that, but you'll get the instant flash to aid in updating your BIOS.
Killer Control Centre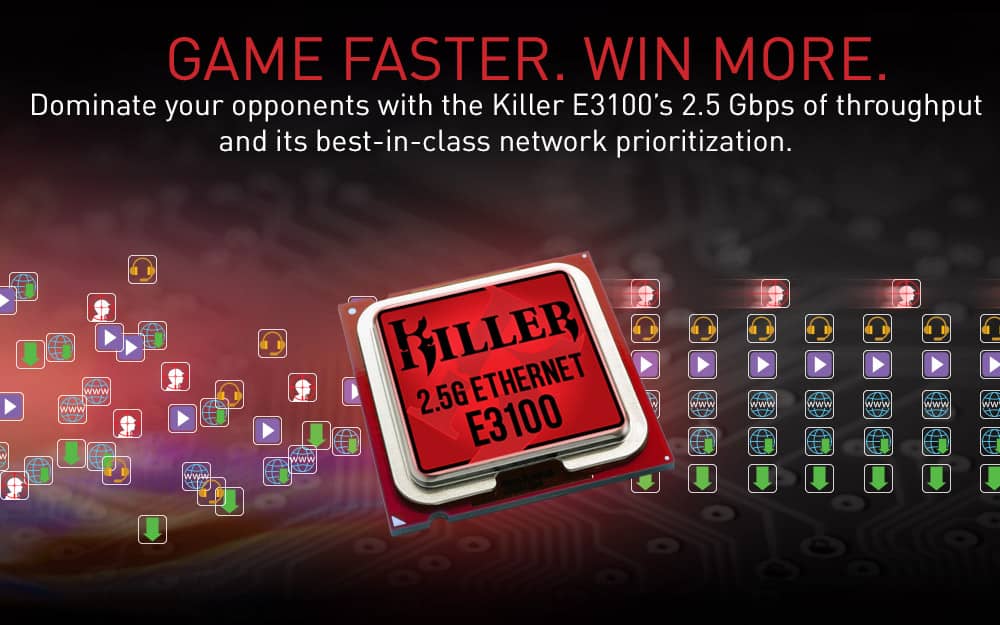 We have checked out the Killer Control Centre several times. So basically, it's a highly welcomed addition to this edition of the motherboard.
The KCC or Killer Control Centre comes with several notable features. One of these includes the GameFast optimisation. This specifically manages and controls your system to get the best gaming experience as possible.
Another notable feature of the KCC is its ability to efficiently use your gaming PC together with the board. It's to establish a hotspot for the nearby wireless devices or, it'll help extend your current network.
When using it, the Killer Control Centre will run smoothly in the background. It will prioritise and focus on latency-sensitive applications, as well as throttle bulk downloads when at your max bandwidth. This is without any user interactions as well.
It works this way based on a couple of fixed rules that are updated and optimised from time to time.
Note that the rules do not instantly update. This is unless you or any other user plays a ton of high-end, cutting edge games. Or, if you utilise a lot of freshly released and demanding applications, these priorities will not fluctuate that often.
Lastly, there are bandwidth settings available. From here, you can readily run the speed test to set these adequately.
The Doubleshot Pro is present, and you can find it along the bottom portion of the menu. This will let you spread the network load of your device between your wireless and wired NICs.
Razer Synapse
The next software we're going to discuss is the Razer Synapse, which is also used for the X570 Taichi Razer Edition. It's a software that lets you easily manage and control the Razer Chroma's effects via the device.
Not only that, but Razer Synapse lets you readily add modules with everything from Amazon Alexa to the Philips Hue.
You can turn your desk into a canvas using the motherboard's brand new advanced lighting setup tool. It lets you readily create a variety of lighting effects while simultaneously synchronising across numerous devices. What's great about it is that it's possible while following the exact arrangements of your device on the desktop.
The Razer Synapse 3 software allows for customisation of lighting on your motherboard and other connected ARGB devices.
Shifting to its System Menu, you can easily shift through devices. This includes the motherboard wherein you can set up lighting profiles via the Visualiser or Chroma Studio.
Within the Chroma Studio, you can readily customise everything even down to per LEDs. Chroma offers you 16.8 million colours and a range of unique RGB effects to choose from. With that, you can design your dream gaming rig or make your gaming experience more immersive.
The lighting effects include Static, Breathing, Reactive, Spectrum Cycling, Wave, Ripple, Starlight, Fire, Ambient Awareness, Audio Meter, and Wheel.
The last piece of software is the A tuning software. It helps in providing you with full and enhanced control over every overclocking frequency, as well as voltage within Windows.
Performance
Now, let's focus on the X570 Taichi Razer Edition's performance to give you an idea of how well it works.
For its thermal performance, it also stayed within a good temperature range. When on idle mode, its temperature didn't even start to get warm.
When talking about the wireless and wireless throughput on the X570 Taichi Razer Edition, we can say that it's excellent.
When we overclocked using this motherboard from ASRock, it was notably good. It easily equaled other similar products that we've tried, and not only performed just as well but also was a pleasure to use thanks to the intuitive BIOS.
We didn't have any issues during our overclocking tests, and the board performed seamlessly despite heavy loads.
Overall, the ASRock X570 Taichi Razer Edition worked great and was a real performer. We didn't encounter any issues, overclocking was great, and it looked great just as well.
So would we recommend this motherboard? Definitely.
ASRock X570 Taichi Razer Edition Review Summary
For the last several generations, Taichi has been ASRock's flagship series of motherboards. Because of the features and performance of motherboards under this lineup, the Taichi series has become every enthusiasts' top choice.
The X570 Taichi Razer Edition motherboard from ASRock provided a lot more than just aesthetics fit for Razer's brand. This impressive motherboard offered fast performance and seamless overclocking at low temperatures, making it a great choice for your build.
The addition of Chroma that enables ARGB for the whole motherboard and its parts is an excellent feature too. With that, we were able to fully customise our motherboard and give it a unique look. From the edge lighting and chipset to the VRM, you can customise these areas' RGB independently.
PCIe 4.0 and Razer's aesthetics are the main reasons why the ASRock X570 Taichi Razer Edition is a must-have. And if these are what you're searching for in a motherboard, then this is an ideal option for you.
If you've been waiting for ASRock to make hardware improvements for the X570, this Razer Edition is an excellent purchase. It's also a great upgrade, especially if you're planning to change your X470 motherboard.
Overall, we were satisfied with the X570 Taichi Razer Edition. It comes with great features, and it delivered excellent performance throughout our tests.
To conclude our ASRock X570 Taichi Razer Edition review, we highly recommend this motherboard. Check out the company's store locator on the official website to find retailers available in your country.