Today, we are writing our ASUS ProArt Z790 CREATOR WIFI Motherboard Review to discuss the ProArt Z790 CREATOR WIFI. 
When you shop for motherboards, you will notice that most products target gamers. And often, these feature RGB lights and overclocking abilities. However, while most of these have robust features ideal for users, there are times when creators need some specific attention.
Motherboard manufacturers often target gamers by offering flashy RGBs and overclocking prowess. Many motherboards have solid specs for all users, but content creators have specific requirements. 
Fortunately, ASUS released the ProArt Z790 CREATOR WIFI, which has plenty of features for content creators. Together with a minimalist and understated aesthetic, the product has plenty of features under $500. 
If you are a creator requiring a set of features, the ProArt Z790 CREATOR WIFI is an ideal go-to option. 
ASUS ProArt Z790 CREATOR WIFI Motherboard Packaging
Before looking deeper into the product, our ASUS ProArt Z790 CREATOR WIFI Motherboard Review will discuss its packaging. We will also look at what ASUS included in the box. 
The motherboard ships in a premium, durable cardboard box, so you can rest assured it will stay intact during shipping. The top cover design is minimal but features the series and motherboard name. This area also displays some of its main features.
There is no image of the motherboard on the top cover. However, you can find one on the opposite side of the package. This spot is also where you can find more information about the product specifications.  
Inside the box, the motherboard ships with numerous essential additions, including the following:
DisplayPort Cable

x4 SATA 6Gb/s Cables

x2 M.2 Rubber Packages

ASUS WIFI Moving Antennas Kit

M.2 SSD Q-Latch Package

Q-connector

ProArt Ruler

Screw Rubber Cover

Installation Disc

Warranty and User Guide
ASUS ProArt Z790 CREATOR WIFI Motherboard Review – Design and Functionality
The ProArt Z790 CREATOR WIFI conforms to the ATX standard and sports an Intel Z790 chipset. The latter works for high-performance Intel processors (13th and 12th generations) and aims to provide processing capabilities for your system. It offers PCIe 5.0 support on processor lanes plus PCIe 3.0 and 4.0 on the chipset lanes. 
Memory-wise, the ProArt Z790 CREATOR WIFI works effectively with DDR5 memory that runs at 4800MHz. It is also ideal for up to 7200MHz in increments of 200MHz, 5000MHz, 5200MHz, etc. 

We first noticed its stylish look while writing our ASUS ProArt Z790 CREATOR WIFI Motherboard Review. It is black all over with a few hints of thin lines and text in golden prints. 
As we mentioned, the motherboard does not feature any flashy RGB lights. However, you still have the Aura Sync RGB headers on the product. Although it does not have flashy RGBs, it still looks attractive and classy due to its unique design. 
The ProArt Z790 CREATOR WIFI includes a lower-right PortArt branding and a transparent I/O shield enclosure, which looks excellent. However, the motherboard feels more robust to the touch and is lighter than the gaming ones.
The M.2 drive slots have cooling thermal pads underneath, which adds to its design functionality. Additionally, notable innovations include the Q-Latch and Q-Release, which simplify adding M.2 drives and PCIe cards.
The integrated I/O shield rear has clear labels matching the motherboard design and aesthetics. And looking at its back, you will see it using a standard layout. If you prefer an armoured backplate, ROG or higher-end gaming motherboards are better options.  
Despite the absence of an armoured backplate, the ProArt Z790 CREATOR WIFI still looks good. Also, its minimalist colour theme is still interesting since it offers an elegant and attractive appeal.
Power Design
Sizeable heatsinks protect its CPU VRMs, while the motherboard has 16+1 teamed power stages (rated for 70A). That means you should be able to get the best performance your Intel Core processor can offer. If you want to overclock the CPU, the product should be excellent at supporting the extra power demands.
The processor requires auxiliary power, which you can acquire by connecting an 8-pin and 44-pin EPS cable. Remember that it should link to the top-left corner of the motherboard. 
Wireless and Networking
We also looked into its connectivity for our ASUS ProArt Z790 CREATOR WIFI Motherboard Review. Fortunately, the motherboard features high-end components, including two Ethernet chips for wired networking (Marvell AQtion 10Gbps and Intel 2.5Gbps). 
Intel WIFI 6E AX210 chip works with 2×2 MIMO to provide the wireless component of this motherboard. It is compatible with all the 802.11 standards on the 2.4, 5, and 6GHz frequency bands. Also, this motherboard uses Bluetooth 5.3.
Rear I/O Ports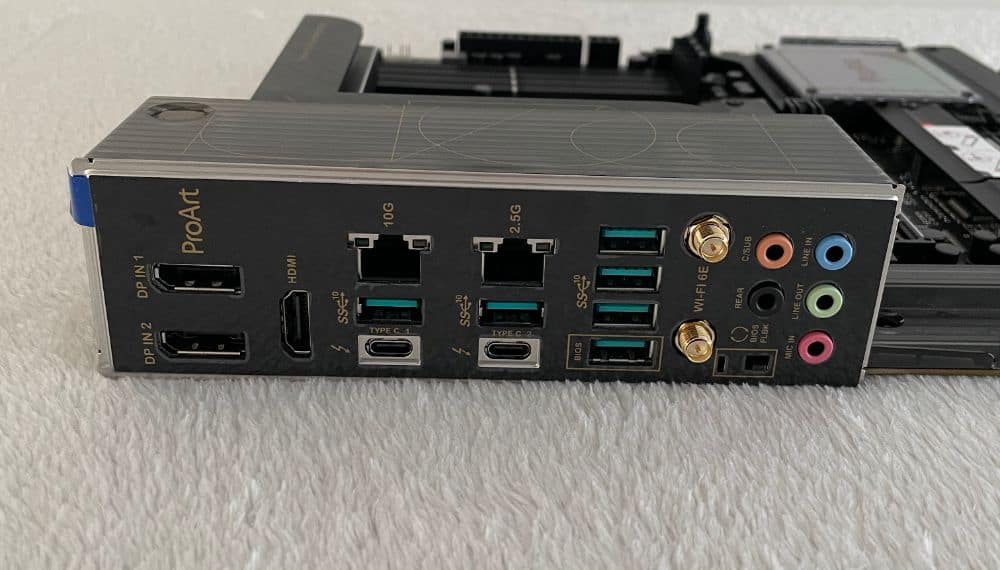 ASUS provides several I/O ports on the back panel, like two Thunderbolt 4 USB-C ports. There are also six USB-A 3.2 Gen 2 ports, an HDMI port, and two DisplayPorts. You will also find two ASUS WIFI antenna connectors, a BIOS FlashBack button, and five audio jacks. 
Internal I/O
Aside from the rear I/O ports, the Z790 CREATOR WIFI also has many internal I/O connectors. You will find five chassis fan headers, two CPU  fan headers and an AIO pump header. The motherboard has three addressable Gen 2 RGB headers and an AURA RGB header.
Additionally, this section houses the COM Port header, Clear CMOS header, Front Panel Audio Header, and CPU over voltage jumper. It has a 20-3 pin system panel header with a thermal sensor header and chassis intrude function. You will also find the 14-1 pin SPI TPM header.
The internal USB ports of the Z790 CREATOR WIFI include two USB 2.0 headers. These support four additional USB 2.0 ports. In addition, you will find a USB 3.2 Gen 2×2 header supporting USB-C and a USB 3.2 Gen 1 header.
Key Features of the ASUS ProArt Z790 CREATOR WIFI Motherboard
USB4-compliant Thunderbolt 4 Ports
Connect all your devices for content creation with the two Thunderbolt 4 ports and immerse yourself in your creations. These connections offer bi-directional data transfers up to 40Gbps. 
You can install your graphics card to the onboard DisplayPort-in port at the back I/O. Then, direct the video output using the Thunderbolt 4 connection. Doing so will boost your creative work with one 8K or two 4K monitors that are colour-accurate.
WIFI 6E
The onboard WIFI 6E uses the latest radio spectrum in the 6GHz bands. It provides three times the bandwidth of the 5GHz and seven 160MHz. As a result, it delivers faultless wireless networking speeds and improves the capacity and performance in dense wireless environments.
10 Gb and 2.5 Gb Ethernet
The Dual Ethernet ports offer fast data transfers for 2.5Gb uploading or internet streaming. It also delivers 10 Gb for local NAS to improve data security and organisation.
PCIe 5.0 Expansion Slots
The x16 expansion slots support PCIe 5.0. As a result, this motherboard can deliver outstanding speeds up to 64GB/s. The SafeSlot retention brackets can be released with the Q-Release button and are featured in these expansion slots.
High-speed M.2 Storage
The Z790 CREATOR WIFI has four PCIe 4.0 M.2 slots that provide NVMe SSD RAID support. It also supports up to 22110 to significantly boost performance. Creating a RAID configuration with up to two PCIe 4.0 storage devices lets you enjoy high-speed data transfers.
Fast Charge Your USB Devices
USB 3.2 Gen 2×2 optimises data transfers with speeds up to 20Gbps and uses Quick Charge 4+. 
In addition, it can quickly charge your smart devices up to 60W. It uses a PCIe power supply cable plugged into the nearby 6-pin connector.
Overclocking with AI
Tuning is now more efficient and faster than before. ASUS AI Overclocking profiles the cooling and CPU to determine the ideal setup and push the system to its maximum. You can utilise predicted values automatically or as a starting point for additional research.
AI Cooling of the ASUS ProArt Z790 CREATOR WIFI Motherboard
With a single click, AI Cooling II balances the acoustics and thermals of your PC. First, a patented ASUS algorithm reduces unwanted noise during a brief stress test. Next, it monitors CPU temperatures to change fan speeds to ideal levels.
Utilise AEMP II to Unleash DDR5
AEMP II is a unique firmware element for PMIC-restricted memory modules. AEMP II offers optimal clock speeds to unlock the performance of your PC. However, it is dependent on the capacity of your CPU and memory module to train the memory chips on your kit.
ASUS built the AEMP II using a flexible training approach to prepare a high-speed kit for maximum performance. It also maximises the performance of an entry-level module and maintains the stability of system operation.
We will discuss how it worked later in our ASUS ProArt Z790 CREATOR WIFI Motherboard Review. We tested the product to see if its features work efficiently to help in delivering powerful performance.
Two-Way AI Noise Cancellation 
Clear online communication has become vital as work-from-home becomes the new normal. With Two-Way AI Noise Cancellation, you can enjoy distraction-free calls and conferences with clients and partners. This audio utility uses a deep-learning database to reduce background noise from incoming audio and the microphone.
Personalise Your Settings
ProArt Creator Hub is an intuitive personal portal for monitoring your PC status, optimising workflow, and adjusting settings. In addition, it has a user-friendly overview dashboard letting you shift fan profiles and switch between performance modes quickly.
Remote Management and Security Control
ASUS Control Centre Express features advanced security management functions to protect private data and systems.
Trusted stability of the ASUS ProArt Z790 CREATOR WIFI Motherboard
ASUS engineered and rigorously the Z790 CREATOR WIFI to deliver excellent stability, quality, and compatibility. The company ensures to empower long-term creativity for the years to come.
Specifications
This part of our ASUS ProArt Z790 CREATOR WIFI Motherboard Review focuses on the product specifications. We provided a list of these to help determine if the motherboard is on par with your needs.
CPU:

Intel Socket LGA1700
Graphics:

x1 HDMI port and x2 Intel Thunderbolt 4-ports (USB-C)
Memory:

x4 DIMM, maximum 128GB DD5
Storage:

supports x4 M.2. slots and x8 SATA 6Gb/s ports
Wireless Connection / Bluetooth:

WIFI 6E and Bluetooth v5.3
Ethernet:

x1 Marvell AQtion 10Gb Ethernet and x1 Intel 2.5Gb Ethernet
Operating System:

Windows 11 64-bit and Windows 10 64-bit
Hands-on with the ASUS ProArt Z790 CREATOR WIFI Motherboard
Although ASUS does not market the Z790 CREATOR WIFI for intense overclocking, it has capable 16+1 dual power stages. When we tested it for our ASUS ProArt Z790 CREATOR WIFI Motherboard Review, we were impressed with its performance. It handled demanding processors and overclocking without difficulty.
Thanks to its high-quality PCB and competent heat sinks, we did not experience heating issues during our stress tests. Additionally, its newest speed improvements over DDR4 significantly boosted RAM performance, making this motherboard a highly appealing option.
With PCIe Gen 5 and Gen 4, the performance gains continue. The third PCIe 16x slot is Gen 4, whereas the other two are Gen 5s. The four onboard NVMe slots also provided Gen 4 performance, which was more than enough.
This motherboard delivered excellent transfer rates with its 40Gb/s dual Thunderbolt 4 ports. Therefore, it is ideal for content creators who rely on versatility and fast transfer speeds. Also, the 10GbE network of this motherboard is one of the fastest, making it suitable for workstation users.
The ASUS BIOS was another thing that impressed us while testing this motherboard. This firmware offered many options for manually tweaking the CPU and DDR5 RAM. It was also intuitive and user-friendly, making it ideal for enthusiasts who want to tune their system performance.
If tinkering with settings is not your thing, you can configure the XMP profile on your RAM. You can also set AI auto overclocking in BIOS if you want to demand more performance from your CPU. 
However, remember it may depend on your cooling solutions, and newer high-end Intel CPUs like the 13900K usually run hot. 
ASUS ProArt Z790 CREATOR WIFI Motherboard Review Summary
The Z790 CREATOR WIFI is the perfect motherboard for creatives and content creators. It is ideal for professionals who want to build a computer with a 13th or 12th-generation Intel Core processor. Also, it has many expansion options for PCIe and M.2 slots, which are essential for creating content.
The robust features of this motherboard are highly beneficial for content creators and workstation users. These elements work efficiently to help the motherboard deliver superior performance. 
We did not experience issues while using this product. Plus, its seamless performance during our tests for this ASUS ProArt Z790 CREATOR WIFI Motherboard Review was enjoyable. So overall, we highly recommend this motherboard for its elegant design, solid features, and exceptional performance.
Visit the official product page of ASUS to learn more about the ProArt Z790 CREATOR WIFI Motherboard.