Gaming can get quite serious for a lot of gamers. It doesn't matter if you're sniping at opponents in an FPS game or exploring unknown terrain in a fantasy title. What's vital is to have exceptional audio while gaming, and you'll find that in our Beyerdynamic Custom Game headset review.
Spatial perception, an excellent microphone, plus crisp and crystal-clear audio are what gamers need for an immersive gaming experience. This is where the Beyerdynamic Custom Game headset comes in. It's a product that doesn't only meet one's expectations, but it blows them out the water.
Today, we'll look into this headset in our Beyerdynamic Custom Game headset review and see if it's worth investing in.
Beyerdynamic Custom Game Headset Packaging
Our Beyerdynamic Custom Game headset review will first focus on the packaging and what's inside the box.
We received our Custom Game headset in a durable and sturdy package. The front displays an image of one side of the headset, while Beyerdynamic is written on the box's upper-right corner.
You'll find the model written on the image's left, while "full sound ahead" is highlighted on its right. Beyerdynamic made sure to note that the headset has an integrated cable remote control. Plus, they noted that it's an interactive gaming headset with a Sound Slider and flexible mic for PC or console.
When we opened the box, we found the headset and other accessories that were all neatly organised. It came with two cables: one is the 1.6m that goes into the console with an integrated remote control. There, you can extend it using the 0.8m Y-extension cable that features two plugs.
There are custom tools together with an Allen key inside the box, and be careful of missing out on these. Inspect the box thoroughly before setting the box aside in case you left something in there.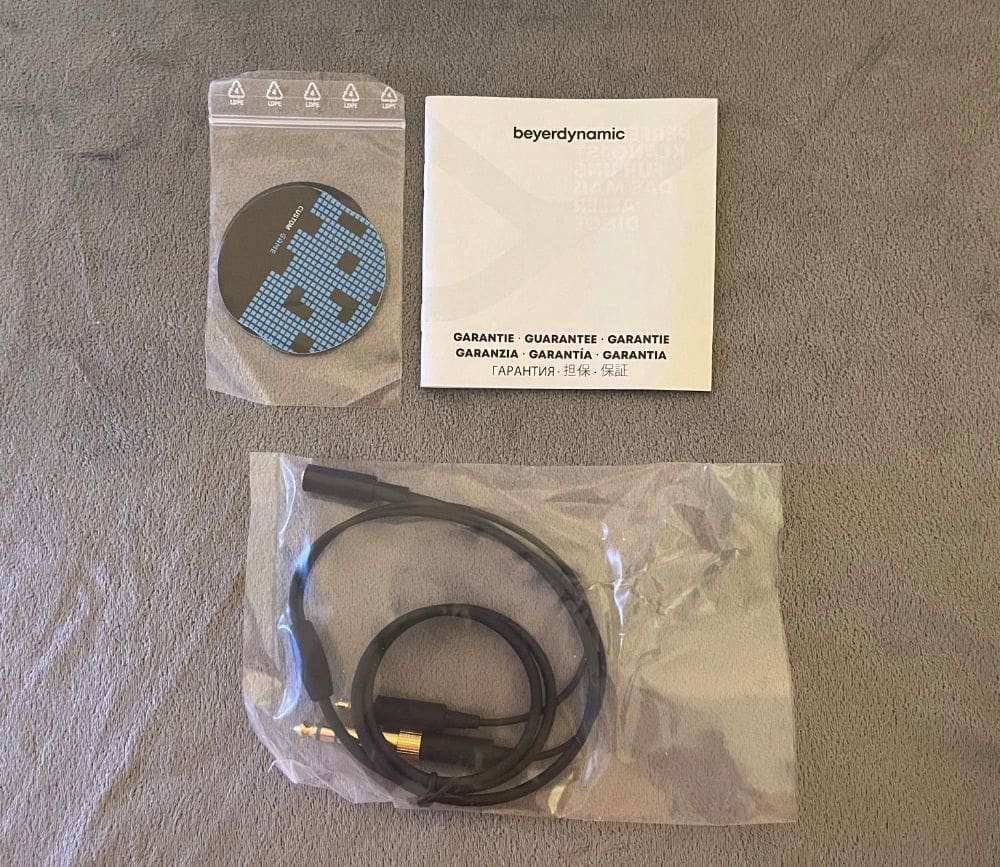 Additionally, Beyerdynamic included inserts/customisers in the package. These go beneath the ends of the Custom Game headset. You can choose to turn it over for another design or image.
Beyerdynamic Custom Game Headset Review – Design and Functionality
Let's now focus on the design and functionality of the headset in our Beyerdynamic Custom Game Headset review. We'll begin this part by talking about the headset's design.
The entire headband is black with customised Y-shaped steel arms that help keep the ear pads in place. The revolving earpads offer long hours of comfort for gamers who enjoy continuous sessions of gaming. What's more, the Custom Game headset fits snuggly even when you wear glasses.
Its plush headband and the earpads are replaceable, which make it convenient when cleaning the product. Plus, it also helps boost the headset's longevity.
Similar to the Custom One Pro, Beyerdynamic's Custom Game integrated adjustable sound sliders. This mechanism either conceals or reveals a number of bass reflex vents like an EQ-ing mechanism.
As the position numbers grow, so does the emphasis for the bass. Switching from the first to the fourth position creates a unique contrast, yet progressive transitions are more challenging to differentiate.
Light bass completely conceals the vents, which is perfect for noisy environments. It's also ideal for those who prefer listening to treble and mid-ranges over low-ends.
Linear is ideal for casual listening, though its bass is slightly bumped on the frequency charts. Despite that, its perceived emphasis is adequate and doesn't overpower mid-range frequencies.
For vibrant bass, it's great for those who want elevated bass. Often, it's more in line with the standard consumer sound signature. The position allows a notable number of ambient noise in.
Lastly, heavy bass reveals every bass reflex vents, which is ideal when you're gaming in an apartment or the like.
Jack Cable and Microphone
There's a line-in remote on the 3.5mm jack cable. It comes with a mute button on the side, as well as a button for virtual assistants. Underneath, you'll find switches that alter the bass response.
Key Features of the Beyerdynamic Custom Game Headset
Our Beyerdynamic Custom Game Headset review will talk about this product's key features. Here, we'll let you know what makes this a unique headset.
Impressive Full Audio
The Beyerdynamic Custom Game is a next-gen interactive gaming headset. It comes with a range of impressive features like its Sound Slider, cable remote control, and interchangeable design covers. Plus, it's comfortable and durable.
Of course, this professional-quality headset is as good as it sounds.
Maximum Control
With the Custom Game's cable remote control, everything is at your fingertips. You can quickly and easily mute the mic and adjust the volume. Aside from that, you can accept calls and manage various media using the cable's control function.
Whether you use a PC or console, the included Y-extension cable allows you to choose any device you want.
Flexible Cardioid Microphone
The Beyerdynamic Custom Game headset's professional-grade microphone will always get your point across. It captures your voice well to ensure excellent voice quality. Plus, you can position this so it can precisely capture your voice.
The microphone has a cardioid polar pattern and pop shield that suppresses disturbing ambient and background noise. With that, the Custom Game headset's mic is ideal for noisy environments and LAN parties.
Customisable Design Covers
Beyerdynamic offers the CUSTOM Style for the Custom Game headset. In the package, the headset comes with six different design covers, but that's only the beginning. You can also select from optional rings, headband pads, and additional design covers, which are available in Beyerdynamic's accessories section.
Custom Game Sound Slider
With the Beyerdynamic Custom Game headset's Sound Slider, you can choose from different audio profiles on the headset. This feature allows you to easily adjust to your game and surroundings without having to launch a program before gaming. The Sound Slider lets you choose from four different audio profiles.
The first is the closed position, which lets you effectively suppress ambient noise in a loud tournament environment. The second position offers the finest details and optimally clear and audible speech, enabling you to track down enemies easily.
Additionally, the headset provides balanced audio when used with multimedia apps. If you feel like the bass isn't enough, you can easily switch to an open position to enjoy rich engine sounds.
Specifications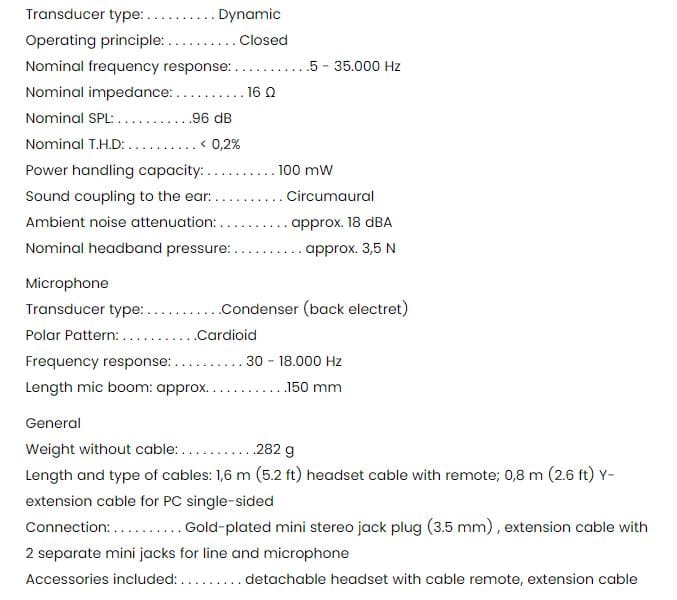 This time, let's check out the headset's specifications as we continue with our Beyerdynamic Custom Game Headset review.
The Custom Game headset's transducer is a dynamic type and works on a closed operating principle. Its nominal frequency response plus impedance is 5 – 35.000Hz and 16 Ω, respectively. For nominal SPL, it's 96 dB while nominal T.H.D. is less than 0.2%
Beyerdynamic's Custom Game headset has a capacity of 100 mW and a circumaural sound coupling to the ears. Not only that, but its ambient noise attenuation is approximately 18 dBA. When wearing the headset, the nominal headband pressure is about 3.5N.
Beyerdynamic Custom Game's cable terminates in a regular 3.5mm plug that you can link to any compatible device. You can easily plug it into your Dualshock 4 controller, desktop, or any gadget with a 3.5nn input.
Microphone
The microphone used for the Custom Game headset is a transducer type condenser with a cardioid polar pattern. It has a frequency response ranging from 30 to 18,000Hz, and the mic's boom length is approximately 150mm.
General Specs
For its general specifications, the headset weighs 282g without the cable, while the cable's length is 1.6m. When we look at the headset cable with the remote, it's 0.8m in length.
Lastly, its connection is a gold-plated mini stereo 3.5mm jack plug. There's also a ¼" adapter extension cable with two individual mini jacks for the mic and line.
Hands-on with the Beyerdynamic Custom Game Headset
Our Beyerdynamic Custom Game Headset review will now discuss the performance of the game headset from Beyerdynamic.
When it comes to comfort, the headset is quite lightweight. Thus, it can get absolutely comfortable when worn for long periods. Not only is it lightweight and comfy, but it's able to adequately seal off sounds from the environment.
Another aspect we liked about it is that it doesn't grip uncomfortably on the head while it cancels out noise. So, we were able to enjoy isolated audio while wearing it for hours during our intense gameplay.
Its audio quality was great, and we can say that this isn't just an interactive gaming headset. It's an all-rounder.
While testing, we could hear everything within the game, and it all sounded clear, clean, and crisp. Enemies were detected easily, and footsteps could even be heard, so stealth games became even more exciting.
We enjoyed listening to our favourite tunes with the headset since its low range sounds were full. Plus, it had adequate thumping bass sounds, which are essential for gaming headsets. Here, we could hear the differences from the high and mid ranges.
The audio also provided a great sense of spatial awareness. When you listen to music, you can hear all the instruments that all blend perfectly well. Plus, these are isolated in the right channels, which makes listening even better.
The headphones offered a nice balance too, and the bass didn't overpower the rest of the tunes. This is another aspect that makes it an excellent gaming headset since other similar products struggle on this part.
We also tested the Beyerdynamic Custom Game headset's microphone, and we were impressed with its performance.
Usually, gamers would shout or argue with their teammates who misunderstood their commands. But with this headset from Beyerdynamic, we didn't experience such issues. Our teammates understood everything we said since the microphone captured our voices well without sounding too thin.
This cardioid microphone captured sounds from the front and a little from the sides. With that, placing it a little close or a little further didn't negatively affect the sound it picked up. In fact, the audio remained clear when we positioned the mic in different ways, which was absolutely great.
The microphone is great for both gaming and standard use. With the headphones' high-quality audio and excellent microphone, you can ensure clear communication when using the Beyerdynamic Custom Game headset.
Overall, the Beyerdynamic Custom Game headset is a great product for non-stop gaming. It's also perfect for basic use like listening to music since the sound it delivered was of high quality.
The microphone was just as great, and we don't have any complaints or issues with it. Not only that, the Custom Game headset provided comfort no matter how long you wore it.
Beyerdynamic Custom Game Headset Review Summary
The Beyerdynamic Custom Game headset is an easy sell for gamers due to its excellent audio quality. Plus, it filters ambient noise well, which makes it even better.
Although it's a gaming headset, it also works well for watching movies and listening to music. It's quite expensive, but it's worth buying if you're looking for a headset that brings the best of both worlds.
As the name says, the Custom Game headset is designed for gaming, and gamers should get their hands on it. Aside from the high-quality audio, it can deliver, the cardioid mic allows for clear communication among team members.
If you're planning to invest in a long-lasting set of gaming headset, the Beyerdynamic Custom Game is a great option. It's ideal for gaming, but unlike other products, it also functions well as a daily desktop headset. Whether you're gaming, watching movies, listening to movies, or going on conference calls, this headset will deliver impressive audio.
To summarise our Beyerdynamic Custom Game Headset review, we highly recommend this product. This headset is available for online purchase via the company's official website.