Today, we're offering you our Beyerdynamic M 70 Pro X microphone review which focuses on this amazing broadcast microphone. Their Pro X series was designed and styled from the ground up. Thus, resulting in some of the most malleable, versatile, and quality products in terms of application and ease of use. 
For the M 70 Pro X mic, it's equally great for professional musical tasks, content creation, and broadcast sources alike. It delivers the best sounds for podcasts and streams; plus, it meets all the necessary requisites of creators today. 
If you think that this microphone is ideal for your needs, you've come to the right place. Here in our Beyerdynamic M 70 Pro X microphone review, we're discussing everything about its features, design, performance and more. But first, let's see its packaging and what Beyerdynamic included inside the box. 
Beyerdynamic M 70 Pro X Microphone Packaging
The M 70 Pro X microphone for our Beyerdynamic M 70 Pro X microphone review arrived in a sturdy-looking cardboard container. It looks like your usual Beyerdynamic package while sporting their classic black and bronze theme, giving off a premium aesthetic. Plus, the front of the box features an orange, lengthwise strip that displays an image of the microphone. 
Above the image, Beyerdynamic is written, then below it is the name of the product. 
Inside the box, you'll find the M 70 Pro X microphone itself. It comes along with other items like the elastic mount 3/8″ to 5/8″ adapter and pop filter. Beyerdynamic even included a bag for the microphone which we find pretty useful and convenient. 
Beyerdynamic M 70 Pro X Microphone Review – Design and Functionality
After unboxing for our Beyerdynamic M 70 Pro X microphone review, we finally saw the build and design of the product. In fact, it's like a cross between the classic Shure SM7B and Electro-Voice RE20 microphones.
And just like those popular products, the M 70 Pro X microphone is a top or front-address mic. Plus, it's also lighter than the RE20 so it isn't prone to drooping especially during crucial moments.
When we say light, we don't mean flimsy. That's because the microphone uses high-quality aluminium housing and break-proof steel mesh to protect the capsule.  
This product from Beyerdynamic makes use of high-quality and durable aluminium that's in a sleek and minimal matte black case. When you lay eyes on it, you'll immediately see that it boasts a classy and professional appeal which is great. Plus, it has a sturdy steel mesh grille that provides top-notch protection for the microphone's internal components. 
In addition, the product comes with a pop filter which is necessary for decreasing sharp plosives. And, it even has an elastic suspension mic holder that actively decreases unwanted noise from mechanical vibrations and physical movement. 
Generally, the M 70 Pro X microphone is aimed at streamers, podcasters, and content creators on the go. This is the reason why it's a dynamic and speech-optimised product. 
With that, it sports a cardioid pickup pattern for recording intelligible, assertive sounds even in noisy recording environments. Plus, it consistently maintains clarity across a plethora of performance distances thanks to its finely-tuned proximity effect.
In this diverse and unique age filled with content production, it is ready for capturing a full gamut of speakers. The M 70 Pro X microphone's frequency response gets audio from 25Hz. This is when the sound source is close to the mic compared to 40Hz when it's about a metre away. 
The frequency response goes up to 18kHz to readily accentuate vocal detail and clarity. 
Key Features of the Beyerdynamic M 70 Pro X Microphone
What makes this product unique? Let's find out by discussing its key features in our Beyerdynamic M 70 Pro X microphone review.
Proven Natural Sound and High-quality Audio
Beyerdynamic's microphones under the Pro X line apply the same philosophy as the company's other microphones. These record natural and clear sounds that excellently model speech, vocals, and instruments. Singers, musicians, and content creators have given Beyerdynamic's microphones high ratings for their unique performance.
Like other microphones from the company, the M 70 Pro X doesn't make the attuned proximity effect seem muffled. Its extended upper frequency response records all details of the speaker's voice. For the mid-range, the sounds are powerfully reproduced while bass and trebles sound natural.
Flexible, Offering a Wide Range of Applications
The M 70 Pro X is a dynamic broadcast microphone that delivers the best audio quality for streamers, YouTubers, and podcasters. Since this microphone has a cardioid polar pattern, it can master challenging acoustic environments. Plus, it offers a direct recording source that nullifies ambient noises like keyboard rattling, echoing, and other noise sources.
This microphone from Beyerdynamic is excellent for anyone looking for a great broadcast sound. It's best for demanding acoustic environments and its design allows for easy handling.
Reliable Performance and Extensive Accessories
Beyerdynamic developed the electro acoustic design of the Pro X microphones from the ground up. As a result, the product provides exceptional performance and clear signal transmission without noise or distortion. With that, it offers powerful audio.
Since the microphone's capsules are internally fixed and it's shipped with a shock mount, you can ensure that it's secure. It will significantly reduce the transmission of hand movements, mechanical vibration, and more.
The included pop filter and integrated high-density foam protect the capsule against dust, as well as breathing and plosive sounds.
Trusted Audio in Every Recording
The M 70 Pro X offers the optimal audio for podcasts and streams. This dynamic broadcast microphone has an assertive, speech-optimised sound, attenuation of popping sounds, shock-mounted capsule, and a well-crafted design. With all of these combined, this microphone can meet the demands of today's creators.
It's equipped with an XLR connector, making it the perfect choice for broadcasting purposes.
Speech-optimized Sound
Beyerdynamic's M 70 Pro X is designed to prevent dull sounds when recording voices. Plus, it picks up every single detail for better-sounding audio. The natural mids and natural highs of this microphone complete the sound image of this broadcast microphone.
Excellent Workmanship and Robust Design
Like other Beyerdynamic products, the M 70 Pro X is made in Germany, ensuring excellent workmanship. Plus, its black, sleek, and modern design will perfectly fit in any modern creator's workspace.
It uses durable aluminium with high-quality steel break-proof mesh. These keep the microphone protected from tumbles and rough handling.
The Beyerdynamic M 70 Pro X is also lighter, thanks to Beyerdynamic for using aluminium. Since it's lightweight, you can mount it easily on all commercially available stands or microphone arms. It's designed to prevent the unwanted side effect that causes the boom to dip.
Sustainable Microphones
Beyerdynamic is known for using premium-quality materials for creating their products. It's the foundation for a reliable functioning microphone that delivers excellent recording quality.
Until today, the company continues to make replaceable and repairable parts. So, you won't have to throw and get a new microphone. Instead, you can get new components like circuit boards, capsules, plugs, and casing parts when needed.
In addition to that, Beyerdynamic uses environmentally friendly packaging. The company packs their products with completely recyclable paper and cardboard.
This next part of our Beyerdynamic M 70 Pro X microphone review will focus on the microphone's specifications. Let's find out what it has in store for us. 
Specifications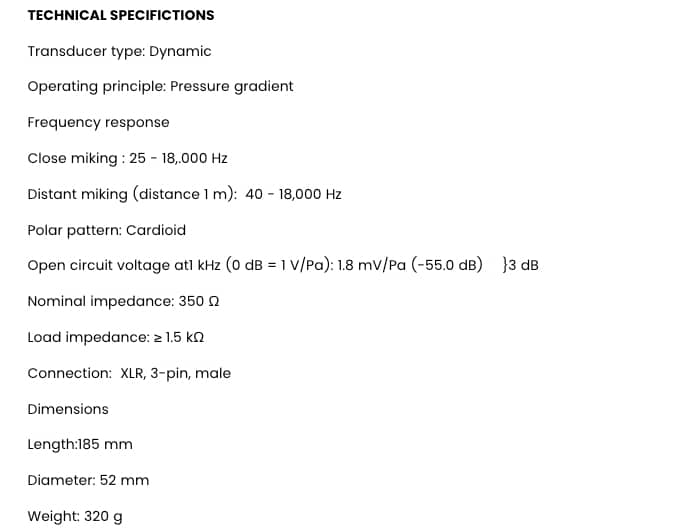 The M 70 Pro X microphone uses a dynamic transducer and features a cardioid polar pattern. It has a frequency response ranging from 25 to 18,000Hz and makes use of an XLR 3-pin connection type. 
This microphone's nominal and load impedance are 350Ω and ≥ 1.5 kΩ respectively. And, it has an XLR 3-pin male connection. When it comes to its dimensions, the microphone measures 185 x 52mm (L x D) and weighs 320g. 
This time, our Beyerdynamic M 70 Pro X microphone review will show just how good this microphone from Beyerdynamic performs. 
Hands-on with the Beyerdynamic M 70 Pro X Microphone
Beyerdynamic claims that their M 70 Pro X microphone is one of the best performers in the market today. Of course, we put the product to the test to see if their claims are true. 
Is it efficient and adequate for the demanding needs of content creators today? Is it easy to use and effective as well? We'll let you know in this part of our review. 
When in use, we realised that the M 70 Pro X microphone was excellent for recording present and clean speech. Specifically, we tried it in an area that was similar to a home studio. 
This product offered us great off-axis rejection properties. And with that, it makes it a perfect option for anyone working in a less than ideal recording spot. 
When it comes to its front address and lightweight design, the M 70 Pro X was a perfect plug-and-play option. It's ideal for mobile recording applications and the like since it allowed us to use it wherever necessary. This is compared to us having to build our ergonomics around the microphone's limitations. 
The fact that it can remove so much of the usual ambient room noise, we can say it's a champion. With how it performed, it's a very smart option for vloggers and streamers looking to keep their vocals detailed and hi-fi. It's also great for preventing the capturing of unnecessary keyboard and movement noise, or podcasters with exaggerated tactile performance style. 
Its excellent room rejection and sharp focus elements are two other attributes that made us love the product more. And because of these, we think the M 70 Pro X microphone will gain a ton of fans.  
We liked that the M 70 Pro X was able to capture voices clearly even with a distance of 4ft. When we tried listening to how it sounded after, everything was clear, crisp, and clean. 
As we've mentioned, the M 70 Pro X is a broadcast microphone. So, it's designed to produce rich, upfront, and detailed radio studio sound. When we were close to the microphone, it produced a deep and modulated tone.
With its clear and articulate audio for speech, we'd recommend this microphone for lead vocals. Its audio is excellent for singers since it can handle high SPLs. When we tried recording drums, we noticed that its full-bodied tone makes it suited for floor-toms too.
The M 70 Pro X offered full and rich tonal characteristics. Although integrated features like HPF and attenuation pads weren't present, it was still highly versatile. Also, it was able to capture high-quality audio from all sources.
For the product's overall performance, it was excellent. We didn't experience any issues while using it and we have no complaints. Because of its superior audio quality, it's something that's easy to recommend.
Beyerdynamic M 70 Pro X Microphone Review Summary
Like every product under Beyerdynamic's Pro X series, the M 70 Pro X continues to impress. It's a flexible recording tool that's excellent for all modern content creators. Plus, it provides a great balance between investment and performance.
When we checked out the product for our review, we were impressed with the entire product. It's well-designed and constructed, feels durable, and is really compatible with all microphone arms and stands. Most importantly, it delivered excellent performance during our tests.
What makes the M 70 Pro X a great microphone to invest in is its replaceable parts. It's convenient and practical since you won't have to buy a new microphone if the components need to be changed.
Overall, this product's performance was satisfying and we highly recommend it to every podcaster, Youtuber, and streamer. With this microphone's optimal performance, we expect that Beyerdynamic products will be staples for home and professional studios soon. 
To get your hands on the M 70 Pro X microphone, it's available for purchase from Beyerdynamic's official website.