Today, we're offering you our Beyerdynamic M 90 Pro X microphone review which focuses on this quality studio condenser microphone. This is the new M 90 Pro X which targets those who often do studio recordings. It's also an ideal mic for YouTubers to share any of their content with. 
It's packed with a ton of great features that you'll surely enjoy. Plus, it comes from a trusted brand that only offers outstanding products.
So if you're interested to know more about this mic, continue reading our Beyerdynamic M 90 Pro X microphone review. Here, we'll give you more information about its features, specifications, design, and more. 
Beyerdynamic M 90 Pro X Microphone Packaging
The first part of our Beyerdynamic M 90 Pro X microphone review discusses the product's packaging and contents. 
When our microphone arrived, it came in your standard-looking Beyerdynamic box. It sports the usual black and brown theme with an orange strip in front of the package.  
Of course, this orange lengthwise strip in front displays an image of the microphone. Then, Beyerdynamic is written at the top of it while below is the name of the product. 
Inside the box, you'll find the M 90 Pro X itself along with other inclusions. These are the elastic mount, 3/8″ to 5/8″ adapter, pop filter, and a drawstring bag. The latter is for keeping the product when not in use, or when you bring it out with you. 
Beyerdynamic M 90 Pro X Microphone Review – Design and Functionality
The design and style of the M 90 Pro X is premium and durable. It has an aluminium body that has mesh grills on all its sides and even on the head. 
The mic doesn't come with physical switches of any type such as HPF, pad, etc. That means, any type of modifications to its audio need to be made or adjusted on the board or software. The latter is if you're utilising an interface. 
This microphone surely has a touch of modern in its style and is considered a bit lightweight, which is great. In fact, it only weighs 10.5oz which makes it lighter compared to other similar microphones around. 
The M 90 Pro X makes use of a ring approach to lock and fix it to the provided mount. Its ring unscrews from the base of its connection to easily slide the microphone into the mount. Then, the ring will be screwed on again to tighten everything in place.
In addition, the M 90 Pro X comes with a fixed cardioid polar pattern like its dynamic stablemate. Yet while the M 70 is mainly optimised and designed for speech, the M 90 is more versatile. It's a large diaphragm-studio mic that's ideal for vocals and all types of instruments. 
When it comes to its mount, it offers a simple design: nothing impressive here since it's mostly made of plastic. Don't worry though, the plastic Beyerdynamic used is more durable than what you'd expect. Plus, the company even included a thread adapter as well. 
To put it simply, it's able to get the job done properly. And, it should last quite well even if you take it on the road. 
Key Features of the Beyerdynamic M 90 Pro X Microphone
This is where our Beyerdynamic M 90 Pro X microphone review will look into the product's different features. Let's find out what makes it stand out in the market and what makes it different from other products.
The Popular and Authentic Sound from Beyerdynamic
The M 90 Pro X offers clear, natural audio recordings since it has a tuned proximity effect. With its extended upper frequency range, it always picks up detailed voices and never sounds dull. Plus, it reproduces natural bass and mids with its usual power.
The amplifier wiring has also been newly developed for Beyerdynamic's latest Pro X microphones.
Offering a Wide Range of Applications
The M 90 PRo X is an all-purpose condenser microphone that provides superior audio quality. It's ideal for recording speech, vocals, and instruments.
This microphone has a broad recording source due to its large diaphragm and cardioid polar pattern. These features allow movement in front of the microphone and are great for clear, detailed and full-bodied sound.
Reliable for All Sessions
The M 90 Pro X incorporates its capsules with the electronics developed by Beyerdynamic. As a result, the microphone offers a low level of inherent noise and a high acoustic pressure limit. With that, there's zero distortion in the transmitted sound. 
The company also redeveloped the amplifier circuit and combined the latest components like precision voltage controller and low-noise operational amplifier. All of these allow the microphone to produce warm and clear audio.
Reduced Mechanical Vibration and Plosive Sounds
The included shock mount and the internally fixed capsule of the M 90 Pro X decreases transmitted mechanical vibration. With the pop filter and the integrated high-density foam, the microphone is safe from dust and plosive sounds.
Excellent Construction and Design
Beyerdynamic's M 90 Pro X is slender, black, and it features a modern design. With that, it will fit perfectly in any contemporary workspace. Its high-quality aluminium housing and durable steel mesh is break-proof to keep the microphone's capsule protected from rough handling.
Sustainable Microphones from a Trusted Brand
This Beyerdynamic M 90 Pro X microphone review only proves that the company stands out with their quality products. And just like with the other Beyerdynamic microphones, the M 90 Pro X is made using premium and top-notch materials. These are ideal for a reliable and efficient mic that can last for many years.  
Furthermore, the M 90 Pro X comes with components that can be replaced or repaired easily when necessary. These include capsules, plugs, circuit boards, casing components, and the like. 
Lastly, Beyerdynamic even designed environmentally friendly packaging which is entirely made from recyclable cardboard and paper. 
Specifications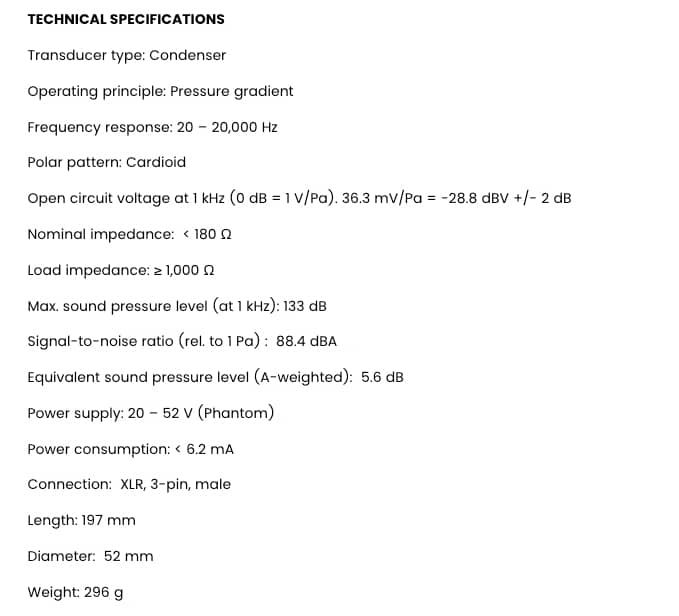 The M 90 Pro X from Beyerdynamic is a side-address cardioid mic with a capacitor capsule. This allows the mic to have a wider frequency response of 20Hz to 20kHz. And, it can handle SPLs of up to 133 dB A-weighted at 1kHz. 
This condenser microphone has a pressure gradient operating principle and a nominal impedance below 180 Ω. Its open-circuit voltage at 1kHz (0 dB = 1V/Pa) 36.3 mV/Pa = – 28.8 dBV +/- 2 dB. Then, it has a load impedance of ≥ 1,000 Ω and signal-to-noise of 88.4 dBA. 
Its equivalent sound pressure level when A-weighted is 5.6 dB. Its power supply ranges from 20 to 50V (Phantom) and it consumes less than 6.2 mA of power. And, it makes use of an XLR 3-pin male connection. 
For its dimensions, the M 90 Pro X is 197 x 52mm (L x D) and weighs 296g.
Now, let's look at how well the microphone performed in our Beyerdynamic M 90 Pro X microphone review. We'll share with you our experience with it, and if we encountered any issues during the tests we made. Also, we'll give all the necessary inputs to help you decide whether it's the microphone for your needs. 
Hands-on with the Beyerdynamic M 90 Pro X Microphone
To find out this microphone's audio quality, we tested it by recording speech, vocals, instruments, as well as speakers. Here, we're sharing what we observed during our tests.
When we tried and tested the M 90 Pro X in the studio, it was able to produce natural sounds. We can even say that it's perfect for providing enhanced flexibility too. 
Speaking of vocals, the M 90 Pro X was able to capture accurate and clean vocals. It allowed the finishing touches like building mid to low warmth or accentuating breathiness to be completed at other stages. And just to note, the stages we're talking about is of the signal chain. 
Some adjustments to the signal went a long way. Thus, leaving an impression that there was a lot of detail to work with. 
We loved when we tried close-miking since it gave off a good and somewhat cinematic quality to the audio. It certainly highlighted its efficiency for voice-over work, and with stringed instruments, the mic worked just as well. To note, its sensitivity was able to inspire confidence in a plethora of instrument-recording applications.  
Technically, it's something that's noticeably and obviously crisp with the highs and mids. Thus, allowed for clear vocals and speech. 
There was even a ton of low-end but it depended on our distance from the M 90 Pro X. It wasn't as deep in the low ends like other microphones we've tried. However, this can be brought back to the mix to compensate. 
On another note, the mid-range was accurate and clear. Plus, it had a natural presence and good detailing too. It had a touch of warmth on the lower mids which can be helpful when recording thin or nasal vocals. 
Thankfully, this specific warmth doesn't turn into wooliness or the like. 
It may generally be a great all-around solution for different voice scenarios and will sound excellent for podcasting too. However, there's a bit of tinniness present, but we were able to fix this with the EQ. 
Beyerdynamic M 90 Pro X Microphone Review Summary
The M 90 Pro X is a flexible condenser microphone that offers impressive performance. It's great for those who want an upgrade from entry-level recording gear since it provides more range. 
This microphone sounded great out of the box especially on the lows, but we also appreciate its versatility. It offered a lot of space to tweak the audio when used with a good EQ. So even if its sound was a little bright, we were able to tweak and soften it in the mix.
During our tests, it performed impressively and we didn't have any issues with it. The sound was rich, full, and detailed. Plus, tweaking its audio is possible so we have no complaints about this product.
With its excellent design and performance, it fits perfectly in its price category. In fact, it offers a great price-to-performance ratio since it's better than other expensive condenser microphones around. Its superb features make it also one of the best recording tools for today's content creators.
Overall, the M 90 Pro X is a great microphone that we highly recommend for all content creators. Like other microphones under the company's Pro X series, this product continues to impress. It's an excellent staple tool for any project, whether it's recording music, narration, voice acting, podcasting, and more.
If you want to start recording with this microphone, you can purchase this from Beyerdyanmic's official site.