Beyerdynamic is one of the most popular, well-respected, and recognisable names in the world of pro hi-fi audio. So today, our Beyerdynamic MMX 300 Gen 2 review will focus and talk about the MMX 300 Gen 2.
Beyerdynamic is considered a legendary German brand behind some of the best studio and hi-fi monitoring headphones. They offer excellent microphones and different kinds of headphones made for pilots, radio broadcasters, TV, and just recently, for gamers.
With that, let's get all the important details you need here in our Beyerdynamic MMX 300 Gen 2 review. Let's see if the headphones are perfect for your needs and if they perform as good as they claim. 
Beyerdynamic MMX 300 Gen 2 Packaging
The MMX 300 Gen 2 came in a huge, premium-looking cardboard package. The front portion of the box displays an image of the headphones' left angle. This area shows us that the product is made for the most demanding gamers around. 
Looking at the box's sides, you'll see a full breakdown of the headphone's key features and specifications. In addition, you'll learn that both the microphone and speaker drivers are studio-grade elements of the MMX 300 Gen 2.
Flipping the box, the rear gives you another image of the headphones' side. Plus, it comes with a fancier background too. 
Inside the box, you'll find the MMX 300 Gen 2 along with other accessories. These include a shorter cable to connect the headphones to a game console or mobile device. The longer cable, on the other hand, is for linking to a PC or any other device. 
The shorter cable measures 3.9 feet and ends with a 4-pole 3.5mm plug. There's an in-line remote set below the ear cup that has a mic mute switch and volume wheel. 
For the longer cable, it's 8.2 feet and ends with two 3-pole 3.5mm plugs. It comes with its own in-line remote that functions similarly to the shorter cable's remote. However, the longer cable's remote functions with the separate microphone and headphone connections. 
This is the first time we've encountered an in-line remote provided for a longer PC cable. 
Other than the cables, the company included a hard-shell zip-up container, plus a 0.25″ headphone adapter in the package. 
Beyerdynamic MMX 300 Gen 2 Review – Design and Functionality
Let's discuss the design and functions of this product here in our Beyerdynamic MMX 300 Gen 2 review.
When looking at the design of the MMX 300 Gen 2, it doesn't appear exactly like your typical gaming headphones. It's like a high-end product with a boom microphone fixed on it. 
It's entirely black with huge rounded plastic ear cups. These are mounted on anodised metallic arms that are linked to its headband.
The arms allow the ear cups to tilt up and down and pivot a bit to the left or right. This will provide you with a comfortable and snug fit. However, remember that it won't fold inward in case you want to store it this way.
This portion of the headphones is generously padded and covered in leather. Don't want the paddings? You can easily remove them with the loop and hook fasteners that keep them in place.
We think you'll love the paddings anyway since they're extremely plush, soft, and wrap nicely along the head's curve. You'll get 100% comfort, so there aren't any hot spots or pressure points when wearing the MMX 300 Gen 2.
Its velour earpads are plush and large, resulting in a comfy and solid fit. With its design, you can wear these for longer periods without having to adjust them often. 
The left ear cup houses the boom mic, which is a foam-concealed capsule set on a flexible metallic arm. The latter is fixed along the ear cup's rear, specifically on a plastic disc that can almost rotate at 360-degrees. It also has firm click stops that securely set the arm position. 
You'll find a recessed 3.5mm port along the bottom of the left ear cup. It links to the two included audio cables.
The plugs are encircled by soft rubber, so it's quite unnatural to require firm pressure to click these in. 
If you don't get to push the plug deep enough, you'll still hear audio coming from the ear cups. However, the mic won't work with this. It's basically an easy fix, but it's best to be aware of this. 
Key Features of the Beyerdynamic MMX 300 Gen 2 
This time, our Beyerdynamic MMX 300 Gen 2 review will focus on the headphones' key features. Let's find out what unique elements it has compared to other gaming headphones.
Designed for the Competition
The MMX 300 Gen 2 delivers clear, powerful three-dimensional sound. Using it lets you hear amazing audio and deliver outstanding speech intelligibility. Plus, it's made with high-quality materials to provide long-lasting comfort when wearing it during intense gaming sessions.
Originally, Beyerdynamic developed the MMX 300 Gen 2 for the private aviation industry. However, it was perfected and streamlined to meet the requirements of professional gaming.
Dimensional Sound
The MMX 300 Gen 2's audio is all in the details. It features recording studio-quality that ensures powerful and clear sound reproduction, especially in decisive parts of the game. This headset makes every critical detail audible to put you at an advantage.
The MMX 300 Gen 2 lets you hear even the faintest sound. With that, you can take the right action at the right time and always be one step ahead.
Professional Voice Transmission
Teamwork is one of the important elements of successful gaming. You can succeed if you execute action precisely and have the right tactics. But that can only happen if you can communicate with your teammates properly. 
Beyerdynamic MMX 300 Gen 2's high-quality condenser mic that transmits your voice loud and clear. It features a cardioid polar pattern and pop shield to eliminate ambient and background noise. It's ideal for noisy environments and gaming tournaments.
Maximum Control
You have full control with the MMX 300 Gen 2's integrated cable remote control, even in hectic tournaments. This remote has all the important features like muting the mic, adjusting the volume, accepting a call, and more. All of these are within reach, so the control is all in your hands.
With the two cables included in the package, you can use the MMX 300 Gen 2 with multiple devices. You can play games via PC, notebook, or console.
Next in our Beyerdynamic MMX 300 Gen 2 review are the different specifications of the headphones. 
Specifications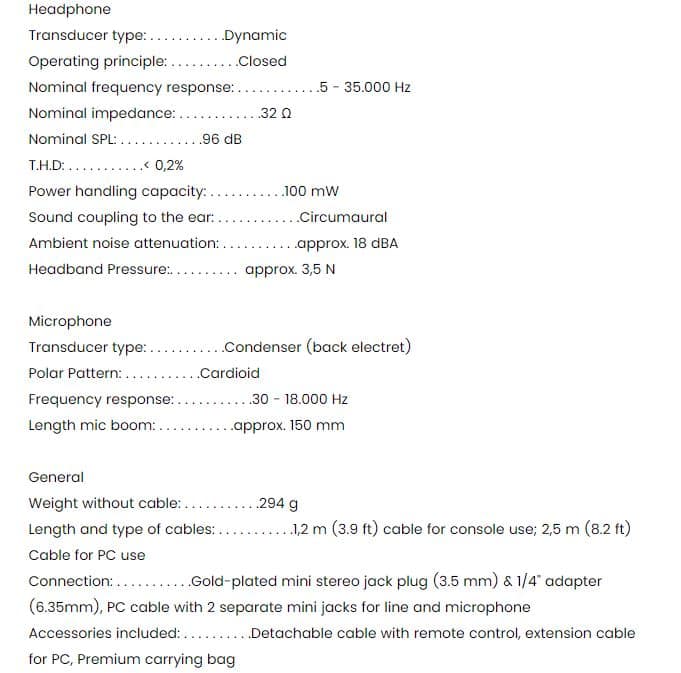 The MMX 300 is a dynamic transducer type of headphones with a closed operating principle. Its nominal frequency response ranges from 5Hz to 35kHz. Also, it has 32 Ω for its nominal impedance and 96dB for nominal SPL.
Its THD is less than 0.2%, while its power handling capacity is 100 mW. The headphones feature a circumaural sound coupling to the ear with approximately 18 dBA for its ambient noise attenuation. When it comes to the headband pressure, it's approximately 3.5N. 
Microphone
The MMX 300 Gen 2's microphone is the condenser back electret transducer type with a cardioid polar pattern. Its frequency response ranges from 30 to 18,000Hz, while its length mic boom is approximately 150mm. 
General Specifications
Without the cable, the headphones measure 294g. The cable used for consoles is 1.2m long, while the one for PC use is 2.5m. 
For its connection, the MMX 300 Gen 2 has a gold-plated mini stereo jack plug. There's also a 1/4″ adapter, plus a PC cable with two separate mini jacks for the microphone and line. 
This time, our Beyerdynamic MMX 300 Gen 2 review will discuss our hands-on experience with the headphones from Beyerdynamic. 
Hands-on with the Beyerdynamic MMX 300 Gen 2
This is where we'll share how the MMX 300 Gen 2 fared when we tried using it for some time. Let's start off with its audio quality when it comes to music. 
Its overall sonic performance remains notably awe-inspiring. With its frequency response ranging from 5Hz to 35kHz, the headphones' sound quality surpasses the range of our regular hearing. It can basically reproduce audio in every wavelength that the human ears can perceive. 
We tried playing different types of audio tracks from different music genres. With that, we can guarantee that the headphones can excellently play audio no matter what the music genre is. 
Low-frequency bass played outstandingly, no matter if you're playing games or listening to your favourite tunes. Both the medium range and higher frequencies sound great. Classical and jazz tunes were a great pleasure to listen to with these headphones. 
For the most part, we greatly appreciate Beyerdynamic for giving a lot of attention to entertainment-music listening. When we say entertainment music, we're talking about audio that has powerful and pumped bass.
Music-wise, its performance was similarly great. The sounds it produced were detailed, comprehensive, and responsive but not overpowering low-end. The headphones give sharp overtones along the upper range and a somewhat prominent mid-range. 
With that, your opponents won't have any way of sneaking up on you without getting noticed. 
All the sounds coming from the music, explosions, speaking voices, and other in-game sounds were clear and crisp. The audio was literally perfect, so the headphones became our companion in gaming, as well as music listening.
Again, voices were clear, and the sounds of various elements in-game were reproduced effortlessly. This gives the headphones adequate openness and depth compared to what other gaming headsets can offer.  
Regardless of your enemies' crawls, steps, or rushes, the MMX 300 Gen 2 will let you hear them clearly. You'll have combat and stealth advantage that will eventually lead you to win the game when using these headphones.
Although the Beyerdynamic MMX 300 Gen 2 doesn't have active noise cancelling features, it did a great job in isolation. When we tried using the headphones at moderate volumes, we had to remove them to hear anything properly. But of course, its isolation is still not as good as other headphones with synthetic leather padding.
For noise leaking, the MMX 300 Gen 2 also controlled this well. Its velour pad reduced the leakage, so the noise shouldn't bother anyone in the immediate vicinity.
The MMX 300 Gen 2's microphone quality is outstanding. It picked up our voice clearly with no additional noise in the input signal. It can be used for anything, including Youtube voiceovers and Twitch streaming. With its excellent performance, buying a big external studio mic wouldn't be necessary.
In fact, it's a great mic to use in a room with poor acoustics. Unlike external microphones, it won't pick up room echo and other noise. 
For the mic, Beyerdynamic also did an excellent job, and it's one of the best headphone mics we've used.
Beyerdynamic MMX 300 Gen 2 Review Summary
Beyerdynamic's MMX 300 Gen 2 is the second iteration of the company's first gaming headphones. Aside from its audio quality and mic, the MMX 300 Gen 2 has excellent build quality and comfort. We were able to wear these headphones for hours without any discomfort. Plus, the materials used and its construction makes it feel durable enough for the most intense gaming sessions.
The Beyerdynamic MMX 300 Gen 2 is a great pair of headphones for demanding multiplayer gamers and professional streamers. It gives you a competitive edge without spending a huge amount of money.
To summarise our Beyerdynamic MMX 300 Gen 2 review, we were satisfied with these headphones. It looks great, has a durable build, it's packed with tons of notable features, and it performs excellently. With that said, we're recommending the MMX 300 Gen 2 headphones from Beyerdynamic to you and every other gamer around.
If you want to get your hands on this product, you can purchase the MMX 300 Gen 2 from the company's official website.