A lot of people today go for taking photos of their printed documents using smartphones. However, there's still a market for devices like portable scanners. Today in our Brother DS-940DW Portable Document Scanner review, we're discussing the company's portable document scanner.
It's one of their latest offerings this 2020, and it can work as a standalone for saving images. Or, the scanner can function in conjunction with your tablet, smartphone, or computer.
Brother DS-940DW Portable Document Scanner Packaging
This section of our Brother DS-940DW Portable Document Scanner review talks about the packaging of the scanner. Not only that, but you'll also learn about what Brother packed inside the box with their scanner.
The DS-940DW portable document scanner came in a white cardboard package. It has an image of the product in front and its key functions on the side.
Above the image, you will find a blue strip containing the unit's name and "Brother" written there.
Aside from the DS-940DW portable document scanner, you'll see other important items that Brother included in the box. These are the USB-A 3.0 – micro-B cable, and a calibration sheet that is often utilised for resetting the scan area. When it comes to the cable, it measures 1.2m – a good enough length for this scanner from Brother.
Next on our Brother DS-940DW Portable Document Scanner review, we will discuss the scanner's design and functions.
Brother DS-940DW Portable Document Scanner Review – Design and Functionality
This part of our Brother DS-940DW Portable Document Scanner review is all about the DS-940DW's functionality and design. Let's see how Brother worked on its looks and uses.
Now, let's talk about the scanner's design. The entire scanner measures 1.8 x 12.6 x 2.5" and weighs around 1.5 lbs. It features wireless support and has an internal power source that allows the DS-940DW to work without cords or cables. This feature is vital especially when you're out and about.
It has a flashcard support that allows you to autonomously scan without linking to a laptop, desktop, or smartphone. When you get back home or the office, simply transfer the scans to your PC, and you're done.
Using the bundled software or via the control panel, you can easily operate the scanner from your laptop or smartphone. The control panel has three buttons, as well as equivalent status indicators.
These three toggles are saving to PDF/JPG file formats, colour/monochrome scanning, and single/double-sided scanning. You'll also find the power and stop/start (cancel/scan) buttons.
The right of the chassis, underneath the control panel, there's a slider for choosing the Wi-Fi, USB, or microSD operation. There's a WPS or Wi-Fi Protect Setup button for linking to a wireless network without having to input your credentials.
About the microSD slot, it's specifically located under the input slot. Here, the USB cable plugs into the chassis' left end.
When you're working in tight spaces, lifting the scanner's tray on the back decreases its footprint. It's done by redirecting the flow of output upward. Brother calls this feature the "U-Path Paper Feeding System".
The DS-940DW scanner takes the sheet of paper that you insert. It doesn't matter if the paper hangs by the table or desk's edge.
If there isn't adequate desk space at the back of the scanner, don't worry. Its top hinges open to direct the original piece back to the user.
Do note there's a deskewing function available in the iPrint&Scan, yet it's not in the native driver. It's a good thing that the paper feeds straight as long as its paper guide is adjusted correctly. However, the guide moves quite easily so it's best to check it every time you use the scanner.
With the DS-940DW, scanning is a quick task with 3-4 seconds per page, in line with its 15ppm claim. When we linked the scanner via USB or Wi-Fi, there wasn't any obvious difference in its speed. That's also the case when we scanned via microSD card.
Key Features of the Brother DS-940DW Portable Document Scanner
This part of our Brother DS-940DW Portable Document Scanner review is where we discuss the scanner's key features.
Scan Anywhere
The DS-940DW scanner is completely portable and comes with a built-in Li-ion battery. With that, you can scan your documents wherever you are, and you won't need a power supply. Take your scanner wherever you want and scan anything anytime.
Convenient and Space Saving
With its small and compact design, the DS-940DW is ideal where the space is limited.
The scanner also features the unique "U-path" paper feed. With it, you won't need additional space behind your scanner for the document to feed through. The documents simply glide over the scanner's top as it goes in.
Allows for Mixed Media and Delivers Consistent Results
The Brother DS-940DW Portable Document Scanner is your true work companion. It can scan A4 documents, receipts, ID cards, and more. Its dedicated roller system ensures that your documents feed through the scanner smoothly to guarantee high-quality digital files.
Stay Effortlessly Organised
Brother's free iPrint&Scan application lets you view and share documents via phone or tablet. With its intuitive LCD panel, choosing or changing scan functions is easier.
Specifications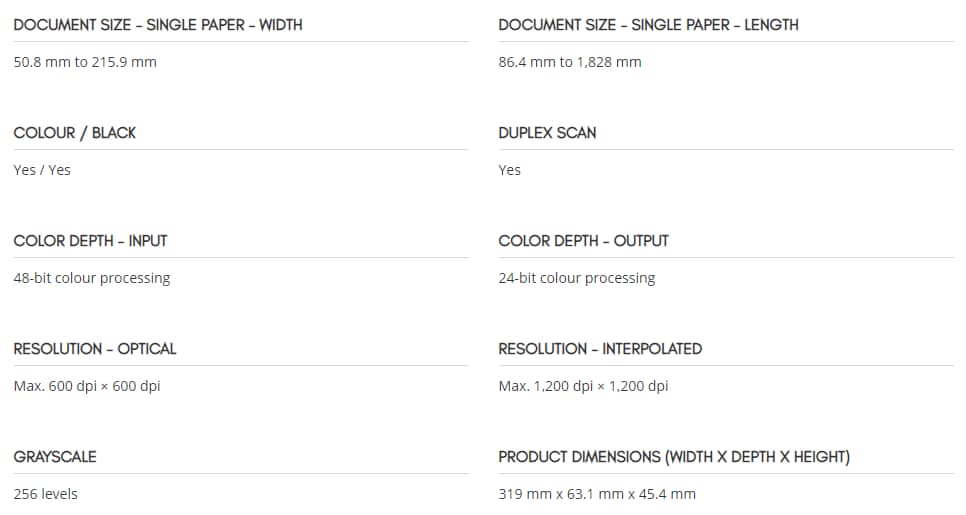 Now in our Brother DS-940DW Portable Document Scanner review, we'll focus on all of the scanner's specifications.
The document size for single paper measures 86.4 to 1,828mm long and 50.8 to 215.9mm wide. Its input and output colour depth is 48-bit and 24-bit respectively for colour processing.
DS-940DW's optical and interpolated resolution is 600 x 600 dpi (max) and 1,200 x 1,200 dpi (max) respectively. For the grayscale levels, these reach 256 levels.
The DS-940DW's memory capacity is adequate at 512MB and uses a lithium battery plus USB bus-power for its power source.
During scanning, it consumes 3.6W on USB 3.0 mode, while on Wi-Fi mode, it uses up 4.4W. On "ready", the DS-940DW uses up 2.2W on Wi-Fi and 1.5W on PC mode. When the scanner is switched off, it's power consumption is 0.11W.
Operating temperature ranges from 5 to 35 degrees Celsius. Humidity during operation is from 20 to 80% whereas storage ranges from 10 to 90%.
For the scanner's interface, it uses a micro-USB 3.0 and IEEE 802.11 b|g|n wireless LAN.
Hands on with the Brother DS-940DW Portable Document Scanner
This section of our Brother DS-940DW Portable Document Scanner review is where we get more hands on with the scanner. We'll discuss how well it performed, how easy it was to use, and more.
To use the DS-940DW portable document scanner effectively, you'll need to utilise Brother's iPrint&Scan software. It's available for macOS, Windows, iOS, and Android for interfacing with the scanner.
Aside from interfacing, the software also allows you to use BR-receipts for storing and scanning financial data. It's also possible to use Kofax Power PDF Standard to create and edit PDFs when needed.
For document management, you can utilise the Nuance PaperPort SE 14, plus BizCard for archiving and scanning your business cards.
Between these, the applications should give you everything you need for saving, scanning, converting, and managing scans. In fact, a lot of them feature overlapping functions. With that, you'll surely find yourself deciding which programs will work best for your needs.
All these are efficient, and we didn't have any issues using them. They're user-friendly, so you won't have a problem with them as well.
We tried scanning normal paper during our tests and they scanned smoothly during our tests. The quality of the scan was fantastic and all details from the documents were retained and were of high quality.
When we tried scanning, it smoothly went through the scanner and there were no issues or problems in the process.
The DS-940DW ran smoothly and without problems. The scanning process was incredibly simple and completely trouble free.
Brother DS-940DW Portable Document Scanner Review Summary
The Brother DS-940DW is a convenient portable scanner that allows you to scan documents on-the-go. It's a great choice if you're someone who goes out a lot and needs to scan documents often. Also, it's something you can consider if you want to save space and not use the bulky flatbed scanners.
For its performance, the DS-940DW performed excellently and during our tests, it did what's written on the box. Even the smartphone apps digitised the documents without the need for additional hardware. Also, it allows for long-page scanning, which makes it highly convenient for in-office use.
In conclusion to our Brother DS-940DW Portable Document Scanner review, we highly recommend this product. If you want to purchase this printer, check out the store locator for authorised dealers.