Good printers are readily available for all of us, but are they good for label printing? If you're searching for something that offers great quality label prints, you're in the right place. Today, our Brother P-Touch Cube Pro review focuses on this specific product.
The Brother P-Touch Cube Pro allows you to print custom labels that are up to 36mm wide. It lets you select from a set of ribbons or tapes to give your labels a fine and professional image.
The P-Touch Cube Pro is a compact and mobile printer that uses a rechargeable Li-ion battery. It includes the SDKs or Software Development Kits for iOS, Android, and Windows.
It's designed to be flexible and works as your efficient organiser whether you're working or on the go.
To learn more about the printer, continue reading our Brother P-Touch Cube Pro review. Get tons of essential details on its specifications, design, functions, and performance.
Brother P-Touch Cube Pro Packaging
Let's begin our Brother P-Touch Cube Pro review by checking out its packaging and contents.
The printer came in a simple-looking cardboard container with nothing but the product's name placed in front. When you look at one side of the box, you'll find an illustration of what seems like a work area.
When flipping the box, you'll find additional details about the printer, but other than that, everything's kept simple and minimal.
Upon opening the box, you'll see that the things are kept neat and simple as well. The P-Touch Cube Pro is held securely in place, so there's no worrying about it getting damaged while in transit. Plus, the box is tough enough to protect the contents, which adds up to its protection.
Other than the P-Touch Cube Pro, you'll also find tape cassettes inside the box. Specifically, it's a 36mm black-on-white tape which is 4 metres in length.
There's also a quick setup guide, a warranty card, and a USB cable for connecting the printer to your device.
Next on our Brother P-Touch Cube Pro review will be all about its design and functions.
Brother P-Touch Cube Pro Review – Design and Functionality
The P-Touch Cube Pro from Brother is a B&W printer that works via thermal transfer. It means you don't need to bother replacing the ink. Instead, your main concern here would be the ongoing cost for its labels.
These come in multiple colours and sizes, and the 36mm version is the latest for Cube Pro.
It prints at 360dpi, which is excellent for text and adequate for images. Text is clean, dark, and crisp, though images sometimes appear slightly grainy and pixelated. To put it simply, there are times when images look awesome from afar, but quite dotty when you look close.
When it comes to logos, they look really good, specifically when there's a good contrast between blacks and whites. What you can do is try a couple of test prints before doing a big print run.
The P-Touch Cube Pro comes with an integrated Bluetooth interface for wireless printing via tablet, smartphone, or PC/Mac. You can do this by using the available free desktop, Android, and iOS label design apps. It's also possible to connect the device via USB-C if you prefer this.
When it comes to the P-Touch Cube Pro's build, we can say it's a solid and sturdy product. It features a clean and nice-looking white matte finish, and it isn't slippery to the touch. The P-Touch Cube Pro is also shaped well, giving you a good grip to it.
When looking at one side of the printer, you'll see that the tape exit slot is prominently featured. The opposite side houses the USB Type-C charging port and the power button.
Next to these, you'll find a QR code that instructs you to download the Print 2 and P-Touch Design applications. A LED light at the top of the printer displays the status of your P-Touch Cube Pro.
Looking at the rear, it fully opens to allow easy and quick replacement of its cartridge. Plus, its hinge is durable enough to withstand numerous tape replacements.
Key Features of the Brother P-Touch Cube Pro
What are the different key features of this label printer? Are they necessary for your needs and worth investing in? Let's find out here in our Brother P-Touch Cube Pro review.
Freely Paint Labels Directly from Your iOS and Android Devices
The Design&Print2 is a free application that connects to our label printer via Bluetooth. You can edit your labels and have a preview before printing it out.
Simple, Elegant, and Portable
The P-Touch Cube Pro has a compact and elegant design, plus it's easy to carry around. With that, you can print labels anytime, anywhere. You can share it with colleagues in your workplace or utilise it in your store for quick label printing.
Advanced Cutter for Easy to Peel Labels
The P-Touch Cube Pro can cut through your labels' top layer while keeping the back intact for easy peeling.
Ribbons and Durable Labels for Your Labelling Needs
Brother TZe tape cassettes are available in stylish ribbons and durable labels. These are available in a wide range of colours, widths, and styles to suit your needs.
Print from your Windows PC or Mac
Brother P-touch Editor label design software offers powerful editing tools for creating labels for anything. You can include images like your company logo, symbols, frames, or choose from the wide range of built-in clipart. If needed, you can also add barcodes for your labels. Additionally, you can link to text in a .csv or Excel file to easily print multiple labels containing various information.
Integrated rechargeable battery
The P-Touch Cube Pro is powered by a small yet powerful integrated Li-ion battery. With that, your printer is ready to use anytime, and you won't have to spend on standard alkaline batteries. Plugging it with an AC adapter isn't necessary too.
Specifications
Now, our Brother P-Touch Cube Pro review will discuss the various specifications of the printer.
The media type that the P-Touch Cube Pro uses is the TZe tape. Plus, the available tape sizes include 3.5mm, 6mm, 9mm, 12mm, 18mm, 24mm, and 36mm.
When it comes to its dimensions, the printer is 138mm 94mm x 138mm (W x D x H) and weighs 1.05kg.
Print Output
The P-Touch Cube Pro's print resolution is 360dpi / 560 dots, while its print speed is 20mm/second. The tape cassette is up to 36m, and the printer has an auto-cutter that allows a full or half cut.
This P-Touch Cube Pro is powered by a li-ion battery (PA-BT 003) integrated into the printer. You'll need to connect the printer via USB to charge, and it'll take you an hour to charge it.
Hands on with the Brother P-Touch Cube Pro
To print the labels, you must connect the P-touch Cube Pro to a PC/Mac via USB, or a smartphone (via Bluetooth). Using the applications was easy, which is something we liked.
P-touch Design&Print 2
The P-Touch Design&Print 2 app offers a wide selection of templates, which are mainly for business uses. You can create custom labels using up to five text boxes, two images, and ten clipart pieces.
The text boxes' content can be OCRed from the images taken via the camera. Plus, it also comes with a provision for utilising Google's translating system.
There's an extensive library of symbols that features office items like a pencil and file cabinet. You'll find tech items like the Wi-Fi icon, a mouse, and a lot more. Of course, random symbols are present like representations of clothing items, accessories, sports, and the like.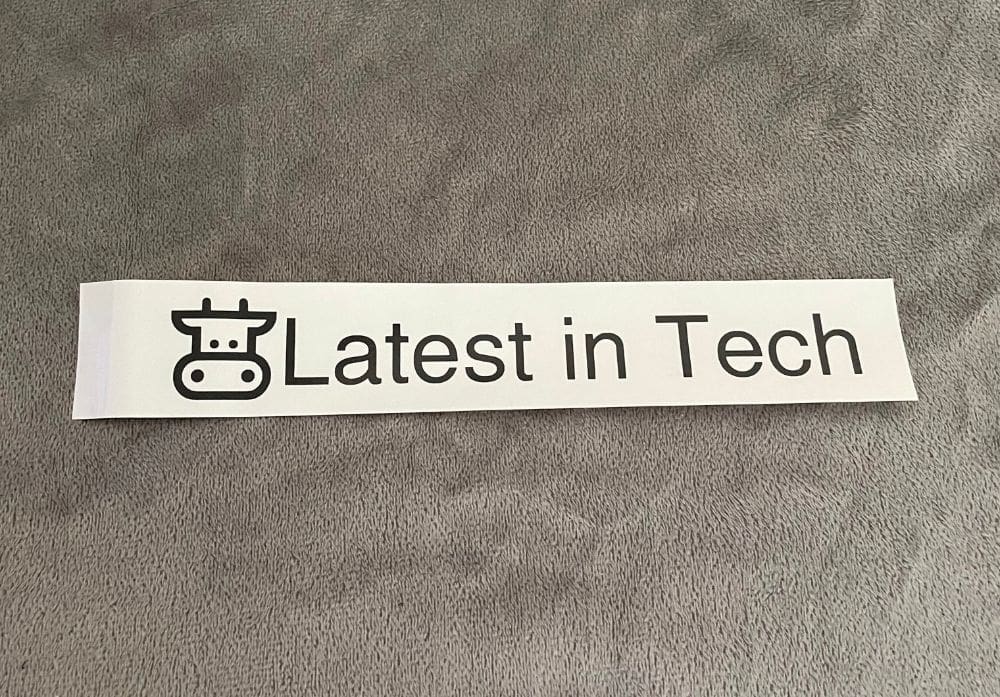 Print Results
When we printed labels at 360dpi, the texts were clear. While you can also print images with the Cube Pro, it's not designed for that. For high-quality photos, make sure to print with them a proper photo printer.
Overall, the results were pleasing. Once you try it, you'll be surprised by how great the P-Touch Cube Pro works when it comes to printing. Even when we tried printing images, they looked good too. Though some prints produced grainy images, it's still all good since you'd need to look close to notice this.
It performed well, there were no issues when we used it, and it's user-friendly too, which makes it even better.
Brother P-Touch Cube Pro Review Summary
The Brother P-Touch Cube Pro is an impressive label printer. It's made for commercial and professional spaces that need high-quality and customisable labels.
What makes it a great product is that it's easy to use anytime and anywhere. Also, you can use a smartphone or a computer to print with it.
If you run a business or plan to use labels for professional branding, the Cube Pro is worth investing in. It's portable, easy to use, and it allows for creating highly customisable designs. Additionally, it's easily adjustable if mass production is necessary.
In conclusion to our Brother P-Touch Cube Pro review, we highly recommend this label printer. It's an excellent inclusion in your workspace.
If you want to purchase this label printer, check out the company's store locator to find authorised retailers.