Cooler Master claims that their MasterBox NR200P Mini-ITX Case offers unlimited options. So, we're going to feature it here in our Cooler Master Masterbox NR200P Mini-ITX Case review to see for ourselves. 
The Masterbox NR200P Mini-ITX case is said to be an impressive mini-ITX case. It makes use of form factors and components in its favour while offering some unique elements of its own. 
These include triple-slot graphics card support, m-DTX & m-ITX motherboard support, and multiple configuration potential. Plus, you can even dismantle the case all the way down to its motherboard tray. 
The product is a promising one, and it looks great too. However, is it as good as what Cooler Master claims?
Today in our Cooler Master Masterbox NR200P Mini-ITX Case review we have the flamingo pink case to show. We'll discuss everything you need to know about it like its specifications, features, performance, and more.
Cooler Master Masterbox NR200P Mini-ITX Case Packaging
This section of our Cooler Master Masterbox NR200P Mini-ITX Case review will focus on the packaging and its contents. 
The case arrived in a very simple-looking cardboard container that shows an illustration of the product in front. Cooler Master's logo can be seen on the upper-left corner, while the unit's name is below the illustration. 
Flipping the package, you'll find more information about the Masterbox NR200P Mini-ITX case. Plus, there's another illustration of the case that shows off its different parts when disassembled. 
Other than the case, Cooler Master included an additional side panel that's even wrapped in its own packaging. We appreciate the company for doing this since it will prevent any occurrences of unwanted damages to the product. 
So other than the mini-ITX case and additional sided panel, here are the other inclusions inside the package. You'll find the usual screws and manuals for installation. Plus, there's also a PCIe x16 riser if you plan to mount the GPU vertically. 
Now, our Cooler Master Masterbox NR200P Mini-ITX Case review will focus on the design and functions of this mini-ITX case.
Cooler Master Masterbox NR200P Mini-ITX Case Review – Design and Functionality
When we unboxed for our Cooler Master Masterbox NR200P Mini-ITX Case review, we immediately noticed its build and design. For the most part, the case was mostly made from painted SECC steel. We love how perfectly the paint was applied since there were no bubbles or imperfections. 
The Flamingo Pink case that we're featuring in this review looks pretty cool too. It isn't flashy nor is it painful to the eyes 
And although it's sleek and simple, the case isn't boring at all. Included with the Masterbox NR200P Mini-ITX case is a tempered glass panel which can help the case increase its aesthetics. This is especially true if there's an RGB-packing system that's installed.
Its mini form factor offers a highly adequate horizontal clearance for an m-DTX board and mid to high-end graphics cards. The chassis is made mostly of steel and it weighs 5.9kg.
Cooler Master mentions that their case has a dust filter at the top panel. However, it's simply a metal mesh. Both of the side panels feature a magnetically-mounted dust filter, and that also goes for its base.
Moreover, the mesh also offers a neat and subtle contrast that complements the case's minimalist aesthetics.
The solo 3.5mm audio jack functions as a combination port for stand-alone headphones, microphones, or IEMs/headsets with integrated mics. To note, all motherboards that feature a front panel header supports this mix without any issues.
The Masterbox NR200P Mini-ITX case offers horizontal and vertical airflow. You can utilise one of these for active cooling depending on your preference and hardware options. 
The bottom portion features a detachable air filter with refrigerator magnetic strips. Its air filter shows that the case is designed to have base-to-top airflow.
When it comes to its steel front panel, it isn't wobbly or shaky despite having easy-to-mount clamps. All four corners of this area utilise a ball-shaped peg. It links itself to the plastic clamps on the Masterbox NR200P Mini-ITX case's frame. 
You can easily yank and pull out the front panel. With that, you won't have to worry about pulling the front panel I/O along with it. 
The front I/O is properly screwed to the case's frame, and there's even mounts for two SSDs. These have adequate numbers of cut-outs to route cables, keeping everything neat and organised. 
The company offered extra grommets and the necessary pegs for mounting mechanical SSDs and HDDs. There are several other mounting options, though this depends entirely on your mounting preference and choice of hardware.
The rear panel of the Masterbox NR200P Mini-ITX case comes with a couple of vents and mounting choices from inside.
Even with the mini-ITX/DTX form factor, these cases require adequate clearance for liquid coolers and GPUs. The three horizontal PCIe slots are great for a mini-ITX system that allows a dual/2.5 slot graphics card. 
If you won't utilise the vertical slots for mounting the graphics card, that's fine. You can install a 92mm fan/radiator for the rear exhaust. 
The case allows you to align the rear fan based on your preferences. This is thanks to the multiple screw mounting options. 
The area around it is vented, which is another reason why it makes sense, especially for mini-ITX boards. Board manufacturers utilise small fans that rest on the VRM heatsink.
Internal Parts of the Cooler Master Masterbox NR200P Mini-ITX Case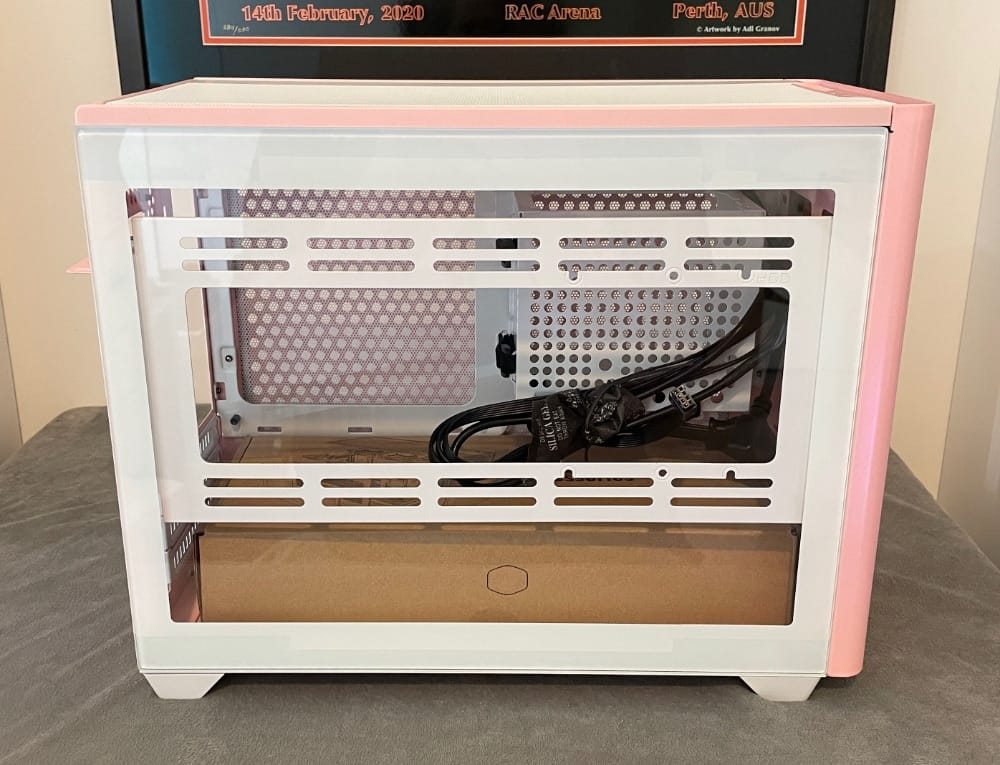 The Masterbox NR200P Mini-ITX case fits standard mini-ITX boards. It also has room for GPUs that are up to 336mm. Plus, it can fit three 2.5" drivers and a single 3.5" HDD.
You can actually put in two of the HDDs, but you'll need to sacrifice the GPU's length. The bottom portion of the case has extra room for mounting two 120mm fans. Yet with a GPU installed, the back fan is limited to just 15mm thick.
Key Features of the Cooler Master Masterbox NR200P Mini-ITX Case
Compact Size with Unlimited Options
This case has a ton of features that are present in bigger ATX cases. And what makes it special is that it sports a space-fitting form factor. 
You can choose from vented steel side panels for continuous airflow. Or, you can go for the crystal-clear tempered glass side panel to display your system's interior. 
The included PCI riser is necessary for vertical GPU installation, especially when showcasing your system through the glass. It's also present to provide adequate airflow from the side with vented panels. 
Three-slot GPU Assistance and Vertical Riser Cable
These triple-slot GPUs are assisted by a total length of 330mm and width of 156mm. This allows the housing of huge high-end graphics cards.
A custom-sized riser cable is present for vertically mounting a graphics card for display. Or, it helps mounting a radiator at the base of the chassis to keep the system running adequately. 
Quick and Easy Tool-free Access
All the external panels like the top-mounted fans and tempered glass, are properly secured with pins for easy removal. This facilitates faster access to the inner portion of the case without having to use any tools
360-degree Accessibility
Every frame and panel that's part of the case can be dismantled with ease. Screws are present to secure the frame parts, allowing advanced disassembly and different angles to better work in the chassis. 
Out-of-the-box Customised Cooling Support
The case has two liquid-cooling pump locations along the bottom and side radiator mounts. With these, you can have a powerful custom water-cooled build even with this compact case.
3D Printable Feet
Cooler Master created numerous variants for the case's feet design. And as a result, you can 3D print different sizes and shapes for the feet. Not only that, but you can even select the colours based on the filaments they're printed with.
Specifications
For its fan mounts, you'll find two of these on top for 120mm fans while the rear supports 92mm fans. The bottom has two fan mounts for 120mm fans. 
The rear supports 92mm radiators but note that it isn't compatible with vertical GPU installations. The bottom portion also supports 120mm, 240mm radiators and is recommended for custom loops only. 
For the sides, it also supports 120mm, 140mm, 240mm, and 280mm radiators. However, do note that it isn't compatible with vertical GPU installations. 
The mini-ITX case also has clearance for CPU coolers. Specifically, these are for 76mm (GPU in a vertical position), 153mm (tempered glass panel), and 155mm (vented steel side panel). 
The case supports SFX and SFX-L power supply units while its PSU clearance is 130mm. 
The Masterbox NR200P Mini-ITX case measures 376 x 185 x 274mm (L x W x H) and weighs 5.93kg. Lastly, it comes with a 2-year warranty from Cooler Master.
Hands-on with the Cooler Master Masterbox NR200P Mini-ITX Case
Of course, we got hands-on with this case for our Cooler Master Masterbox NR200P Mini-ITX Case review. Although the case looks pretty cool and clean, it's important to see how efficient and durable it is. This is especially true when we start adding the essentials to complete our system.
Generally, the case performed well. The case was much easier to build in compared to other small form factor cases thanks to the thoughtful design and extra space.
The case did quite well given that we had the mesh side panel installed. The CPU remained cool and peaked at around 72°C. In addition, the GPU was cooler at just below 63°C.
Though when we used the glass panel, that's when things got a bit warm. The CPU didn't suffer much with an increase of 5°C, but the GPU increased by about 12°C. 
But despite that, everything was still within their safe limits. Especially when you think of how brutal these thermal tests can get.
With that, the Masterbox NR200P Mini-ITX case performed well and only proved that little products can still pack high-end components.
Cooler Master Masterbox NR200P Mini-ITX Case Review Summary
The Masterbox NR200P Mini-ITX is a great PC case with amazing features. Although compact, it's a practical case that offers a lot of options for PC building. You can install a large graphics card, showcase your build with the glass panel, and enjoy superior cooling performance.
Working on this case was quite challenging due to lack of space, but we don't have complaints about this product. That's because it offers room for a wide range of components and the installation process was tool-free.
We also appreciate the perfectly-applied paint on the case. There's no texture to it which some may find boring, but it's excellent for those who want a sleek setup.
It looks great, it performs well, and we're definitely happy with the results we got from this product. We highly recommend this, especially when you want a sleek and clean-looking mini-ITX case that performs well.
Overall, Cooler Master's Masterbox NR200P Mini-ITX is worth the purchase. If you want to have the Masterbox NR200P Mini-ITX case, check out the store locator for authorised dealers.