We've heard about the new CPU cooler from Corsair. So, we've put together our Corsair iCue H150i Elite Capellix CPU Cooler review just for you.
It'll give you all the important details you need to know about the product. These will include its design, features, specs, and how well it performs.
To begin, this product is the Corsair iCue H150i Elite Capellix Liquid CPU Cooler. It offers a robust, efficient, and silent cooling that's ideal for your rig.
It comes with a radiator measuring 360mm, an attractively-bright Capellix RGB pump head, plus three Corsair ML-120 RGB PWM fans. The company also claims that the iCue H150i Elite Capellix performs just as well as their previous model. But will this cooler be as good as what they say?
We'll find out so continue reading our Corsair iCue H150i Elite Capellix CPU Cooler review. But first, let's take a look at its packaging and what's inside.
Corsair iCue H150i Elite Capellix CPU Cooler Packaging
Here in our Corsair iCue H150i Elite Capellix CPU Cooler review, we'll discuss the packaging and contents of this cooler. Let's start with the front area.
What's in Front?
The entire box is presented neatly, and it gives off a somewhat premium feel to it. The front sports a black backdrop with some triangular-shaped patterns going on.
At the top, you'll find the company's name and logo. An image of the H150i Elite Capellix is at the centre, giving you an idea of how it looks.
We can also see that it's an extreme-performance liquid cooler. Plus, it comes with iCue support, as well as tons of Capellix RGB LED lights too.
On the Side
The box's yellow sides have been toned down since they were quite bright from the previous samples. You'll find the product's name there, what it's all about, plus a tagline "Super Chilled" written in black text.
Both of its smaller panels appear identical, and you'll still find the same information written there. These include the company's name and log, another image of the cooler, plus its purpose.
When you look at the box's second longer panel, you'll still find the yellow backdrop present. However, it now displays the cooler's socket compatibility on the far left corner.
While the rest of the panel is left blank, you'll find a list of items that Corsair included in the package.
The Box's Rear
This section of the box is all black now. It features another image of the cooler, followed by smaller images, then a pair displaying the radiator measurements.
On its far right, you'll find a condensed list of the cooler's specifications. On the base of the panel, there's a list of all the features present in this cooler.
Taking a Look Inside
When we opened the box, we saw that the cooler was wrapped securely to prevent any damages when transporting it. We liked how Corsair kept things clean, neat and segregated by including cardboard compartments inside.
All items were segregated accordingly, so you won't have to dig in to find the items you'd need. Other than that, each of the items is kept in a plastic bag. It's to prevent them from rubbing against each other.
One bag holds the Intel mounting hardware. There are 4 LGA 115x – 1200 stand-offs, plus a backplate for the sockets. In the other bag, you will find the LGA 2011 (V3) / 2066 stand-offs that are directly mounted to the socket.
Aside from the iCue H150i Elite Capellix CPU Cooler, there are other items included within the package. These are two ML-Pro RGB Series PWM 140mm fans and a mounting kit for CPU sockets. Also, there are mounting screws for the fans and radiators.Additionally, you'll find a USB cable for the integration of Corsair iCue, a pre-applied thermal compound, plus the quick-start guide.
Corsair iCue H150i Elite Capellix CPU Cooler Review – Design and Functionality
Now, we'll discuss the design and functions in this part of the Corsair iCue H150i Elite Capellix CPU Cooler review.
The iCue H150i Elite Capellix CPU Cooler is the company's first AIO featuring the 360mm style. It has RGBs on both the fans and pumps, plus it's highly feature-focused as well.
Its CoolIT platform is carried over from the iCue RGB Pro XT and RGB Platinum. Corsair even confirmed that its pump cold plate, chamber, and fluid-flow design remains the same.
The fan curves and fan speed are freshly tweaked and optimised to be more efficient and performance-oriented.
Technically, all of the new features present in this cooler is linked to the ecosystem and RGB expansion. The primary upgrade is a pump head that now includes Capellix LED lights.
These are co-developed by Primax and utilise smaller, brighter, and more efficient RGB LED lights. While these are present in other Corsair products, this time marks their debut in the all-in-one liquid cooler spectrum.
iCue Commander Core
The iCue Commander Core is bundled in the package. It lets you leverage the iCue app for controlling the RGB lights, pump speed, and fan speed.
Although this isn't new for the Corsair AIOs, Commander Core comes with six fan headers and RGB connectors for expandability. The design is basic, and it feels just right; plus, it's generally functional and made to be concealed from view. Keeping costs lower in this section makes a lot of sense since you don't need any lavish designs for it.
Do note that there aren't any magnets present. So, you'll have to utilise the 3M tape that is included to set it in place. If you're someone who often tinkers and repositions things in your rig, then this may be a bit troublesome.
More on the Commander Core
This is powered by a SATA 12V connector, and it runs data via standard USB 2.0 header. One side features a bank of x6 4-pin fan headers, plus various fan curves can be utilised on different fans.
The other section has a row of six addressable RGB connectors with four pins instead of your standard three. It's all thanks to the additional data signal pin that helps with timing challenging effects. These are the effects that move from one fan to another.
ML-RGB PWM Fans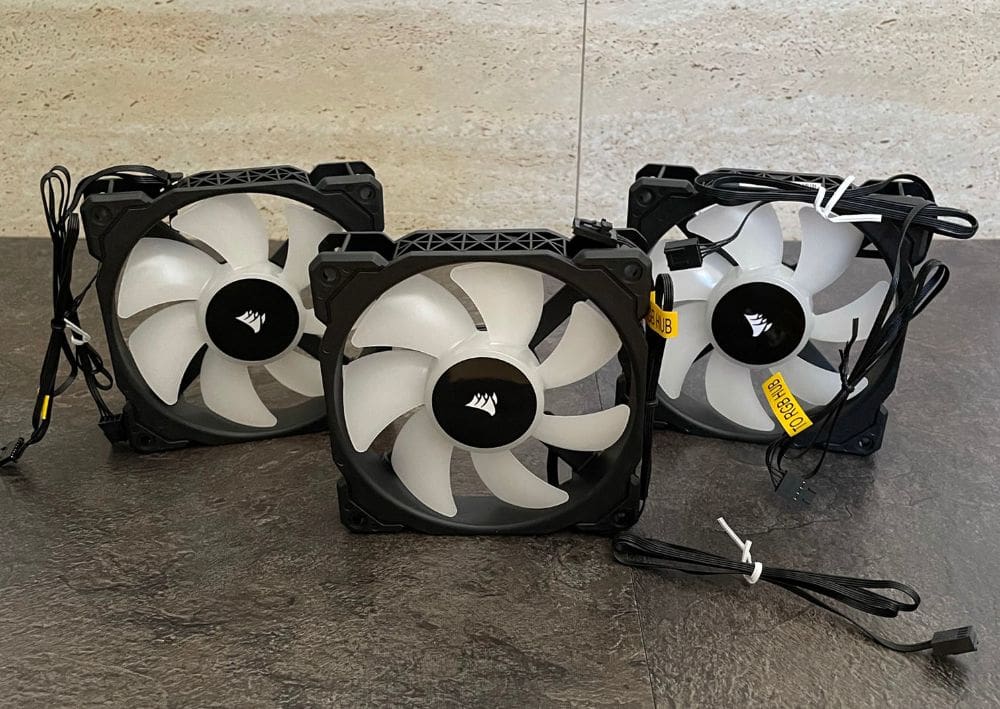 Just like the Platinum RGB coolers, the company deploys their ML-RGB PWM fans. These have a speed range of 400 to 2,400 RPM.
It's technically a wide range that offers you and other users tons of flexibility on the performance and noise scales.
Corsair also doubled their LED count from four to eight per fan. However, these are standard LED lights instead of the Capellix version.
You should remember that the fan and RGB cables are separate, so there's a lot of cabling to deal with.
Key Features of the Corsair iCue H150i Elite Capellix CPU Cooler
This is the part of our Corsair iCue H150i Elite Capellix CPU Cooler review that discusses this cooler's key features.
RGB Pump Head Providing Superior Performance
The H150i Elite Capellix cooler's pump head features 33 RGB LEDs that work with the RGB-lit fans. Adding powerful and low noise cooling makes the system run better with aesthetics.
Split-Flow Copper Cold Plate
With its high-density stack and the excellent cold plate design, this cooler efficiently cools the CPU at all loads.
Low Noise Pump
The iCue H150i Elite Capellix CPU Cooler delivers up to 0.82L/min flow rate while generating below 20dBA sound. With that, it provides extreme cooling and silent operation.
Cool and Stylish Pump Caps
The H150i Elite Cappelix cooler comes with two separate pump caps. The preinstalled one is glossy black, while the included alternative cap is transparent, allowing the LEDs to shine through it.
Turn Your Case into a Smart Case
When you use the iCue Commander CORE, you can control the RGB lighting and fan speed of the cooler's ML fans. It allows you to control up to a total of six fans.
Magnetic Levitation PWM Fans with RGB
Corsair's ML-RGB Series PWM fans provide powerful airflow to keep your CPU's temperature low at all times. Each fan has eight RGB LEDs for cooling with aesthetics.
Mode: Zero RPM
Corsair iCue Software lets you set Zero RPM cooling profiles. When you set this mode on, the cooler's fans will completely stop when temperatures are low. With that, you can eliminate fan noise and enjoy silent cooling.
Easy and Quick Installation
The modular mounting bracket lets you easily install the H150i Elite Capellix on all modern AMD or Intel sockets.
Powerful iCue Software
Using iCue software, you can adjust various settings like fan or pump speeds, RGB lighting. Also, you can keep track of the temperatures of your CPU and coolers through this single interface.
Specifications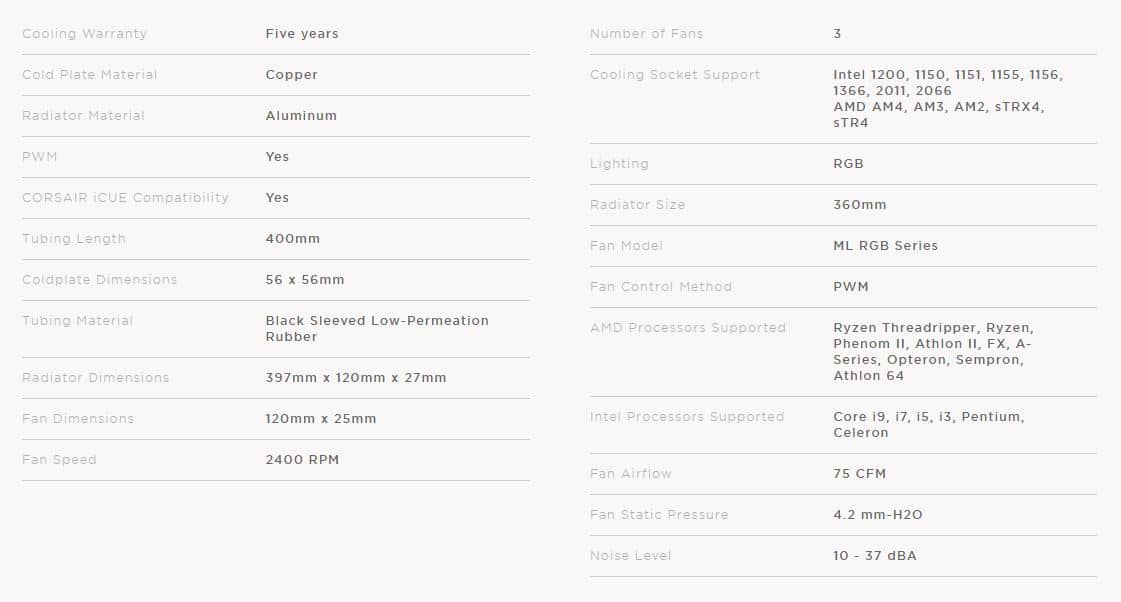 This part of our Corsair iCue H150i Elite Capellix CPU Cooler review that talks all about the cooler's specifications.
The cooler has a micro-skived copper cold plate that measures 65mm. It comes with an aluminium radiator as well, which is 360mm in size.
There are three Corsair ML-Series RGB PWM fans that are 120mm in diameter. They also have speeds of 400 to 2,400 RPM, with 0; 10 to 36 dBA noise levels.
This iCue H150i Elite Capellix CPU Cooler comes with multi-zone Capellix LED lights: 33 LEDs and 21 zones. It utilises the Corsair iCue Commander Core for the PWM fan speed and RGB lighting.
Supported sockets include the Intel LGA 1200, 115x (1150, 1155, 1151, 1156), and 20xx (2060, 2011, 2011-3). Additionally, it supports AMD AM4, sTRX-4 and TR-4.
The iCue H150i Elite Capellix CPU Cooler comes with a 5-year warranty.
Hands-on with the Corsair iCue H150i Elite Capellix CPU Cooler
This is the part of our Corsair iCue H150i Elite Capellix CPU Cooler review that focuses on the cooler's performance. But before we take a look at how it works, let's check out the iCue software.
iCue Software
The first thing we did was download and install the latest iCue software. Then, we had it run to see the latest additions in its Home Tab.
We didn't only see the iCue H150i listed as one of its controllable devices. The iCue software even recognised other elements installed in our rig. So basically, these can be conveniently controlled and managed using a single software suite.
This is definitely convenient and a huge plus for every Corsair user since it removes any software conflict. And, it can now be considered a one-stop-shop for anything RGB LED-related in your system.
iCue Controls
When you click on the H150i icon from earlier images, we're brought to the cooler's controls. Specifically, this is where you can opt for the default profile, or start changing elements to your preferences.
You can simply leave the default profile as is, or add more custom profiles as you want by clicking on "+".
On the right, you'll find the pump speeds and fans which are set to Quiet Mode out of the box. You'll find a live view of the RGB head unit display, while on its right is the coolant temperature. This part can be found within the loop.
Lighting Setup Tab
When you go to the Lighting Setup Tab, this is where you can control everything for the lighting. While the pump doesn't currently display the lighting, it's because the specific tab focuses only on the fan.
Each of the fans displays a different shade to ensure that you linked them properly to the Command Core. Here, you can choose the fan type, or utilise the auto-detect method as well.
The next option are lighting effects. There are predefined, custom, plus lighting link options available. Not only that, but there are 21 zones plus 30 RGB LEDs in the unit too.
In addition, options to control all of them are available, and you can manage them to the finest detail. When it comes to the fans, they're also the same, but to the tune of eight RGB LED lights. Despite that, each of the fans can still be controlled individually, which is great.
Performance Tab
This tab focuses on fan speed and pump speed settings. When you click on Balanced, Quiet, Extreme, or Zero RPM, shift to the right then click on fans or pump.
However, do note that the pump can only be set to Balanced, Quiet, and Extreme.
You can also change the fan curves, then set the fans with 100% speed. Yet for maximising the pump to deliver 0.82l/h, you'll need to set it to Extreme settings.
Graphing Tab
This is the tab that lets you monitor the pump speed, fan speed, and coolant temperature.
Click on one of the items on the window that's present above. When the dropdown appears above the chart, choose the graph's polling rate.
Notifications Tab
The Notification's tab was left blank when we checked it, so we moved on to the Settings tab instead.
It lets you control the LED's brightness, limit software controls, check firmware updates, and run port detection. The latter's to help verify that the Commander Core is linked to the cooler.
At the bottom, you can change the language, thermal scale, log & clear logs, restart iCue, and enable options. It's also the place to check for the software updates.
Performance
After setting up H150i Elite Capellix and the iCue Software, we tried using the cooler. During our tests, we saw that its performance matched and often bested other top-selling 360mm models on the market. The cooler kept the CPU running nice and cool and even under load there were not overly high temps observed.
Next, we used the cooler with the Commander CORE unit. We were able to manage the pump speed, PWM fan curves, and even the cooler's RGB lighting.
We expected that reduced fan speed would negatively affect its cooling performance, but it didn't. In fact, this AIO cooler still managed to keep our CPU's temperature low. Also, it delivered the best thermal performance compared to other coolers we've previously tested.
When it comes to the fans' RGB, these lit up beautifully. The lighting diffused evenly in the fan blades, and the accuracy of the colours was impressive. For the lighting effects, we enjoyed seeing the smooth slow transitions.
These didn't appear choppy with the H150i Elite Cappelix, unlike what we've seen in other coolers.
Overall, the H150i Elite Capellix CPU cooler delivered excellent performance in terms of cooling and RGB lighting. With that, we can say that this is one of the best coolers today.
Corsair iCue H150i Elite Capellix CPU Cooler Review – Summary
The iCue H150i Elite Capellix is the ultimate choice among today's all-in-one coolers. It's not only appealing to the eyes, but it also comes with superior performance. Setting it up was a breeze, and throughout our tests, it kept our CPU's temperature low.
Aside from aesthetics and performance, this cooler also comes with the iCue Software. This program is easy to use and provides limitless customisation options. If you're a fan of RGB this software also makes it one of the excellent options on the market.
In conclusion to our Corsair iCue H150i Elite Capellix CPU Cooler review, we highly recommend this product. If you want to get your hands-on this cooling system, check out the company's store locator for authorised dealers.