EPOS is one of the names that have been around for years. But when it comes to the gaming audio market, the brand is relatively a newcomer. Today, we're bringing you our EPOS B20 Streaming Microphone review, which focuses on their B20 microphone. 
It's a cylindrically-formed mic that's discreet and designed with three ECM microphones for variable pickup patterns on hardware levels. The B20 is aimed at content creators and streamers who want to enhance their setup without compromising any gaming features. It's also a high-quality, 4-pattern, and digital plug-and-play USB streaming mic that will optimise your gaming experience. 
Now, our EPOS B20 Streaming Microphone review will provide you with details to know more about this streaming mic. Let's start with its packaging. 
EPOS B20 Streaming Microphone Packaging
The B20 streaming mic came in a premium-looking box that gives off a professional aesthetic. In front, you'll find a huge image of the microphone on display. Then, EPOS and the mic's name are written on the box's upper-right and lower-left corners, respectively.
Various details about the B20 are written on each side of the package, while the rear has more information available. This section displays another image of the microphone yet has detailed descriptions of each part's uses and functions. Plus, there's information describing the B20 as a whole.
Looking inside the box, you'll see that the company kept things neat and organised, which we appreciate. They also didn't skip on protecting the microphone since these are known to be sensitive. 
With that, EPOS did their best to add thick foam to cushion the B20, guaranteeing its safety and protection. They even included a touch of felt to give you a more premium experience when unboxing.
Other than the microphone, you'll also find a little circular base stand inside the box. There are even screws to hold the product in place. Other than these, there's a USB-A to C cable, a few documentations, plus safety information as well. 
The company made sure to keep to the necessities instead of loading the package with unnecessary accessories. But thanks to the cable that's 2.9m long, it's possible to set the microphone anywhere within the setup.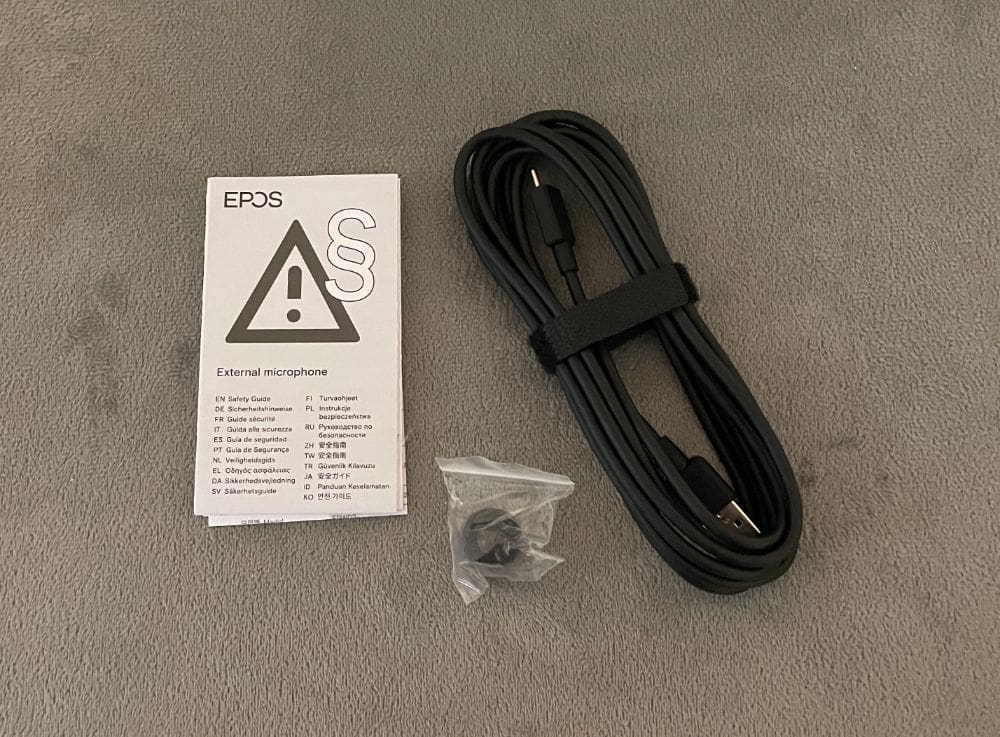 Now, let's look into the mic's design and functionality here in our EPOS B20 Streaming Microphone review. 
EPOS B20 Streaming Microphone Review – Design and Functionality
One of the goals of EPOS with the B20 is to make it look good and sound excellent during streams. With its aluminium frame, the mic gives off a sleek, neat, and professional look.
The B20 streaming microphone is built with two parallel aluminium cylinders that are connected at a point. Specifically, it's 2/3 down the more expansive of the two. 
The smaller aluminium cylinder functions as a mounting stalk by linking it to the circular base. It can also work on a 3/8″ threaded mic stand. The bigger cylinder is the B20's body itself. 
The B20 comes with four on-microphone controls: the gain, mute, volume, and pickup pattern switch. All the controls are self-explanatory, except for the latter, which lets you switch between four broadcast modes of the B20.
All the buttons are adequately integrated; plus, they're easy to use, letting you make changes in a snap. It's extremely handy because of the mic-gain adjustments that every streamer or gamer will consider as a huge plus. 
The base of the microphone is where the USB-C input is. It's also where you'll find the 3.5mm jack input for linking headphones. If you're searching for the product certification details, you'll find them in this area as well.
This microphone allows audio passthrough. It means that you can plug in headphones to the mic without experiencing any interruptions. 
The overall design and functions are impressive, and the B20 is one of the most attractive broadcast-quality microphones available. Our EPOS B20 Streaming Microphone review will now showcase the microphone's key features. 
Key Features of the EPOS B20 Streaming Microphone
Our EPOS B20 Streaming Microphone review will now focus on the product's key features.
Quick and Easy Setup
The B20 is a plug-and-play streaming mic that connects to your laptop or PC via USB. Once you plug it in, it's ready to use. You won't need to deal with a long and complex setup process.
Four Pickup Patterns
The B20 lets you choose from four different pickup patterns, including stereo, cardioid, bi-directional, and omnidirectional. Having all of these options allows you to have the optimal recording setup. This versatile mic has the best pickup patterns for solo streaming, partner broadcasting, and all other recording scenarios.
With its built-in headphone jack, you can monitor your settings in real-time and make quick adjustments using the integrated controls.
Studio Broadcast Quality
The microphone captures audio at 48kHz, which can reproduce the whole frequency range audible for humans. It utilises 24-bits of resolution instead of the more standard 16-bit. 
It's 256 times precision, offering a rich, clear, and dynamic audio signal in-studio broadcast quality. This captures all nuances of your voice. 
Sleek Design
The B20 streaming mic is not only powerful, but it has a sleek, elegant design. It features an aluminium body, and its LED status indicator naturally blends in.
Customise Your Streaming Mic's Setup
You can position the B20 at any angle, whether you need it facing up, down, or sideways. It also comes with a desk stand, and it has a fitted standard 3/8″ thread. 
With these accessories, you can keep the mic steady on the desk or mount it securely on a boom arm.
Easy Audio Adjustment for Balanced Recording
The B20 streaming mic features an integrated gain wheel. Using this, you can adjust the amplitude of the audio that your mic records. However, take note that increasing the gain too much may cause your recording to be distorted. On the other hand, setting it too low will make it difficult for the mic to pick up your voice.
This gain wheel lets you easily find the perfect balance for your recording. For additional adjustments, you can launch the EPOS Gaming Suite.
Fine-tune Your Sound with EPOS Gaming Suite
The EPOS Gaming Suite is a free, downloadable software where you can further tweak your mic's settings. You can customise recording and playback EQ> noise gate levels, reverb, and gain. If your headset is connected, you can toggle between 2.0 stereo and 7.1 surround sound.
Specifications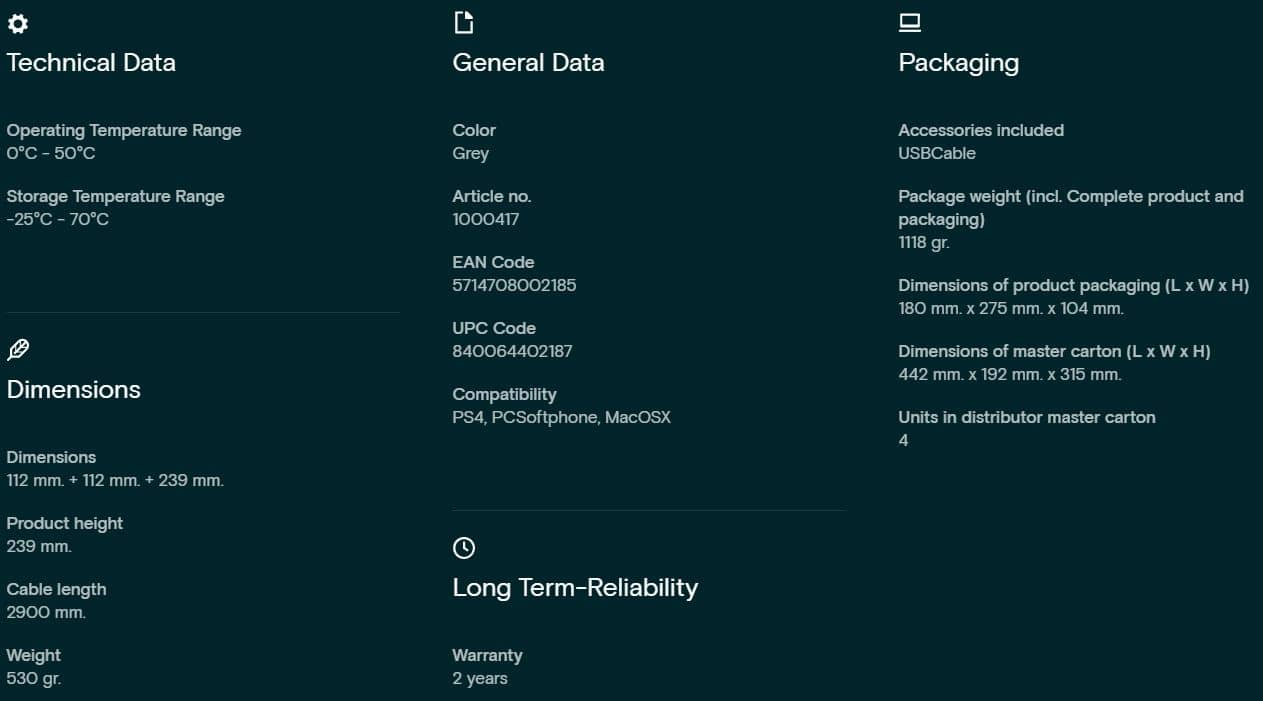 This time, let's take a look at the B20's specifications in our EPOS B20 Streaming Microphone review. 
The B20 is a condenser-style microphone featuring three condenser capsules. It sports a cardioid, omnidirectional, bi-directional, and stereo pickup. Plus, the product has a frequency response and sensitivity of 50-20,000Hz and -37 dBV/PA, respectively.
The capture rate is at 24-bit – 48kHz while utilising a USB built-in 3.5mm jack for its connectivity. 
This microphone stands around 20cm tall when you link it to the stand vertically. Alone, the B20 roughly measures 16 x 5cm (H x W).
Hands-on with the EPOS B20 Streaming Microphone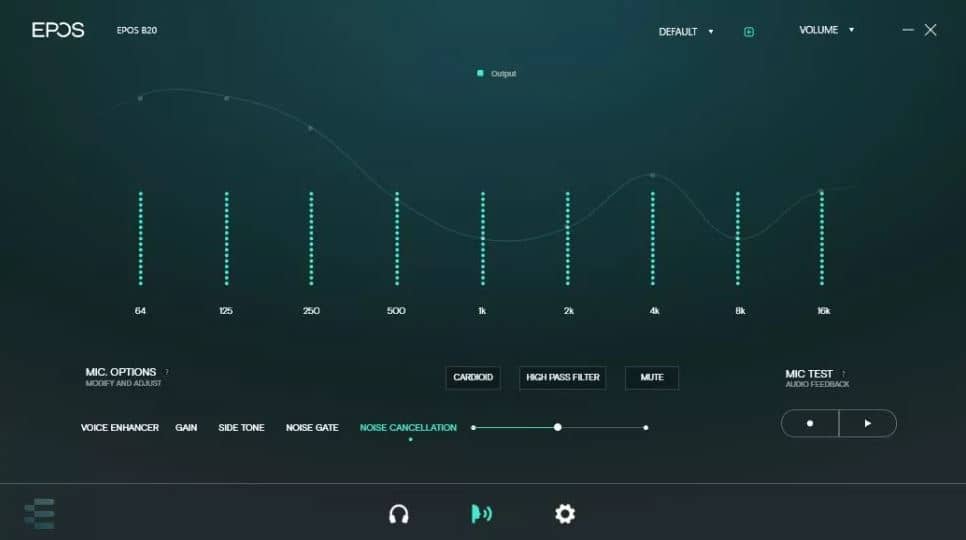 We're getting more in-depth with the mic in our EPOS B20 Streaming Microphone review, so let's check out its performance. But first, let's take a look at the Gaming Suite from EPOS.
The EPOS Gaming Suite is the company's software for tweaking the B20 streaming mic. Launching the software isn't necessary while using the mic. However, you'll have to use it when adjusting EQ profiles and testing your recordings. 
Before you can do that, you'll need to install EPOS Gaming Suite, which is downloadable from the company's official website.
Additionally, this software lets you enable additional features like noise gate and sidetone. You can even create unique EQ settings for your mic to suit your streaming setup. As mentioned earlier, you can test your recordings by playing back a short snippet of audio.
In the EPOS Gaming Suite, the settings are stored on a profile basis. These are in a drop-down menu on the interface's top-right corner. 
The four default profiles include Music, Movie, Flat, and Esport. These cannot be edited and overwritten, but you can create new profiles to adjust anytime.
Once you plug the B20 streaming mic in, it will register in the Suite's settings tab as a device. This will make the microphone icon at the bottom of the window active. Clicking on the icon leads to a new tab that displays the software functionality.
Here are the different settings that you'll find for the microphone:
A handy feature of the Gaming Suite is its Voice Enhancer. It makes use of the pre-defined equaliser settings to fine-tune vocal inputs, making them warmer and clearer. Or, you can go for a custom preset instead. 
The clear presents emphasise the highs, while warm presents enhance the lower frequencies. 
This is the volume of the vocal output via the mic. Increased gains are louder but tend to boost underlying levels of noise. 
Turning the gain knob on the mic adjusts the setting. With future updates on the firmware, the dial will be less sensitive than it currently is. 
When you plug a headset into the B20, you can use a zero-latency sidetone. Doing this will allow you to hear the input of your microphone. 
In addition to that, the volume is adjustable in case it becomes distracting on your part. 
Noise gate cuts off the sound that falls below a specific volume level. It's good for filtering out background noise and keystrokes too. 
With that, you definitely need to significantly customise the settings to make it worthwhile. 
The noise-cancelling feature filters repetitive, low-level noise such as hisses, hums, and the like. This feature can be useful when you're operating at high gain levels. However, do note that the feature has its limits, such as being unable to remove keypresses for the mechanical keyboard. 
The software has two noise cancellation levels which operate together with the Noise Gate. These help decrease repetitive background sounds. 
Using the cardioid pattern, the B20 captured vocal inputs with midranges and warmth that's perfect for broadcasts. The mic will work ideally for Twitch broadcasts, considering their standards for compression.
The B20 also fares well when it comes to decreasing pops and levelling out the volume. That's because the algorithms of EPOS are great for keeping a palatable and excellent sound for high gain inputs. 
However, the B20 streaming microphone shines even more during solo streams. Its stereo and cardioid options offer a single voice the best chance to broadcast with sheer clarity. 
Moreover, voice quality is enhanced in any work-from-home meetings since the mic delivers broadcast-quality that's similar to an XLR mic. What makes it even better is that this can be achieved with the functions and customisations of a USB-C mic. 
Overall, it was a great performer, and we didn't have any issues with it. The Gaming Suite was just as good and easy to use, so don't worry about any technical stuff. 
EPOS B20 Streaming Microphone Review Summary
Before ending our EPOS B20 Streaming Microphone review, we're sharing what we think of this product.
Like the headsets they've released, EPOS' first microphone is an excellent product. The B20 is an impressive all-around streaming microphone that records clear and crisp sounds excellent for streaming and podcasting. 
Aside from giving good recording quality for most situations, it's a user-friendly product that makes streaming much easier. Plus, it has all the convenient features that streamers and gamers need, like its plug-and-play design and integrated controls.
Overall, this is an excellent mic, and we recommend adding it to your streaming setup. If you want to have this streaming mic, it's available for online purchase via the company's official website.