Today, we will look at the open-ear version of the H6Pro here in our EPOS H6Pro Open Headphones Review. 
The H6Pro is an ideal headset to give you all the advantages during gaming. It lets you enjoy an expansive and immersive soundstage, offering you the finest and most realistic audio experience. 
This headset also features a detachable boom mic and other notable attributes. To learn more about this product, continue reading our EPOS H6Pro Open Headphones Review. Get information on its features, design, functions, specs, and how it performs. 
EPOS H6Pro Open Headphones Packaging
EPOS ships the H6Pro with the product image and branding in a premium-looking box. At the back, you will find more details about the headphones. The H6Pro has three colour options, and the packaging matches your chosen product.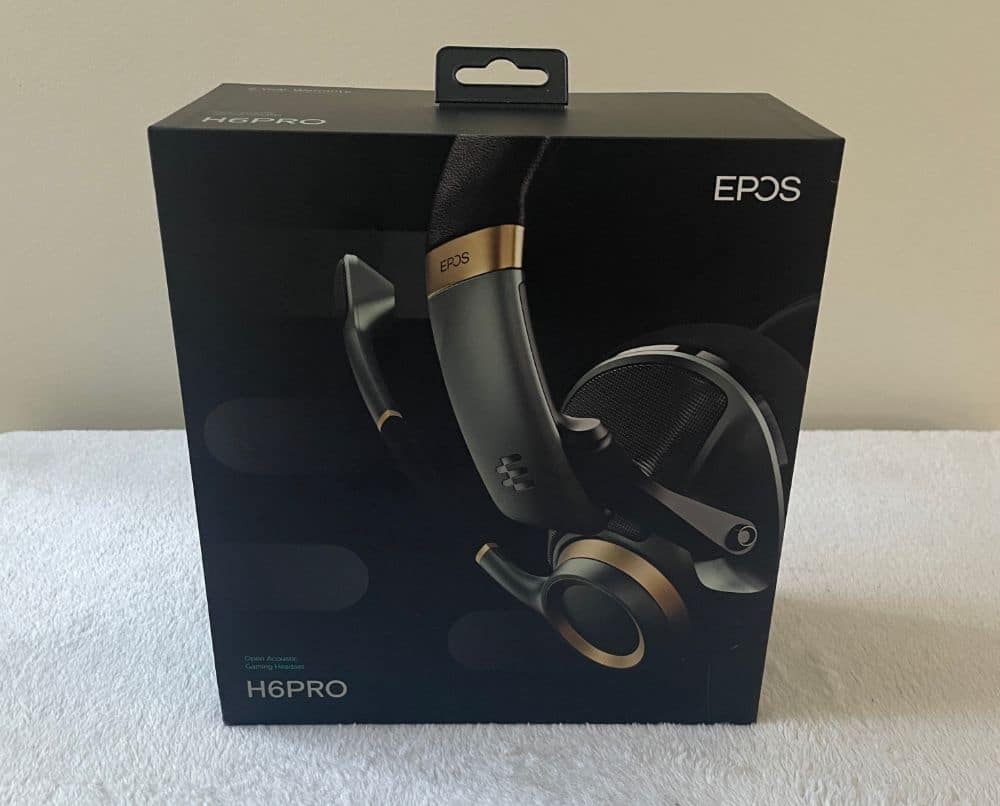 Inside, you will find the following items with the H6Pro:
GSA 30 Console Cable

GSA 30 PC Cable

Two H6Pro Covers

Quick start guide

Safety guide
EPOS H6Pro Open Headphones Review – Design and Functionality
When we first looked into the product for our EPOS H6Pro Open Headphones Review, we saw its various colours. You can choose from Ghost White, Racing Green, or Sebring Black. All these are premium-looking, and anything you choose will blend nicely with your aesthetics.
Style and comfort are the two aspects that make the H6Pro shine. It sports a solid build combined with a premium look and feel. Plus, it is lightweight without feeling flimsy.
It also comes with some decent padding and a flexible headband. We love its hinged ear cups to guarantee quick turning and tilting, giving your ears top-notch clamping force. 
Moreover, it sports a D-shaped ear cup that perfectly fits over your ears. It uses soft padding different from the faux leather pad on the closed model.
EPOS H6Pro Open Headphones Microphone
The headphones come with a detachable boom arm bi-directional mic that can deliver natural-sounding quality. It blocks out external noise and picks up plosives and mouth wind. 
Since the mic is flip-to-mute, you will hear an audible click to notify you when you muted it correctly. You can also detach the mic entirely if you do not want to use it for specific activities.
Let us continue our EPOS H6Pro Open Headphones Review and discuss its features. It comes with a list of notable aspects that make it a favourite. But are these enough for your needs and preferences? 
Let us find out.
Key Features of the EPOS H6Pro Open Headphones
Microphone with Detachable Lift-to-mute Boom Arm
Enjoy crystal-clear communication with teammates using the boom microphone with a longer, slimmer design for improved voice pick-up. It also has a lift-to-mute function for your convenience. 
You can remove the boom arm if the microphone is not in use. EPOS included a cover plate in the package for the slot for inserting the microphone.
Open Acoustic Design
With an open acoustic design, these headphones offer a realistic and expansive soundstage. Game audio is lifelike without listening fatigue.
Speak and Listen Naturally with the EPOS H6Pro Open Headphones
The open-back design allows you to stay aware of your surroundings while hearing your natural voice.
Compatible with all Major Platforms
EPOS included two cables to allow you to use the H6Pro with many devices and platforms. These headphones will work with PC, Mac, PS4, PS5, Xbox One, Xbox Series X|S, and Nintendo Switch.
Immersive Audio of the EPOS H6Pro Open Headphones
When we tested the product, one of the first things we noticed was its immersive sound. However, we will discuss this later in our EPOS H6Pro Open Headphones Review.
EPOS ensures audio perfection when producing headphones. With the H6Pro, you can immerse in realistic audio while enjoying the superior comfort provided by its ergonomic design. 
The company carefully crafted the transducers to deliver authentic, high-fidelity audio. Its redesigned lightweight headband with better cushioning raised the standard for open acoustic gaming.
Superior Ergonomics and Comfort with a Lightweight Design
These headphones allow you to enjoy endless gaming sessions since they offer excellent comfort. The H6Pro has a slim headband with enhanced padding for unparalleled support. Plus, the 2-axis hinged ear cups contour to the ears for a perfect custom fit.
Unparalleled Audio Reproduction
The H6Pro delivers captivating audio with its finest transducers, making sound immersive and expansive. It also reproduces all nuances, making any track more detailed than we knew. Plus, it has an open-acoustic design for the highest level of ventilation to keep your ears cool and comfortable.
Plug-and-Play Headphones
Once you get the H6Pro out of the box, connect it, and you can enjoy the premium sound. It works optimally without the need to tweak audio settings. 
Audiophiles who want to customise their sound can connect the headphones to an external USB sound card. The compatible units from EPOS include GSX 300, GSX 1200 PRO, and GSX 1000. You can customise audio via the EPOS GAMING SUITE via an external sound card.
Specifications
Transducer Principle:

Dynamic, Open

PC Cable:

2.5m

Weight:

309g

GSA-30 Console Cable:

1.4m (GSA-30 PC Cable/GSA-30 Console Cable)

Compatibility:


PS5TM, Xbox One, PC, Mac, PS4TM,  Xbox Series X|S, Nintendo Switch, and devices with 3.5 mm jack input

Warranty:

2 years, international

Driver Size:

42mm

Impedance:

28 Ω

Frequency Response:

20 to 20.000Hz

Microphone Frequency Response:

100 to 10,000Hz

THD:

Lower than 0.5% @1kHz 1V RMS

Sensitivity:

111dB SPL @ 1kHz 1V RMS

Pick-up Pattern:

Bi-directional

Sensitivity:

-35 dBV/Pa @1kHz

Style:

Detachable
Hands-on with the EPOS H6Pro Open Headphones
We tested the headphones for our EPOS H6Pro Open Headphones Review and used them for a week. The 42mm drivers and open-back design deliver a pleasing stereo aural experience. 
However, it is worth noting that its bass is heavy, while the low end is not overpowering. Naturally, your personal preferences will be the determining factor.
Since it is a pair of open-back headphones, it allows some surrounding sound to enter. However, it is different from other similar products we tried.
It strikes a nice even balance of giving us an open sound profile. And it is without letting external sounds spoil the listening experience.
In these categories, the H6Pro provided us with enjoyable audio for movies, games, and music. 
It did not have surround sound like other headphones we used. However, it still delivered excellent audio and a convincing soundscape for listening enjoyment. Moreover, positional audio was adequate, assuming our game was well-mastered. 
Additionally, although the H6Pro exhibits a slight boost in low-end frequencies, its drawback is its maximum volume output. Even in a relatively quiet room with occasional daytime street noise, we cranked the headset to its maximum. We had to do this to achieve the desired sound level that suited our preferences. 
Consequently, if you are frequently in noisy environments or enjoy listening at high volume levels, you may find its volume too low.
Despite its predominantly plastic construction, the headset exudes a durable, high-quality feel. It maintained a snug fit on our heads for extended periods without sacrificing comfort. 
The audio performance of the H6Pro is impressive, particularly if you appreciate a touch of extra bass impact. Furthermore, you must provide your customisation software if you desire EQ adjustments.
Also, even with some low-end thump, the headphones did not play audio loud enough. 
Microphone Performance
The microphone is an essential part of any gaming headphones. During our tests, we were surprised by its high-quality sound and performance. 
Our teammates could hear us loud and crystal-clear, and our recordings had minimal distortion. Also, our voices were natural-sounding, even without audio adjustments. 
EPOS H6Pro Open Headphones Review Summary
The H6Pro from EPOS is a pair of high-quality headphones that should be in your gaming arsenal. If your gaming spot is in a quiet room, its open-back design makes it perfect for natural-sounding, immersive game audio. This product is one of the best headphones at this price point.
One of the best things about its open-back design is that it stays comfortable even during long gaming sessions. Plus, the hinged ear cups contour to the shape of your ears, resulting in added comfort from the custom fit.
We had an enjoyable listening experience when we tested the product for this EPOS H6Pro Open Headphones Review. As open-back headphones, it does not eliminate ambient sound, but it delivers top-notch audio quality that is highly immersive. These specialty headphones are best used in quiet rooms to avoid disrupting noise. 
Although these headphones are plug-and-play and do not have customisable settings, we have no complaints. The H6Pro offers high-quality sound out of the box, regardless of the console we use it with.
We highly recommend the H6Pro for its superior comfort, excellent design, high-quality microphone, unique features, and ease of use. Plus, it is compatible with many consoles and devices, making it a versatile pair of headphones. Most importantly, it delivers superior audio quality, making playing video games and listening to music more enjoyable.
Learn more about the H6Pro Open Headphones when you visit the official product page of EPOS.