There are tons of fitness trackers out in the market, but which one's the best among them? Here in our Fitbit Inspire 2 review, we'll talk about one of the best performers out there.
The Fitbit Inspire 2 is a replacement to the company's Inspire and Inspire HR trackers launched a couple of years back. It's a fitness tracker that leans close to the same formula, and design yet adds many new features.
Today in our Fitbit Inspire 2 review, we're going to discuss everything about the Inspire 2. We got the white one, and it looks classy and sophisticated despite its simple design.
Our review will talk about its design, features, and how well it performed during our tests. If it piqued your interest, join us in exploring all the vital elements that make up the Fitbit Inspire 2.
Fitbit Inspire 2 Packaging
Before we get into its performance, we'll discuss its packaging and contents here in our Fitbit Inspire 2 review.
Since we opted for the white version, the Inspire 2 came in a clean-looking light grey and white package. In front, the centre of the box displays an image of the fitness tracker. On the upper-left corner of the box, Fitbit and its logo are present.
Below the image, Inspire two is written. To its right, the primary functions of the product are noted as well.
At the base, a white strip is present to highlight the words, "includes 1-year premium trial". This is a good inclusion for buyers, and we're pretty happy about it.
In the package, the Fitbit Inspire 2 comes with both small and large classic wristbands, plus a charging cable.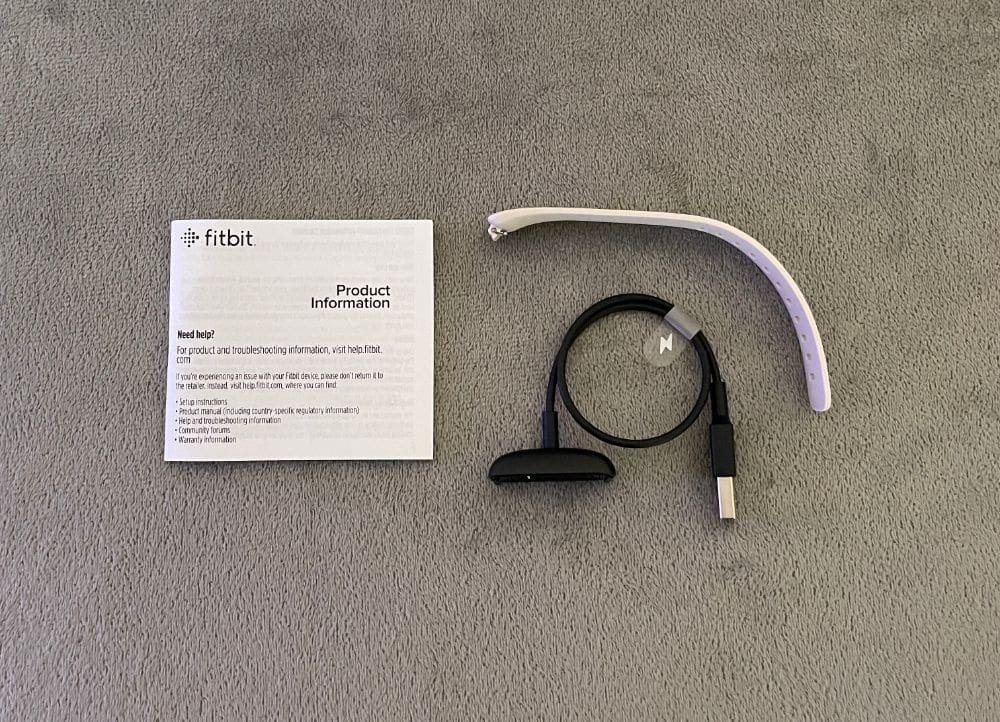 Fitbit Inspire 2 Review – Design and Functionality
As we go further into our Fitbit Inspire 2 review, let's first discuss its functions and design.
The Inspire 2 fitness tracker is a slightly bigger product than the Inspire HR. This allows you to enjoy bigger battery life while retaining the unobtrusive design of its predecessor.
Its form has trimmed down slightly, and it comes with removable bands to let you accessorise depending on your style.
Fitbit has a collection of Inspire band options, including the steel mesh and Horween-leather style. If you prefer using the tracker within a clip, you definitely can.
The notable design change on the Inspire 2 was the physical button's removal which was present on the original Inspire. The company did this too for the Charge 4 and their recent Versa & Sense watches.
The Inspire still has its water resistance feature, which means you can submerge it up to 50 metres deep.
The Inspire 2's screen has a greyscale OLED display that looks slightly sharper and not so washed out. You can brighten the display for enhancements.
Right out of the box, the Inspire 2's screen is in dim mode. However, you can easily switch it off in the band's settings. Doing this boosts the brightness to improve visibility, especially when outdoors.
Key Features of the Fitbit Inspire 2
This time, our Fitbit Inspire 2 review will discuss the different features available for this fitness tracker.
Free Fitbit Premium Trial
When you get the Fitbit Inspire 2, you can enjoy a free trial of Fitbit Premium for a year. It comes with personalised insights, advanced sleep tools, guided programs, health metrics trends over the previous month, and more.
24/7 Heart Rate
The 24/7 heart rate feature helps in maximising your exercise sessions. It lets you see heart rate zones, estimate calorie burn, and track sleep stages.
Breathing Rate
The Inspire 2 allows you to automatically measure your breathing rate while sleeping. This will help you understand your wellness and determine if any signs of significant changes. With the Health Metrics dashboard, you can check out your nightly average and trends over the past week.
Sleep Score
Sleep Score lets you see how well you slept. With that, you can keep track of your trends over time and celebrate your progress when waking up more energized.
Swim-proof and Swim Tracking
Inspire two is swim-proof and water-resistant. That means you can wear it in the shower or pool. Plus, the Inspire 2 can automatically track how long you've been swimming.
Heart Rate Variability (HRV)
Track heart rate variability or the variation of time between each heartbeat. By monitoring your HRV, you'll see if your body shows potential signs of fatigue, stress, or illness.
Food Logging
With the Fitbit app, you can monitor your diet by logging your meals. By doing this, you can compare the calories you've consumed and burned as you aim for your goals.
Menstrual Health Tracking
Better understand your body by using Inspire 2 with the Fitbit app. You can monitor your cycle, record symptoms, and more.
Reminders to Move
Get notifications that remind you to stretch your legs and take 250 steps every hour.
Next on our Fitbit Inspire 2 review, we'll look into the different specifications of the fitness tracker.
Specifications
Sensors, Components, Battery, and Power
The Inspire 2 has a 3-axis accelerometre, an optical heart rate monitor, and a vibration monitor. For its battery, it can last up to 10 days. However, d note that its battery life and charge cycle varies with how you utilise it.
We highly recommend that you charge the Inspire 2 every couple of days to guarantee that you're always tracking.
The product utilises a lithium-polymer battery that takes up to two hours for its charge time. For its radio transceiver, it uses Bluetooth.
Water Resistance and Compatibility
A great aspect about the Inspire 2 is that it's water-resistant up to 50 metres which is great. The Inspire 2's operating temperature is from -10° to 45° C, while its total operating altitude is 8,534m.
For compatibility, the tracker works with Apple iOS 12.2 or higher and the Android OS 7.0 or higher.
Sync Requirements
The Inspire 2 has a syncing range of up to 30 feet. However, do note that some features such as smartphone notifications might need Android 7.0+.
Of course, you'll need Bluetooth LE and a good internet connection to successfully sync it.
Band Size and Measurements
The small band of the Inspire 2 can fit wrists that measure 140 to 180mm in circumference. For the larger one, it can fit wrists with a circumference of 180 to 220mm.
For its dimensions, the Inspire 2 measures 3.7 x 1.68 x 1.29cm (L x W x H).
Now, let's get more in-depth with this fitness tracker in our Fitbit Inspire 2 review, and focus on its performance.
Hands-on with the Fitbit Inspire 2
Let's begin with setting up the product. The first thing we did was download the application, which is available for both iOS and Android. From there, we created a Fitbit account, but if you already have one, you can just log in.
From there, tap the profile image. There, choose "set up a device", choose Inspire 2 from the options, and then follow the provided instructions.
Once done, the application will provide an overview of Inspire's primary features. It also offers an overview of how to change the band and how to go through the interface.
To get texts, calls, and application notifications on your tracker, check your phone's settings. There, choose Bluetooth, then tap the information icon beside your device. Enable "Share System Notifications".
From the "today" tab in the Fitbit application, press your profile image, go to Inspire 2, then choose notifications. Here, you can toggle on the notifications you want to receive. It's easy to set up, and the whole interface is user-friendly, so you definitely won't have a difficult time.
Like pricer fitness trackers, the Inspire 2 has an efficient auto workout tracker for specific exercise types. Of course, we could still start a workout from the exercise application right from our wrist.
We tested its Active Zone Minute feature. It accurately monitored the time we spent in the cardio, fat burn, or peak heart-rate areas during our exercises.
For its water and sleep tracker, it performed just as well during our tests. Compared to other similar products, the Inspire 2 was the most accurate with results.
The display text was slightly small, but it was clear and easy to read, so we have no issues here. For its touch screen, it was surprisingly responsive to taps and swipes, which was good.
Based on our usage, we were able to wear it without charging for almost ten days. When the battery reached 10%, that's when we charged it using its proprietary charger.
It only took around two hours to get to full charge.
Fitbit Inspire 2 Review Summary
The Fitbit Inspire 2 is one of the best budget-friendly fitness trackers for beginners. It's great for those looking to start fitness tracking since it doesn't have the complex features of full-fledged smartwatches. Plus, it's a tracker that you can use for tracking your workout, diet, sleep, and more.
The Inspire 2 performs excellently, and for its price, you won't find anything better on the market. It also comes with a complimentary one year trial for Fitbit Premium.
In conclusion to our Fitbit Inspire 2 review, we highly recommend this product. If you want to purchase this fitness tracker, you can buy this from the company's official website.