Today we are writing our GIGABYTE B660M AORUS PRO AX Motherboard Review to discuss the AORUS PRO AX. It is considered a budget motherboard but is a higher-priced micro-ATX B660-based option.
This motherboard offers an all-inclusive feature set while sporting the usual Gigabyte black-on-grey aesthetic for Alder Lake.
It supports Alder Lake and LGA 1700 sockets and is compatible with the DDR4 memory modules.
Here, we will look at the aspects that make the B660M AORUS PRO AX an excellent motherboard. We will discuss its features, design, build, functions, specifications, and how well it performs during our tests.
But before we look deeper into this motherboard, let us check how Gigabyte shipped its motherboard. Also, let us see if the company have any inclusions in the package.
GIGABYTE B660M AORUS PRO AX Motherboard Packaging
When our board arrived for this GIGABYTE B660M AORUS PRO AX Motherboard Review, we went straight to unboxing. The B660M AORUS PRO AX shipped in a simple box with some accessories for standard essentials. These items include a WiFi antenna, SATA cables, screws for the M2 SSD, and a user manual. 
Based on the manual, you will see that the B660M AORUS PRO AX and B660M AORUS PRO have similar specifications. However, these two differ in the supported memory.
GIGABYTE B660M AORUS PRO AX Motherboard Review – Design and Functionality
The B660M AORUS PRO AX is under the gaming category of Gigabyte.
The company design on most Alder Lake motherboards sports a black PCB with grey shrouds and heatsinks. This design offers a distinct look to distinguish them from other boards. 
The B660M AORUS PRO AX has VRM heatsinks that feature a brushed aluminium finish. At first look, its mass and surface area look excellent, and Gigabyte did a great job on this part.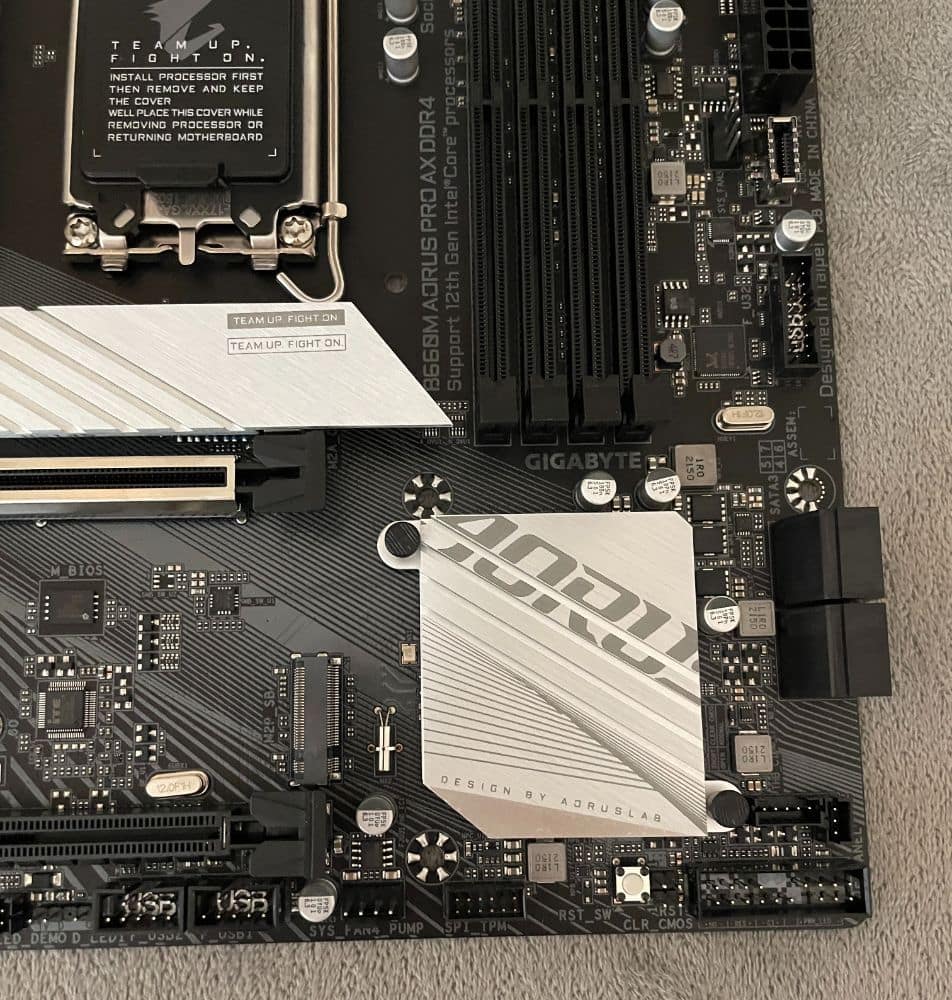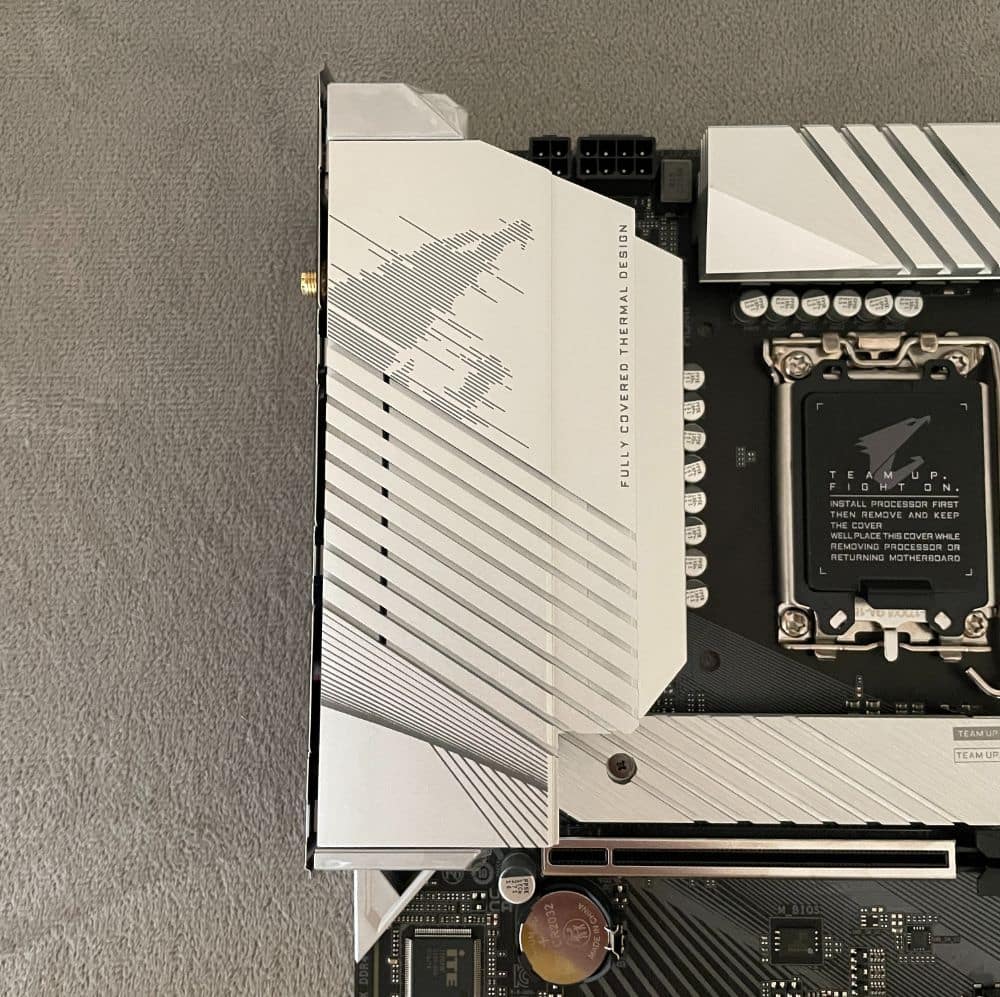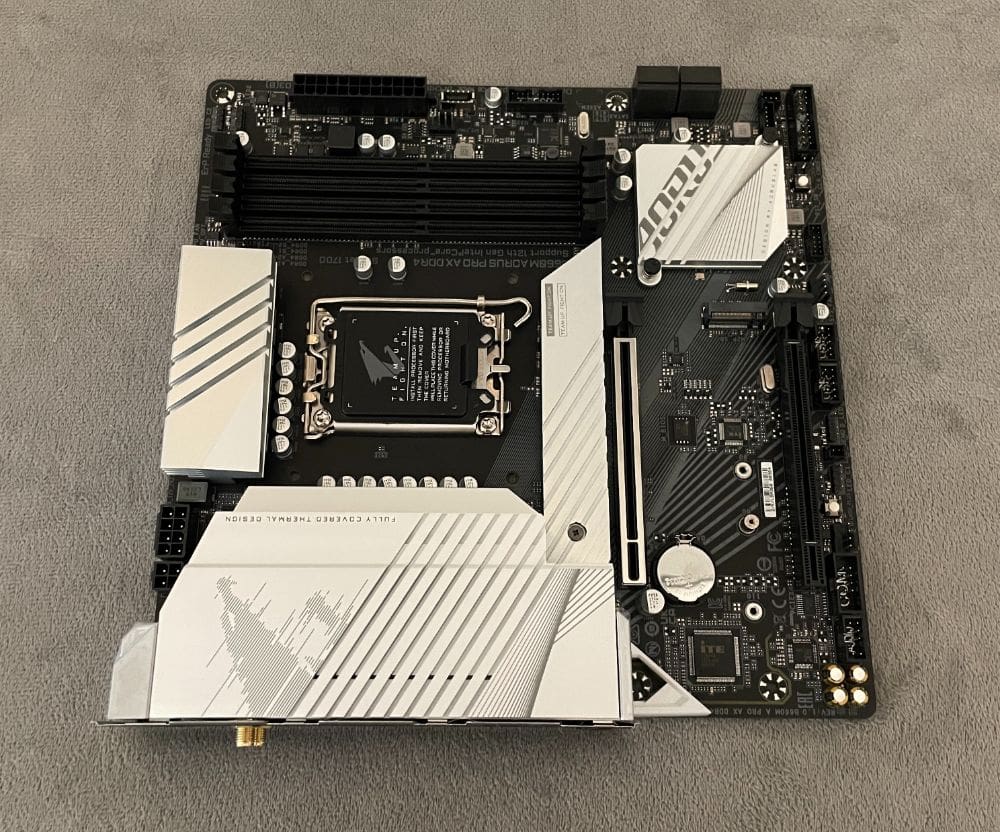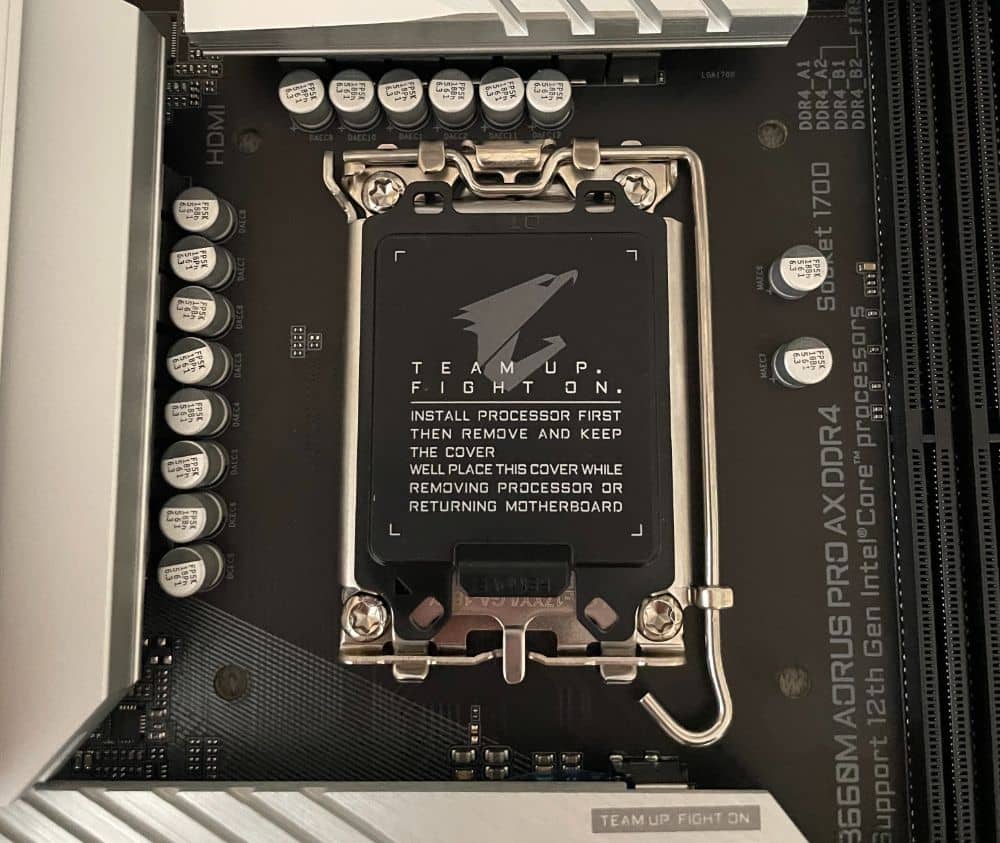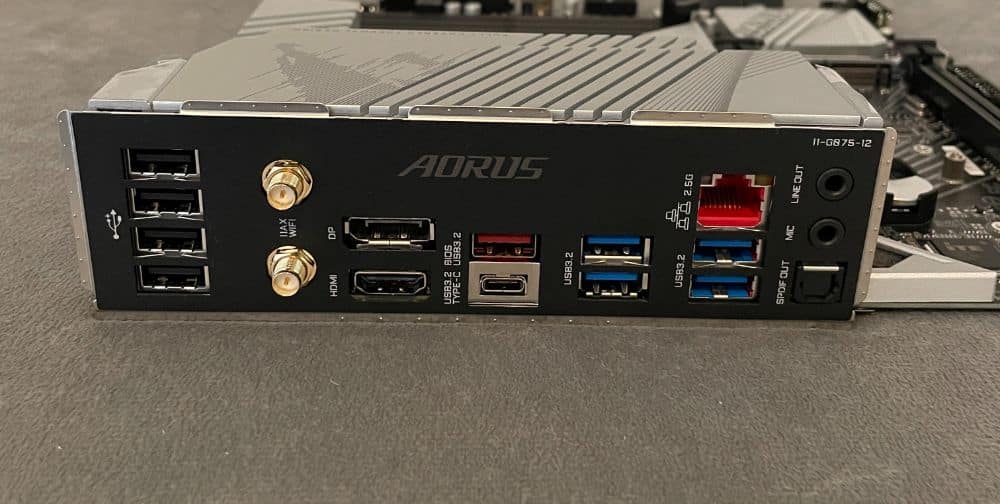 At the top of the heatsink is an etched image of the AORUS falcon. Plus, you will find additional AORUS brandings on the chipset. 
Beneath the chipset heatsink, you will find the only RGB LED lights that offer a vibrant glow. It has saturated colours along the base, but if the illumination is not enough, you can increase its vibrancy. Do this by using the onboard headers and adjusting the brightness based on your preferences. 
For its power design, the motherboard sports a 12+1+1 phase power design consisting of the NCP-302155. It also sports the NTMF-4C06N and NTMFS-4C10N MOSFETs from onsemi. 
The primary phase sports the NCP-302155, which can accommodate 60A each. Then the remaining ones for the built-in GPU can accommodate 50A each.
GIGABYTE B660M AORUS PRO AX Motherboard Thermal Output
This motherboard sports a set of heatsinks for its VRMs, board chipset, and M2 SSD to handle its thermal output. And compared to high-end Z690 boards featuring aluminium fins array heatsinks, this board uses an aluminium block type. These heatsinks are usually present on boards under the same category.
They are simple but can get the job done, so we do not have any complaints.
For its onboard audio solution, the motherboard uses the Realtek ALC-897 codec. It also has Nichicon audio capacitors to deliver performance.
The company did not use PCIe 5.0 support on their B660 motherboards. The highest support is PCIe 4.0 from the CPU, which settles on the first PCIe x16 slot. 
The other PCIe x16 slot is from another chipset operating under PCIe 3.0 x4.
Its rear IO is reasonable, especially with its number of ports available. But aside from the number of USB ports, the motherboard also features basic audio jacks plus SPDIF support. The product even has WiFi 6 with Bluetooth 5.2 and 2.5GbE LAN for connections.    
Key Features of the GIGABYTE B660M AORUS PRO AX Motherboard
Twin Hybrid VRM Style
The motherboard equips an ideal VRM design with high-quality components. These are essential elements to ensure maximum Turbo Boost and performance of the new generation CPU from Intel.
DDR4 XMP Up to 5333MHz Support
AORUS provides a tried-and-true platform that ensures proper compatibility with profiles up to and including 5333MHz. To achieve this speed improvement, ensure that the memory module is XMP capable. 
Also, you have to make sure that the XMP function on the motherboard is activated and enabled.
Shielded Memory Routing
While testing the product for our GIGABYTE B660M AORUS PRO AX Motherboard Review, we noticed the memory routing. These were under the inner layer of the PCB, protected by a large ground layer to prevent external interference.
Supporting up to 32GB
After the Intel memory reference code update, a single slot can support 32GB. As a result, the B660M AORUS PRO AX has a maximum memory capacity of 128GB. Originally this was only available on HEDT or High-End Desktop platforms.
Users who always run out of memory can benefit from the increased bandwidth. This motherboard will be suitable for rendering, video editing, and other memory-intensive tasks.
Dual PCIe 4.0 x4 M2
The B660 motherboards from Gigabytes focus on delivering M2 technology. It is ideal for people who want to take advantage of the maximum potential of their system.
Hybrid Core Optimisation
Gigabyte created two new CPU upgrades in BIOS profiles with new Intel Hybrid technologies. It is to meet diverse user circumstances by modifying P-Core and E-Core activation and voltage policies.
2X Copper PCBs
Due to its high thermal conductivity and low impedance, 2X copper on the PCB inner layer reduces component temperature by at least 3%. It works by transforming the PCB into a super thin PCB-sized copper heatsink to disperse heat from the components.
Full-covered Thermal Design
Improve thermal efficiency through enhanced airflow and heat exchange with high-coverage MOSFETs and integrated moulded heatsinks.
M2 Thermal Guard
The M2 Thermal Guard helps dissipate heat to prevent bottlenecks and throttling from high-speed M2 SSDs.
5 W/mK Thermal Conductivity Pads
The B660M AORUS PRO AX uses thermal pads that are 1.5mm thicker. These can transfer 2.7 times more heat than conventional thermal pads.
Smart Fan 6
While inspecting the motherboard for our GIGABYTE B660M AORUS PRO AX Motherboard Review, we noticed the Smart Fan 6. It has numerous distinct cooling features that guarantee gaming PCs retain their performance while staying quiet and devoid of heat. 
Numerous fan headers can support PWM or DC fans and pumps. So, you can readily define each fan curve according to temperature sensors across the motherboard through an intuitive UI.
WIFI 6 802.11ax + BT5 Module
With this feature, the motherboard delivers gigabit wireless for enhanced performance, video streaming, and gaming experience. It also offers fewer dropped connections and speeds of up to 2.4Gbps. Furthermore, Bluetooth 5 has 4X the range of Bluetooth 4.2 and quicker communication.
2.5GbE LAN Onboard for Two Times Faster Performance
The B660M AORUS PRO AX adopted 2.5G LAN to offer up to 2.5 GbE network connectivity. It offers at least two times faster transfer speeds than the 1GbE network, making it ideal for gamers.
Q-Flash Plus
Q-Flash Plus eliminates the need to install the CPU, GPU, and memory or enter the BIOS menu to flash BIOS. You only need to download and save a new BIOS file on the USB flash drive. After, rename it to gigabyte.bin. 
Once you press the Q-Flash Plus button, you are good to go.
RGB FUSION 2.0
RGB Fusion 2.0 is even better with Addressable LEDs on the motherboard. Why? Because it lets you control onboard RGB and external RGB/Addressable LED light strips for the PC. 
RGB Fusion 2.0 on the B660 Series motherboards received Addressable LED capabilities. You can enjoy even more patterns, styles, and illuminations with external Addressable LED strips.
With the motherboard, you can connect up to 300 LED lights and use 5v/12v addressable LED lighting strips. RGB Fusion 2.0 with Addressable LEDs include new patterns, speed settings, etc.
Specifications
The first thing we looked at while writing this GIGABYTE B660M AORUS PRO AX Motherboard Review was its form factor. The B660M AORUS PRO AX sports a micro-ATX form factor that measures 24.4 x 24.4cm. It uses an LGA 1700 socket support for 12th Gen Intel Core, Pentium Celeron and Gold Processors. 
And like its name states, the motherboard uses an Intel B660M Express chipset. 
Gigabyte integrated four DDR4 memory slots on the product, which can support up to 128GB. Then for its onboard graphics and audio, it uses a built-in Graphics Processor-Intel HD and Realtek Audio CODEC. The B660M AORUS PRO AX uses the Intel 2.5GbE LAN chip. 
Speaking of its wireless communication module and LAN, Gigabyte included Intel WIFi 6 AX201 and Bluetooth 5.2. Then for its operating system, the B660M AORUS PRO AX supports Windows 11 64-bit and Windows 10 64-bit.
Hands-on with the GIGABYTE B660M AORUS PRO AX Motherboard
Except for the lack of processor overclocking functionality, the motherboard firmware appears similar to those on more expensive Z690 boards. The BIOS starts in an informational EZ Mode with functions that display system information. 
You can enable XMP profiles, access Smart Fan 6 fan controls, update the BIOS with Q-Flash, or enter Advanced Mode.
In BIOS, primary headers are across the top of the advanced section. There is a new page up/down functionality, and the BIOS is simpler to understand. With its well-organised interface, it is easier to find what you need.
The primary tool of Gigabyte in terms of software is the App Centre. It is a centre for motherboard apps, several Windows settings, and other third-party software.
Click to download the desired applications, install them, and an icon will appear on the screen. BIOS, Easy Tune, RGB Fusion 2.0, and SIV were all installed. Other useful programmes on the Gigabyte website include USB charging, LAN, and others not included here.
Overall, we enjoy the tiny size of App Center and found its modular tools to be helpful.
The B660M AORUS PRO AX performed admirably in single and weekly threaded synthetics. Due to thermal throttling from the default settings, the board struggled. If necessary, a negative voltage offset can work to prevent throttling.
There are no concerns because gaming performance was consistent with the other outcomes. It all comes down to how you use your system and whether you are prepared to make changes when necessary.
GIGABYTE B660M AORUS PRO AX Motherboard Review Summary
After completing this GIGABYTE B660M AORUS PRO AX Motherboard Review, we proved the motherboard to be a solid product overall. While its appearance is not as fancy as the more expensive Z690 boards, it is still attractive. 
Hardware-wise, it has numerous USB ports for convenience, including a rear 20Gbps Type-C port. But people who require plenty of storage may find the six drives (four SATA and two M2) limiting. But other than that, the motherboard provides a standard fare. 
Overall, the B660M AORUS PRO AX is a product that works and does the job right. Its chipset is a lower-cost option for the socket LGA 1700 processors. Thus, Gigabyte created a motherboard to provide the same standard performance while decreasing the costs on both ends.
Hardware enthusiasts and gamers can build a cheaper system while allocating funds to a faster processor. Another option is to purchase an optimised video card for your build. 
To get your hands on the B660M AORUS PRO AX motherboard, visit the official product page of Gigabyte to learn more.