Today, we are writing our Harman Kardon Citation Multibeam 1100 Surround Sound Review. It is where we will discuss three products from the brand. These are the Citation Multibeam 1100 Soundbar, Citation Sub S, and the Citation Surround. 
On their own, these products work efficiently and how they should. But altogether, these offer the perfect surround-sound qualities for your viewing and listening enjoyment.  
Check our review to learn everything you need to know about the products. Get insights into their design, functions, specifications, features, and performance. But before checking those, we will look into the packaging of these items and what Harman Kardon included in them.
Harman Kardon Citation Multibeam 1100 Surround Sound Packaging
We looked at the packaging of each product for our Harman Kardon Citation Multibeam 1100 Surround Sound Review. From there, we noticed all of their aesthetics were the same.
Each product is in a white cardboard box with hints of black to add to its aesthetics. All the boxes feature an image of the product inside, their names, and the company branding.
The sides of each box feature different images. All of these are related to the products inside the package. Also, a few details regarding each product are on their respective packages. 
The Multibeam 1100
The Citation Multibeam 1100 Soundbar box includes a couple of items inside. Aside from the soundbar, you will also find a wall mount, a quick start guide and a wall mount guide. Also, there is one warranty card and a safety sheet.
Citation Sub S
The Citation Sub S also includes several items inside. These are the 1.8m power cable, a quick start guide, warranty sheet, and a safety sheet in the package. 
Not many items are inside the box, but everything you will need to use the product is present. 
Citation Surround
Like the other products, the Citation Surround has a box with a few inclusions inside. These are two Citation Surround speakers, two 1.8m power cables, and two wall mount brackets. You will also find a quick start guide, a warranty and a safety sheet.
Harman Kardon Citation Multibeam 1100 Surround Sound Review – Design and Functionality
This part of our Harman Kardon Citation Multibeam 1100 Surround Sound Review will discuss the design/functions of each product. The section has three segments to make it easier for you to determine which products are featured. 
Citation Multibeam 1100
The Citation Multibeam 1100 is not a little soundbar to improve the audio of smaller televisions. Harman Kardon designed it to function as an all-consuming product to enhance the quality of even huge panel TVs. It is an ideal product if your television does not have internal space for extra speakers.
The soundbar is a big beast wrapped in a lovely Kvadrat fabric. Sitting at the centre on its top portion, you will find an LCD touchscreen for controls. Along its rear is a set of ports positioned into a recessed spot.
You will find these between the wall mount fixtures. 
The colour of our Citation Multibeam 1100 is grey. If you want another colour, you can go for the classic black. No matter what shade you choose, all versions look neat, classy, and premium.
According to Harman Kardon, the speakers of the product offer 5.1.2 channels. It has six front-firing racetrack drivers, two up-firing full-range Atmos-height drivers, plus three tweeters. 
One of the tweeters is facing forward. It acts as the centre channel, while the other two are slanted right and left for positional width. 
Citation Sub S 
The Citation Sub S we have for review also sports a nice grey colour. It is a wireless subwoofer intended to function as an expansion option that works with three Citation soundbars.
This product features 100W RMS of output power. If you expand your Harman Kardon system with the Sub S, you can expect a more powerful sound system. 
Additionally, the Citation series is not only for film, series, or game use. You can also use it for Spotify playback. 
That means the Sub S has a lot of functions for daily use. It is more efficient compared to a pure audio system for TV entertainment. 
Speaking about its style and looks, the Citation Sub S is a premium-looking subwoofer. At first glance, you would not expect it to be one due to its Kvadrat reference. 
We commend Harman Kardon since they try new things with the Sub S instead of launching another grey/black box. Often, there is a spatial distance between the subwoofer and soundbar. For this reason, it is possible to combine them in varying colours if your space requires more charm.
No matter what colour you choose, the Citation Sub S will be a significant piece in your home. With the design of Harman Kardon, it could pass as a designer item to fill any space.
Citation Surround
We wanted our products to have the same theme, so the Citation Surround we got was a grey one too. It is a pair of dedicated speakers that wirelessly connects to the soundbar. But if you are wondering, these are not your regular surround speakers.
The Citation Surround is a pair of slender, sleek, and premium products that also feature the Kvadrat material. The application of this specific element allows the Citation Surround to complement the soundbar.
These items look excellent when placed on a table or if they stand behind a couch. But if you prefer a more inconspicuous look, you can use wall-mount brackets included in the package.
Additionally, you can link these HiFi speakers wirelessly or via AC power with other speakers under the Citation series. With this setup, you can conveniently establish a home cinema sound system for listening enjoyment.
Since it sports a wireless design, you do not have to bother with messy cables in your home. Also, if you think the Kvadrat material is only for aesthetics, it is not. 
The Kvadrat is a dirt-resistant material. Its inclusion makes the products more ideal since keeping them clean will not be troublesome.
These are slightly heavier/bigger than we thought, but it is not a problem in our case. These blend nicely with the surrounding system, making it a great reason to go for the Harman Kardon Citation direction. 
We love its included wall mounts since these are thick, sturdy, and durable. Kudos to the company for adding these since it gives us another option to position the products. Additionally, its swivel was a nice touch.
Key Features of the Harman Kardon Citation Multibeam 1100 Surround Sound
It is always vital to know about the different key features of any product you purchase. So in our Harman Kardon Citation Multibeam 1100 Surround Sound Review, we will share the vital elements of each product.
We will first discuss the unique features of the Multibeam 1100. Then, details about the Sub S and Citation features will follow. All these are essential details about each product; hence, you will need to know about them before purchasing.  
Citation Multibeam 1100 Key Features
3D Surround Sound with Dolby Atmos® + MultiBeam
Enjoy Dolby Atmos® and MultiBeamTM when using the Citation Multibeam 1100. Fully immerse yourself in your favourite tunes, films, and games. Its up-firing height channels produce multi-dimensional surround sound environments, while the MultiBeam technology establishes a more expansive soundstage around you. 
The Smart Dialogue Optimisation with the Harman Kardon PureVoice Technology
PureVoice guarantees that your speech is clear no matter the volume. That means you can enjoy even the most thunderous actions or solemn dramas without having trouble hearing the dialogues.
All-in-one Quality Sound System
The world-class audio design from Harman Kardon ensures that the Citation MultiBeam 1100 delivers rich, deep, and powerful-sounding bass. It also offers excellent acoustic effects from one unit without worrying about extra components. 
Sound Calibration
The product will sound perfect no matter where you place it. You can mount it to a wall or set it on a shelf to enjoy your favourite tunes. 
Calibrating sounds will balance audio tuning, while 3D surround sound offers an accurate and more natural audio effect. 
AirPlay, Alexa MRM + Chromecast Built-in
Energise, unwind and discover. Through AirPlay, Alexa MRM, and Chromecast built-in, the Citation MultiBeam 1100 allows access to over 300 online music streaming services. Enjoy high-definition multiroom listening, internet radio, podcasts, and your favourite audio content.
Wireless Bluetooth Streaming with the Harman Kardon Citation Multibeam 1100 Surround Sound
Do not forget that audio produced by the Citation MultiBeam 1100 is not just for movies. With simple wireless streaming from all your Bluetooth devices, you can enjoy your music like never before.
HDMI eARC
The newest televisions are compatible with the Citation MultiBeam 1100, which offers a direct connection for the highest quality. It also provides uncompressed Dolby Atmos surround sound content for an enhanced listening experience. 
Ultra HD 4K Pass-through with Dolby Vision
Compatible streaming services and media sources will give you the best visual quality. Just use the HDMI input on the connection panel to connect to take advantage of excellent quality sounds. 
Multi-functional LCD Touch Display
The bright LCD touch screen guarantees a flawless user experience. From the simple setup to quickly identifying what is playing, all your favourite media is at your fingertips. 
Harman Kardon Citation Multibeam 1100 Surround Sound – Ready for Multi-channel Surround Sound
Having something perfect is everything, but why stop at perfection? Treat yourself to better Citation components for thunderous and powerful sounds. Use the Citation Multibeam 1100, Sub S, and Surround together to create an excellent 5.1.2 channel system. 
Elegant and Premium-looking
The products from Harman Kardon combine home audio innovation with a classic, sophisticated design. It has a premium blended wool fabric from Kvadrat, which is dirt repellent and flame retardant.
Superior Audio Quality
The Multibeam 1100 is one of the ultimate premium audio products from Harman Kardon. The company simultaneously offered unparalleled high-fidelity soundbars and speakers for over 65 years.
Hands-free Help with Google Assistant, Siri, and Alexa
The Multibeam 1100 offers the highest level of convenience. It is compatible with Google Assistant, Siri, or Alexa. This feature on your home theatre solution allows you to enjoy a fully wireless experience.
When using voice commands, you can get answers, organise your day, play music, and enjoy your entertainment with hands-free control.
Always Up-to-date
Harman Kardon keeps the features of the Multibeam 1100 up to date. The soundbar automatically downloads and installs upgrades and updates into the system for you to continuously enjoy state-of-the-art audio.
Features of the Citation Sub S
Now, our review will discuss everything about the key features of the Citation Sub S and Surround. It also works together with the Multibeam 1100 and wonders for your audio. Combining the two products will make your movies, music, and TV shows more enjoyable.
Compact, Stylish Design
The Sub S is a fine-looking product with a diameter of less than 25cm. 
Since the product is compact, you can place it in areas where you cannot fit other subwoofers. Instead of using a solid vinyl or wood finish, it has a premium blended wool by the Kvadrat fabric experts. The soft design provides a room-friendly appeal.
Harman Kardon offers black and grey variants, so you can choose which works best for your room.
Increased Depth and Punch
The Sub S is a perfect upgrade to the Citation Multibeam 1100. This wireless subwoofer drops the bass for powerful bass and more exciting movie audio. It uses a dedicated 6.5-inch woofer driven by a 100W amplifier.
The Sub S adds depth and bass punch by extending the bottom end. It is highly beneficial for movies, games, and music since it provides higher volume and more realistic audio.
Wireless Connection for the Harman Kardon Citation Multibeam 1100 Surround
Since it uses a wireless connection, you can place the unit anywhere in your room without routing and organising cables. Conveniently connect the Sub S to the Multibeam 1100 and position it wherever you like.
Wireless Cinematic Surround Sound
Today, timing is everything, and perfect syncing of audio + action is essential. Harman Kardon enabled the WiSA technology on the Sub S for low-latency multi-channel precision sound for easy syncing. With this feature, you can fully connect with the action in your game, sports, or film.
Features of the Citation Surround
Of course, we will also discuss the unique features of the Citation Surround. So, we will let you know why you need these speakers with the Multibeam 1100 and Sub S.
Premium Dome Tweeter and Cone Woofers for Extreme Immersion
Harman Kardon has been working for over 65 years and committing to delivering a luxurious audio experience. When using the products from the company, you will have an enjoyable audio experience that lets you feel the sound.
Each Surround speaker has a 1-inch dome tweeter and two three-inch cone woofers powered by an integrated 50 (RMS) amplifier. These components enhance the audio to deliver a dynamic surround sound. 
High-quality Wool Fabric
Aside from audio performance, the Surround speakers also look sophisticated with their premium blended wool fabric by Kvadrat. It is flame retardant and dirt repellent, making it excellent for your home.
Compatibility with other Citation Products
Connect the Surround speakers with the Multibeam 1100 and Sub S for a 5.1ch or 4.1ch home theatre. You can also link these speakers with other products under the Citation series, including the Multibeam 700, Towers, and Sub.
Combining the Surround unit with other Citation products allows you to enjoy impressive surround-sound home theatres with multiple channels. This setup will make your audio experience worthwhile and more enjoyable.
WISA Connectivity
With 5GHz Wireless Speaker & Audio (WISA) technology, the Citation Surround can connect wirelessly to the Multibeam 1100. You will not need running cables around the room, thus, allowing you to place the speakers anywhere. Plus, you will use the touch screen display of the Multibeam 1100  to sync the speakers.
WiSA delivers 24-bit/48kHz audio, maintains perfect sound syncing, and eliminates latency. Since the setup process is easy, you can immediately enjoy your home theatre.
Place it Anywhere in Your Home or Use the Mounts Included
You can place the Surround speakers on a shelf or mount them on a wall with the included brackets. Another option you can use is the speaker stands from Harman Kardon, which you can purchase separately. 
Note that you will need to remove the rubber feet on the bottom of the speakers when mounting them on the wall. Also, the brackets let you swivel the speakers left or right by 45 degrees.
Whole-House Multi-Room Audio System with the Harman Kardon Citation Multibeam 1100 Surround Sound
Since the unit belongs to the Citation series of Harman Kardon, it uses WiFi and Bluetooth. Also, it has a built-in Chromecast that allows you to create a whole-house audio system in multiple rooms.
Specifications
To provide more details about the products, our Harman Kardon Citation Multibeam 1100 Surround Sound Review will discuss their specifications. See what these can offer and what makes them work perfectly together.
Citation Multibeam 1100 Specs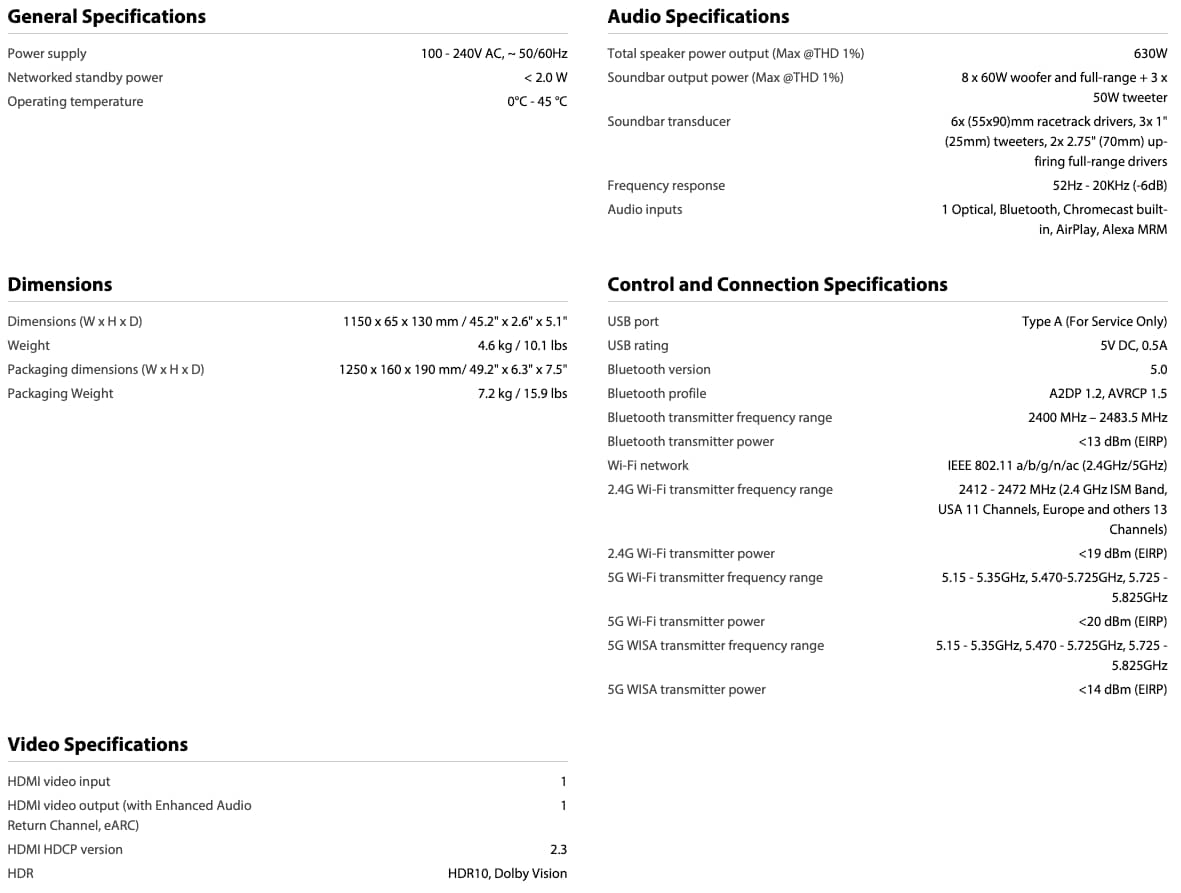 The Multibeam 1100 uses a 100-200V AC, ~50/60Hz and has a speaker power output of 630W (max @THD 1%). The soundbar output power (max @THD 1%) is 8x 60W woofer & full-range 3x 50W tweeter. Then, the soundbar transducer has 6x 55x90mm racetrack drivers, 3x 25mm tweeters, and 2x 70mm full-range up-firing drivers. 
Its network standby power is less than 2.0W and operates from 0°C to 45°C.
The product has one HDMI video input and one HDMI video output. It also has a 2.3 HDMI HDCP and supports HDR10 + Dolby Vision.  
Its audio frequency response is 52Hz to 20kHz (-6dB) and has a couple of audio inputs available. These include one optical input, Bluetooth, Chromecast built-in, Alexa MRM USB, and AirPlay. 
For the USB port, it has a Type-A for service only, while its USB rating is 5V DC, 0.5A.
Dimensions, Bluetooth, and WiFi Specs
The product uses Bluetooth 5.0 and has an A2DP 1.2 and AVRCP 1.5 Bluetooth profile. Its Bluetooth transmitter frequency range is 2400MHz to 2483.5MHz, while its transmitter power is above 6dBm (EIRP). 
The WiFi network of the Multibeam 1100 is IEEE 802.11 a|b|g|n|ac (5GHz/2.4GHz). Then its 2.4G WiFi transmitter frequency range is 2421-2572MHz. For 5G, its transmitter frequency range is 5.15-5.35GHz, 5.470-5.725GHz, and 5.725-5.825GHz.
WiFi transmitter power for 2.4G and 5G are <20dBm (EIRP) and less than 23dBm (EIRP), respectively. The Citation Multibeam 1100 measures 1150 x 65 x 130mm (WxHxD) and weighs 4.6kg. 
Citation Sub S Specs 
The product sports a 6.5-inch transducer subwoofer with an output of 100W RMS. Then, its signal-to-noise ratio is over 80dB. It has a power supply of 100 to 200V ~50/60Hz and consumes less than 2.0W in sleep mode. 
5GWISA transmitter power is below 14dBm, while its 5GWISA modulation is OFDM, QPSK, BPSK, and 16QAM. The 5GWISA transmitter frequency ranges from 5.15-5.35GHz, 5.470-5.725GHz, and 5.725-5.825GHz. 
Lastly, the Sub S measures 248 x 386 x 248mm (WxHxD) and weighs 5.2kg.
Citation Surround  

The Citation Surround from Harman Kardon has a 100-200V ~50/60Hz power supply which consumes less than 2.0W. 
Its signal-to-noise ratio is over 80dB, and its output power is 2x50W RMS. The power supply of this product is 100-200V ~50/60Hz and consumes less than 2.0W during sleep mode. 
The 5G WISA transmitter power is less than 14dBm, while modulation includes BPSK, OFDM, QPSK, and 16QAM. It also has a 5G WISA transmitter frequency range that differs by region/country. These range range from 5.15-5.35GHz, 5.470-5.725GHz, and 5.725-5.825GHz. 
The Citation Surround has one 6.5-inch subwoofer (transducer) with 100W RMS for its output power. Also, it measures 105 x 273 x 86mm (WxHxD) and weighs 1.29kg.
Hands-on with the Harman Kardon Citation Multibeam 1100 Surround Sound
We were excited to try all three products together for our Harman Kardon Citation Multibeam 1100 Surround Sound Review. It passed numerous tests when we used it for more than a week. As expected, we loved the results we received. 
For starters, the real strength of the Citation range is it offers an entirely wireless system. Its speakers can be used individually or as part of a multi-room setup to achieve stereo pairing. This configuration will also allow you to listen to music in other rooms.
The second advantage of the range is it allows you to establish a fully efficient wireless home theatre system. You will not even need an amplifier to achieve the setup. 
You only need to combine the Multibeam 1100 with the Citation Surround and the Sub S. Start playing your favourite tunes or watch films/TV shows to experience the full and powerful surround sound of excellence.
The first thing we set up is the Citation Multibeam 1100. It was relatively easy to complete and took us a short time to complete the process. 
We first plugged the soundbar into the HDMI port of our TV that featured the eARC or ARC. From there, we were able to control the volume of the Multibeam 1100 using our television remote. 
After connecting the soundbar and positioning the unit where we wanted, we began calibrating its controls. We saw that the soundbar played several high-frequency pulses to check for sidewall reflections. Doing so accordingly adjusts the speaker levels. 
It was not a tedious or difficult task, and it only took us about 30 seconds to complete the process.
From there, we connected the Multibeam 1100 to the internet. We did it directly by using WiFi. After connecting everything, we started casting content to the soundbar via WiFi connection. It is possible to cast content via Chromecast, AirPlay, Spotify Connect, and Alexa Music. 
For services that are not supported directly, Bluetooth is possible to use. 
For connectivity, built into the system are Chromecast, Alexa MRM (Multi-room Music), and AirPlay. When it comes to the eARC HDMI channel, it will perform nicely with the TV for immediate audio passthrough. 
Both feature an output and input channel plus support for HDR10. It comes with Dolby Vision high-dynamic range passthrough as well. 
Aside from its Bluetooth, Google Chromecast is considered the core of each unit. It even provides access to audio streaming services that are either free or on subscription. 
The Google Home app lets you link and then combine sources. It also allows linking speakers under different brands and even other speakers from the Citation line. 
Surprisingly, the Google Home app is easy to use. So, it only took a few minutes to link every unit to a network. From there, we also ran every necessary update. Lastly, high-res audio playback until 24-bit / 96kHz is supported too. 
Setting up the Citation Sub S and Surround Speakers
Because the Citation Sub S connects wirelessly to Harman Kardon products, WiSA transmission technology is necessary while pairing a soundbar. The displays on top of the Multibeam 700 and Citation Bar are identical. These are necessary to initiate pairing with the subwoofer. 
Pressing the reset button along its rear will allow you to enter pairing mode. That means you will hear a brief signal tone if the product was successfully reset. For instance, in the Citation Bar, it will instantly locate the subwoofer and complete the pairing procedure more quickly.
It may sound like a simple feature, but it is convenient and beneficial.
The WLAN is used to connect Harman Kardon soundbars to the internet. This connection allows for the download of OTA updates, keeping the subwoofer up-to-date at all times. 
It is evident from the Citation Surrounds and Citation Bar that Harman Kardon updates its audio systems frequently. And usually, the soundbar needs a reboot to display the current OTA updates. Or, you can use the built-in updater to initiate them. 
On the soundbar display, you can see the most recent firmware version of the Sub S. Experience taught us to initiate the updater from time to time since switching off the soundbar is a rare scenario. 
Citation Surround was able to connect with WISA without any issues. And also, we were successful in creating a 5.1.2ch environment.
Audio Quality of the Harman Kardon Citation Multibeam 1100 Surround Sound for Music
In our music tests, the Citation Multibeam 1100 reproduced a wide range of tones. It delivered clear and detailed audio at high volumes. 
The nuances of various tracks were highly audible when we raised the bass to its maximum level.
The low-end sounded good even without pairing additional products, but we wanted to test the performance of all three products. When we connected the Sub S, little details in the treble and mids became outstandingly and full of clarity and the bass shook the room without being muddy. 
We adjusted the bass and treble levels based on our preferences, and fortunately, achieving the perfect audio was easy.
Next, we connected the Surround speakers with the Multibeam 1100 and Sub S. When the subwoofer and speakers connected to the soundbar, everyone delighted in the deep bass and rich midrange. We loved the well-balanced detail and the smooth delivery of the treble frequencies.
The imaging was excellent too, and we have never heard this quality from premium one-box solutions. Extended lows sounded pleasant, and we also loved the natural highs and accurate mids. The Citation products perfectly embodied the vocals with enough texture.
Aside from the audio quality, we also enjoyed excellently contemporary audio with the soundbar, subwoofer, and surround sound speakers.
Harman Kardon Citation Multibeam 1100 Surround Sound – Audio Quality for Movies 
The Multibeam already produces wonderful sounds without the Surround speakers. But with them, you are placed right in the action of things. You will hear crisp and clear audio, while the sound of acoustic guitars appears breathtakingly beautiful.
The remote also offers three levels of Dolby Atmos augmentation for movie watching. It allows you to adjust the sound projection of the soundbar based on the height of your ceiling. Additionally, you can switch on the Smart Surround feature. However, it is best to disable it for things like news and weather forecasts.
The PureVoice setting for conversation improvement is active by default. Therefore, dialogue in TV shows, from NHK World news to Disney+ Only Murders in the Building, was highlighted. These were focused on regardless of the configurations. 
In movies with Dolby Atmos soundtracks, where battle scenes and clashing swords are frequently present, PureVoice augmentation was more audible.
The significant prominence and separation would not exist without PureVoice. As a result, those chaotic scenes appear dull in comparison. 
Strangely, there is no way to switch off PureVoice using the remote, which is probably for the best. We cannot think of a good reason to do so, anyway. 
The more practical night mode, which mutes the bass at loud volumes, can only be activated via the LCD. Additionally, you can not access it via remote control. 
The Multibeam 1100 works nicely with the Citation Sub S. The enhanced bass performance of the 6.5-inch subwoofer can help boost the soundbar. 
When we speak of the intensity of the bass, it is specific for each user. You can adjust the bass level using the remote control or the display of a soundbar. 
For your reference, the scale ranges from +10 to -10. 
Even when you decrease the bass, series, films, and games still sound better, full-bodied, and cleaner than without the subwoofer. But, if you use the higher levels on the bass scale, the Sub S will come into its own. And then, it will make everything sound better. 
If you are wondering and want to see what the subwoofer can do, try listening to bass-heavy material. Doing this will allow you to experience the magic of its audio.  
The surround sound effect that it gives is highly immersive. But for this reason, it is challenging to find a soundbar setup since everything sounds perfect. 
These products work undeniably well since every sound surrounds you. Everything comes off as realistic. 
So when watching films like thrillers or horror flicks, determining where sounds come from can be challenging. But simultaneously, the effect brings out the thrill and excitement.  
The Multibeam 1100 works with multiple products under the Citation series for creating a surround sound system. But for our Harman Kardon Citation Multibeam 1100 Surround Sound Review, we are testing it with Sub S and Surround.
Before using the products altogether, we tested the audio of the Multibeam 1100 first. Although the company promised that this product offers rich and deep bass, we expected it to sound light. Usually, soundbars do not have enough depth and impact, but surprisingly, the Multibeam 1100 impressed us.
We first used the Multibeam 1100 alone, which sounded punchy compared to other soundbars. But we decided to enhance it with the Sub S for bass boost. 
The Sub S delivers impressive sound quality. This compact subwoofer gave us a highly-exceptional performance with its big sounds that increased the impact of the movie audio. But of course, surround sound is essential when watching movies, so we paired the Surround speakers too.
In the next part of our movie audio tests, we paired the Citation Surround speakers for our tests. By connecting these, we had the chance to create a 5.1.2 channel for an immersive surround sound experience. We will let you know if this sound system can deliver cinematic audio.
The outstanding audio quality delivered by these three products surprised us since they replicated the exact audio in cinemas. We even thought going out for movies was no longer necessary since the same audio is achievable at home.
The Surround speakers enhanced the exceptional audio quality of the Multibeam 1100 and Sub S. Everything sounded fuller and more realistic, making the whole idea of watching movies more exciting.
The Surround speakers were a valuable addition to the Multibeam 1100 and Sub S. Aside from its high-quality audio, connecting it with the other Citation products was a smooth experience. Thanks to these products, we no longer need to leave home for the cinema.
Overall Performance of the Harman Kardon Citation Multibeam 1100 Surround Sound
With the excellent performance of the Harman Kardon Citation Multibeam 1100 Surround Sound, we highly recommend these products. They worked exceptionally and enhanced the audio of all the movies, TV, and music we tested.
The Harman Kardon Citation Multibeam 1100 Surround Sound is an outstanding home theatre solution. These three Citation products are easy to install and use. Plus, they all deliver spectacular cinematic audio.
Harman Kardon Citation Multibeam 1100 Surround Sound Review Summary
The Citation series from Harman Kardon is a new and fascinating product for Australia in the wireless multiroom space. The use of wireless speakers connected to a home network for whole-home audio has become possible, thanks to these products. As a result, you can play music in multiple rooms at once only by controlling your mobile device.
The classic design of the Multibeam 1100, Sub S, and Surround makes them suitable for any aesthetic. Installing these was also easy since they are compact, unlike other speaker sets that take up too much space.
Since each unit has Google Assistant, you can control them using voice commands. Whether you want to set timers, ask questions, play movies or music, and manage your smart home, it is possible. 
With Chromecast integrated, these Citation products allowed for high-res streaming, even when playing audio for multiple rooms. We controlled this via the Google Home app, which was convenient. This feature made our home theatre more enjoyable.
Aside from the Google orientation, we loved its smooth and seamless wireless connection on all three products. We paired all three products to test these for our Harman Kardon Citation Multibeam 1100 Surround Sound Review. To our surprise, the wireless connectivity was stable, and all products efficiently delivered high-quality surround sound.
Whether we played music, TV audio, movies, and games, the Multibeam 1100, Sub S, and Surround had superior audio quality.
We were satisfied with the overall performance of the three products. The Multibeam 1100 alone already sounded excellent, but pairing the other two products delivered more immersive and enjoyable. Because of their sophisticated design, unique features, convenience, and audio quality, we highly recommend these products.
Visit the official product pages of Citation Multibeam 1100 Soundbar, Citation Sub S, and the Citation Surround to learn more.