Today, we have another awesome product which we will discuss in our HIFIMAN HE1000 Stealth Magnet Headphones Review. The 2023 edition of the HE1000 incorporates Stealth Magnets to bring this innovation to the popular product lineup. 
It incorporates plenty of features perfect for audiophiles and has notable aspects in its design, functions, and specs. We used the headphones for a week to test them for our HIFIMAN HE1000 Stealth Magnet Headphones Review. We will share how it fared while we used it to listen to various music genres. 
Let us begin unboxing. 
HIFIMAN HE1000 Stealth Magnet Headphones Packaging
The HE1000 Stealth Magnet has a more eco-friendly package than its predecessor. It has layers of foam to better protect the product in the box. Plus, it doubles as a headphone stand, which is useful if you do not have one.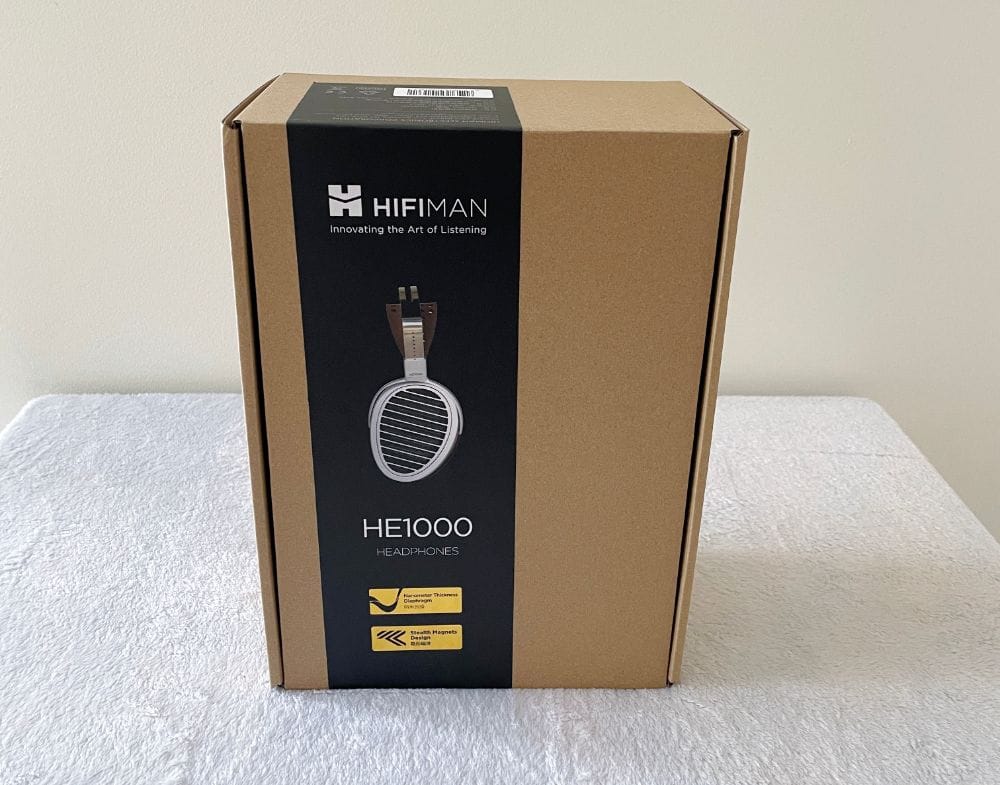 Aside from the headphones and its stand, you will also find two long cables in the box. One is a balanced XLR, and the other is a single-ended 6.3mm cable. These have decent quality: they are not too tangly or stiff. 
If you are searching for a 3.5mm in the package, HIFIMAN did not include one. Why? Because the HE1000 Stealth Magnet is not portable and is unnecessary. 
HIFIMAN HE1000 Stealth Magnet Headphones Review – Design and Functionality
In terms of design, you will not find groundbreaking aesthetics or elements in the product. Its cups, grills, ear pads, headband, and other aspects are already recognisable. 
Despite being massive, you should not be too concerned about its dimensions. However, its stylish and premium look attracts attention, especially during video calls. So if you prefer something more subdued, the HE1000 Stealth Magnet may not be for you.
People less acquainted with headphones are not used to seeing high-raided headbands. Nevertheless, these work wonderfully and do not cause discomfort during long hours of use.
Its build quality is adequate and better compared to the earlier models from HIFIMAN. The adjustment arms of older models get scratched easily, though this current one prevents that from happening. There is also no squeaky sound when swivelling its cups while the headband strap combines nicely.
We immediately felt its comfort when we used it for our HIFIMAN HE1000 Stealth Magnet Headphones Review.
Its earcups are massive, so there are instances where these put pressure on the jaws when worn. Despite its size, the ear cups will suit and fit anyone. Also, its ear cups are deep enough to prevent your ears from touching the insides. 
Its suspension strap is also ideal. There was no hotspot or weight distribution imbalance when worn. Its clamp had a moderate grip, so we did not have discomfort or issues. 
Comfort 
The headband system and earpads provide comfort even when using the headphones for hours. The system has plenty of clicks, allowing you to set the ear cups based on your height preferences. Also, its headband evenly distributes weight over the top of your head. 
This setup and design are essential, given that the HE1000 Stealth Magnet weighs 458g. So even when using it for long sessions, you will not feel discomfort.
Additionally, since it has open cups, the headphones are not for use on the go. It is best to use in a studio, an office, or a home. Any place as long as the environment is silent since external sounds can leak in.
Key Features of the HIFIMAN HE1000 Stealth Magnet Headphones 
Is this product better than its predecessor from 2015? Does it match the quality of the flagship models of HIFIMAN? As we discuss its primary features in our HIFIMAN HE1000 Stealth Magnet Headphones Review, let us find out. 
Ultra-Thin Diaphragm – The First with Nanometre Thickness
HIFIMAN uses an ultra-thin film for the HE1000 Stealth Magnet. This diaphragm has a nanometre thickness, a breakthrough core technology that is a first for headphones. 
Stealth Magnet Design – Acoustically Invisible for Less Distortion
The Stealth Magnet features a unique shape, allowing waves to go through the magnets without producing interference. As a result, it works better than conventional magnets.
Also, this advanced magnet design from HIFIMAN minimises wave diffraction turbulence that reduces sound wave integrity due to acoustic transparency. With reduced distortion, the HE1000 Stealth Magnet produces pure, full-range sonic output with accuracy.
Innovational Asymmetrical Magnetic Circuit
HIFIMAN took seven years of laborious research with this innovative design to offer near-perfect live music reproduction. Due to patience and their aim, the company established an advanced asymmetrical magnetic circuit. These are incorporated into its products, including the HE1000 Stealth Magnet. 
Window Shade System – Patented HIFIMAN Design
These headphones use the Window Shade System, an exclusive design for HIFIMAN headphones. It meets the need for optimised open-back design headphones and provides driver protection. 
Ergonomic Headband 
The HE1000 Stealth Magnet has a comfortable ergonomic headband with excellent durability and reliability. It can withstand daily use and last long to provide high-quality audio for years.
Craftsmanship with the Critical Standard of HIFIMAN
HIFIMAN crafted the HE1000 Stealth Magnet with a metal structure through CNC milling. Plus, it has a hand-polished finish refined by meticulous craftsmen from the company.
The HE1000 Stealth Magnet has a unique design and top-notch functionality due to its excellent craftsmanship. These luxury headphones redefine the sound landscape.
User-Replaceable Connector for Versatility
HIFIMAN packs each HE1000 Stealth Magnet with two plugs. We can confirm this claim when we unboxed our HIFIMAN HE1000 Stealth Magnet Headphones Review. You will find a 4-pin XLR and a mini 6.35mm connector. 
You can use the HE1000 Stealth Magnet with multiple equipment and devices with these options. Also, it allows switching and connecting conveniently to different cables and amplifiers.
Specifications
Here is a quick list of the specifications of these premium headphones from HIFIMAN. Before purchasing, check these details to determine if the product meets your needs best.
HEADPHONE TYPE:

Open-Back Headphones

FIT:

Over-Ear

IMPEDANCE:

32 ohms

SENSITIVITY:

93dB

FREQUENCY RESPONSE:

8Hz – 65kHz

WEIGHT:

458g
Hands-on with the HIFIMAN HE1000 Stealth Magnet Headphones 
The HE1000 Stealth Magnet was neutral with sufficient warmth, smoothness, and softness. Also, it had a highly musical sound profile. Its neutral brightness and slightly boosted treble added to the impact of all frequencies without being excessive.
When testing its bass for our HIFIMAN HE1000 Stealth Magnet Headphones Review, we heard how excellent its bass extension was. The dynamics were ideal, and it sounded soft and lighter. Despite this, you can still receive plenty of presence whenever needed.
Its bass was also fast, accurate, tight, and energetic, which means the drivers of these headphones ideally control bass. Moreover, they also provided an increased technical level with outstanding dynamics, layering, and resolution. 
The midrange of these headphones is warm. Plus, you will receive a sense of tonal richness along its upper bass and lower midrange.

One of the highlights of HE1000 Stealth is its midrange since it shows what the product is capable of. These were spacious and clear, featuring an airy presentation. It also has outstanding depth, layering, and more forward and presented vocals. 
On its mid resolution, it was high, while the body adequately links via the bass. The mids were lively and punchy, and its forward vocals made everything exciting and engaging. 
The emphasis on the treble is slightly pronounced, resulting in a touch of brightness and subtle haziness. This effect varies based on the specific music genre and the audio played. 
Its quality adds a lively and appealing dimension to the audio. However, it can also introduce an overly bright aspect that might not suit everyone.
The HE1000 Stealth gives an expansive and captivating nature to the soundstage. It can be entrancing for those transitioning from headphones with more confined stages. 
We love how the HE1000 Stealth sounded extremely refined, dynamic, vocal forward, and lively. Although slightly narrower than before, it still excelled and gave a spacious representation where its mids stand out. 
Overall, the HE1000 Stealth Magnet had excellent efficiency and driving it was easy with most devices. Of course, it delivered the most pleasant audio with high-powered amplifiers.
HIFIMAN HE1000 Stealth Magnet Headphones Review Summary
We had an enjoyable listening experience during our product tests for this HIFIMAN HE1000 Stealth Magnet Headphones Review. It offered adequate brightness, soft character, and a broad soundstage with buoyant imaging. Also, its audio had excellent dynamics.
Aside from its high-quality audio, another remarkable feature of this product is its ergonomic design. These headphones remained comfortable even after long hours of use, and we did not experience any fatigue or discomfort. It is also a versatile product that works with multiple devices due to its replaceable connectors.
Although expensive, the HE1000 Stealth Magnet is worth purchasing. Its high-quality audio justifies the amount spent on these headphones, especially if you seek its rich tonality and character. Plus, it is easy to drive, thanks to its sensitivity and impedance.
We highly recommend this product if you want a pair of headphones with premium-quality audio, ergonomic design, and high efficiency. Learn more about the HE1000 Stealth Magnet Headphones by checking the official HIFIMAN product page for additional details.