One of the latest products in JBL's expanding line of true wireless earphones is their Tune 225TWS. Today, we're going to tackle and talk about it in our JBL Tune 225TWS review.
It's a set of earphones that offers easy connectivity along with JBL's reliable quality sounds. Not only that, but they're also more affordable, making the Tune 225TWS an ideal product to use.
But first in our JBL Tune 225TWS review, we're going to check out its packaging and what's inside the box.
JBL Tune 225TWS Packaging
Our JBL Tune 225TWS came in your standard-looking JBL box that has an image of the product in front. The company made sure to show that the earphones have zero cables and pure bass. These are written on the centre along with the Tune 225TWS image.
JBL's logo is written on the top-left corner of the package, while some specifications are present on the right.
Inside, you will find the earphones together with the other included accessories. All of these are set and organised neatly to prevent any damages during transit.
Other than the Tune 225TWS, other inclusions are the charging case and a USB-A to C charging cable. Of course, JBL also included a quick start guide and warranty information.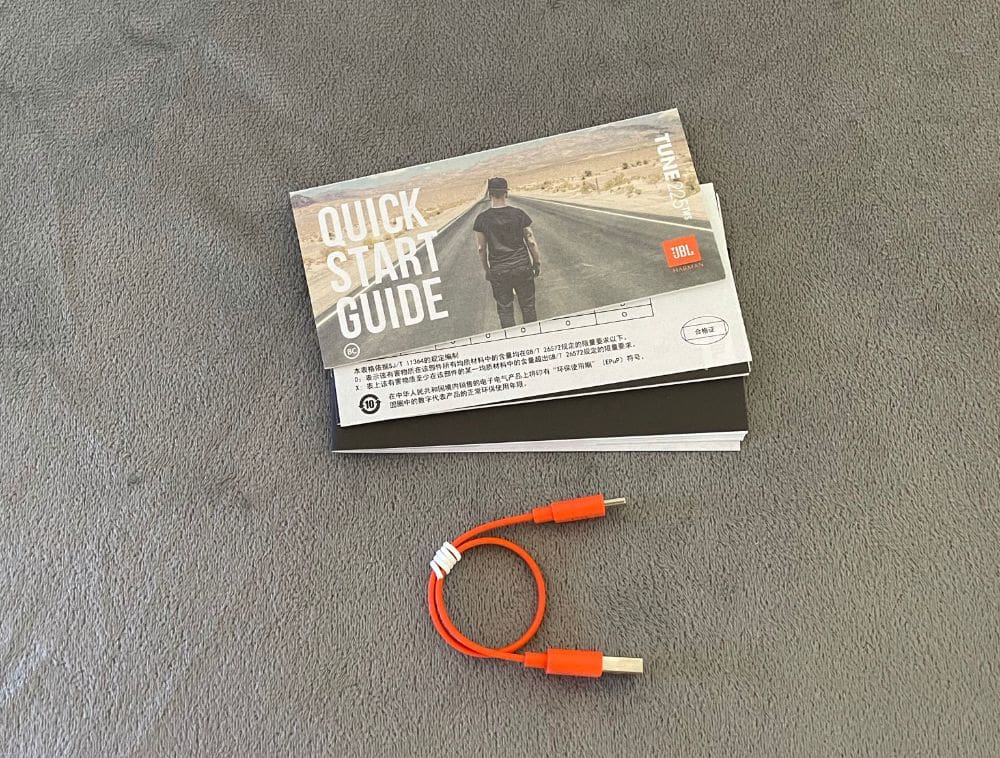 Looking further into our JBL Tune 225TWS review, we'll focus on how the earphones work, their design, features, and more.
JBL Tune 225TWS Review – Design and Functionality
Here, our JBL Tune 225TWS review will discuss the functions and design of these earphones from JBL.
Looking at the product, the earphones feature a regular stalk design that's difficult to differentiate from older JBL Tune models, which isn't a bad thing at all. The awesome transparent orange colour that we have looks amazing!
Inside the buds, standard 12mm drivers are present. There aren't any special voice coils or armatures present. You'll only find the driver to send signals to your ears at adequate amplitudes.
When it comes to functions, the Tune 225TWS is kept simple. There are no individual gestures that you'd need to go through various features for convenience.
Each bud has a multifunction button. Tap on either one of these to end or answer phone calls. Holding either of them down for about three seconds mutes/unmutes the mic during calls.
One tap on the left earbud skips one track forward, while double-tapping will return to the previous track. Giving a single tap to the right bud plays/pauses the audio, double-tapping it brings up your voice assistant.
The buttons are a bit clicky yet don't provide audio cues to notify when you've paused or shifted a track.
For its charging case, it's small and compact enough to slip into your pocket. Despite its size, it comes with essentials like a USB-C port for charging, battery indicator lights, and magnetic latches. Like the earbuds, the charging case is made of plastic yet is well-built and has a great feel to it.
There's a LED light beneath the lid that displays the remaining battery level. We find this pretty convenient, though you still need to open the case to see it.
Key Features of the JBL Tune 225TWS
This time, our JBL Tune 225TWS review will discuss the key features of these earbuds.
Pure Bass Sound
JBL has been producing speakers that pump up parties, concerts, and festivals around the world for decades. Now with the Tune 225TWS, JBL brings your music, movies, and games to life with Pure Bass Sound.
No More Wires
Wires of your conventional earphones tend to get tangled in your bag, stuck in your hair, or caught in your jacket. When you're using JBL's Tune 225TWS wireless earbuds, you can enjoy your music without dealing with wires.
Dual Connect
Dual Connect is a feature that allows you to use either one or both earbuds. Whether you only want to use the left or right earbud, the 225TWS will work well.
Aside from that, the battery life also follows you since you can charge a single earbud while using the other.
Listen For Longer
The Tune 225TWS's comes with 25 hours of battery life. With that, you can listen to music, call your friends, or watch movies all day and night.
Next on our JBL Tune 225TWS review are the specifications of the Tune 225TWS.
Specifications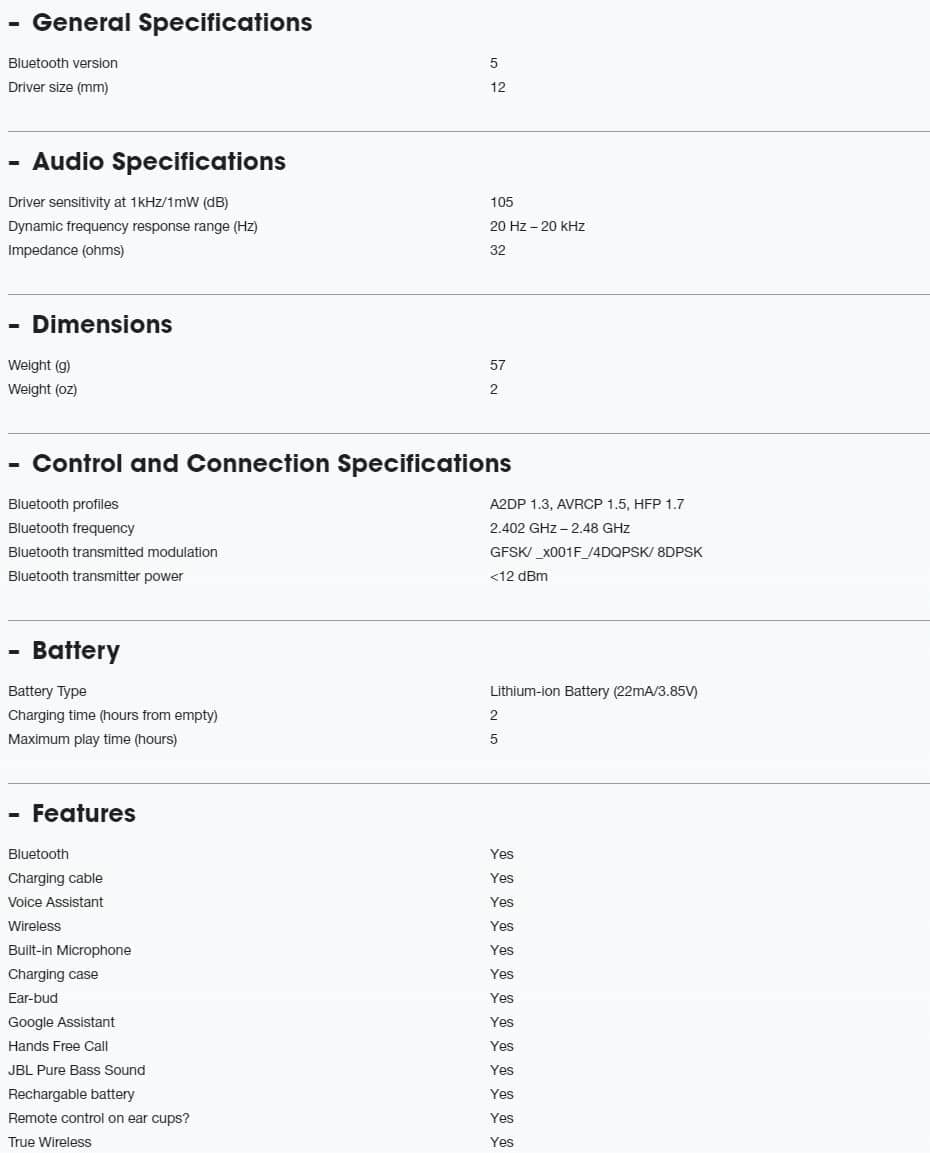 The JBL Tune 225TWS utilises Bluetooth 5 for connection and supports the SBC and AAC Bluetooth codecs. It has a frequency response range of 20 to 20,000Hz and comes with support for Google's Fast Pair.
This will give you immediate pairing with any compatible device. There, you can utilise either earpiece independently. It doesn't come with IP ratings for water or dust resistance, so be careful when using it in exposed areas.
JBL claims that the earphones' battery lasts around five hours. For the charging case, it has a total battery life of 20 hours. With that, you can have four rounds of charges for the earbuds when using the case.
Its maximum SPL is 98 dB and has an impedance of 32 ohms. For its mic, it has a microphone sensitivity of -30 dBV@1 kHz|Pa.
For its dimensions, the Tune 225TWS' Dynamic driver measures 12mm and weighs 57g.
Hands-on with the JBL Tune 225TWS
Our JBL Tune 225TWS review will get hands on with the earphones and see if its performance is excellent. To begin, let's take a look at how it fared in comfort and stability.
Comfort and Stability
Most users today prefer the in-canal secure fit when it comes to wireless earphones. However, there are several benefits to outer-ear fitting earphones that the Tune 225TWS has. These include comfort and the chance to let you hear your surroundings.
Although they're big, these earphones are light, so you can barely feel them when you're wearing them. When properly positioned, the Tune 225TWS offers some passive noise isolation, allowing you to get some ambient sounds filtering in.
The earphones have a nice fit and do a great job of staying in place even if you move around.
Audio Quality
Just like with other JBL products, the Tune 225TWS features the company's excellent signature sound. With that, you can experience enjoyable and quality listening that gives a boost to the low-end.
Although it has a less than ideal passive noise isolation, these earphones offer an immersive, engaging, and fun listening experience.
Sound Profile
Its sound profile is a bit lacking in terms of bass, which isn't ideal for genres like hip-hop or EDM. Despite that, it has a well-balanced treble and mid, resulting in detailed, clear, and articulated vocals and instruments. This is more ideal for content such as podcasts or audiobooks.
However, do note that it doesn't have any form of sound customisation features and lacks support for advanced Bluetooth codecs. That's not to say that the Tune 225TWS isn't detailed at all.
Mid Accuracy and Treble
The Tune 225TWS has outstanding mid accuracy. Plus, it has a low-mid range dip that thins out vocals and instruments, as well as a high-mid range bump.
For treble accuracy, the earphones are impressive. Aside from the few bumps on the mid and low-treble range, its range is still flat overall. But since treble delivery depends on the earphones' fit, positioning, and seal, the user's experience may vary.
The JBL Tune 225TWS is a great pair of earbuds for music, watching videos or movies, and phone calls. Its sound was sharp and clean, allowing us to hear clear audio with enough detail.
Microphone Performance
For an affordable pair of earbuds, the mic recording quality is good. The recording speech sounded fairly clear and natural. Most importantly, there isn't any sound distortion, making the earbuds a good pair to use for voice calls.
Bluetooth Connectivity
For the Tune 225TWS' Bluetooth connectivity, its range was something we appreciated. We tried leaving our paired device on the desk, and we didn't lose signal when we walked around. There weren't any issues with the signal and range, so we were satisfied with the Tune 225TWS' wireless connectivity.
Battery
JBL claims that the Tune 225TWS is powered by a 22mA lithium-ion battery that lasts for five hours. The charging case offers up to 20 hours worth of battery life, so that gives a total of 25 hours. While this battery life is shorter than other earbuds, it's enough for a long train or car ride.
When we used it, the battery lasted exactly for five hours. Charging it was quite fast, and we did get a total of 20 hours from the charging case. We were happy with these results since they performed as JBL advertised.
However, its battery life varies depending on how you use it. Other wireless earbuds' battery life may appear shorter due to different factors like the volume you set. That means your experience may be different from ours.
JBL Tune 225TWS Review Summary
In the past few months, various brands have been launching mid-range true wireless earbuds. Of course, JBL didn't get left behind and released a good pair of budget-friendly wireless earbuds. Plus, JBL ensured that it comes with comfort, a good battery life, and great audio quality.
With the JBL's sonic signature, you can expect the Tune 225TWS to sound good.
If you're a fan of JBL looking for comfortable earbuds with enjoyable audio, you can consider the Tune 225TWS. They're easy to use, portable, well-made, and has an excellent fit.
In conclusion to our JBL Tune 225TWS, we highly recommend this product. If you want to purchase these earbuds, they're available from the company's official website.