This new speaker from JBL matches the RRP of its predecessor yet features enhanced drivers and bass radiators. These are added to achieve a more immersive and bigger stereo sound performance.
It has an IP67 rating that's higher compared to that of the Xtreme 2's IPX7. Thus, making it completely water and dust-proof. The speaker allows you to enjoy 15 hours of battery life and can be utilised as a power bank.
The Xtreme 3 allows for multi-point connection with two additional devices that have Bluetooth 5.1 support. It's a speaker packed with other awesome features.
JBL Xtreme 3 Packaging
Our JBL Xtreme 3 arrived in a typical-looking JBL package that features the usual orange and white theme. There's an image of the speaker in front and JBL's logo on the upper-left corner. As for the speaker's name, you'll find it in the upper-right corner.
There's another image of the speaker on one side of the box, while the rear displays more information about it.
Inside, the Xtreme 3 speaker is kept secure and protected. Along with it, you'll find a carrying strap plus a user manual inside the box. JBL also included an AC adapter plus a USB-C connection cable.
Now, let's talk about the speaker's design and functions in our JBL Xtreme 3 review.
JBL Xtreme 3 Review – Design and Functionality
When comparing the Xtreme 3 with the Xtreme 2 and Xtreme 1, its design differs from the two. We'll check out the design varieties and functions between them in this JBL Xtreme 3 review.
Generally, the JBL Xtreme 3 is a cylindrical-shaped speaker that you can set horizontally or vertically. It comes with two integrated low profile hooks at the top for attaching its carrying strap.
Its carrying strap also comes with an integrated bottle opener. It can be useful when you're on a road trip or even when having an outdoor party.
We have the Xtreme 3 in black, but it comes in three colour variants. With that, you can choose the shade that fits your style.
The Xtreme 3 is an amazingly portable speaker that has a nice shape. You can easily carry it with one hand, or you can connect the carrying strap to it. Because the speaker is battery-powered, you can bring it out with you wherever you go.
The speaker has an excellent build quality, and it comes with an IP67 rating. This makes the Xtreme 3 dust and water-resistant, so it's suitable for outdoor use.
There's a tight netting that's wrapped over the speakers, giving it a sturdier and more durable feel to it. Plus, it comes with a rubber base on the sides to prevent it from slipping when set vertically.
Just like its predecessors, this speaker still sports a fairly small size. It's got that rugged build to it, allowing you to bring the Xtreme 3 wherever you go.
Controls
The JBL Xtreme 3's controls are fairly decent. They're easy to press, plus a couple of simple features like the play/pause buttons and volume controls are present.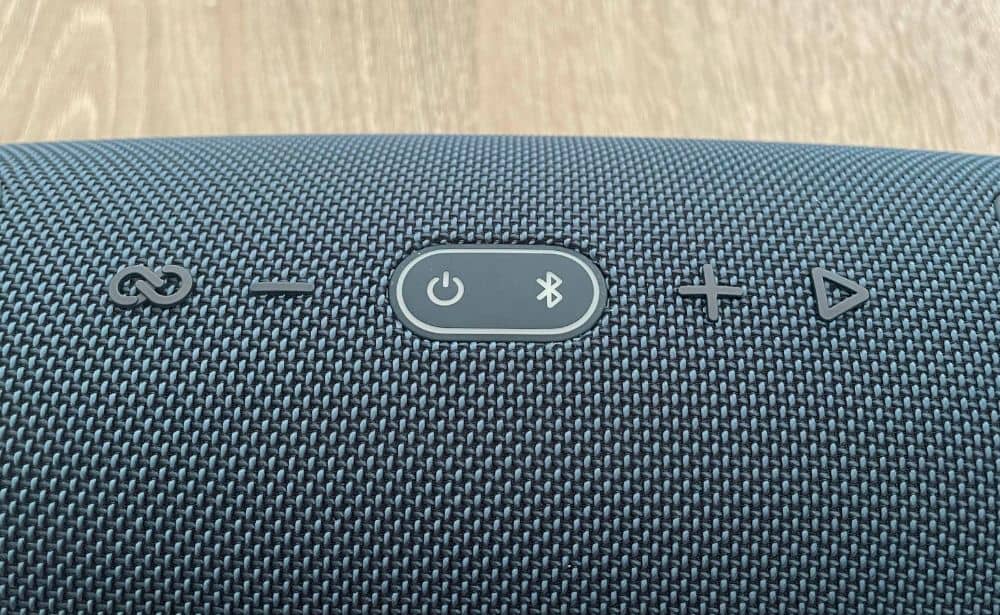 Pressing the play button twice will let you skip to the next tune. However, you won't get to return to the previous track with it.
It doesn't come with call-related buttons which can be a bit of an inconvenience to some people.
Though it's good that there's a chime when you've reached the max volume. The Bluetooth and power buttons light up, and a little vertical indicator for the battery life is present. You can find the indicator beneath the JBL logo.
The Xtreme 3's speaker comes with a dedicated PartyBoost button. It allows you to link with several Party Boost-compatible speakers.
Key Features of the JBL Xtreme 3
Now in our JBL Xtreme 3 review, let's see what this portable speaker offers by checking its key features.
Stay Powered with the Integrated Power Bank
You won't have to put the party on pause since the Xtreme 3 has a built-in power bank. With that, you can charge your devices without needing to take a break from jamming.
Wireless Streaming via Bluetooth
Connect up to two smartphones or tablets to the JBL Xtreme 3 and take turns enjoying JBL's audio.
More Fun with PartyBoost
PartyBoost is a feature that allows for pairing two PartyBoost-compatible JBL speakers. This way, you can enjoy the stereo sound and make the party more fun.
IP67 Rated
The JBL Xtreme 3 is a durable speaker that you can take wherever you go. It's IP67-rated, which means it's dust-proof and water-resistant.
Aside from that, the speaker will also be safe even when submerged in 1 meter of water for 30 minutes. With that, you can ensure that the Xtreme 3 will last long.
High Battery Capacity and Fast Charging
Like its predecessor, the Xtreme 3's battery capacity doesn't go lower than 10,000 mAh. That provides a lot of energy, allowing you to listen to music for up to fifteen hours. The total usage time depends on the volume levels you set, so your personal experience may vary.
Additionally, you can fully charge your battery within 2.5 hours. The speaker has a USB-C connection that allows for fast charging.
Next, our JBL Xtreme 3 review discusses the speaker's specifications.
Specifications
The Xtreme 3 has x2 70mm woofers plus x2 20mm tweeters. For the RMS woofers, there are x2 25W pieces, as well as x2 25W RMS tweeters.
Its frequency range is 53.5Hz to 20k Hz, while its 10,000 mAh battery lasts for 15 hours. Do note that it takes about 2.5 hours to fully charge. For its signal to noise ratio, it's higher than 80dB.
The Xtreme 3 is 298.5 x 136 x 134mm (W x H x D), and weighs 4.3 lbs.
Hands on with the JBL Xtreme 3
Now, our JBL Xtreme 3 review will discuss this speaker's performance, but before that, let's check out JBL Connect.
JBL Connect App
The JBL Connect application allows you to connect two speakers while letting you create stereo pairs. Or, you can play the same tunes in a large space. What we appreciate about it is that JBL made it compatible with both Android and iOS devices.
Frequency Response Audio Quality
Let's start with its frequency response accuracy. Its performance is fantastic for the size of the speaker. It gave us nice and warm sounds and delivered an adequate amount of power and bass.
Its soundstage is good and it comes with separate speakers for its right and left channels.
When it comes to its dynamics performance, the JBL Xtreme 3 does a great job. It gets nice and loud, which is great if you're playing music in crowded or large rooms. However, do note that there is some compression artifacts when we maxed its volume.
For its overall sound, the Xtreme 3 doesn't sound bad for music. It's got that warm sound profile that comes along with a neutral mid-range. With that, the vocals are accurate and clear.
When it comes to Xtreme 3's Bluetooth, it performs excellently. We paired it easily with two devices simultaneously and took advantage of the wide range it offered.
On both iOS and Android, we can say that its latency is excellent, and can be suitable for watching videos.
Of course, you should remember that some devices and apps compensate differently for latency. So, everyone's experience can vary.
The JBL Xtreme 3's battery performance is outstanding. The company claims that a single charge lasts around 15 hours, though we measured more than 12 hours.
We liked that it shuts off around after 20 minutes when no one's listening to music. It's a good way to conserve the speaker's battery life. Also, it's good to note that battery life varies depending on the usage, so experience per person may differ.
JBL Xtreme 3 Review Summary
Although it's simply a refined version of older models, the Xtreme 3 is a great speaker that beats its predecessors. There are many things to love about this portable speaker: its construction, better IP certificate, and cool design.
Of course, it doesn't fail to deliver impressive audio, which is the most important thing we look for in speakers.
Additionally, it comes with a user-friendly app and some unique features like PartyBoost, making listening to music more fun. The Xtreme 3 can also act as a power bank. With that, you can charge a device without having to stop your music.
If you're looking for a durable speaker that provides long hours of playtime, the Xtreme 3 is an excellent option for you.
In conclusion to our JBL Xtreme 3 review, we highly recommend this product. If you want to get your hands on these speakers, you can purchase this from the company's official website.