JDS Labs is known for producing amazing products that offer users an exceptional listening experience. Today, we're giving you our JDS Labs Element II review to learn more about this superb product. 
The company designed their Element II to boost your audio listening enjoyment. It packs the top-notch performance you'd expect from their products, and they applied it into a precision-designed aluminium chassis. 
Sounds like something you need? If so, continue reading JDS Labs Element II review to learn more about the product.
JDS Labs Element II Packaging
Before we get into details about the Element II, our JDS Labs Element II review will discuss its packaging first. Here, we'll see how the company presented their product and what they included inside the box. 
Just like the Element II itself, the packaging is kept simple. Ours arrived in a basic yet sturdy cardboard flip-open box.
Inside, the JDS Labs Element II was securely placed along with the other inclusions. So, you won't need to worry about it getting damaged while in transit. 
Aside from the DAC/AMP, you'll find a 16VAC power adapter and a 3-feet USB Type-A to Type-B cable. The cable has a ferrite along with it.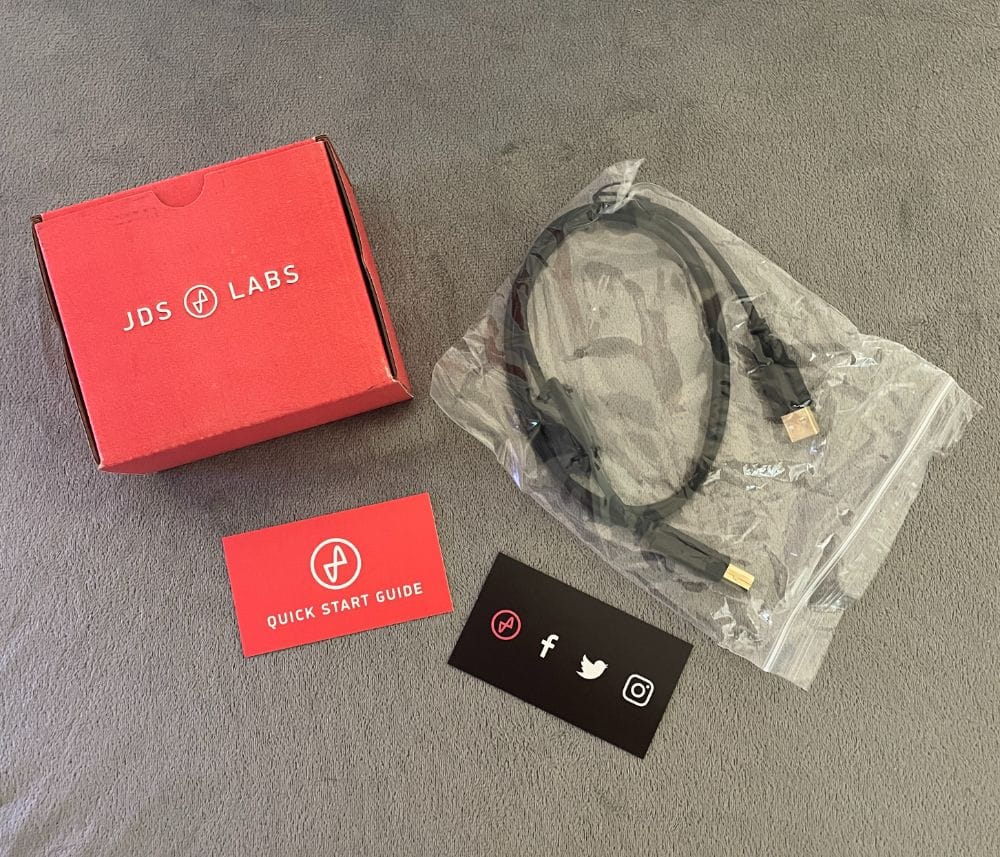 Now, let's take a look at its different functions and design here in our JDS Labs Element II review
JDS Labs Element II Review – Design and Functionality
The Element II from JDS Labs sports a beautiful and premium-looking aluminium chassis. Other than its look, what caught our attention was the big knob set at the top of the Element II. This portion moves smoothly and easily to provide you with accurate volume adjustments. 
JDS Labs chose a good position for the knob since it's more accessible and easier to move. In addition, it features a nice white LED beneath the knob that illuminates an attractive soft light. 
What we find interesting here is that you can choose the type of ring to go with your Element II. You can either go for a copper, red, or black ring to match your preferences for the knob. 
To achieve a clean look, JDS Labs set a 1/4″ headphone jack on the product's front and nothing more. 
Looking at the rear portion of the Element II, you'll find RCA outputs and inputs. These are present for you to utilise as a DAC/preamp for your speakers. Or, you can choose to use it as an AMP only when you pair these with various external DACs. 
You'll even find the gain button and the power button. The latter also functions as a means to switch between the preamp and headamp.
The company made sure to keep things simple-looking. Despite that, the Element II packs a ton of functions in an attractive package. Overall, it looks great when you set it on your desk. 
The optimised Element II comes with a better and greatly improved DAC portion that now supports increased resolution bitrates. This goes along with other improved specifications. 
Its AMP portion is based on the AMP present on another product from JDS Labs – the Atom DAC. We actually like the inclusion of this since it's extremely clean with low output impedance. 
When it comes to its gain, it is set at 1x & 4.73x. This setup is adequate for most users' needs. 
When it comes to setting up the Element II, it's pretty easy and straightforward. You simply need to link the AC power adapter to a rear power jack (a 16VAC). Then, you can connect to a wall outlet.
After, link the USB cable between your PC and the USB jack. You should then connect the headphones to the Element II's front headphone output jack. After that, you're all set. 
A quick press on the power/mode button switches the product on. You'll know if you've successfully done so if the lighting is present under the volume knob. When making a long press on the same button, it will let you toggle between the RCA or headphone output. 
Don't forget to set the volume knob to a volume level that's appropriate for listening. 
There are two types of audio inputs that the Element II accepts. These include the digital input through a USB or an analogue input with RCA jacks. 
When you link an RCA cable, it mechanically avoids the built-in DAC. This sets the amplifier to only play audio coming from your external source. 
When you press the gain button, you'll be able to shift between high and low gain amplifications. However, it's good to note that it's best to utilise the lowest gain available. 
We like that the Element II offers both RCA preamp and headphone outputs. Here, you'll need to press the power/mode button for about a second. Doing so will let you toggle between the two modes.
However, you should remember that only a single mode will be active at a time. Plus, for either mode you choose, the Element II's volume can be adjusted.
Wondering what makes the Element II awesome? Continue reading to find out what it has in store for you.
Custom Engraving
If you are wanting to get yourself a JDS Labs product, here's a tip, get it from their online store. When you purchase directly from JDS they offer you the option to have your item laser engraved, completely free of charge. I decided to test out the engraving service by providing them with some vector files of my favourite band. I intentionally chose this design due to the many tiny details in the image so that we can put the engraving to the test.
I have to say, I am absolutely stunned by the quality that I saw when I opened up the Element II box. The detail is amazing! This really is the perfect way to make your headphone amp really unique and a one of a kind piece.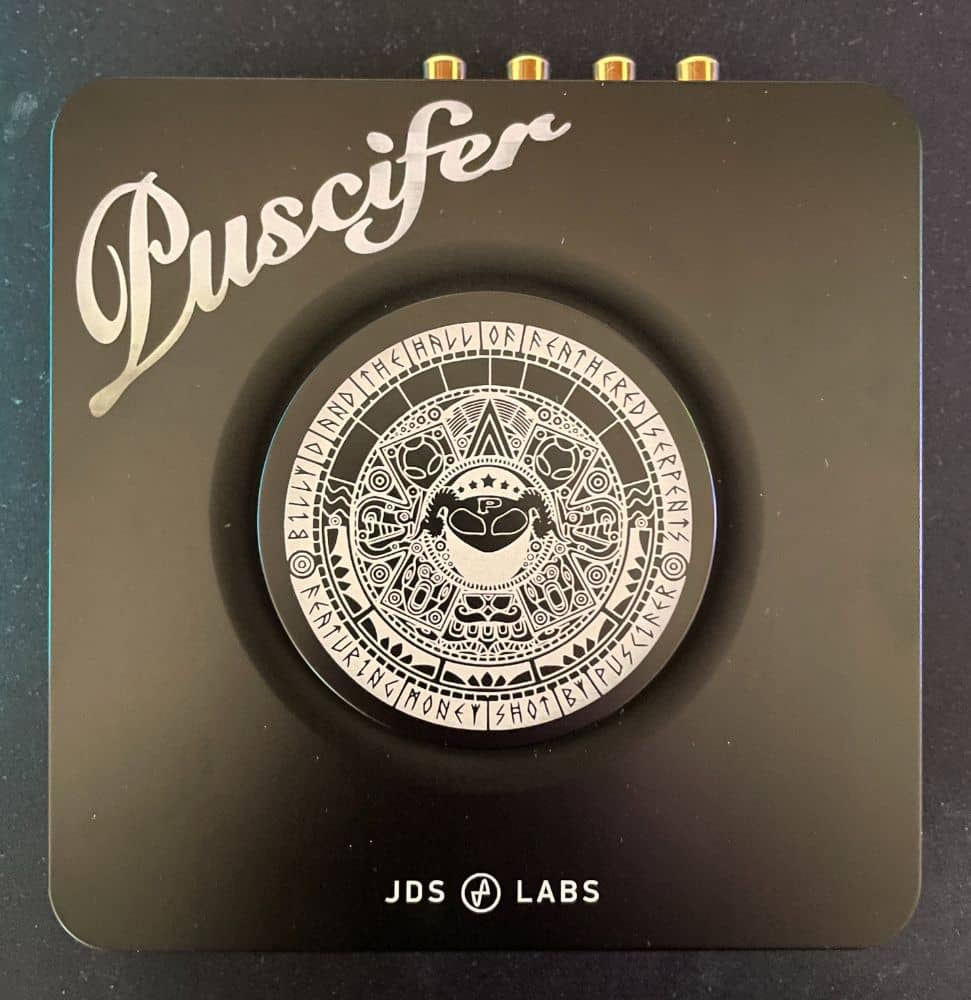 Key Features of the JDS Labs Element II
Our JDS Labs Element II review will now focus on the product's key features. Here, we'll see what makes this DAC/AMP special and unique.
Simplified and Re-engineered
JDS Labs redesigned the Element II to further boost your listening experience with any type of headphones. With this, you'll receive the quality you'd expect from their other audio devices. What's more, you'll get to enjoy an excellent physical design and build.
For its body, the Element II features a precision-machined aluminium chassis with a 32/384k DAC. Plus, it has a preamp RCA output that you can activate by pressing a button for ease of use. 
With this convenient knob, you can enjoy seamless transitions between your headphones and speakers.
Preamp Outputs for Splitting Audio
The Element II comes with preamp RCA outputs that allow you to control the volume level of your speakers. Having RCA outputs allow you to split the audio into two separate channels. Specifically, these channels are for left and right. 
With that, you can hear more audio dimensions that enhance your overall listening experience.
Output Selection
The Element II from JDS Labs features the Mode button. Pressing it lets you toggle between powered speakers and headphones
With this feature, you won't have to bother with disconnecting cables. All you have to do is toggle between your options, then sit back and relax while enjoying your music.
Ultra-high Power
JDS Labs' Element II features +/-15VDC rails and constant maximum power of 1.3W. It allows all headphones to deliver extraordinary audio quality to make listening fun and enjoyable. 
Top-tier Performance of JDS Labs Element II
The Element II is JDL Labs' most advanced AMP/DAC to date. With its great and notable features, it achieves excellent performance in delivering high-quality audio for your listening moments. 
Dual Gain
JDS Labs' Element II also offers dual gain. The 1.0x low gain is suitable for driving efficient IEMs. On the other hand, its high gain easily provides adequate power to demanding full-size sets. Plus, you can easily switch between these with the Element II's gain button.
JDS Labs Element II's SiTime MEMS Oscillator
The Element II's USB DAC is equipped with a SiTime MEMS oscillator. It has frequency stability of ±10ppm, which offers pristine jitter.
Relay Muting
Since the Element II is optimised for desktop listening, JDS Labs' included full relay muting for this DAC/AMP. This feature eliminates thumps and pops during startup through its preamp or headphone outputs.
USB Audio Class 2
Element II supports up to 32/384kHz PCM over a UAC2 engine based on a custom XMOS XU208 chip solution. With its ASIO and UAC2 support, this DAC/AMP offers satisfying audio for the perfect listening experience.
AC Transformer
The AMP and DAC of the Element II from JDS Labs are fully powered by the external AC transformer it has. It features 12 regulators to guarantee extremely low continuous ripples and rail voltage. 
Now, our JDS Labs Element II review will discuss the different specifications of the Element II. 
Specifications
The DAC 
The Element II features a frequency response (10Hz – 20kHz) rate of +/- 0.13dB. For the THD+N 20Hz – 20kHz, it's less than 0.001%. IMD CCIF 19/20kHz -6.03 dBFS is 0.00041% and IMD SMPTE -6.03 dBFS is 0.00029%. 
Its noise (A-weighted) reaches around -109 dBu and its A-weighted dynamic range is 118dB. The -90 dBFS linear error is 0.0dB while the crosstalk (-10 dBFS 100K RCA) is -107dB. Then, its USB jitter components (12 Khz) are recorded at -127dB. 
The AMP
This time, let's focus on the AMP specifications. Its frequency response (10Hz – 20kHz) is +/- 0.02dB, andTHD+N 1kHz 150Ω is 0.0008%. For the THD+N 20Hz – 20kHz, it is less than 0.001%. 
IMD CCIF 19/20kHz -6.03 dBFS is 0.0001% while IMD SMPTE -6.03 dBFS is 0.0005%. The Element II's noise (A-weighted) is -115 dBu while Crosstalk -10 dBFS 100K RCA is -88dB. 
For output impedance and channel balance, these are at 0.1Ω and +/- 0.56dB, respectively. Maximum continuous power at 600Ω is 165mW (9.9 VRMS), while at 150Ω is 656mW (9.9 VRMS). For maximum continuous power at 32Ω, it's only at 1.3W (6.53 VRMS). 
Data Support and Connectivity for the JDS Labs Element II
The Element II AMP/DAC from JDS Labs makes use of a USB Audio Class 2 interface. Plus, it works efficiently with Windows 7, 8, and 0. It's also compatible with Mac OS X and Linux. 
When it comes to connectivity, it has both RCA for analogue input and preamp output. For its digital input, it utilises the USB Type-B connection. 
Configuration and Dimensions
The headphone output of the Element II is 6.35mm (1/4″). Its dual gain is 1.0x & 4.73x, while the volume potentiometer taper is Alps 15A. 
For its dimensions, the Element II's case is 5.8 x 5.8 x 1.6″ and weighs a total of 180z. 
The next section in our JDS Labs Element II review will be all about the Element II's performance. We'll see if it's as good as what JDL Labs claims and if it's something worth investing in.
Hands-on with the JDS Labs Element II Review
When we tried the JDS Labs Element II, it's easy to say that we had an amazingly positive experience with it. 
For its looks, it was simple and clean, which is just like how any well-designed AMP and DAC should look. Though despite its minimalist approach, it had this premium appeal and aesthetic, which was great. 
The Element II was able to reproduce sounds precisely without even adding distortions or colouring to its sound signature. We didn't experience any hints of noise, and any genre of music we played sounded great. 
Of course, we tried using it with a couple of headphones from different brands, and it performed splendidly. If you're trying it with the easier-to-drive headphones, you don't have to worry since it works just as well. 
Though measurements were mostly dominated by the DAC's performance, it subjectively didn't translate to decreased performance. The amplifier was centre and front, offering us outstanding fidelity with our low impedance or high impedance headphones. 
Another thing we greatly loved about the Element II is that it provided thundering and great amounts of power. This was possible even with ample headroom. 
This time, our JDS Labs Element II review will focus on its USB filtering and implementation. 
When it comes to this aspect, the Element II performed really well. There weren't any buzzing GPU or CPU whines heard from our studio monitors, and everything sounded clear and perfect. 
We had a range of headphones available from Beyerdynamic, Sennheiser and Philips, so we tried them all with the Element II as well. It all performed brilliantly and we didn't have to worry about digging into the product's noise floor. 
Overall, the JDS Labs Element II is extremely simple yet offers many elements for your audio enjoyment. When it comes to its looks, it's got that sleek and premium aesthetic, which blends perfectly with our theme design. 
Focusing on its audio output, everything was phenomenal. The sounds were clean, crisp, clear, and it gave enough power to let you enjoy your favourite tunes. There weren't any overlapping sounds, and all instruments blended perfectly, which made various tunes sound perfect. 
To put it simply, we won't go for anything else than this DAC/amp. It's basically what we want for a desktop device to drive our headphones. 
So yes, we love how well the Element II performed, and we'd highly recommend it to you. 
JDS Labs Element II Review Summary
The Element II is just like its predecessor, the original Element. It's designed to power your headphones to release their optimum potential without over-enhancing the sound. 
You can use the Element II with sensitive IEMs and the most planar headphones without missing any detail. Plus, it delivers clean and well-controlled audio, which is perfect for all the audiophiles out there. 
Although it's not a bright, high-pitch sounding DAC/AMP, it delivers your headphones' true sound signature.
Additionally, its low output impedance means that the Element II won't alter any audio peripheral's sound signature. And that also applies to the most sensitive IEMs that you're planning to use with it.
JDS Labs' Element II excellently reproduces neutral audio, and it proves that neutral doesn't mean boring. With that, you can choose the headphones that suit your needs instead of picking an AMP for your headphones.
It doesn't matter where you choose to place it or the theme design you want to match it with. The JDS Labs Element II will always look superb, even if you decide to set it on a simple desk. 
The clean and minimalist style allows it to be versatile and easy to match with any colour theme you're sporting. Thus, making it the only DAC/AMP you'll need for most headphones. 
Overall, the Element II from JDS Labs is an excellent DAC/AMP that we highly recommend. It delivers neutral yet superior quality audio without needing high-end headphones with grand features. If you want to get your hands on this product, it's available for online purchase from the company's official website.