Today, we are writing our KEF R3 Meta Speakers Review to discuss an eye-catching and promising product from KEF. 
The R3 Meta Speakers are stand-mounters featuring the MAT or Metamaterial Absorption Technology from KEF. It is a creative and brilliant technology that optimises the performance of KEF speakers. That means you can enjoy your favourite tunes from a premium, sleek product. 
Continue reading our KEF R3 Meta Speakers Review to learn more about these speakers. We will share details about its design, functions, specs, notable features, and how well it performs. 
KEF R3 Meta Speakers Packaging
Our speakers arrived in a thick cardboard box that will protect the product and accessories inside. There is not much to look at on the box exterior, so we started unboxing immediately. 
A pair of R3 Meta Loudspeakers

Microfiber Grilles

Port Bungs

Rubber Feet

User Manual and Warranty Information
KEF R3 Meta Speakers Review – Design and Functionality
The speakers for this KEF R3 Meta Speakers Review come in an attractive Indigo Gloss Special Edition colour. However, you can opt for an alternative finish if that shade is not your cup of tea. Instead, you can go for the walnut or the gloss white/black finish. 
No matter what finish you choose, these speakers are impeccably made. That means they will look lovely and blend with your setup and aesthetics. 
There are not many changes/upgrades to its exterior and surface. Technically, the speakers are the same as the earlier model based on build quality, size, and driver size. 
The R3 Meta still sports a three-way style. However, it is the sole stand-mounter product in the current 2023 R Series. Other notable aspects are the Uni-Q driver array and a 16.5cm hybrid aluminium bass driver. 
More on the Uni-Q driver array. It comprises a 25mm aluminium dome tweeter positioned at the centre of its 12.5cm midrange driver. It is on its 12th generation, thus, optimising audio dispersion while functioning as a source point for high/mid frequencies. 
Generally, this design can be a challenge to integrate successfully. However, KEF utilised it to deliver excellent audio quality in their recent models, including the R3 Meta. 
MAT (Metamaterial Absorption Technology)
The inclusion of MAT is another optimisation which is a plastic structure that measures close to a puck. It sits behind the tweeter to better absorb the unnecessary backward radiation that enters the cabinet. 
It also consists of 30 tubes for absorbing high frequencies.
With all these features, you will get cleaner highs and less distortion while listening. 
Uni-Q Driver Array
It is also worth noting that the Uni-Q driver received modifications to work well with the new MAT structure. You will get an optimised tweeter gap damper, flexible decoupling chassis, fine-tuned signal path, and upgraded crossover design. 
These essential optimisations will provide you with more transparent and quality audio. 
Moreover, bi-wire speaker terminals and bass reflex ports are on the rear panel of the speakers. You will find the micro fibre grilles that deliver top-notch performance when the R3 Meta is covered. It is all thanks to the precision-cut holes that decorate the area. 
Key Features of the KEF R3 Meta Speakers 
Is this product better than other stand-mount speakers? Find out as we discuss its unique features in our KEF R3 Meta Speakers Review.
An Upgrade of the KEF R Series Stand-mount Speakers
The R Series speakers from KEF receive good customer reviews for their precise sound and sleek looks. Of course, KEF continues to release improved products through the years. The latest stand-mount model, R3 Meta, features some essential design upgrades, allowing it to perform better. 
This pair of speakers offer an excellent combination of high-fidelity audio and stunning looks.
Three-way Bookshelf Speaker
With the R3 Meta, KEF redefines the performance of bookshelf speakers. This product uses the same drivers as the R11 Meta, giving it a three-way design. Additionally, the speakers equip a 6.5-inch hybrid aluminium bass driver and 12th generation Uni-Q driver array with MAT. 
As a result, these drivers deliver unparalleled acoustic performance.
More Defined Bass
The hybrid aluminium bass drivers in the R3 Meta enable better driver excursion for deeper, tighter, and more controlled bass.
Revolutionary MAT for Improved Performance
These speakers get their name Meata from the Metamaterial Absorption Technology or MAT, a proprietary innovation from KEF. It is a complex maze-like structure that absorbs 99% of unnecessary sound waves from the rear of the tweeter. As a result, these speakers deliver purer audio with more detail and clarity. 
Hybrid Aluminium Woofer for Taut and Finely Tuned bass
The R3 Meta uses a 6.5-inch hybrid aluminium woofer of shallow aluminium skin on a paper cone. With this hybrid design, the speakers can deliver accurate and dynamic bass due to precise movement. It has a rear-firing cabinet port with innovative, flexible walls to prevent unwanted resonance and air turbulence.
Increased Accuracy and Clarity with the Upgraded Uni-Q Driver Array
The 12th-generation Uni-Q works as a single-point source for expanding the sweet spot of your audio. As a result, it delivers evenly dispersed sound, making it more natural than earlier versions of the R series speakers. 
Uni-Q technology places the 1-inch vented aluminium dome tweeter in the acoustic centre of the 5-inch aluminium cone midrange driver. With this arrangement, the R3 Meta makes sound from the two drivers reach your ears simultaneously.
The current Uni-Q is the 12th iteration engineered by KEF, and it reduces and optimises distortion caused by numerous factors. As a result, it maximises the MAT absorber.
Diffraction Disarmed
The ring around the Uni-Q array is the Shadow Flare. It has a carefully profiled shape to prevent the tweeter from having a line of sight to the cabinet edges. 
This design reduces the distortion from a potential source called sound wave diffraction. It forms when high frequencies from the tweeter and the front of the speaker muddy the audio. With this design element, you can enjoy precision and clarity from the speaker.
KEF R3 Meta Speakers – A Versatile Home Theatre
These speakers offer an impressive movie experience that will keep you immersed throughout.
Appealing to the Eyes
KEF believes that internal engineering arrangement is essential for high-quality acoustics. However, these finely tuned interiors require adequate protection from a durable exterior.
Like the rest of the R series speakers, the company designed the R3 Meta to be physically appealing. This minimalist exterior can fit elegantly and seamlessly in any interior aesthetic, whether modern or traditional.
Microfibre Grilles
KEF engineered the R series speakers to perform efficiently with or without its microfibre grilles. These consist of multiple layers of material and feel like suede.
Each driver on the R3 Meta has 1,801 precision-cut holes for enhanced performance, even with the drivers covered. Plus, the magnetic fixings have a precise and secure fit to suit the sleek style of the R series speakers.
Continue reading our KEF R3 Meta Speakers Review to learn about speaker specifications and performance. 
Specifications
Design:

Three-way bass reflex

Frequency Range  (-6dB):

-38Hz – 50kHz

Maximum Output:

110 Db

Amplifier Requirements:

15 – 180w

Nominal Impedance:

4 Ohms (Minimum of 3.2 Ohms)

Sensitivity (2.83v/1m):

87 Db

Harmonic Distortion (90db, 1m

 over 1% 73 Hz and above 0.5% 90 Hz – 20 kHz

Dimensions (H X W X D) with Terminal:

422 X 200 x 336mm

Weight:

12.4kg

Uni-Q Driver Array Drive Units:
– HF: 1-inch vented aluminium dome with MAT
–

MF: 5-inch aluminium cone
Bass Unit:
– LF: 6.5-inch hybrid aluminium cone
Hands-on with the KEF R3 Meta Speakers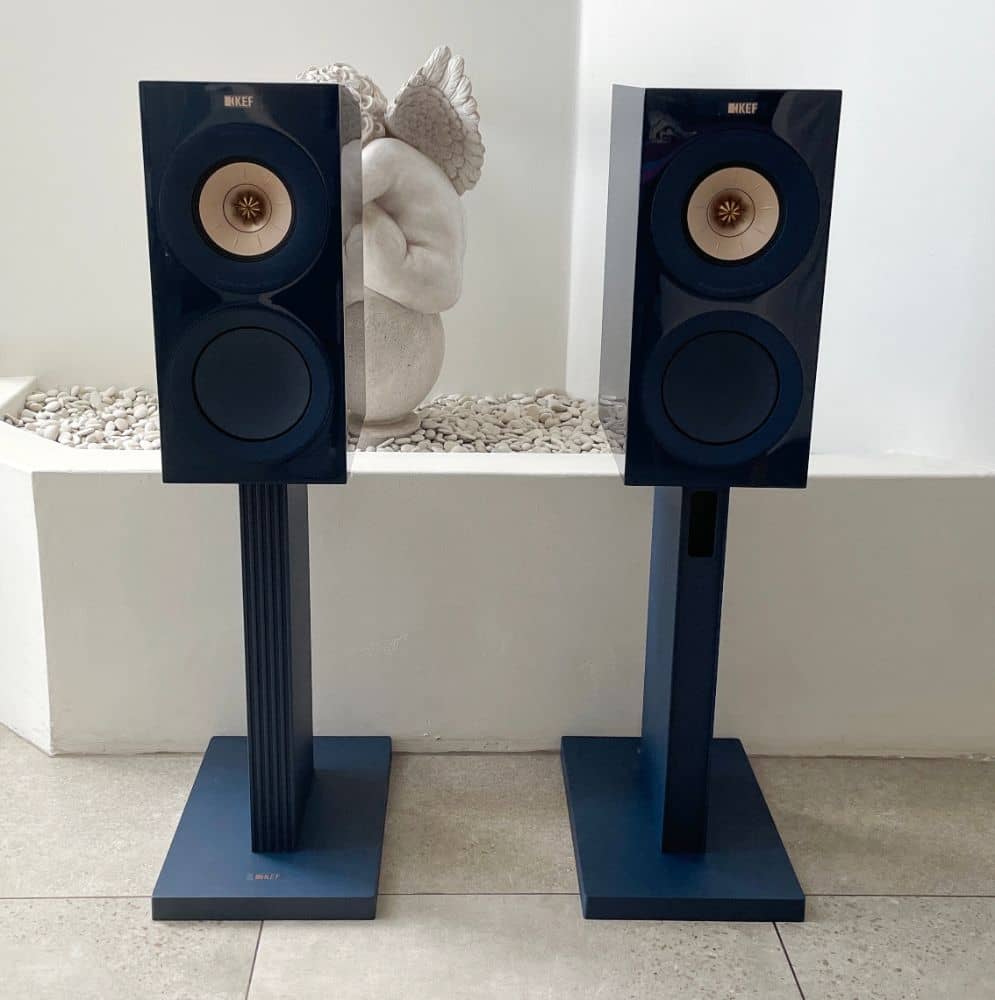 We tried playing a variety of music genres while testing the R3 Meta. Everything sounded exquisite, and the speakers produced quality audio no matter what music we played. 
There was fantastic tonal balance and insight, as well as layers of refinement, spaciousness, and weight which were apparent.
While listening to our favourite tunes with the R3 Meta we were instantly impressed by the soundstage that we were presented with. The soundstage appeared very open to us which allowed us to easily place the location of instruments whilst listening to the music. It created a nice clear open space for instruments, allowing them to easily be heard and to truly shine.

This wide soundstage paired beautifully for various music arrangements and styles.

It is impressive how the R3 Meta brought out plenty of rich detail in every song we played. With that, you know that these speakers are worth every penny and are a joy to listen to. 
KEF is known for creating speakers that produce refined and precise audio, and the R3 Meta is no exception.
When it comes to bass, as always we suggest pairing speakers with a subwoofer to help add more depth to your listening experience and to allow speakers to truly shine at what they do best. Having said that, the KEF R3 Meta truly punch above their belt when it comes to bass, so even without a dedicated sub you will be in for a treat.
We enjoyed its solid bass response since and it easily outperforms similar products in its price range.
The R3 Meta's were able to produce an amazing low end, which is no real surprise considering the quality of these speakers. The bass is able to dip nice and low whilst not producing any distortion. The bass profile paired nicely when we listened to more bass heavy tracks, especially when cranking out some heavy rock.

When it comes to the bass of these speakers we were impressed by just how clear the bass was. Often with bookshelf speakers you are presented with muddy bass that drowns out tracks, but that is not the case with the R3 Meta. The bass was nice and punchy, hitting at exactly where you want it to hit during the track whist maintaining incredibly clear detail.
Listening to Tool on these beasts was an absolute pleasure, we could actually feel every one of Danny Carey's strikes of the drums and kick of the bass.
The Uni-Q has plenty of benefits and of one of these highlights is that its acoustic centre is also that of the midrange and tweeter. That means the audio comes from the same central point. 
The seamless integration between components is crucial in the exceptional musical performance of the speakers. All of these optimisations are thanks to the dedicated bass driver.  
It enriches your listening experience by adding a dimension of spaciousness and deep bass reproduction. Because of these, you can enjoy audio with solidity, authority, plus agile and dynamic audio. 
The radiation patterns of the speaker exhibit favourable horizontal dispersion. It maintains a wide coverage area that narrows slightly at higher frequencies. 
Moreover, the vertical response is broad to ensure consistent sound characteristics across spacious listening areas. This notable feature provides a significant advantage over traditional two-way or three-way designs.
When it comes to the highs, the KEF R3 Meta is no slouch here either.
Highs when listening to music is remarkably clear and precise. We were able to hear every detail in the higher vocal ranges of the tracks and we were able to hear every little nuance of the vocalist.
The same can be said for instruments such as lead guitar and brass and woodwind. The clarity presented by the highs allowed us to easily pick apart the music.
Often with other speakers the highs can get too high, thankfully the R3 Meta handles it perfectly. They easily provide you with the treble range that you need to cover the full range of the track, however the highs just start to roll off before it becomes overpowering.

The highs never became too harsh and we never felt fatigued when listening to treble heavy tracks.
Bookshelf speakers of this size and in its price are often not as dynamically alive as the R3 Meta. They perfectly balanced detail and musicality, offering body to the audio. With these speakers, all sounds are neutral and balanced, which makes listening to music a relaxing experience.
Not only did we listen to our favourite music tracks with the R3 Meta, but we also made sure to hook them up a TV to see how they performed as a stereo pair of left and right speakers.
The first thing that we noticed was just how well the wide soundstage worked when watching movies, especially movies with high action scenes.
The soundstage of the R3 Meta led to an experience that is akin to surround sound, but with only 2 speakers. They were easily able to separate out the audio for the action that was happening on screen, placing it at just the right spots to create an incredibly immersive watching experience.
Dialogue was also very easy to hear and was never overpowered by music tracks or louder tracks such as chase scenes etc. Heck, even the audio in a Michael Bay movie was easy to hear, and that says something.
Watching an action movie was a blast with the R3 Meta's. As soon as there was an explosion or gunfire you could feel the impact hit you on the couch. It really was a fantastic listening experience that really did elevate the movie to a new level, creating a world of immersion that you just cant get from other setups unless you have a dedicated surround sound setup.
KEF R3 Meta Speakers Review Summary
KEF has been making various speakers for over 50 years and continuously delivering innovations. Of course, that did not change with the R3 Meta. KEF just continues to shine with each product that they release, and the R3 Meta are no exception.

These speakers offer superior and unique audio quality with warmth in the midrange and lower mids. Plus, it had expansive imaging with an extended treble that did not overpower the rest of the frequency range. No matter what genres of music that we paired with the speakers we were presented with an incredible listening experience, one of such as high level that is hard to beat.

The R3 Meta excelled at everything that we threw at it and it the perfect choice for anyone that wants to take their music to the next level.

Paired with the amazing performance when watching movies and TV, these speakers offer a one stop solution for all your media listening needs that fits like a glove.
Overall, the R3 Meta are enticing stereo speakers with excellent design, features, functions, and performance. We highly recommend this product if you want high-fidelity speakers that guarantee high-quality sound. 
Learn more about the R3 Meta by visiting the official KEF product page.