Everyone's looking for a durable and quality headset for their gaming needs, and our Logitech G935 review has that.
The Logitech G935 is an excellent set of gaming headphones that offers quality audio reproduction. These are compatible with the G Hub software that lets you make tons of customisations based on your preference.
Generally, the G935 is the wireless version of the Logitech G635. So, if it piqued your interest, continue reading our Logitech G935 Review to get more details about this premium headset.
Logitech G935 Packaging
The first part of our Logitech G935 Review will focus on its packaging and the contents included.
This headset came in the usual-looking Logitech package that sports a grey and blue theme. A huge G935 is on the left portion of the box in a lengthwise manner. To its right an image of the headset can be seen.
Logitech and its logo are positioned on the lower-left corner, while the upper right displays its key features.
When flipping the box, its rear displays more information about the G935. There are other images of the headset but displayed in different angles to point out the functions of each part.
The only side of the package that has information is on the left-hand portion. It features the key technical specifications of the Logitech G935.
Inside, you'll find the headset itself, together with other items such as the quick start guide, and warranty information booklet. For the accessories, the box includes a micro USB charging cable and a 3.5mm cable. This cable is vital for linking the G935 on consoles.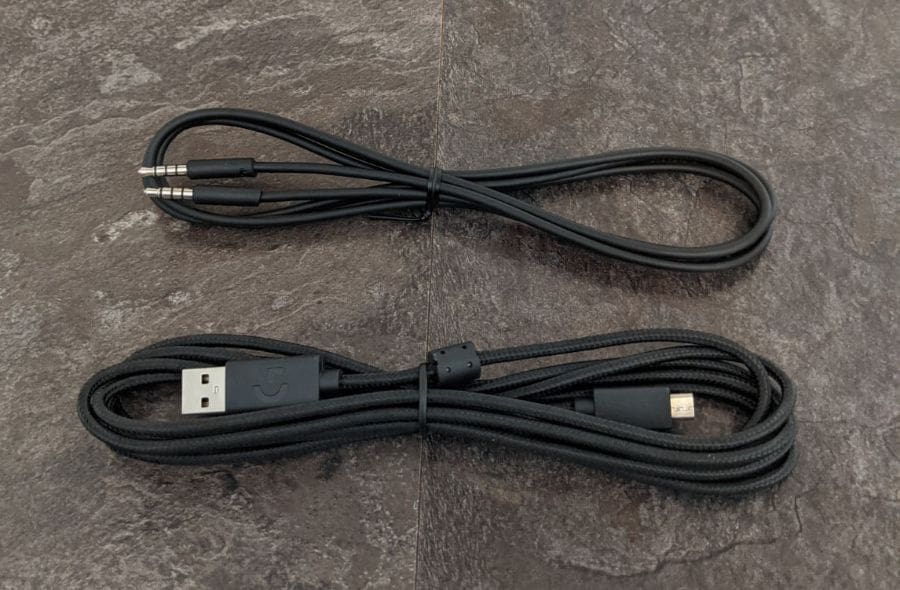 Logitech G935 Review – Design and Functionality
This section of our Logitech G935 Review talks about the design and functions of the headset.
The G935 looks great and has a more premium feel than the other G-series headsets from Logitech like the G423. It sports the same stocky black ear-cup with a trapezoid shape, yet has a more luxurious design and build.
The headset comes with faux leather-wrapped earpads combined with a thicker outer shell made from plastic. The ear-cups are fixed on a sturdy metallic headband with an additional black plastic shell across the top. It sports a strip of padding made of memory foam concealed in pleather.
This results in a somewhat chunky headset that's slightly heavier compared to a wired G423. Despite its weight, the Logitech G935 is still comfortable despite prolonged use.
There are multicoloured LED lights that light up when you switch on the headset. It glows blue by default, or a variety of shades and colours if customised via Logitech G Hub software. The software can work with both Windows and Mac.
All of the headset's connections, controls, and the boom microphone stay on the left ear-cup. The G935s mic is a little black capsule on a short bendable metal arm. It retracts in a plastic shell then flips into the side of the ear-cup when you won't use it.
The ear-cup's rear edge holds the power switch, mute button, volume wheel, plus three customisable G buttons. These buttons manage the surround sound settings, equaliser presets, and light mode by default. Plus, they are programmable with various functions via G Hub Software.
Both the lighting and G Button functions only work when the G935 is linked to a PC or Mac. It works by default if you use it with a console.
A 3.5mm headset jack and micro USB port for power sits on the bottom section of the left ear-cup. This allows you to charge or utilise it as a passive piece with its 3.5mm and USB cables.
The rear panel of each ear-cup comes off to display the LED modules. These can be found at the back of the G logos and its two compartments.
This specific section on the left ear-cup holds the USB transmitter when you're not using it. The compartment on the right part holds the battery for the headset.
Connectivity
Since the G935 is a wireless headset, it can function well with Mac computers, PCs, Nintendo Switch, and the PS4. It is possible when using it with a wireless USB adapter.
Its 3.5mm audio connector allows you to passively utilise the G935 with any device that has a 3.5mm headset or headphone jack. You should use the G Hub software on your PC or Mac to alter button assignments and coloured lighting settings.
Key Features of the Logitech G935
This time on our Logitech G935 Review, we'll be focusing on the headset's key features.
Ultimate Wireless Audio Experience
Logitech combined endurance materials and the leading audio technology to provide the best wireless audio experience. The Logitech G935 features 50mm Pro-G audio drivers and Headphone:X 2.0 to create detailed, expansive and immersive sounds.
2.4 GHz Wireless
With G935, you can enjoy both wired or wireless gaming. Using the 2.4 GHz wireless without lighting gives you up to 12 hours of battery life per charge. It offers up to 8 hours of power when used with default lighting.
You can also opt for the 3.5mm analog input connectivity to play wired. This option doesn't require battery power.
Advanced Gaming Audio
The upgraded Pro-G 50mm drivers made with a woven hybrid mesh allows for improved sonic detail, clarity, and depth. No matter how high or low your audio's volume is, the G935 will deliver rich, full, and cinematic sounds.
The increased diameter allows the drivers to perform better. With that, high-frequency audio like voices, gunshots, and footsteps sound clean and precise.
Better than 7.1 Surround Sound
DTS Headphone:X 2.03 surround sound combined with EQ profiles on Logitech G HUB delivers better audio. It's more precise than standard 7.1 surround sound and provides accurate in-game spatial awareness to detect opponents easily.
Fully Customisable
Logitech G HUB gaming software allows you to customise LIGHTSYNC RGB lighting and set G-keys with in-game commands & macros. Here, you can also personalise audio preferences with unique profiles for each application and game.
Loud and Clear Microphone
The integrated 6mm boom microphone allows for clear communication. You can flip this up to mute, and it has a LED status indicator. When not in use, you can fold back the mic into the headphones.
For Endurance and Comfort
The G935 has leatherette padding for its ear-cups and headband, making it comfortable even when worn for a long time. It also has circumaural earpads that fit entirely around the ears without applying direct pressure. To keep the headphones clean, the ear-cups are also removable.
Specifications
Now in our Logitech G935 Review, it will all be about the G935's specifications. Let's start with its measurements.
The G935 is 188 x 195 x 87mm (H x W x D), and it weighs 379g without the USB receiver or cables. The charging cable is 2m while the mobile cable is 1.5m.
When it comes to its technical specifications, the headset uses a Pro G driver and measures 50mm. It has 20Hz to 20KHz frequency response, plus a passive and active impedance of 39 Ohms, and 5k Ohms respectively. Sensitivity is at 93 +/-3dB.
The microphone has a cardioid or uni-directional pickup pattern and measures 6mm. For its frequency response, it reaches 100Hz to 10KHz.
For its wireless range, the headset can reach up to 15m indoors and 20m outdoors via USB connection. The G935 makes use of a rechargeable battery. It has a battery life of 12 hours without lighting, and 8 hours with illumination.
What's great is that the Logitech G935 comes with a 2-year warranty.
Hands-on with the Logitech G935
This time on our Logitech G935 Review, we're getting more hands-on with the Logitech G935. Let's focus on the audio quality first.
The headset sounds excellent as a closed-back gaming peripheral since it features the neutral audio reproduction that's flexible. It's perfect when listening to a wide selection of music genres, and it's also great when playing video games.
The bass is extended and accurate, which is perfect for those who prefer bass-heavy tunes. Not only that, but it sounded great when we tried using it for playing games with a lot of explosions.
We can't deny that its mid-range is perfect, which resulted in an accurate reproduction of lead instruments and vocals. It has an adequate-sounding treble range that's even and well-balanced.
Aside from having a flat sound profile, it's easy to EQ the headset based on your preference.
For its microphone, it's clear enough for use, which is great. The test recordings of our voices were mostly clean and crisp, yet it did record some atmospheric hisses from breathing.
Overall, it sounded great and performed excellently, so we're giving the Logitech G935 a double thumbs up.
Logitech G935 Review Summary
The Logitech G935 are excellent gaming headset that reproduces high-quality audio and is compatible with the G HUB software. From the application, you'll have a lot of options to customise.
This wireless variant of the G635 is well-built and comfortable, making it ideal for long gaming sessions.
When it comes to performance, the Logitech G935 delivered excellent audio, and its microphone captured clear sounds that were audible. It's an impressive gaming headset and is best for those who want great audio, reliability, and a lot to customise.
To conclude our Logitech G935 review, we were satisfied with this product, and we highly recommend it. If you want to get the Logitech G935, it's available for online purchase from the company's official website.