Our package arrived in time for this MAONO PD200X USB/XLR Dynamic Microphone Review. That means we will discuss everything related to it today. 
The PD200X is a new product that sports a combination of a USB/XLR mic. It has features and aesthetics that make it perfect for creators who are serious about their audio. 
MAONO designed the PD200X, inspired by the PD400X. Like the latter, the PD200X features USB and XLR outputs. Additionally, the mic is compatible with PCs and pro interfaces, making it a flexible and convenient product. 
It features a custom dynamic mic core sporting ultra-wide frequency responses. The product also has elements that focus on voice detail and high-performance background noise suppression.
To learn more about the product, continue and read our MAONO PD200X USB/XLR Dynamic Microphone Review. Other than its features, we will discuss its performance, design, functions, and specs. Doing so will help see if it is the correct mic for your needs. 
MAONO PD200X USB/XLR Dynamic Microphone Packaging
Like many other products, the PD200X is meticulously packed within a robust cardboard box. It helps ensure the safety of the microphone during transit. Its front panel showcases an image of the microphone, its name, the company logo, and a selection of features.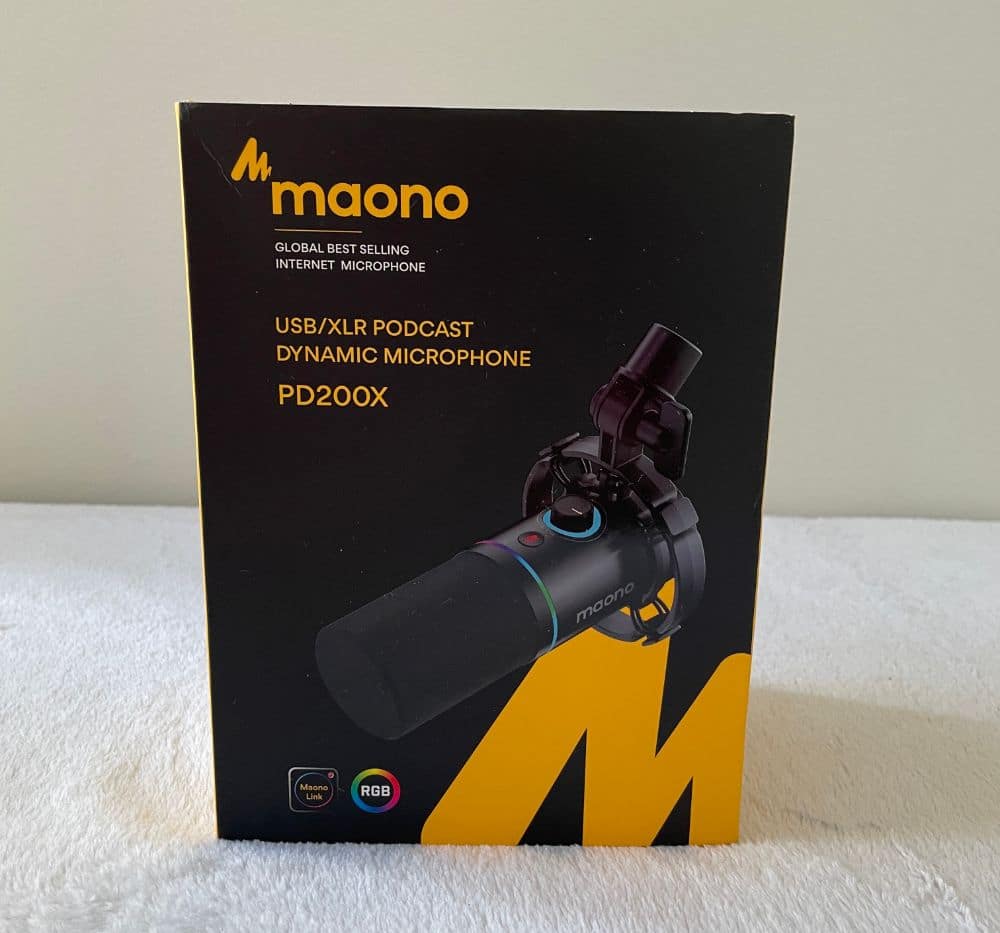 Revealing the box contents is as simple as sliding off the outer cover to unveil the inner lid. It grants immediate access to the microphone and its accompanying accessories.
The packaging, while unassuming, serves its purpose effectively. MAONO maintains their signature package design, incorporating the familiar yellow and black colour scheme. Additionally, a well-fitted foam enclosure secures all internal components, enhancing protection.
Inside, you will find the following items and accessories included in the package: 
MAONO PD200X USB/XLR Dynamic Microphone

2.5m USB-C to A/C Cable

Shock Mount

15.87 to 9.52mm Adapter

User Manual
It is good to note that MAONO does not ship an XLR cable with the PD200X by default. Fortunately, the company offers an option that includes the cord.
MAONO PD200X USB/XLR Dynamic Microphone Review – Design and Functionality
After unboxing the product for this MAONO PD200X USB/XLR Dynamic Microphone Review, we had good impressions of it immediately. The mic has an all-metal yet lightweight construction, with a headphone volume dial and mic gain, which are standout features. It glows green in gain mode and turns blue once you adjust the headphone output levels. 
You only need to press the dial to shift between the two modes. 
It has an integrated dynamic mic capsule transducer with a notable ultra-wide 40Hz to 16KHz frequency response. The cardioid polar pattern rejects unnecessary background noise to guarantee optimised recordings.
Controls and Connection
Positioned above the gain control dial is a mute button. It works when linked through USB rather than XLR connectivity. This feature triggers an illuminating red hue within the gain dial, providing a visual cue of its activation status. 
At the base of the microphone is an additional button to toggle between nine distinct RGB modes. You can also use it for deactivating the RGBs with a long press.
Key Features of the MAONO PD200X USB/XLR Dynamic Microphone 
Our MAONO PD200X USB/XLR Dynamic Microphone Review discusses more details about its features. These elements make the mic an instant go-to for everyone who needs an efficient and quality-sounding product. 
Custom Dynamic Capsule
Dynamic microphones capture less ambient noise than condenser microphones. It is ideal for recording vocals in homes, offices and other untreated environments. Also, these are more durable.
The integrated dynamic microphone capsule of the PD200X captures delicate highs, crisp mid-tones, and deep lows. It also has an ultra-wide frequency response of 40Hz to 16kHz to deliver clean, crystal-clear audio. With its cardioid polar pattern, the PD200X blocks unwanted background noise when streaming and recording.
Unleash the Potential of the PD200X USB/XLR Dynamic Microphone with MAONO Link
The PD200X is compatible with MAONO Link, the software interface for setting up and configuring various microphone settings. It has an EQ, compressor adjustment, and limiter, which you can access when using the microphone via USB mode. Aside from audio configuration, you can turn the RGB lighting on or off or choose from nine colours.
Connect via USB and XLR 
When we received the product for our MAONO PD200X USB/XLR Dynamic Microphone Review, we learned about its connectivity options. It is a single microphone that works as a USB and XLR microphone, making it excellent for beginners and professionals.
You can use its plug-and-play function when recording on a laptop on a desktop with its 2.5m USB cable. Another option is the XLR analogue output, which allows plugging into any professional mixer, interface, or portable PA system.
Convenient Controls
The PD200X features the 2-in-1 Smart Knob for adjusting mic gain and headphone volume. You will also find a single-click mute key with an LED indicator to mute the microphone quickly. In addition, it has a 3.5mm headphone jack output for monitoring, which recording professionals will appreciate.
RGB Lighting Control
The PD200X has an RGB ring with eight static solid colour effects and dynamic multi-colour gradients. It allows you to create a personalised gaming atmosphere to make your streaming space more attractive. At the bottom of the microphone is a button for switching the RGB colours or switching it on/off.
Durable Metal Build
Another notable aspect of the product featured in our MAONO PD200X USB/XLR Dynamic Microphone Review is its durable build. It has a sturdy metal body, and MAONO used high-quality materials for this microphone. Also, the meticulous craftsmanship ensures it also has a premium internal structure.
Specifications
Microphone Type:

Dynamic Capsule

Polar Pattern:

Cardioid

Frequency Response:

40Hz-16kHz

SPL:

over 130dB SPL

Sensitivity (XLR):

-52dBV 

Sensitivity (USB):

-10.5dBFS/Pa

Microphone Gain Range:

0 to +42dB

Sampling Rate:

48kHz / 24-bit

Connectivity:

XLR, USB-C, 3.5mm monitoring jack
Hands-on with the MAONO PD200X USB/XLR Dynamic Microphone
We will share our hands-on experience with the microphone in this MAONO PD200X USB/XLR Dynamic Microphone Review. We used it for over a week to determine if the product was worth considering. But before we share the results we received, we will discuss the software for setting up the mic. 
Acquiring, installing, and using the MAONO Link software is quick and straightforward. Once you establish a connection between your PC and the PD200X, selecting this option configures and arranges all necessary settings.
This software introduces a seamless desktop experience similar to other cutting-edge MAONO devices. It lets you manage RGB lighting, gain, monitoring volume, and tone adjustments. This process is possible while offering an array of filters through simple point-and-click controls. 
A click of a button allows for a comprehensive adjustment of the overall tonality of recordings. The presets (original, natural, and deep) each display a unique auditory character. Notably, incorporating a software-based limiter and compressor is a beneficial addition to the microphone. 
Unlike a comprehensive mixer, the MAONO Link does not have complex settings. It offers a perfect balance between function and convenience. 
Aside from audio settings, MAONO Link also has settings for the RGB lighting of the PD200X. You can customise a single configurable zone or opt for a rainbow effect.
In our tests, the PD200X delivered excellent sound quality. It reproduced our voices naturally with adequate warmth, even without audio processing. Thanks to its 40Hz-16KHz frequency response, it also captured the details and nuances of sound sources.
This microphone performed excellently for vocal tasks. Its compact design and rounded sound balanced the needs of a desktop environment.
With its frequency response, it also worked well for bass-leaning vocals. It had a defined upward shift in the lows, which helped balance its overall audio. The audio quality was consistent, and the microphone delivered excellent voice pickup despite the slightly contained soundscape.
The cardioid pickup pattern focused on our voices and managed the plosives well. Also, the microphone only required minimal positioning adjustments. It is ideal for podcasters, streamers, and content creators.
Out of the box, the sensitivity level of the PD200X was satisfactory. It effectively blocked unwanted background noise but captured loud sounds of noisy mouse clicks and mechanical keyboards. Fortunately, the MAONO Link has options to adjust and optimise the sensitivity of the PD200X.
MAONO PD200X USB/XLR Dynamic Microphone Review Summary
The PD200X is an excellent USB/XLR mic that combines versatility, solid construction, and intuitive controls. Its audio quality is natural and detailed, with a rich tone, exceeding expectations for its price.
When we tested the product for this MAONO PD200X USB/XLR Dynamic Microphone Review, its performance impressed us. Surprisingly, its audio quality was on par with more expensive microphones. Plus, its user-friendly software interface allowed us to configure various settings conveniently.
The PD200X is an excellent option if you are new to streaming and looking for a budget-friendly USB microphone. Its audio quality is superb, even without serious configuration via MAONO Link. Plus, you can use it as an XLR microphone once you get a professional-grade interface.
We highly recommend the PD200X for its solid sound quality and multiple connectivity options. It is the perfect option for upgrading your streaming setup. Visit the official product page of MAONO for additional details about the PD200X USB/XLR Dynamic Microphone.