Today in our Noctua NH-L9i Chromax.black CPU Cooler Review, our focus will be on this CPU cooler from Noctua. It's an all-black version of the company's original NH-L9i, with a quiet low-profile feature perfect for SSF or HTPC builds.
Thanks to the same heatsink layout NF-A9x14 PWM fans, the NH-L9i Chromax.black stays true to the original version's design. The company put together an adequate height of 37mm along with reliable performance and outstanding quietness.
Simultaneously, Chromax.black version combines all of its features with a sleek and classy look. To top it off, Noctua also included their renowned SecuFirm2 low profile mount system for the Intel LGA115x. With more features and specifications in store for you, the NH-L9i Chromax.black is a premium option. It's perfect for those aiming for a compact, and efficient heatsink that looks great as it cools.
But before anything else, let's check out the product's packaging here in our Noctua NH-L9i Chromax.black CPU Cooler Review.
Noctua NH-L9i Chromax black CPU Cooler Packaging
This portion of our Noctua NH-L9i Chromax.black CPU Cooler Review is where we talk about its packaging. This is also where we check out the insides of the box to know what other accessories Noctua included.
The Noctua NH-L9i Chromax.black CPU cooler came in a sturdy cardboard box that sports a black and dark brown theme. The package's front displays an image of the product, while the unit's name is at the top-left corner. Below the cooler's name, you'll find a list of the main features that the product offers.
When looking at the box's rear, there are more details about the cooler's features. There are some images present to depict the different parts of the cooler and how they should be utilised.
Inside the box, you'll find the black-clad NH-L9i heatsink and the NF-A9x14 HS PWM Chromax.black premium fan. Other items included are the LNA (Low-Noise Adaptor) and an NT-H1 high-quality thermal compound.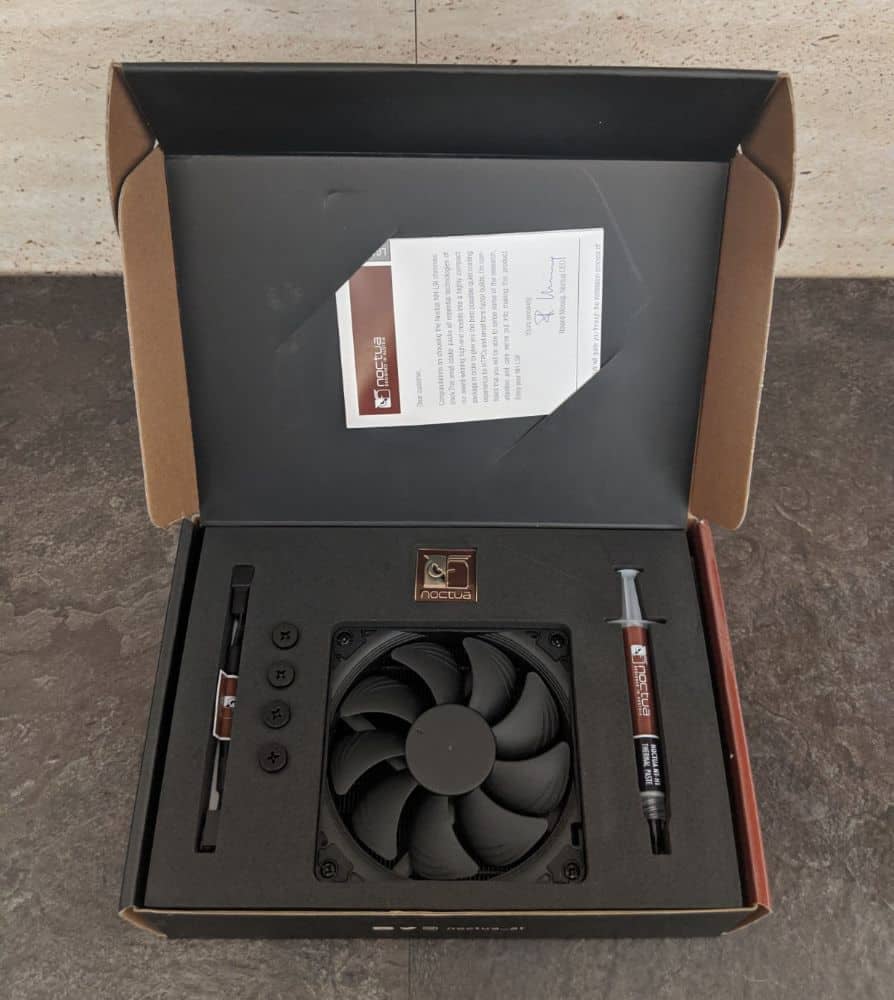 Plus, Noctua included the black SecuFirm2 mounting kit and black screws for the 92 x 92 x 25mm fans. There's also a metal case-badge from the company.
Noctua NH-L9i Chromax.black CPU Cooler Review – Design and Functionality
In our Noctua NH-L9i Chromax.black CPU Cooler Review, we'll talk about the functions and design of the product.
When it comes to the NH-L9i Chromax.black, it sports a design that's suitable for smaller form factor boards. As its name states, the NH-L9i Chromax.black features an all-black scheme which makes the CPU cooler more aesthetic. It starts with the heatsink, mount system, its screws, as well as the included 92mm fans.
There are a total of two copper heatpipes for the heatsink. Each of these come with an outer diameter of 6mm.
The heatsink has 55 black-coated aluminium fins which are all stacked to create a dense stack. These fins are soldered to the heatpipes, and once massed, you'll have a nickel-plated assembly.
When looking at the primary heatsink, raised edges and grooves are present to provide more room and surface area. The fan isn't mounted via metallic clips; instead, screws are on the rear and front sides of the heatsink. These plates feature mounting holes where the fans are supposed to be installed.
The front of the heatsink displays Noctua's name and logo embossed on its removable top plate. It can be detached by removing one screw located at the centre. Two holes are present on the right and left sides of the heatsink to have symmetry with the design.
It features a 4-arm collection on the heatsink's rear which holds the motor hub then connects it to the mainframe.
Next on our Noctua NH-L9i Chromax.black CPU Cooler Review are the unique features of this CPU cooler.
Key Features of the Noctua NH-L9i Chromax black CPU Cooler
Chromax.black Design
The NH-L9i Chromax.black features a black theme all over. From its heatsink, fan with anti-vibration pads, mounting parts, and fan screws, everything is back. With this design, the CPU cooler can blend perfectly with any build. Plus, it's also easy to combine with other colour schemes which makes it even better.
37mm Low Profile
With its slim 23mm heatsink plus the NF-A9x14 low profile fan, the NH-L9i Chromax.black is an ideal cooler for SFFCs or compact HTPCs. It's also efficient for cases that have a minimum clearance for the CPU coolers.
100% RAM Compatibility
The CPU cooler comes with a 95 x 95mm footprint that complies with the socket keep-out zone of Intel's LGA115x. It means that the CPU cooler won't have issues with the chipset and won't overhang RAM slots. This feature makes it entirely compatible with taller modules.
Fully Compatible with PCIe Cards on Mini-ITX
Most mini-ITX motherboards based on the Intel LGA115x feature a PCIe slot next to the 95 x 95mm socket zone. Larger coolers usually exceed this zone and block the PCIe slot, but the NH-L9i Chromax.black CPU Cooler doesn't. It's 100% compatible with PCIe cards.
NF-A9x14 PWM Premium Fan
The CPU cooler comes with greatly-optimised NF-A9x14 premium fans that feature the company's proprietary AAO frame. It also exhibits excellent aerodynamic design measures to make things even better.
To support PWM for total auto speed controls, the NF-A9x14 helps keep the cooler remarkably silent.
Customised SecuFirm2 Mounts for LGA115x
The NH-L9i puts together a backplate-less and customised SecuFirm2 mounting system for the LGA115x. It provides more compatibility with mini ITX boards, making installation easier and quicker while maintaining SecuFirm2's quality.
Optional SecuFirm2 Mounting Kit for AMD AM4
Although it's made for Intel LGA115x boards, you can also install the NH-L9i Chromax.black CPU Cooler on AMD AM4. All you have to do is use the NM-AM4-L9aL9i mounting kit, which is optional and free of charge from Noctua.
NT-H1 Thermal Compound
NT-H1 by Noctua is a professional-grade TIM solution. It provides ease of use and minimum thermal resistance. It's a premium-quality thermal compound that overclockers and enthusiasts always choose.
Soldered Interface between Heatpipes
With a lot of heatsinks, its fins are press-fitted to the heatpipes. With the NH-L9i Chromax.black, its fins are soldered to these heatpipes, ensuring the presence of a superior thermal interface. The setup will prevent any signs of deterioration even after consecutive years of use.
Next on this Noctua NH-L9i Chromax.black CPU Cooler Review will be the CPU cooler's specifications.
Specifications
The NH-L9i Chromax.black CPU cooler supports Intel and AMD sockets. These include LGA1150, LGA1156, and LGA1155n for Intel and AM4 with NM-AM4-L9a L9i for AMD.
Heatsink Specifications
The heatsink consists of copper for its base and heatpipes, plus aluminium for the cooling fins. Aside from these, there are soldered joints and nickel plating to make it sturdier and more durable.
Without the fan, the heatsink measures 23 x 95 x 95mm (H x W x D). It also has heat pipes that measure 2x – Ø6mm. Without the fan, it weighs 320g, and with the fan installed, it's 380g.
Fan Specifications
The fan used is the NF-A9x14 HS-PWM Chromax.black, and it measures 92 x 92 x 14 mm. It utilizes the SS02 bearing, and its maximum acoustical noise with LNA is 14.8dB(A). Also, the connector it has is a 4-pin PWM, while total input power is 2.52W. For its Voltage range, it goes up to 12V while the MTBF > 150.000h.
Lastly, the CPU cooler comes with a 6-year warranty from the company.
Hands-on with the Noctua NH-L9i Chromax black CPU Cooler
Now in our Noctua NH-L9i Chromax.black CPU Cooler Review, we'll get more hands-on with this CPU cooler.
Let's begin with the fan. Generally, the noise it produced only rose slightly higher above 40dBA during our tests. While rendering, gaming, and doing other tasks, the fan worked excellently. Plus, it was extremely inaudible the whole time, which was great.
For the NH-L9i, it performed notably despite its form factor. When speaking of acoustics, it's ideal for those who want quietness and is perfect for silent SFF or HTPC systems.
Technically, there isn't anything to be disliked with this CPU cooler. It worked amazingly, especially for all our SFFPC needs, and the included fans functioned efficiently as well.
Overall, the Noctua NH-L9i Chromax.black is an outstanding cooler with notably silent performance, a durable build, and aesthetic exterior. It's among the best options for small PCs or HTPCs today and considering its size, it works efficiently.
There aren't a lot of competitive coolers today, and this one from Noctua offers as much at a reasonable price.
Noctua NH-L9i Chromax.black CPU Cooler Review – Summary
The Noctua NH-L9i Chromax.black CPU cooler is excellent for a mini-ITX motherboard and a low TDP processor. Its mounting system is one of the easiest to use since it only has two brackets and four screws.
With the colour scheme, this cooler is easier to match with any colour scheme. The best thing about its new design is that it didn't affect the cooler's performance. Aside from that, it delivered excellent cooling performance, making it one of the ideal CPU coolers on the market.
To conclude our Noctua NH-L9i Chromax.black CPU Cooler review, we were satisfied, and we highly recommend this product. If you want to get your hands on this cooler, visit the store locator for authorised sellers in your area.