We all know that Noctua's NH-U12A is a premium and award-winning CPU cooler that's quiet and efficient. If you like it but prefer one that's black, you've come to the right place. Here in our Noctua NH-U12A Chromax.black CPU cooler review, we're featuring this version of the popular CPU cooler. 
The NH-U12A Chromax.black is just like the original version when it comes to quietness. It also sports the asymmetrical single-tower heatsink style and NF-A12x25 PWM fans. If this is something you need but want to know more about it, you're in the right place.
Continue reading our Noctua NH-U12A Chromax.black CPU cooler review for more information about its features, design, specifications, and performance. 
Noctua NH-U12A Chromax.black CPU Cooler Packaging
When we received our cooler for this Noctua NH-U12A Chromax.black CPU cooler review, it came in a sturdy-looking box. 
It sports a premium-looking theme that's dark and professional. In front, you'll find an image of the cooler on the centre-right. On the upper-left corner of it, the product's name and a brief explanation about it can be found. 
Along the lower-left portion, CHROMAX is written in bold white fonts, making it easy to spot. The sides of the package showcase some information about the product, while the rear has additional details about it. 
Opening the box, you'll immediately find an extra package set on top which neatly stores all the necessary accessories. Its cover showcases a visual inventory of the product. Then after removing the accessory package, you'll get to see a quick glimpse of the NH-U12A Chromax.black.
Everything, including the cooler, is set neatly and securely in place. With that, all items you'll find in the package include the following:
The black NH-U12A heatsink, two NF-A12x25 PWM chromax.black premium fans, and two NA-RC14 L.N.A.s (Low-noise Adaptor). Other than these, you'll also find an NA-YC1 4-pin PWM y-cable and a NT-H1 high-grade thermal compound. Lastly, Noctua also included a black SecuFirm2 mounting kit and a metal case badge from the company.  
Noctua NH-U12A Chromax.black CPU Cooler Review – Design and Functionality
The NH-U12A Chromax.black has everything you'll find on the original NH-U12A cooler. However, this black version is compatible with the LGA1700 socket out of the box. 
Noctua redesigned its backplate, as well as its supported mounting hardware. And, its primary difference with the NH-U12S is that it has around 37% more surface area. In addition, they also differ since the NH-U12A Chromax.black has seven copper heatpipes, and two NF-A12x25 PWM fans. 
Each of its mounting spots features a black anti-vibration pad. The NF-A12x25 motorhub's centrepiece is entirely made from steel, while its axle mount is supported by an extra brass structure. 
The company also released their chromax covers for the cooler which allows you to customise the cooler's colours for coordination. It comes with 50 aluminium fins that are fixed in place by seven 6mm-thick copper nickel-plated heatpipes. 
Fans
We continued inspecting the cooler for our Noctua NH-U12A Chromax.black CPU cooler review and saw it has more diameter. This is compared to the regular 120mm fans that are often being used. 
Here, you'll see a total of nine blades that come with a textured surface. What's great about these is that they form air channels on the blades. And, Noctua calls this the Flow Acceleration Channel.  
Its fans are probably the most advanced 120mm fans ever made. They come with all the hallmarks known from the company, and are even rated up to 2,000 RPM. And with the chromax.black treatment, these fans give off an industrial yet imposing aesthetic to them.
The fan's rear features a steep inward slope on its four sides with the centre mast sporting a straight-line style. There's a four-arm assembly that connects the motor hub with the frame. Then, there's a sticker that's fixed to the axis hub. 
The centre displays a metal-bearing shell in a golden shade. 
Key Features of the Noctua NH-U12A Chromax.black CPU Cooler 
This time, our Noctua NH-U12A Chromax.black CPU cooler review will look into the different key features of the cooler. 
Chromax.black Design
The NH-U12A Chromax.black is a well-designed black CPU cooler. Each part is black to make it easy to integrate with most builds.
Delivering the Performance of a 140mm Fan
This CPU cooler comes with a redesigned heatpipe layout, added fin surface area, and dual fan push/pull configuration. With that, these CPU coolers can match or even outperform a lot of 140mm coolers.
100% RAM Compatibility on AM4 and LGA115x Motherboards
Since the NH-U12A Chromax.black has an asymmetrical design, it doesn't overhand RAM slots on AM4 and LGA115x motherboards. This ensures accessibility to the modules and full compatibility with tall heat spreaders.
Excellent Compatibility with PCIe and Cases
With its compact design, the NH-U12A Chromax.black is compatible with most modern tower cases. Since it's 125mm wide with its fans and clips, it stays clear of the top PCIe slot on most motherboards. With that, it ensures optimum compatibility with multiple GPU setups.
Dual NF-A12 120mm Fans
The NH-U12A Chromax.black comes with dual NF-A12x25 fans. This model integrates Noctua's latest aerodynamic engineering innovations to achieve superior quiet performance.
This fan supports PWM for convenient automatic speed control via the motherboard. You can also reduce its speed from 2,000 to 1700 rpm with the included Low-Noise Adaptors for quiet performance.
SecuFirm2 multi-socket mounting system
The included SecuFirm2 mounting system offers safe and easy installation of Noctua's CPU coolers. It provides perfect contact pressure and can withstand heavy use. 
Compatibility with Old and New Sockets
Noctua provides the optional NM-I3 mounting kit for free to make the NH-U12A Chromax.black cooler compatible with older sockets. Like with other products, the company provides upgrade kits for future sockets if possible. This makes Noctua's products a safe investment.
NT-H1 Thermal Compound
The NH-U12A Chromax.black comes with the NT-H1, Noctua's professional-grade TIM solution. This provides reduced thermal resistance, is easy to use, and offers exceptional reliability. It's the best choice of enthusiasts and overclockers around the world when it comes to premium thermal compounds.
Soldered Interface
Most heatsinks have press-fitted fins, which tend to loosen over years of thermal cycling. As a result, its performance is reduced. But with the NH-U12A Chromax.black, you can guarantee superior thermal performance without deterioration through the years.
6-year Manufacturer's Warranty
While creating this Noctua NH-U12A Chromax.black CPU cooler review, we learned about its manufacturer's warranty. Noctua's products are known for their unparalleled quality and longevity. So, you can be sure that this cooler is made to last. 
With that, the company offered a full 6-year warranty for this product.
Specifications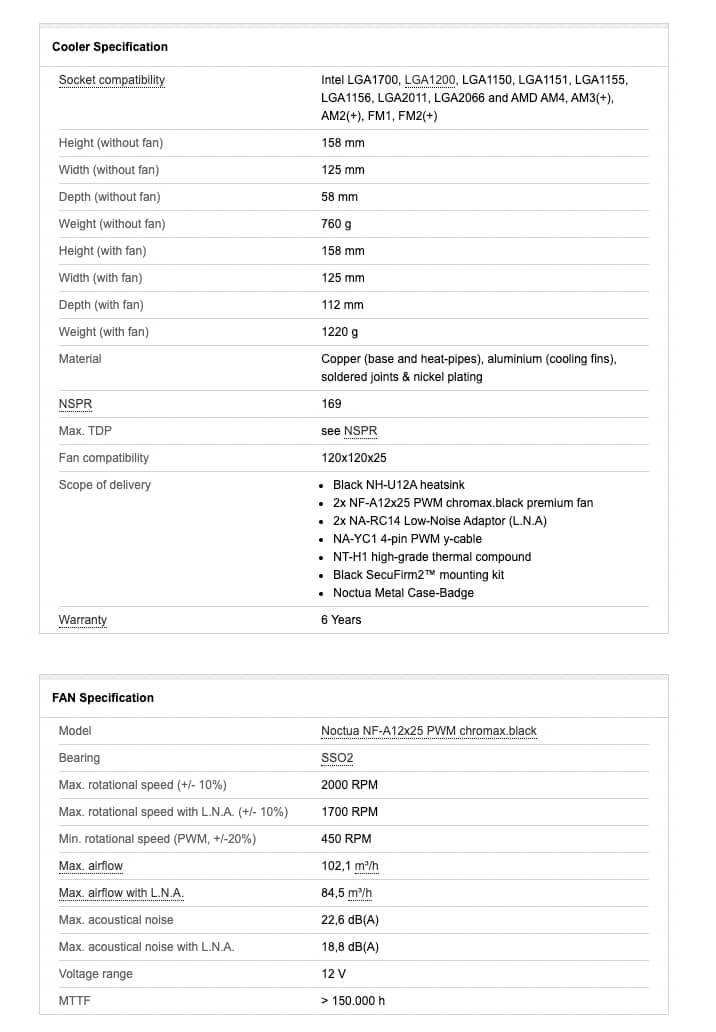 Cooler Specifications
The cooler's socket is compatible with Intel LGA1700, LGA1150, LGA1200, LGA1151, LGA1155, LGA2011, LGA1156, and LGA2066. Then, it also works with AMD AM4, AM2(+), AM3(+), FM1, and FM2(+). 
Without the fan, it measures 158 x 125 x 58mm (H x W x D) and weighs 760g. With the fan, it's 158 x 125 x 112mm (H x W x D) and weighs heavier at 1,220g.
The material used for the cooler's base and heatpipes is copper, while the cooling fins are made of aluminium. Plus, it also comes with nickel plating and soldered joints. 
Now, our Noctua NH-U12A Chromax.black CPU cooler review will focus on the fan's specifications. 
Fan Specifications
For the included fans, their model is the NF-A12x25 PWM chromax.black from Noctua. This specific fan features SSO2 bearing and has a voltage range of 12V.
The maximum rotational speed of the fans is 2,000 rpm and a minimum rotational speed of 450 rpm. With the Low-Noise Adaptors, its maximum speed is 1,700 rpm.
Without the L.N.A, its maximum airflow is 102,1 m³/h while the max acoustic noise reaches up to 22.6dB(A). With L.N.A. Its maximum airflow is 84.5 m³/h, and its highest acoustical noise is 18.8db(A).
The NF-A12x25 PWM chromax.black fans have an MTTF rating of more than 150,000 hours.
Hands-on with the Noctua NH-U12A Chromax.black CPU Cooler
This is the part of our Noctua NH-U12A Chromax.black CPU cooler review that discusses everything about performance. Was the cooler as great as Noctua's claims? Did we encounter any issues with it during our tests? 
We'll find out. 
We used the NH-U12A Chromax.black for a couple of weeks and it performed highly and amazingly just as promised. During most tests, this cooler was able to closely match the performance of much bigger CPU coolers. 
During normal operations, its CPU temperatures never reached higher than 58-degrees Celsius. For the noise levels, these were great for full/idle fan speed, while its noise output was something expected. It was entirely quiet even during medium to high loads. 
When it came to overclocking, things got more interesting for the NH-U12A Chromax.black. It was able to get extremely close to 140mm-sized CPU coolers which surprised us in a good way. 
Overall, the NH-U12A Chromax.black from Noctua performed remarkably and we didn't experience any problems with it during our tests. It worked smoothly, quietly, and we were definitely happy with the cooler. 
Noctua NH-U12A Chromax.black CPU Cooler Review Summary
As expected from Noctua, the NH-U12A Chromax.black is another impressive cooler. We love its matte black design and its superior performance packed in its compact size. 
This CPU cooler performed as Noctua claims. It delivers the performance of 140mm fans. During our tests, it kept our CPU cool all throughout while performing quietly. Plus, we didn't experience any issues with this product.
Overall, it's an excellent product that's easy to recommend. This makes it worth purchasing even with its high price.
If you want this cooler for your system, check out the store locator for authorised sellers.