Nova3D boasts that their mini resin printer is the best in its class for size, money, and performance. So, we're here to present you with our Nova3D Elfin 3 Mini Resin Printer review today. This is where we'll see if this Elfin 3 Mini Resin Printer is as good as their claims. 
Nova3D is a Shenzen-based company founded in 2016. They're focused on creating CD-based 3D printers, and their latest offering is the Elfin 3 Mini Resin Printer. 
But with a ton of similar products appearing in the market today, will their mini printer last or disappear? Read on and continue learning more about it in our Nova3D Elfin 3 Mini Resin Printer review.
Nova3D Elfin 3 Mini Resin Printer Packaging
When we received our Elfin 3 Mini Resin Printer, it came in a simple, typical-looking cardboard box. It has an illustration of the product on one side, while the other sports the product's name. The rear shows additional information about the product, so you can check it out if necessary. 

Opening the box, we were greeted by some paperwork and a Styrofoam insert packed tightly in place. It's good that the company decided to place it at the top of the product. This is to ensure that no damages would appear during its shipping. 
The printer was wrapped in a clear plastic cover, and together with it, a little cardboard container was present too. This is where all the additional accessories are kept in an organised manner. And of course, an additional Styrofoam insert was set under the printer for more protection. 
We highly appreciate Nova3D for making sure that their products are safe. If you think about it, we'll never know how tough and rough the whole shipping process goes. 
While checking the other inclusions for this Nova3D Elfin 3 Mini Resin Printer review, we almost missed out on something. There was an additional FEP film included, but it was placed randomly inside the box. It would've been better if the company included it in the little extra box to avoid missing out on it. 
So to be safe, always look thoroughly inside the box, in case you missed a couple of accessories inside. 

Inside that little cardboard box, you'll find a 4GB Nova3D branded USB stick. There are filter funnels, the printer's power block, and the power cable as well. And you'll even see a pair of flush cutters, a plastic cleaning spatula, a pair of gloves, and Allen keys.
We find it amusing that Nova3D also included a plastic spray bottle. We aren't sure what it's for but perhaps it's when we're cleaning the print.
Nova3D Elfin 3 Mini Resin Printer Review – Design and Functionality
When we unboxed the product for our Nova3D Elfin 3 Mini Resin Printer review, we noticed that it looked great. You won't find anything that appears sleek, clean, and sturdy which stabilises it for the build process.
We appreciate how Nova3D designed their resin printer. They didn't go overboard with the design, nor did they make it too boring and simple. So if we place this in the office, it will blend in nicely and won't look out of place.
Another aspect we love about it is how the design is constrained. Yes, it may sound like a negative thing, but for this printer, it works well. 
Because of its design, its cover slots right into place so it's sealed when in use. And with that, it will lessen the smell that comes out when you're using this product. 
When we removed its cover, you'll see more of that constrained yet good design going on. There's a built-in platform that locks back perfectly against the flat board behind it. You can tighten it accordingly to keep it in place. 
The anti-ultraviolet yellow cover offers constant lights throughout printing, plus it's tough and durable as well. Its design is great and quite an improvement compared to other resin printers within its price range. 
For the injection-moulded portions, these allow for longer use which equates to lesser expenses since parts don't need constant replacements. The thing here is, it means that replacement parts need to come from the company. That means this resin printer isn't really that mod-friendly. 
For the replacement parts such as the FEP film, Nova3D Elfin 3 Mini Resin Printer makes it a quick and easy process. That's because the film is held firmly in an injection-moulded lid that is screwed in its place. 
The print bed design fits perfectly and snugly as it links to the Z-axis rail with one locking wheel. Since it comes factory-levelled out of the box, you can adjust then secure the Z-axis to its base. 
In any instances of malfunctioning, the LCD screen can be replaced easily in just a couple of minutes. 
Printing with LCD-based printers brings out great-quality products. This is all because of the techniques used and lesser moving parts when these operate. And to prevent further wobbling while printing, Nova3D opted for a sturdy metal frame for their mini resin printer.
The Z-axis is fixed with the top frame to guarantee that it stays in place while printing. It utilises a seamless ball-like linear module which works as a replacement dual-guide linear design. This further improves the Z-axis' stability since it eliminates any possible vibrations. 
Another vital factor when printing is the preparation of bed levels. If your printing platform isn't properly levelled, the printing process will be difficult. It'll basically have a hard time conforming to the print bed. 
The Nova3D Elfin 3 Mini Resin Printer's print bed moves easily up and down without any additional vibrations. Its build area is more spacious compared to other similar resin printers which make it great for use. 
Do note that even if the printer is properly enclosed during printing, it should be placed in a well-ventilated spot.
Since this is the Nova3D Elfin 3 Mini Resin Printer, it has a smaller and more compact form. And when it comes to its print area size, this resin printer measures 120 x 68 x 150mm. This is a bit smaller for the desktop LCD-based resin printers.
According to Nova3D, the Elfin 3 Mini Resin Printer works on an independent Android-based system. It allows for smooth and stable performance, plus, it implements several different features. One of them is the capacity to begin printing remotely from the PC or even a smartphone. 
This is one feature that is rarely found in budget resin printers like this. Let's continue with this Nova3D Elfin 3 Mini Resin Printer review and look into its features.
Key Features of the Nova3D Elfin 3 Mini Resin Printer 
Fast Printing with Outstanding Results
The Elfin 3 Mini Resin Printer utilises a 5.5″ monochrome LCD screen. It has an average light transmittance of 4.6% which can help increase the printing speed.
Higher Precision with Superior Performance
Nova3D adjusted the Z-axis to increase the accuracy of printed models. Aside from that, it has 0.0615mm X-Y resolution and layer thickness ranging from 0.1 to 0.150mm.
Compatible with Multiple Software
The Elfin 3 Mini Resin Printer is compatible with NovaMake software which is suitable for basic use. It's also compatible with other software like Lychee Slices and ChituBox. Lychee Slices help in professional model slicing and printing, while ChituBox is another user-friendly software.
Free Levelling Design and Easy Operation
The Elfin 3 Mini is a user-friendly 3D printer with free levelling design. This allows users to print moulds directly.
Wireless Connectivity 
Another great feature of the Elfin 3 Mini is its wireless connectivity. That means you can use the resin printer without connecting it to a machine.
When connected to your personal Wi-Fi networks, you can connect the resin printer to several computers without cables. Another thing you can do is simultaneously connect multiple Elfin resin printers to a single computer.
The Elfin 3 Mini Resin Printer also has an impressive 8GB storage capacity for storing files on board. 
Nova3D Elfin 3 Mini Resin Printer's User-friendly Design
The Elfin 3 Mini Resin Printer is a user-friendly machine. Its resin tank features a volume mark to show the maximum volume and prevent resin spilling. The resin printer's feet also have feet that prevent scratches between the FEP and the table.
Excellent Hardware Technology
With a 3rd-gen crystal UV light source, the resin printer provides uniform light to improve printing speed and accuracy.
Quick Disassembly Buckle for the LCD
The LCD of the Elfin 3 Mini Resin Printer can be easily exchanged with the quick disassembly buckle. Aside from saving your time, this convenient buckle helps prevent damages when replacing parts.
Multi-connectivity
The Elfin 3 Mini Resin Printer supports Wi-Fi printing, Ethernet, and offline connectivity. You can manage and send your file to the printer through the NovaMake software.
Accessories That Let You Do More
With the Elfin 3 Mini Resin Printer, you can use a wide range of materials. These include standard resin, water-washable resin, high transparent resin, resin vat, FEP film, and more.
Guides and Video Tutorials
Nova3D offers a collection of guides and video tutorials on their official website. They also provide users with answers to common issues like cleaning spilled resin and replacing parts of the resin printer.
Nova3D Customer Support
We also look into the company's customer support for our Nova3D Elfin 3 Mini Resin Printer review. Here, we learned that questions related to the warranty should be forwarded to Nova3D's support team.  
They promise to reply to all your inquiries within 24-hours though some holidays are an exception. 
If the available videos or troubleshooting solutions don't provide answers to your questions, Nova3D offers contact details to their offices. These offices are located in Australia, Japan, and the US. 
The website's contact page also features the phone number and email to their after-sales team if you ever need these. 
Specifications
This time, let's look into the printer's specifications here in our Nova3D Elfin 3 Mini Resin Printer review. 
Printing
The printer uses the MSLA technology and has a 0.025 – 0.1mm layer.
The actual tolerance for this printer is ±0.07mm and its print speed measures 18mm to 39mm per hour. Its print area is 120 x 68 x 150mm and has both manual & auto support. To note, the compatible material for it is 405nm resin. 
Hardware
The hardware's lighting source is the #3 crystal UV light and supports Wi-Fi, cable, and USB connection. Plus, it works with Linux operating system. 
This printer's processor is the quad core Cortex A7-1.5G and has a RAM size of 512MB. For the touch screen, it measures a good 3.5″.
The Nova3D Elfin 3 Mini Resin Printer's Size & Weight
The entire Elfin 3 Mini Resin Printer measures 270x 260 x 420mm and weighs 7.3kg.
It uses the Slicer NOVA Make for support and its input formats include .stl, .3mf, .obj, and .nmk. When it comes to its output format, these support .nmk and .cws.
The operating systems it supports include Windows 7 or higher and Mac OS X. 
Temperature and Power Supply
This resin printer has a working temperature of 20 to 30°C while storage temperature is at 0 to 35°C. 
For its power supply input, it's at 100-240V, 50-60Hz, and 2.0A. Its output is 12V DC, 5.0A while 30W is its maximum power.
Warranty
We like that Nova3D included a 1-year warranty for the Elfin 3 Mini Resin Printer. Plus, they also offer lifetime technical assistance. However, it doesn't include the FEP film of the masking screen. 
Hands-on with the Nova3D Elfin 3 Mini Resin Printer 
How did the printer perform? Was it as great as what Nova3D claims? This is where we find out how well it worked. And, it's also where we'll help you decide if it's a product worth purchasing. 
NovaMake Software
NovaMake is a smart software that combines model loading, model editing, and 3D printing functions. It's compatible with all 3D printing machines of Nova3D, and it works for uploading, editing, slicing, and printing models.
You can download NovaMake's installation package from Nova3D's official website.  
NovaMake has three main functional sections which include 3D Slice, 3D Views Control, and Printer Control. The 3D Slice function can scale, move, copy, place, and slice 3D model files.
For the 3D Views Control function, it checks the model's view in each direction. It also checks the internal view of the cut surface.
The third function, Printer Control, manages printing machines while also modifying the parameters of connected printers. It uploads the slice file and other data.
NovaMake offers an intelligent support algorithm that's available in manual and automatic modes. Automatic support meets most printing needs and can be applied for complicated model structures. The support density can also be increased for the model's lowest point part to ensure successful printing.
For simple model structures, you can opt for manual support.
Navigating through the menu options to access the wireless network is also easy. Its colour touchscreen makes the printer simple to use and intuitive. So, it allowed us to track our printing progress, the number of layers, time lapsed, and imaging. 
We appreciate that the company offered an Android-based application for monitoring untethered print jobs. Let's continue our Nova3D Elfin 3 Mini Resin Printer review and look into its printing performance. 
Printing with the Nova3D Elfin 3 Mini Resin Printer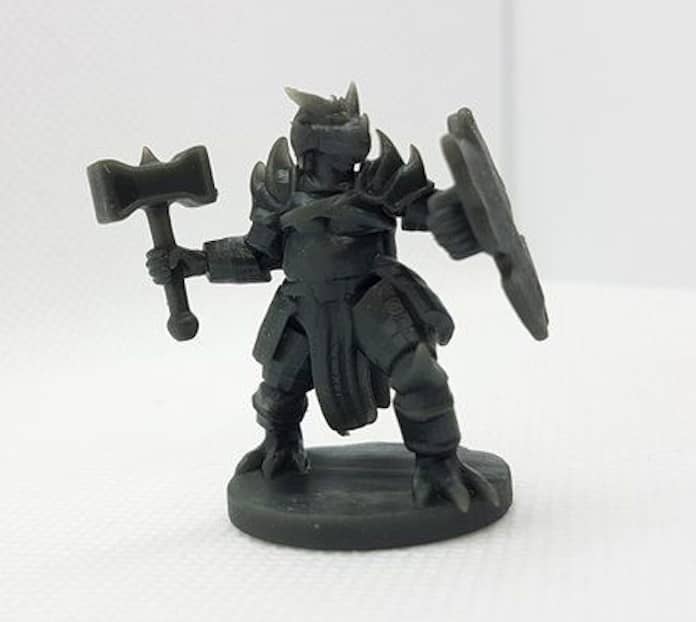 When starting out, printing with this product wasn't complicated at all. It's because the print bed came levelled and set out of the box. 
Its builds were completed with excellent precision and fine details. We made sure to check the levelling to ensure proper first layer adhesion.
We were able decrease rougher surface finishes with the help of the NovaMake slicer software. It also helped diminish voxelisation by boosting the anti-aliasing feature. Doing this gave us a much finer build finish. 
Of course, we did a couple of test prints with the Nova3D Elfin 3 Mini Resin Printer. While in the process of it, we checked the properties of the resin to guarantee that the material wasn't over-curing.
We suggest that you drain extra resin from all finished builds before any post-curing processes. And to note, you can do this via UV lamp. 
Overall, the details that the Nova3D Elfin 3 Mini Resin Printer is capable of doing is awesome. The models looked great when they came out of the printer. 
Also, we were extremely surprised with the finished product's quality, and it looked way better compared to classic 3D printers. 
Nova3D Elfin 3 Mini Resin Printer Review Summary
The Nova3D Elfin 3 Mini Resin Printer is an excellent machine that's easy to set up and use. It also comes with a user-friendly software, plus it's compatible with other resin printing programs. With that, users can enjoy lots of options.
During our tests, this resin printer delivered excellent printing results. The quality of our resin prints were all great and impressive. With the Elfin 3 Mini Resin Printer, you have no limits.
If you're looking for a straightforward resin printer that does its job excellently, we highly recommend this product. To get your hands on the Elfin 3 Mini Resin Printer, you can purchase it from the company's official website.