With an influx of high-end graphics card releases, it's probably the right time for you to upgrade your customised rig. And while you're at it, it's also smart to choose the right type of cooler for smooth and seamless performance. To have the best, read our NZXT Kraken Z53 review to learn about this cooler from NZXT.
When you look around for good GPUs, a lot of them are incredibly pricey under the hood. And since that's the case, PC users like you wouldn't want performance issues or damaged parts due to poor cooling.
Choosing an efficient and good cooling system that works how it should is tough. Adding in great aesthetics and style to it makes it even tougher. However, there are a couple of solid options on the market, and the NZXT Kraken Z53 is one of them.
The company refreshed and optimised the Kraken Z73 and Z63 AIO coolers. And when it comes to the Z53, it's their smallest cooler that sports a 240mm radiator.
NZXT did a great job of making the Kraken Z53 with this size. It's perfect for a compact chassis with narrow radiator support, which is something the Z63 and Z73 aren't compatible with.
Not only that, but the Kraken Z53 is similar to the refreshed and updated coolers. It also sports the latest 8th Gen Asetek pump, AER fans, and LCD. But what makes it better than the rest?
We'll find out here in our NZXT Kraken Z53 review. Let's start with the product's packaging.
NZXT Kraken Z53 Packaging
To begin, let's first focus on the cooler's package and its contents.
When we received our package, it came in a clean-looking and minimalist box. We can't help but praise NZXT's way of packaging since it gives off a simplistic yet premium vibe.
The company's minimalist and clinical way of packaging goes best with their product design. With that, it's able to display and showcase the cooler very well.
The front displays an image of the AIO cooler, with the unit's name written above it. There's nothing much to see in front, but the rear displays more details about the cooler.
Flipping the package, you will find additional information about the cooler, which is written in different languages.
There's also another image of the cooler, but it's set inside a CPU case for visual details. One side of the package displays a full breakdown of its specification, while the opposite side is packed with features.
Inside, the Kraken Z53 is perfectly and neatly organised together with the other accessories needed for installation. For the Intel accessories, these include the backplate, two types of standoffs, and the pre-installed retention bracket. There's also a retention bracket and AM4 standoff for AMD.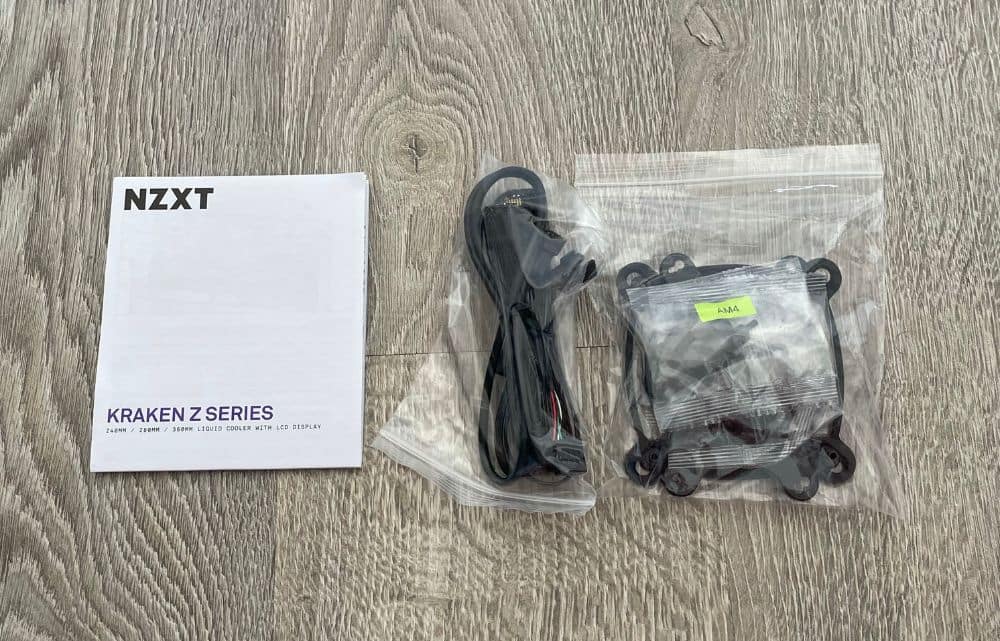 Other accessories include the AER P fan, thumbscrew, washer, 30MM UNC 6-32 fan screw, and 5MM UNC 6-32 screw. Additionally, there's a micro-USB cable and a breakout cable set.
For documentation, you'll find an installation guide and a card with a QR code, which provides an online manual.
NZXT Kraken Z53 Review – Design and Functionality
Our NZXT Kraken Z53 review will now discuss the functionality and design of this product.
It's one of the most cost-efficient Z-class AIO coolers today, plus it's the smallest and most compact in the range. Despite its compact size, the cooler works excellently and just how it should.
You can consider the cooler as an X53, but it has a more impressive LCD on its CPU block. Additionally, the Kraken Z53 cooler supports both AMD and Intel platforms.
We can definitely say that its LCD is the highlight of the cooler. That's because it lets you manage it via CAM to display an entire collection of data. You can readily view the temperatures of the CPU and GPU, set up various light effects, or display other information.
In the past, the CAM software and displays were quite buggy. Plus, a couple of motherboards even needed a USB hub for the display to get identified by CAM.
Luckily, NZXT was able to resolve this with their latest generation of Kraken Z AIO coolers. Of course, that includes the Kraken Z53.
This is made up of the pump, central hub, and display, which brings about the fans and connections. These are for routing via an internal USB header found on the motherboard.
The CPU block is made using materials like plastic and copper, whereas the radiator is entirely made from copper. Within the block is the latest 7th gen pump from Asetek. It may not be that significant, but it provides effective cooling without noise.
This time, let's take a look at the different features that the Kraken Z53 has to offer in the key features section of our review.
Key Features of the NZXT Kraken Z53
This time, our NZXT Kraken Z53 review will focus on the CPU cooler's primary features.
Customise Your Rig
The Kraken Z53 features a 2.36″ LCD screen that can display bright 24-bit colour. With that, you can fully customise your CPU cooler's look.
You can add an iconic image, a funny gif, or any image you wish. If not, you can set it to display CAM data.
Control with CAM Software
CAM, NZXT's proprietary utility software, gives you full control on your PC. It's simple to use and has intuitive controls, allowing you to manage your Kraken cooler's aesthetics and performance easily.
The software's tools allow for monitoring and optimising your system's performance. You can adjust fan speeds, perform troubleshooting procedures, overclock your system, and more.
Aside from that, you can check out resources used by apps and customise your compatible NZXT products' RGB profiles.
Superior Performance
Like other fans from the Z series, the Kraken Z53 comes with AER P radiator fans. These are made for providing excellent liquid cooling performance.
It also has a chamfered intake, and its fluid dynamic bearing operates silently. All of these parts are highly durable to continuously provide powerful and reliable cooling performance.
Simple Installation
The Kraken Z53 features fine nylon mesh sleeves that increase the rubber tubing's strength. With that, it's more durable and protected against mishandling.
By adjusting the pump head's orientation, you can fit your motherboard's needs without affecting your system's other parts.
Integrated with RGB Lighting
Like other coolers under the Kraken Z series, you can sync your Kraken Z53 with the brand's compatible components. You can make your system fans and other supported components by your system.
Synchronise the Kraken Z pump with compatible NZXT components such as system fans to create dazzling RGB lighting effects.
Let's now move forward with our review as we head over to its specifications.
Specifications
Our NZXT Kraken Z53 review will now discuss the cooler's specifications.
Water Block
Its water block measures 79mm, while its height is 52.4mm. The material NZXT utilised for it is plastic for the housing, and copper for the block.
Pump, Radiator, and Tubing
The pump comes with a motor speed with 800-2,800 + 300 RPM, and is powered with 12V DC 0.3A. When it comes to the radiator, it measures 123 x 275 x 30mm and is made of aluminium.
For its tube, it measures 400mm long. The material used for it is an ultra-low rubber consisting of nylon braided sleeves.
Cap
The Kraken Z53's cap is made out of plastic and aluminium. It's software-adjustable by default and has a 90-degree display orientation.
Its display panel active area measures 60mm in diameter while having a 24-bit true colour LCD. The display resolution of the cap is at 320 x 320px, plus a display brightness of 650 cd/m².
The Kraken Z53's cap also features a 5V DC for its RGB channel output. Its LED quantity can reach from 4 up to 10 LED strips in total. The number of Aer RGB fans can go up to 5, while NZXT's RGB accessories can go up to 6.
Fans
There are two Aer P 120mm fans utilised for the Kraken Z53 which measures 120 x 120 x 26mm. The fans have a speed of 500 to 2,000 + 300 ROM. Its airflow is 18.28 – 73.11 CFM, and 0.18 to 2.93mm -H2O for the air pressure.
Additionally, it comes with a 4-pin PWM connector.
The noise these fans incur reaches 21-35 dBA and comes with a fluid dynamic bearing as well. The power it consumes is 12V DC | 0.32A, 3.84W, and can last 60,000 hours or six years in total.
For convenience, Kraken Z53 comes with a limited 6-year warranty.
Compatible Socket & CPU
The Kraken Z53 is compatible with Intel Socket, Intel Core, AMD Socket, and AMD Ryzen.
For the Intel Socket LGA, it's good with 1200, 1150, 1151, 1156, 1155, 2011, 1366, 2011-3, and 2066. It's also compatible with the Intel Core i9, Core i5, Core i7, Core i3, and Celeron / Pentium.
When it comes to the AMD Socket, it works with the AM4, TR4, and sTRX4. Lastly, it's also compatible with the AMD Ryzen 9, Ryzen 5, Ryzen 7, Ryzen 3, and the Threadripper.
Now, let's discuss the performance of this AIO liquid cooler in the hands-on section of our NZXT Kraken Z53 review.
Hands-on with the NZXT Kraken Z53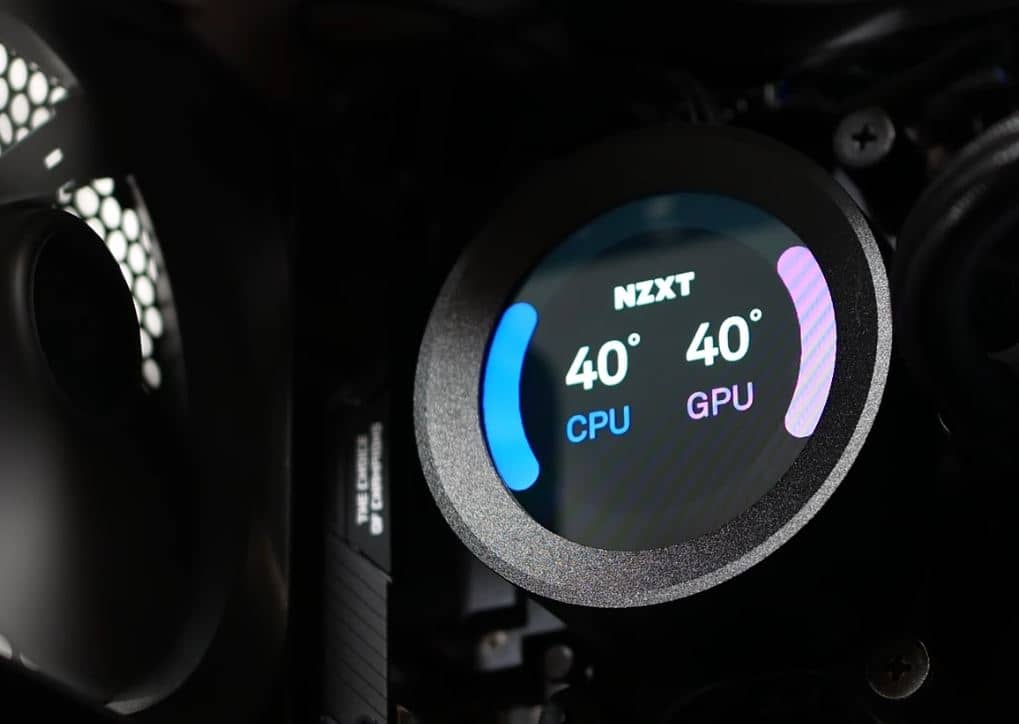 Before we check out how well the cooler performed, let's see how tough or easy its installation was.
Setting up the NZXT Kraken Z53
Setting up this AIO cooler was extremely simple and easy. The only thing you need to make sure of is to mount the pump right. This is done by gradually tightening its screws to ensure a secure fit.
You'll need to utilise thermal paste that needs to be applied to the CPU.
For the cable length, it wasn't an issue for us in mid-tower cases. Luckily, NZXT is conscious and knows about certain cable issues. With that, they make sure the cable length is always perfect for their systems, which is great.
The entire process of installation is all covered in the instructions that are included. Everything was clear and easy to understand, so you won't have any issues with installing. Plus, the available directions and well-labelled diagram makes everything easier and more doable.
PC building can be a bit intimidating, especially for newbies. Yet rest assured that NZXT decreased the potential stress for everyone when it comes to the process of setting up.
CAM Software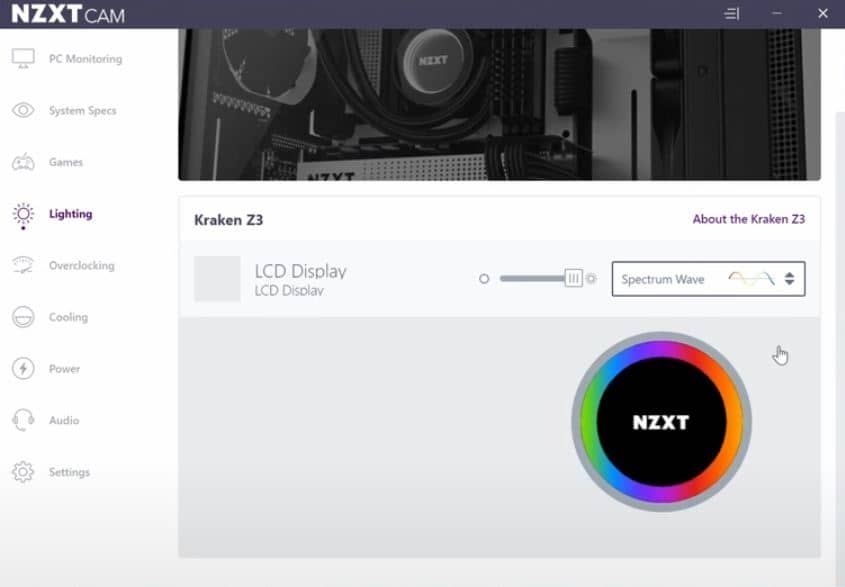 Now, let's take a look at the CAM software. If you're having issues with screen orientation when setting your tubes downwards, don't worry. That's because you can readily shift and rotate the display output at 90° via CAM software.
If you have other clearance issues or RAM modules, you can easily rotate the pump without compromising your aesthetics.
CAM software from NZXT is made specifically for avid PC gamers and enthusiasts. In the past, you needed to utilise several applications to track, manage, and control the key components' temperatures. These were also necessary for GPU overclocks, as well as display FPS in games.
Now, the software centralised all these functions into a user-friendly utility for both beginners and advanced users.
If you're already in the ecosystem of NZXT, you've likely installed the CAM app already. The Kraken Z53 is launched together with a fresh new CAM update that now features the Profile Sync feature (beta).
The application allows every other CAM-enabled device to change whenever a game is booted. Or it can change at specific times in a day.
With the application, you can also enhance the fan more aggressively for increased cooling, which is necessary for intense games.
Performance of the NZXT Kraken Z53
Now, let's focus on the actual performance of the Kraken Z53 and see just how good it's claimed to be.
During the stress test, the Kraken Z53 reached a peak temperature of about 62 degrees. We noticed that its performance is similar to that of other available 240mm AIO coolers. It's fans do an excellent job of pushing out all the heat without making too much noise.
The Z53 lets you overclock decently whilst also keeping temps low. This is where the Z53 performs outstandingly.
Do note that if you're utilising a small form-factor case, you might have to deal with slightly louder fan noise. It's because these cases cause temps to rise a bit more quickly than usual. Although the Aer P 120mm's are good stock solutions, you can readily swap them for a more silent option should you want to.
For its performance, the Kraken Z53 definitely delivers, and it didn't have any issues with keeping ideal temperatures. It was able to maintain it despite us switching between different games, and that's with video and photo editing in-between.
The Kraken Z53 utilises the company's Aer P 120mm fans, which are nice and quiet at stock speeds. Its pump is whisper silent so you shouldnt hear any noise coming from the pump when you are sitting next to your case. Throughout the tests we made, the cooler was quiet and was able to successfully maintain good temperatures.
Overall, it was able to do its job well without giving us any problems even under loads or while gaming. We had a great experience using the NZXT Kraken Z53 and didn't see any issues while testing it. It was silent during our entire test, and that was incredible.
Now, it's time to wrap things up in our NZXT Kraken Z53 review.
NZXT Kraken Z53 Review Summary
Like with other coolers under NZXT's Z series, we have nothing to complain about the Kraken Z53. Its installation was quick, and with its user-friendly app, we were able to customise everything easily.
We didn't experience any issues while using the Kraken Z53, which was impressive. It delivered superior cooling performance, and it didn't show signs of being unable to handle the heat.
Basically, this cooler offers aesthetics, ease of use, and performance. With that, all you have to do is place the cooler in the right build. The only deciding factor is the computer's price.
The Z53 is an excellent addition to the company's Z series of coolers. Like other NZXT products, it didn't fail to deliver impressive performance. When it comes to coolers for smaller systems, it's one of the best models you can buy today.
Although it's not one of the cheapest AIO coolers on the market, its performance is one of the most reliable. It's a great choice if you're looking for a simple way to give your system a significant upgrade.
As we end our NZXT Kraken Z53 review, we're highly recommending this cooler. If you want to get your hands on this AIO CPU cooler, it's available from the official website.