NZXT is known for manufacturing sleek computer cases, components, cooling solutions, and accessories for the PC market. Today in our NZXT N7 Z490 Motherboard review, we're looking at NZXT's 3rd motherboard: the N7 Z490.
A motherboard is the backbone of your entire gaming rig or workstation, so you must pick the best motherboard for your system, especially if you're into overclocking.
In the past, NZXT entered the PC hardware market with two motherboards: the N7 Z370 and N7 Z390. The NZXT N7 series isn't the first motherboard to offer a fully covered design. 
Back in 2010, the ASUS Sabertooth P67 offered a similar design, excluding the pre-mounted I/O Shield. Even other manufacturers today provide a similar design, but they mostly include RGB.
The N7 Z370 and N7 Z390 weren't the best in terms of power phase designs, as ECS manufactured it. But today, that isn't the case, because ASRock decided to step in.
Their new N7 Z490 motherboard now uses ASRock's components, and they aim for both aesthetics and better features. Luckily, if you're not a fan of the RGB trend, the N7 Z490 motherboard is for you.
We got our hands on the white version. This is best suited on their PC cases, but it should also fit most computer cases and look excellent if they're also white.
NZXT N7 Z490 Motherboard Packaging
The NZXT Z490 came in a flexible, but sturdy cardboard box with a white theme to it. As expected from NZXT, the package also looks very clean and minimalist, which is worth keeping, especially for RMA purposes.
At the main side, we can see how the motherboard looks. The model is located on top of the motherboard layout with an indication of the motherboard's supported size.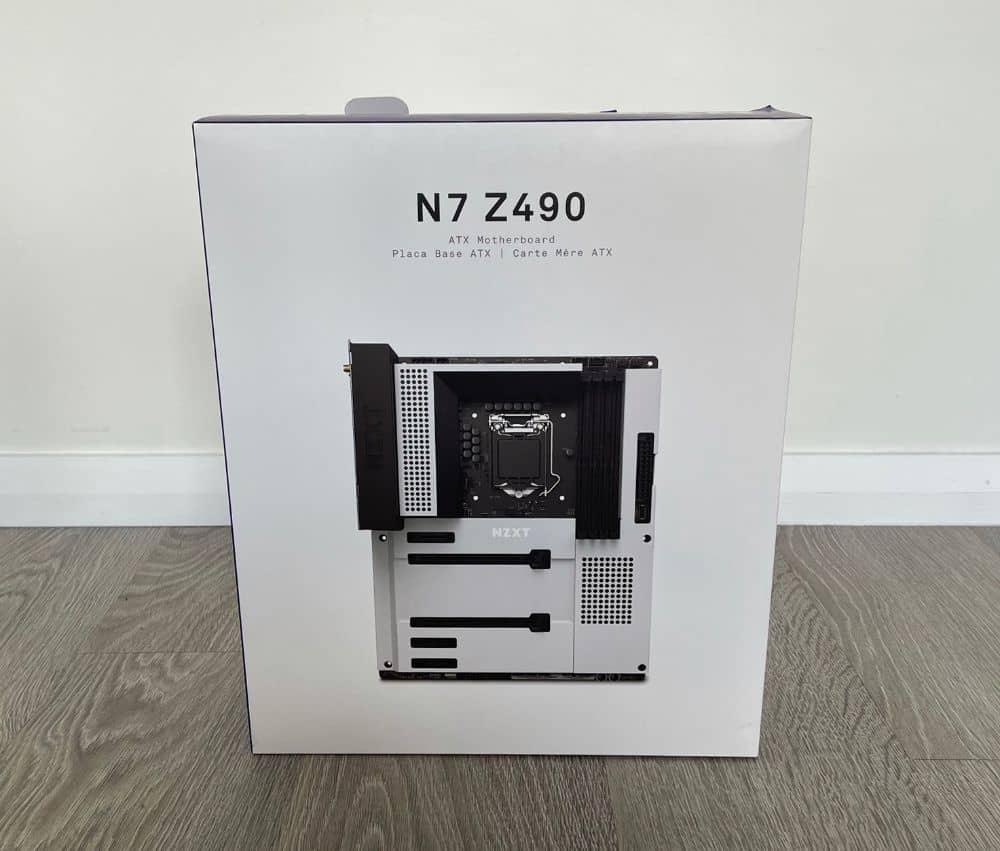 At the back, you'll find all the information you need. There's also a sample of the motherboard when disassembled as well as the overall specifications of it. 
NZXT's advertising is located at the left portion, which says that this motherboard is fancy in terms of design.
Overall, the box design is excellent. It also contains another box inside, which is sturdier since it includes all of the main components. Let's have a look at what's inside.
As we open the box, you'll first see the motherboard wrapped in an anti-static plastic. There are foam supports on the motherboard sides as well, so it doesn't break during shipping or any other form of delivery transportation.
Underneath, you'll find two flaps. On the left flap, you get a small instructions manual. It basically shows you all the things that are on the board and how to utilise it. If you're a beginner and you don't know how to configure the BIOS, this will come in handy.
On the other flap, we get all the additional accessories all wrapped in plastics. The first one is the WiFi 6 Antenna. This is for the built-in WiFi 6 and Bluetooth 5.1 of the motherboard. There's also 2 M.2 screws and 4 SATA cables.
Judging by our first glance on the appearance of the packaging inside, NZXT did an excellent job of securing their motherboard. Let's now head to the design and functionality section of our NZXT N7 Z490 Motherboard review.
NZXT N7 Z490 Motherboard Review – Design and Functionality
In terms of design, the NZXT N7 Z490 isn't too aggressive, providing one of the most appealing looks for minimalist setups. If you're building a new PC, having an NZXT N7 Z490 can give you a smooth setup experience.
The NZXT N7 Z490 board is very similar to their previous motherboard; the NZXT N7 Z390. Even if Intel only keeps each of their generations valid for two years, most motherboard manufacturers tend to keep or recycle the aesthetics of their product line, only changing the chipset or CPU socket.
The metal cover is available in white or black for a seamless look that blends into the background of any NZXT H Series case for a clean aesthetic.
The NZXT N7 Z490 comes in two colour versions: black and white. We currently have the white version, and we'll pair it on a white case later on. With the black version, though, you won't see it as good as the white one when it's dark.
While the shielding is white, the PCB has a black colour. We were expecting a white PCB, but it's relatively unnoticeable once you start chucking in your components.
As far as design is concerned, we have substantial improvements with the new NZXT N7 Z490. Having a cover made of a single metal mould looks excellent, and it fits the overall looks of the motherboard. 
Not only that, but users can take the cover off much comfortably for cleaning and maintenance. It occupies practically the entire plate, with perfect integration and better finishes in corners and paint, something most NZXT motherboard consumers demanded from the previous generation.
The N7 Z490 also includes RGB and Fan Controller, allowing you to control up to 4 RGB lighting channels and seven fan channels through CAM. Lighting accessories from all manufacturers are supported.
The N7 Z490 includes WiFi 6 connectivity. It also uses PCI express lanes from the chipset and SPU. N7's layout also has an installation that includes rear I/O shield as well as efficiently placed headers for more straightforward setup.
We're expecting the components to have adequate cooling, but we'll find out later on the benchmarks. For now, let's head over to the key features section of our NZXT N7 Z490 Motherboard review.
Key Features of the NZXT N7 Z490 Motherboard
Full RGB Support For Any Manufacturer
The NZXT N7 Z490 motherboard comes with an RGB header that supports any manufacturer. It has 1 Addressable RGB header (3-pin), one regular RGB header (4-pin), and 2 NZXT RGB headers.
PCI-Express 4.0 Compatible
The NZXT N7 Z490 motherboard supports the next-gen PCIe 4.0 if you're going to use any of Intel's 11th Generation CPU or future processors.
Fast Intel 802.11ax (WiFi 6) and Bluetooth 5.1
The NZXT N7 Z490 motherboard supports blazing-fast WiFi 6 and Bluetooth 5.1 connections for the best wireless gaming experience.
Full Armour Cover
The NZXT N7 Z490 motherboard comes with full armour protection that covers most of the PCB and M.2 devices that can be used as a compartment.
Pre-Installed I/O Shield
The NZXT N7 Z490 motherboard sports a pre-installed I/O shield to provide less-hassle during motherboard installation.
AMD CrossfireX™ Support
The NZXT N7 Z490 motherboard supports AMD CrossfireX™ Dual Graphics configuration with two PCIe Lanes that fit x16 Graphics Cards.
DDR4 4266 MHz Support
The NZXT N7 Z490 motherboard supports RAM frequency up to 4600 MHz. Also, there should be an XMP profile on your BIOS if your RAM supports it.
Efficient & Less Heat
The NZXT N7 Z490 motherboard also comes with an armour heatsink for the VRMs.It has a two-tone and ventilated design to provide adequate temperatures, especially during heavy workloads.
Better BIOS for Overclocking
Unlike NZXT's previous motherboard, the NZXT N7 Z490 motherboard now comes with a better BIOS that most PC users are familiar with. Enjoy overclocking your CPU and edit your configurations without any displeasure.
Anti-RGB
While there are RGB headers, the NZXT N7 Z490 motherboard does not come with integrated RGB lights, providing clean and minimalist aesthetics.
Specifications
Chipset, CPU Socket, RAM Capacity, and RAM Frequency
The NZXT N7 Z490 motherboard uses Intel's Z490 chipset, which is designed for overclocking. This chipset will also support the 11th generation of Intel CPUs once they come out.
The Z490 chipset maintains 24 PCIe lanes, although this time it would offer future support for PCIe 4.0, which the 10th gen Intel CPUs doesn't support. Despite this, the NZXT N7 Z490 motherboard sports a native WiFi 6 support under 802.11ax via CNVi and a LAN network with up to 2.5 Gbps bandwidth.
The NZXT N7 Z490 motherboard has an LGA 1200 CPU socket, which looks similar to the previous generation, although it has a few more contacts to improve power stability with 10th gen Intel CPUs. 
While it supports Pentium and Celeron processors, it isn't ideal for overclocking motherboards. You should at least opt for an i5 10600K or i7 10700K, but we expect PC enthusiasts to go with an i9 10900K or i9 10850K. 
For the communication interface between Chipset and CPU, it is maintained in DMI 3.0 with up to 8 GB/s, as well as the 16 PCIe 3.0 lanes of the CPU.
As for RAM support, the NZXT N7 Z490 has a lower frequency when compared to other high-end motherboards, but the performance impact is minimal. It supports up to 128 GB of DDR4 RAM on Dual Channel, but the speed will be limited to 4266 MHz.
It is compatible with virtually all RAM brands (see its QVL section), and has an XMP profile that can be activated with a single click in the BIOS.
PCIe Slots and Storage Options
The NZXT N7 Z490 sports a total of 2 M.2 M-key PCIe 3.0 x4 slots up to 32 Gbps, alongside 4 SATA III ports with up to 6 Gbps. It's a bit of a downside for some consumers that it only has 4 SATA ports. 
However, it is sufficient for almost any user, and will also avoid having lanes or connections shared with PCIe slots.
Currently, there isn't much information about the presence of shared lanes, but having only two M.2 slots shouldn't be a big deal. One thing that is common on all Z490 boards is that the first M.2 slot shares a bus with SATA port 2.
This causes the SATA port to be disabled if we plug a SATA SSD into the M.2 slot, but it will work smoothly if we use a PCIe NVMe SSD. 
This is because this (top) slot supports NVMe drives and also SATA drives, while the second (bottom) only supports NVMe. In both cases, units with size 2242, 2260, and 2280 are supported.
Intel's Storage Performance Boosting
As with all other Intel boards, the NZXT N7 Z490 supports Intel Rapid Storage and Intel Optane Memory, as well as RAID 0, 1, 5, 10 configurations and the new Intel Smart Response feature integrated into the latest CPUs.
The motherboard also has 2 PCIe 3.0 slots in full x16 format and three other PCIe 3.0 in x1 format. The main PCIe x16 slot will be connected directly to all 16 Lanes of the CPU, so it should always operate at x16.
The second PCIe x16 slot will be connected to the chipset and can only work on x4. All three PCIe x1 slots are connected back to the chipset and always work at x1, without sharing a bus with anyone else.
Having only two slots in full format and only one of them connected to the CPU makes it compatible with AMD Quad-GPU CrossFireX 2-way. These cards can be connected in parallel without any external connector and without being on the CPU, but NVIDIA GPUs require at least two slots connected to the processor.
Either way, Dual-GPU setups isn't a trend in 2020 anymore, and would still probably be in the future. It's also worth noting that NVIDIA dropped SLI support with their new RTX 3000 series cards.
Sound and Network Connectivity
The RJ45 port uses Realtek's RTL8125B-CG LAN chip, which gives us a maximum bandwidth of 2.5 Gbps. For the WiFI, it uses Intel's AX200NGW WiFi 6 card installed in an M.2 2230 CNVi slot. 
It supports up to 2.4 Gbps bandwidth in 5 GHz band and 574 Mbps in 2.4 GHz band with MU-MIMO, OFDMA and BSS-Color technologies.
The M.2 CNVi slot is located between the two full format slots, which requires the entire cover to be removed. You can also use the included antenna and plug it in the rear I/O port.
For the soundcard, it comes in a typical Realtek ALC1220 codec that offers us the best features available in terms of chips integrated onboard today. It supports up to 7.1 channels of HD audio at 24-bit/192 kHz, or in stereo at 32-bit/192kHz at 120 dB SNR output.
The NZXT N7 Z490 also sports Nichicon Fine Gold Series capacitors to give us clean, high-quality audio on headsets.
Rear I/O Ports and Internal Headers
NZXT N7 Z490 motherboard's rear I/O ports consist of 1 USB 3.2 Gen2 Type-C port, 1 USB 3.2 Gen2 Type-A port, 2 USB 3.2 Gen1 ports, 2 USB 2.0 ports, 1 TJ45 2.5 Gbps port, 1 HDMI 1.4b port, 1 S/PDIF audio optical output, 5 3.5mm jacks, a handy Clear CMOS button, and two outputs for 2T2R antenna.
In all honesty, we expected more USB ports, since the previous generation board had up to 9 rear USB ports, having been reduced this time to 6. 
On Z490 motherboards, it's normal to find at least 8, with a higher number of USB 3.2. DisplayPort port usage has also been omitted, with only one HDMI supporting a maximum resolution of 4K at 30 Hz, but it shouldn't matter if you have a beefy graphics card.
Internally, the NZXT N7 Z490 motherboard has the following:
(7) 4-pin ventilation headers for six fans and one water pump)
(1) 3-pin 5VDG header for Addressable LED strips
(1) 4-pin 12VGRB header for RGB LED strips
(2) 4-pin NZXT RGB headers
(1) USB 3.2 Gen2 Type-C
(1) USB 3.2 Gen1 Type-A (supports 2 ports)
(3) USB 2.0 (supports 6 ports)
(1) Thunderbolt card connector
(1) F_Panel header
(1) AAFP Front Audio Header
(1) LEDs for POST
(1) Dedicated reset button
(1) Dedicated power button
NZXT has instead opted for a lot of internal USB connectivity, being able to host up to 9 ports. 
The reason behind the 3 USB 2.0 headers is for users to be able to connect a liquid cooling AIO NZXT system, the microcontroller of a manufacturer's PC box and its corresponding USB connections.
We also have the presence of proprietary headers for NZXT LED strips and the possibility of complete management with NZXT CAM from the operating system.
Excellent Power Configuration and VRM Design
The NZXT N7 Z490 consists of 10+2 phases, with 10 for Vcore with triple-state MOSFETS, and 2 for SoC with MOSFETS with separate states. The motherboard is also powered by two EPS headers, one 8-pin and one 4-pin, but without external metal protection.
The first power phase has DC-DC SiC654A converters. These are digitally MOSFETS manufactured by Vishay that we have already seen on other Z490 boards from manufacturers, such as MSI and ASUS. 
They have a nominal capacity of 50A and do not have signal benders. Therefore they will be real phases.
In the smoothing and current distribution stage, we have ten 50A chokes from the Vcore and two others also metallic of a larger size for the SoC. These elements will be clearly distinguishable in the catches we leave you. 
Finally, a number of solid capacitors are responsible for further improving signal quality and eliminating curling in the continuous signal so that it reaches all components perfectly.
The power stage will be managed with an ISL69269 Digital PWM controller built by Intersil. We've seen this one equipped with many high-end motherboards like the MSI MEG Z490 Unify or MSI Z490 ACE, so we're talking about excellent components. 
Now that you've familiarised yourself with the NZXT N7 Z490 let's move on to the hands-on section to provide you with accurate benchmarks.
Hands-on with the NZXT N7 Z490 Motherboard
We're finally in the hands-on section of our NZXT N7 Z490 Motherboard review. This is where we'll test the motherboard and configure it according to our setup configuration. We'll also determine how well it performs in different benchmarks.
BIOS User Interface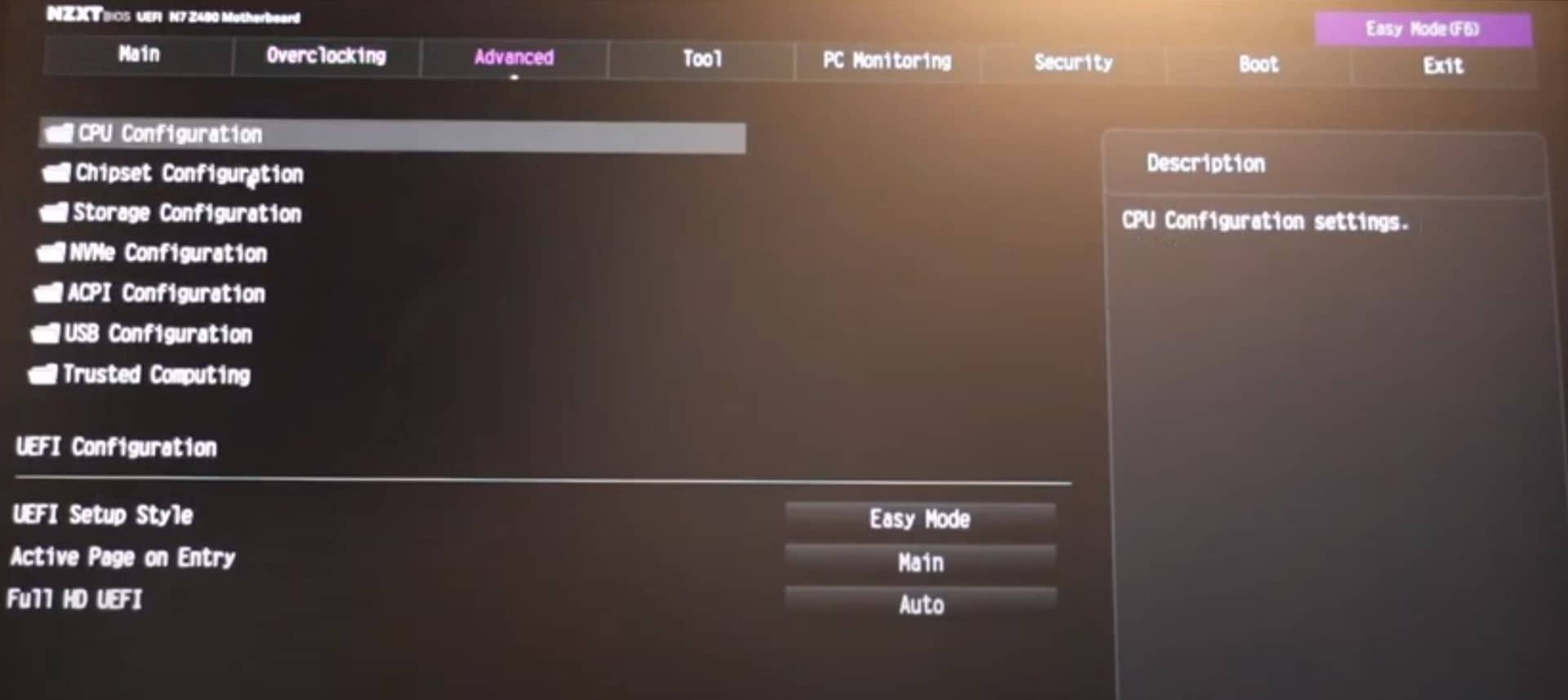 The NZXT N7 Z490 appears to be clearly inspired by the BIOS of ASRock motherboards, except for the background design and having the lesser presence of tables and boxes.
While it is precisely the same as that of this manufacturer's BIOS, it also looks minimalist virtually. With this, we can say that it has changed quite a bit from the previous generation, where it was presented with a much more differentiated design and even very short in options.
Overall, this is a nice upgrade in terms of the user interface. There's also a new feature for USB BIOS update called Instant Flash (same procedure as other manufacturers), as well as secure SSD erasure.
Benchmark Results
For the benchmarks, we're also going to use NZXT's CAM software. With this, we can have complete control and monitor our hardware correctly. You can also customise lighting strips that you've installed or change the fan profiles and the AIO connected to the headers.
There's more to that, as the CAM software also can see your hardware specifications, time graphs spent on games, lighting, and PSU monitoring if you have a compatible one (NZXT PSUs).
For overclocking, we achieved a stable 5GHz on all cores. We used CPU-Z to accurately check if everything's running fine based on our BIOS configuration.
We then stressed the CPU using Cinebench R20 to evaluate the VRM's temperature. We're also going to use a thermal camera to see the surface's temperature. The temperature peaked at 41°C white running Cinebench R20.
Finally, we used AIDA64 Extreme to stress the CPU for several hours fully. After leaving the system for about 4 hours, the VRM temperature stayed below 48°C.
This is an excellent sign, which didn't even reach 50°C. Overall, the VRM on the NZXT N7 Z490 did a better job than the previous N7 Z390 motherboard. The temperature is adequate enough for overclocking, and the motherboard's overall performance is above average.
Let's sum things up and head over to the summary section of our NZXT N7 Z490 Motherboard review.
NZXT N7 Z490 Motherboard Review Summary
It's time to summarise everything and share our verdict here in our NZXT N7 Z490 Motherboard review.
NZXT has nailed it when it comes to the design. Aesthetic-wise, it remains minimalist and sober, perfectly matching the chassis and other NZXT products. 
Another aspect in which the NZXT N7 Z490 motherboard excels is in the quality of the VRM and the temperatures of the VRM.
The BIOS offers great ease of configuration, which can be familiar to hardcore overclockers or standard users who'd like to configure their BIOS smoothly. It also has fantastic stability and perfect compatibility with the CPUs, overclocking, and XMP Profiles.
Overall, NZXT did an excellent job and Many PC enthusiasts should be impressed, especially with the price point. 
In conclusion to our NZXT N7 Z490 Motherboard review, we highly recommend this motherboard to both overclockers and users who love minimalist designs.
Suppose you're also interested, head over to the official website and purchase from there. You can also change the colour depending on which one you'd prefer through the drop-down list.