If you're planning to speed up your WordPress website, you'd need to optimize the images of your site. Doing so will also be one of the best investment returns you'll be getting. With that, our Optimole WordPress Plugin review will provide details on how to achieve this.
The Optimole WordPress plugin is a slightly-new tool that aims to handle image optimization tasks for your WordPress website. A part of it automatically resizes and compresses the images that are on your site. It serves the proper image size according to a user's viewport or browser. In addition to these, the tool also serves images from its CDN, then adds lazy loading too.
Optimole WordPress Plugin Review – Design & Functionality
In this section of our Optimole WordPress Plugin review, we'll learn more about its functions and layout. The Optimole plugin is your all-in-one tool for WordPress image optimization. It works by processing images in real-time, and it's completely cloud-based, hence, doesn't strain your server.
Optimole's interface has a simple and modern design with its tools running in the background while you work. What's good about it is that it has its dashboard outside WordPress. Once you have an account for the tool, you'll find more information on monthly reports and optimization sizes as well.
Optimole WordPress Plugin Plans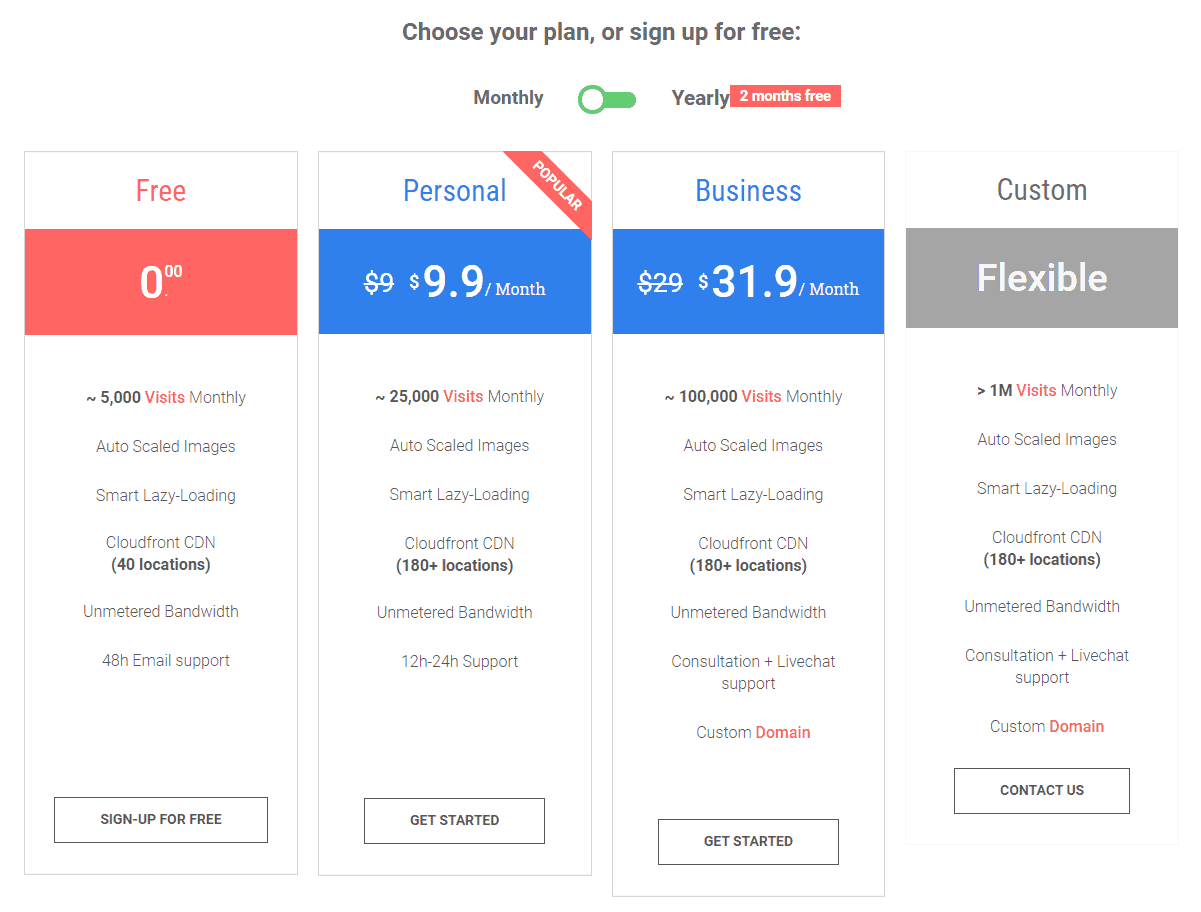 The plugin comes in a variety of plans, including Free, Personal, Business, and Custom plan. This portion of our Optimole WordPress Plugin review will focus on the different plans offered by Optimole.
Free Plan
This plan meets the needs and requisites of every new site on a budget. Its CDN is limited to having seven edge locations in total. According to the plugins' developer, the areas include New York, London, San Francisco, Bangalore, Singapore, Frankfurt, and Amsterdam.
Personal Plan
The Personal Plan is vital for those who upload over 1GB worth of images in a month. It's also useful for getting adequate traffic to need over 5GB of image viewing bandwidth per month. This plan is excellent for those with a budget, and are blogging to make money via the global audience. The plan will give you access to huge numbers of CDN locations globally, compared to the Free plan.
Business Plan
This type of plan is vital for uploading over 10GB images in a month. It's also good enough for getting traffic to need over 50GB of monthly image bandwidth. The plan also lets you utilize your custom domain name for CDN-served images, and get access to live chat support. You also have the option to contact support to help use your default CDN and not Optimole's.
Custom Plan
The Custom plan is for those who want to upload over 50GB of images per month. Also, it's for those who need over 300GB of monthly viewing bandwidth. What's good about the plan is you still get priority support, plus the same CDN alternatives as the Business plan. Do note that its pricing varies depending on your needs. With that, contact Optimole first if you think this plan suits your site.
Next on our Optimole WordPress Plugin review are the key features of this WordPress plugin.
Key Features of Optimole WordPress Plugin
Covers All Devices and Screen Sizes
Optimole will automatically optimize every image on your page for any device. It customizes photos to fit the screens of all visitors to improve performance and user experience.
Image CDN
You can have an image CDN serve your photos with no additional fees. It works with more than a hundred locations around the world.
Works with Slow Network Speeds
Optimole WordPress Plugin downgrades image quality for visitors browsing with weak connection speeds.
Quick Monitoring
Optimole provides access to transparent optimization stats to show you the retrieved amount of bandwidth and server's disk space.
Fast Processing
The plugin processes all images in real-time for visitors to have enjoyable user experience with no delay.
Compatibility with Page Builders
If you use popular page builders like Beaver Builder, Elementor, and more, you don't need to worry about using Optimole. It's fully compatible with these builders and won't cause any issues.
Lossy and Lossless Optimization
Optimole utilizes a lot of algorithms for you to set the optimization you want for your images.
Watermarks for your Images
You can display personalized watermarks over your photos so no one can easily steal these.
Lazy Loading
No need to have jQuery and other bloated JavaScript libraries, since Optimole's customized lazy-loading mechanism doesn't require these.
This time, we're getting more hands-on with this plugin in our Optimole WordPress Plugin review.
Hands on with the Optimole WordPress Plugin
For this hands-on portion of our Optimole WordPress Plugin review, we're first showing you how to set up this plugin.
The first thing you need to do is to sign up for an API key. Once you've added the API key, you'll see a summary of your CDN URL and website. That means you can start using the tool for your optimization tasks.
This time, we're giving you details on the different parts of the Optimole WordPress plugin.
General Settings
The General Settings is where you configure most of the plugins' settings. There are five vital options you can set up in this area.
Enable Image Replacement
This section allows Optimole to alter your image URLs via optimized images from the Optimole CDN.
Admin Bar Status
This feature lets you view the Optimole usage in your WordPress toolbar.
Javascript Replacement + Lazy Load
It comprises of compelling image resizing plus lazy loading as well.
Resize Larger Images
Aside from dynamic resizing, you can let the tool automatically resize all large images.
Compression Level
It allows you to choose if you prefer to go lossless or lossy. You can also have Optimole decide using the Auto option.
Watermark Options
To automatically watermark images, you can do this in the Watermark options section. The tool allows you to utilize up to five watermark images so that you won't be limited to one option.
Optimole Cloud Dashboard
Aside from your WordPress dashboard, the tool provides you with a Cloud Dashboard. It allows you to view every usage across all the sites you're using with Optimole.
Benefits of Optimole
Now in our Optimole WordPress Plugin review, we'll talk about the benefits of the Optimole plugin for your site.
The plugin can handle retina images easily. With it, you only need to upload a single image that's twice as large in height and width. Then, it will immediately know when to serve the image, or when to make and serve a smaller, non-retina image.
When we tried it, Optimole was able to make WebP versions of our images instantly. It also immediately served the WebP versions of our images to support browsers.
It also allows multiple sites on a single plan, unlike other tools that require payment per domain or website. Here, we have a single API key for all sites. It allowed us to share viewing bandwidth and image uploads across all our sites.
If you have a couple of power traffic sites, it could save you tons of money. It is necessary if you plan to take advantage of bigger global CDN using the Personal plan.
Optimole WordPress Plugin Review Summary
Optimole WordPress Plugin is a user-friendly plugin. All you have to do is upload it, sign up for an API key, then it begins working. While using Optimole, we noticed significant changes in page speed and reduction of the size of our page's data. The optimized images saved nearly 80% of data without affecting the quality.
If you want to step up your game on image optimization, this is the best plugin you can have. It's not only simple to use, but the plans also offer a lot of benefits without breaking your budget. To conclude our Optimole WordPress Plugin review, we highly recommend this plugin for your website. If you want to purchase a plan, check out Optimole's official website for more info.