If you're looking for outdoor lights for your home, we've got everything you need in our Philips Hue Outdoor Lightstrip review. And if you're a fan of the Philips' Hue smart lights, you're in for a treat.
The company's been creating excellent lights for years. With that, they also produced a robust and weatherproof range made specifically for the outdoors.
These range from Lucca wall washers, Calla lamps, Lily spotlights, and the Outdoor Lighstrip. If it's something that piqued your interest, just sit back and continue reading our Philips Hue Outdoor Lightstrip review.
Philips Hue Outdoor Lightstrip Packaging
This section of our Philips Hue Outdoor Lightstrip review talks about the packaging and contents.
When we received our light strip, it came in a stylish-looking package with an image of the product in front.
The box sports a violet theme that's quite attractive, in our opinion. It also features all the essential details and features about the light strip.
Generally, the package comes with all the necessities to get started. It includes light points, connectors, extension cables, and power supply.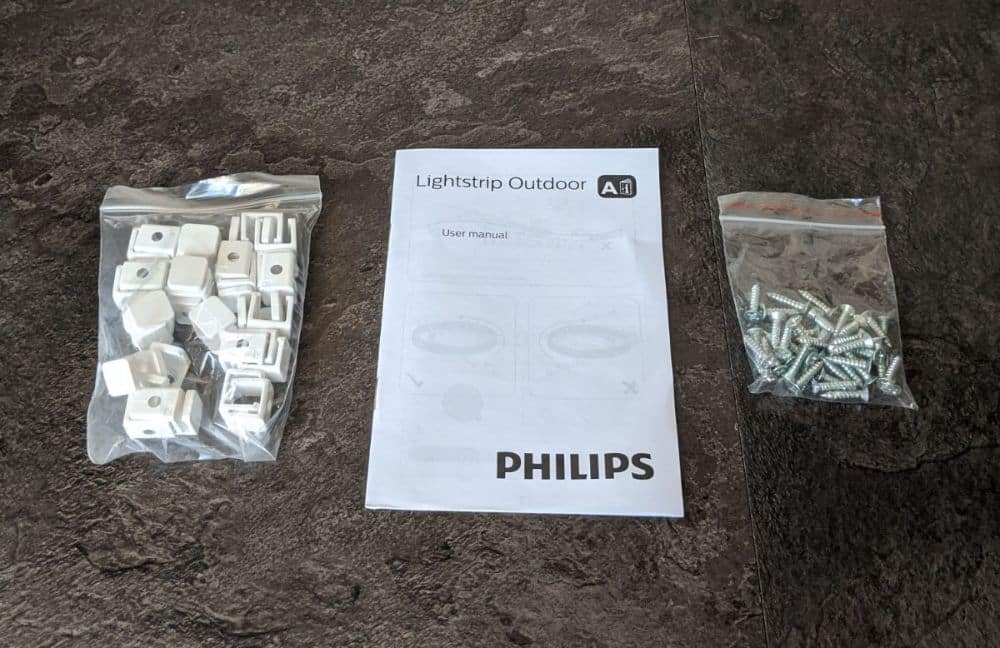 With that, all you need to do is unpack, install, then switch the lights on.
Philips Hue Outdoor Lightstrip Review – Design and Functionality
Now, we will focus on the design and functions of the light strip in our Philips Hue Outdoor Lightstrip review.
Similar to the indoor light strips, the outdoor version lets you shape and set the lights in different ways. You can line paths or gardens easily to add aesthetics in your backyard.
The Hue Lightstrip has a couple of differences from indoor light strips. It features a rectangular form made from silicone and has a semi-opaque top for weatherproofing.
The top is also for diffusing 800lm of light. The outdoor light can't be extended or cut. So, you have to use the default length either 2m or 5m.
The Outdoor Lightstrip is entirely weatherproof, so it can easily withstand snow, rain, and other harsh weather conditions. Do note that there are still limitations to it, despite its efficiency.
If you live in an area with extreme temperatures, the light has an operational range of -4℉ to 113℉.
What we like is that it has a heavy-duty setup with huge weatherproof power supplies. It also comes with a lengthy two-piece cord, all of which are highly resistant to various outdoor elements.
There aren't any adhesives on the light strip's rear, which is common on most indoor ones. Instead, it comes with a set of mounting hardware. The small brackets can be fixed under gutters, railings, along fences, etc.
Its weatherproof power cable allows the lights to switch on, and it's somewhat similar to the Lilly spotlights. Its ends link and a collar tightens to keep everything watertight.
Key Features of the Philips Hue Outdoor Lightstrip
This section of our Philips Hue Outdoor Lightstrip review talks about the key and essential features of the Outdoor Lightstrip.
Uniform Lights for Direct Lighting
The Philips Hue Outdoor Lightstrip features diffused light. This offers direct and indirect lighting solutions. With the diffuse coating, you won't have to conceal the light strip. The light is mixed inside the strip to emit a single uniform colour on the outside.
Flexible Efficiency
The Philips Hue Outdoor Lightstrip is flexible enough for easy bending and shaping wherever you use it. Place it on the ground to light up your pathway or use the clips and screws to place it on surfaces. With this smart light, the possibilities have no limits.
Tough and Durable
The Philips Hue Outdoor Lightstrip can withstand different weather conditions, making it the ideal outdoor smart light today. You won't have to worry about uninstalling the light and keeping this inside on a sudden downpour.
Better than the Rainbow
With Philips Hue Outdoor Lightstrip gives you no limits. You can choose from 16 million colours, as well as shades of white light to get the perfect effect. Highlight pathways and trees to make your outdoor area stand out.
Using the Hue app, save your favourite lighting presets and simply tap a finger to recall them anytime.
Relax with Warm to Cool White Lights
Extend your evenings with Philips Hue outdoor lighting. This user-friendly application lets you set the ideal ambience for your porch, patio, or balcony. You can also switch from warm to cool lights, allowing you to enjoy the season you want at any time.
Lighting for All Occasions
If you're hosting a party or celebrating a specific occasion, Philips Hue Outdoor Lightstrip can help you make special moments. Select the best colours and the best dynamic effects to create the appropriate ambience.
Smart Lights for your Smart Home
You can set the Philips Hue Outdoor Lightstrip to switch on automatically when you arrive home. You can set schedules or utilise Home or Away feature to switch on all lights. Another option is to use geolocation to do this for you.
With Philips Hue Outdoor Lightstrip, you can have your lights on before you arrive.
Smart Control Indoors and Outdoors
As the name suggests, Philips Hue Outdoor Lightstrip is a smart outdoor light. Even if you stay indoors, you can manage the outdoor light via Hue Bridge. You can also use voice commands via Hue app since it supports Google Assistant, Amazon Alexa, and Apple Homekit.
With smart control, you can set schedules for each light connected to Hue Bridge. What's best is that you can change your smart lights from wherever you are.
Specifications
Now, we're talking about the specifications of the light strip in this part of our Philips Hue Outdoor Lightstrip review.
The light has a colour temperature of 2,000 to 6,500K and has a lifespan of 25,000 hours.
Philips Hue Outdoor Lighstrip measures 4,870mm long, is 20mm tall, and 11mm wide. It has a total of 16 million colours for its light output while having an instant 100% light output during startup.
For its maximum operational power, the Outdoor Lightstrip reaches 37.5W, while Lumen output is 1,650lm at 4K.
Lastly, the light strip comes with a 2-year warranty for your convenience.
Hands on with the Philips Hue Outdoor Lightstrip
In this section of our Philips Hue Outdoor Lightstrip review, we're getting more hands on with the outdoor lights. With that, let's first check out the setup process of the Hue Outdoor Lightstrip.
Setup
To utilise the Outdoor Lightstrip, you will need an existing Hue setup that uses the Hue Bridge. It is for controlling all the Philips Hue lights via the Hue app.
If you currently have a Hue Bridge, configuring the Outdoor Lightstrip is going to be extremely simple. You'll just need to open the Hue app, choose "Settings", select "Light Setup", then select "Add Light".
While all Hue products are HomeKit-supported, HomeKit control is from the Bridge. With that, you can't add Hue lights via the Home app. You will need to download the Hue app to do this.
If you don't have a Hue Bridge configured, plug one into your router. Then, download the Hue application, and follow the instructions to use the Hue Lighstrip.
Performance
Once installed, you'll stare in awe at the beauty and illumination of the Philips Hue Outdoor Lightstrip. When we completed the entire configuration and set up of the lights, we saw the full 16 million colour range of the product.
It was fun choosing the colours and matching it with the mood. Plus, the shades were vibrant and bright, so the area lit up nicely at night.
For colour rendering, everything was accurate, and there was even a set of adjustable whites to choose from. Select from cool to warm, which makes it perfect for your garden.
Although the light is somewhat diffused, the light strip is bright enough to work as an outdoor atmospheric light source. The brightness varies by colour: from cool white light, to warm yellow light.
Regardless of how you use the light strip, its vibrant colours, features, and performance make it the best outdoor light. So, we're giving the Philips Hue Outdoor Lightstrip 5 stars, and we'd highly recommend it too.
Philips Hue Outdoor Lightstrip Review Summary
The Philips Hue Outdoor Lightstrip is a fantastic product for any outdoor ambient lighting. With its adequate length, you can use it for your pathways, patios, balconies, and any other area. You have no limits with this smart light.
If you've started your Hue Lighting Setup at home, the Philips Hue Outdoor Lightstrip is an excellent smart home addition. It's an ideal product to have if you want to enhance a specific part of your home's outdoor area.
Although it's one of the expensive smart lights on the market, the Philips Hue Outdoor Lightstrip is well-made. Aside from a great design, it's also made from the most durable materials to stay safe from various elements.
To conclude our Philips Hue Outdoor Lightstrip review, we highly recommend this product. Do you want to add this smart light to your smart home? It's available for online purchase from the company's official site.