With a lot of popular game titles with enhanced audio, it's the perfect time to get a high-quality gaming headset. Today, we're going to check out one of these headsets in our Razer Kraken X USB review.
For gamers and enthusiasts looking for budget-friendly headphones, the recently released Kraken X USB is one of the top choices. It uses a USB connection, so it stays where your gaming station is set. Also, it's compatible with your PC, Playstation, XBOX, the Nintendo Switch, and even on smartphones.
However, does it meet the requirements of a high-quality gaming headset? Before anything else, let's check out what's inside the box here on our Razer Kraken X USB review.
Razer Kraken X USB Packaging
Here in our Razer Kraken X USB review, we're focusing on the product's packaging and other accessories included.
We finally got our Kraken X USB headset, and it came in its usual black and green-themed packaging. The front displays an image of the gaming headset, while the company's logo is on the upper-right corner.
The headset's name is on the lower-left portion of the box. On the top-left section, a symbol of the USB connector is present. Next to the headset's image are the three highlighted features of the Kraken X USB. At the base of the box, it notes that the product is compatible with a PC or Switch. When you flip the box, you'll find a list of all the headset's features.
Inside, there aren't any fancy features or displays in there. Once you pull out the cardboard that holds the headset, that's it. The Kraken X USB is securely in place. For added protection, it's covered by a plastic container that's moulded precisely to the headset's shape.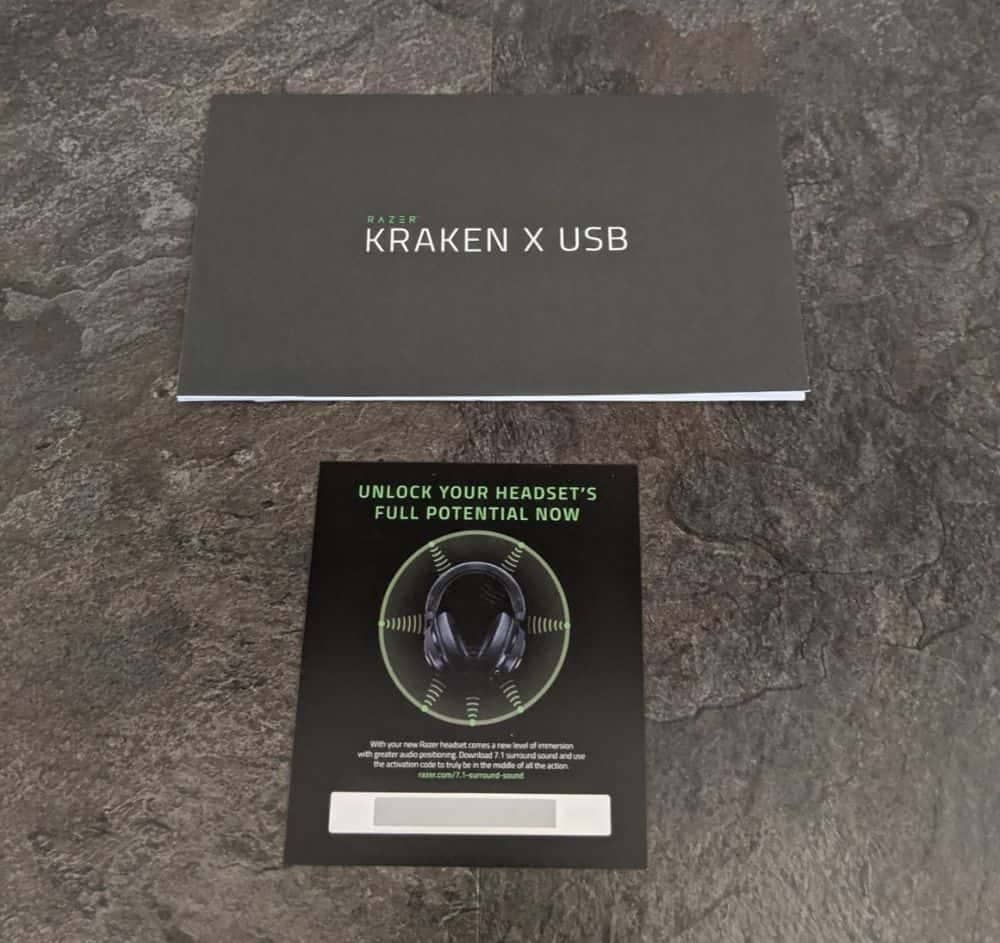 Razer Kraken X USB Review – Design and Functionality
Now on our Razer Kraken X USB review, it's all going to be about the headset's overall design and functions.
The Kraken X USB is a USB headset. It's different from your traditional headphones, which features a 3.5mm jack. The best thing about the USB connection is that it also supplies power to the headset. With that, you'll see the vibrant LED of the Razer logo on both ear cups.
The ear cups and the headband have adequate padding made of faux leather with memory foam cushions. These will keep you comfortable throughout your most prolonged gaming sessions.
On the left ear cup, you will find the mute button, microphone, and the infinite scroll wheel for volume control. When it comes to the headband, both of its sides are adjustable. You can extend its size by choosing from 1 to 9 on the headband.
The cardioid microphone isn't removable, but it's bendable so you can keep it away when it's not in use. It's also flexible and rigid, so you won't have to worry about acquiring damages.
As the company claimed, the Razer Kraken X USB is truly lightweight, making it comfortable for all-day use. The entire headband also has a durable and flexible construction, and it can withstand regular, carefree use.
Key Features of the Razer Kraken X USB
This section of our Razer Kraken X USB review delves on the key and essential features of this gaming headset.
Lightweight Comfort for Continuous Gaming
Immerse yourself completely in the game without feeling any weight. Enjoy non-stop gaming sessions without discomfort and pressure on your head and ears. With its lightweight & comfortable design, plus outstanding audio, you'll never want your gaming marathons to end.
7.1 Surround Sound
This gaming headset is equipped with 7.1 surround sound, offering you accurate positional audio. It'll always provide an accurate position where all the action is to be well-prepared for any battle or engagement.
Ultra-Light and Extremely Comfortable
Engineered to be amazingly lightweight, the Kraken X USB only weighs 275g and is complemented by its slim form factor. It also comes with a suite of features to better achieve an almost-weightless feel while worn.
Flexible Cardioid Microphone
Take advantage of crystal clear communication with the bendable cardioid mic of the Kraken X USB. It uses a pick-up pattern that records sounds from a localised area in front of one's mouth. It captures sound while preventing background noises from the sides and back.
Customised 40mm Drivers
The gaming headset recreates punchy bass and superior sound clarity that stimulates a wide soundscape while gaming. From subtle sounds of footsteps to powerful explosions, in-game audio is produced with life-like detail.
Green Earcup Lighting
The Kraken X USB comes with a distinct style that adds more aesthetics to the headset. Turn on its green earcup lighting to brighten up your competition.
Convenient Audio Management
The mic's mute button and volume slider are easy to access beneath the headset's left earcup. This specific position allows you to readily toggle and tweak the Kraken X USB on the fly.
Next up on our Razer Kraken X USB review focuses on the specifications of this gaming headset.
Specifications
This Razer Kraken X USB review won't be complete without a specifications section. So this time, we're going to focus on that.
At a glance, the headset provides 7.1 surround sound audio so users can fully enjoy their gameplay and music. It has an ultra-light build for added comfort, plus a bendable cardioid mic for convenience. Also, the headset features a green cup lighting and customised 40mm drivers.
The headphones have a frequency response that ranges from 20Hz to 20kHz, while its impedance is at 32Ω @ 1kHz. Also, the Kraken X USB's sensitivity is at 106dB.
This headset comes with 40mm drivers with Neodymium magnets. It features an inner cup measuring 65 x 44mm, while its full-ear oval cushions have leatherette material for added comfort. Also, It utilises a USB digital connection for increased convenience. The headset's cable is 2.0m long, and it weighs approximately 275g.
The Kraken X USB's mic has a unidirectional ECM boom pick-up pattern, plus a sensitivity of -42 ± 3dB. Its signal-to-noise ratio is ≥ 55dB and has 100Hz to 10kHz for its frequency response.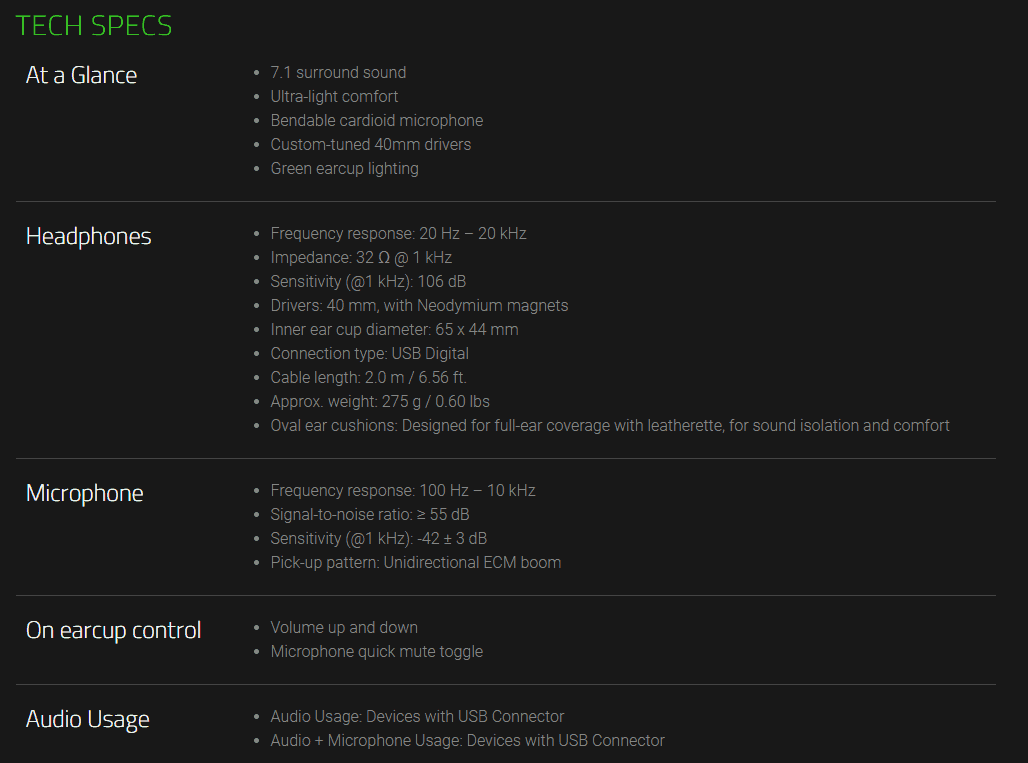 Hands-on with the Razer Kraken X USB
On this part of our Razer Kraken X USB review, we will go hands-on with this headset. We'll give you some details about Razer's software, as well as the performance of the Razer Kraken X USB.
Razer Synapse is a user-friendly interface where you can customise your compatible Razer peripherals. The software comes preinstalled when you plug in the headset. With Razer Synapse, you can adjust the brightness or change the LED effect of the Razer Kraken X USB. Additionally, you can register your headset's warranty and check its duration via Razer Synapse.
To get Razer Synapse, just go to the company's official website and download this for free. Now, let's move on to the performance part of our review.
We tested the Razer Kraken X USB by playing different games on PC, Playstation, and Xbox.
The 40mm drivers reproduce precise audio and make it sound natural, which is essential when it comes to gaming headsets. Because of this, we were able to spot our opponents locations with ease. Footsteps, gunshots, and every other detail were more audible in every game played while using this headset.
While using 7.1 surround sound, the audio was more precise. This feature gave us a more accurate direction of where the sound was coming from, putting us at an advantage.
Its isolation was good, but it didn't completely block sounds in the environment. However, it cut some background noise, which was enough to keep us focused on gaming.
For the microphone, it was able to capture sounds excellently. Since it's a cardioid microphone, it focused on capturing sound from one source. The quality of the recorded sound was good, and our teammates heard us clearly when we tried chatting them. The mic captured very little background noise, but it was barely audible, and our voices were clearly recorded.
Overall, we were impressed with the Razer Kraken X USB. Aside from being lightweight and durable, it delivered excellent audio quality, and its microphone's performance was impressive. With that, we're giving five stars for its performance.
Razer Kraken X USB Review Summary
The Razer Kraken X USB is a reliable budget headset that ticks all the boxes for a good gaming headset. It has the aesthetics, a durable build, and most importantly, it delivered excellent audio quality. Usually, integrated microphones on affordable gaming headsets don't work well, but this one performed well and captured clear sounds. Moreover, it comes with a software interface that's easy to use.
Overall, we were satisfied with the Razer Kraken X USB. It's not only budget-friendly, but it also gives more than what you pay for.
To conclude our Razer Kraken X USB review, we highly recommend this headset. If you want to get your hands on this, it's available for online purchase via the official website.